discovering london
Your Guide To One Of The Best Cities In The World
London is one of the most picture-perfect cities in the world, and a visit will reveal a stunning variety of iconic attractions.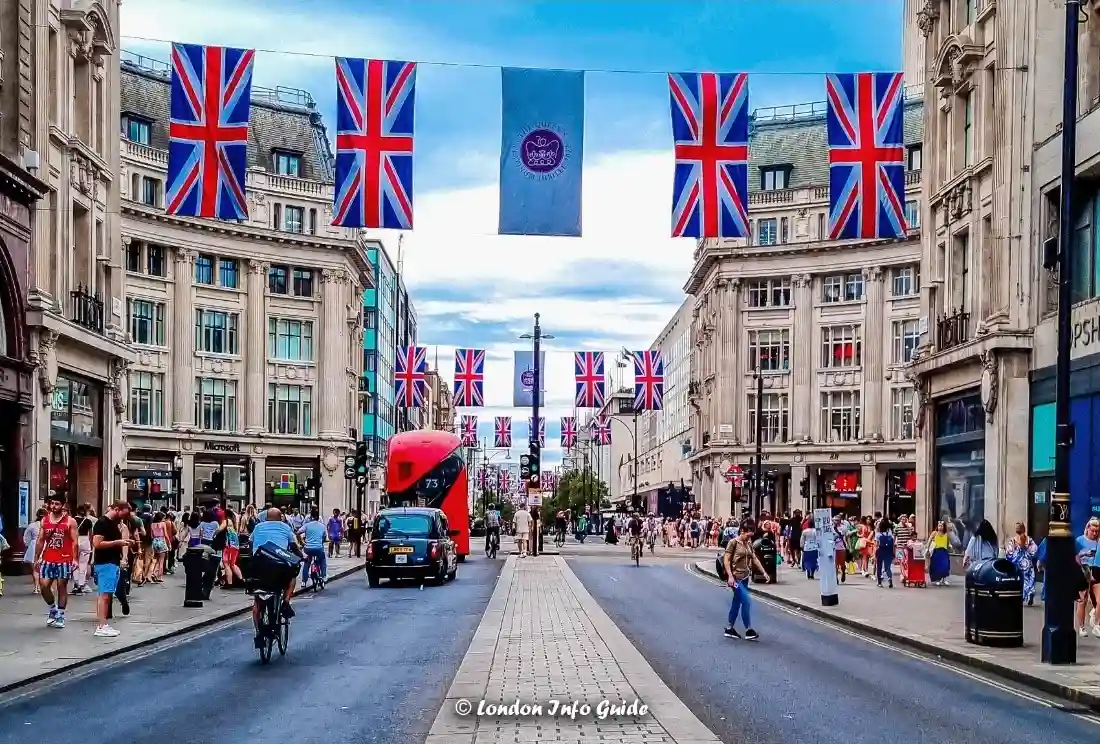 Oxford Street London
On your trip to London, you will get to see some of the world's best attractions, such as The London Eye, Big Ben and The Tower of London. See the top musicals and performances in London's West End and dine and lodge at some of the finest restaurants and hotels.
Whether it is your first trip to London or you have been here many times before, this independent website offers all the holiday planning information and recommendations you will need.
why visit london?
Throughout its 2000-year history, London has been and is still one of the most amazing cities in the world, whether you are seeking art or architecture, food, football or fashion.
The monarchy is one of the first things that comes to mind when people from across the world think about London. Tourists are now able to visit Buckingham Palace during summer opening schedule, which is the official residence of the Royal Family in London.
Travellers will not be disappointed by London's incomparable blend of cultures, traditions, and history. Hence, this makes London the perfect place to visit.
In your lifetime, you should make at least one trip to London which will most likely be unforgettable.
Piccadilly Circus At Night
things to do in london
London is packed with a dazzling array of popular attractions. From famous museums, beautiful parks and not to mention the numerous popular musicals, namely The Lion King, Les Misérables, Mamma Mia, and The Phantom of the Opera, which has been one of the top London West End shows of all time since 1986.
London hosts a wide range of annual events, including the Nothing Hill Carnival, St. Patrick's Day, Wimbledon Tennis Championships and more. Regardless of the time of year you visit, there is always something planned during your vacation.
In other words, you should not worry about what to do here or what to see, because even if you come to London without any plans, there will always be something to see or do.
Check out a whole list of things to do in London by reading our guide.
best shopping in london
London is the city of shopping! If you love splurging, then prepare yourself to discover some of the best streets and shopping malls in London. People from all over the world come here to do their shopping.
Experience one of London's most popular shopping streets, Oxford Street, a two-kilometre stretch of shops and restaurants. Explore Selfridges, Primark's flagship store, Hamleys, M&M's World London, the world's largest candy store, and Harrods, one of the most legendary British department stores.
A Beautiful Corner At Covent Garden
nightlife in london
With world-class London theatres, bars and clubs sprinkled across the city, Londoners do not shy away from nightlife. Bar hop through the city and see it come alive at night. Aside from that, London offers some of the most prestigious shows, so you will undoubtedly find something to watch.
If clubbing is not for you, then enjoy sightseeing through the city with either the Hop-On Hop-Off tours or just walking through the city is more than enough to see it through a different perspective.
Only a few cities in the world can match London in terms of late-night events and entertainment. Many theatres and venues have been in operation for decades, making it a city of excellence.
Hotels in London
It's natural to wonder which area of London is best to stay in, especially if it is your first time visiting. Choosing where to stay is one of the biggest challenges when planning your holiday.
In the capital, you will find a wide range of accommodations, ranging from 5-star luxury hotels to budget hotels, bed-and-breakfast, apartments and many more. 
When planning your trip to London, you can opt for a touch of luxury; a few things to make you feel a bit more unique. In case you are on a budget but wish to stay close to most amenities, there is certainly accommodation that will meet your requirements.
Kensington Borough London
best time to visit london
London is best visited at any time of the year, regardless of how much time you have in your daily life, or even whether you have a specific time of year in mind.
If you are hesitant about what the weather in London is like, we have a specific page detailing a general overview of the weather conditions all year round.
The city is active 365 days a year, so there is always something to do and enjoy.
It is impossible to find a time when there are no activities to enjoy. Surely when the weather is hotter, you will find several outdoor activities that might appeal more to your taste.
Hyde Park London
If you are looking for the best time to visit, then it is between March and May. There is so much greenery in the city's parks and flowers are blooming due to the nice weather. However, late spring and summer remain the most popular tourist seasons for hotels and airlines, so rates reflect this.
You owe it to yourself to visit London if you want to make the most of it! As the most cosmopolitan city in the world, London stands out as a place like no other.
Oh and one more thing, be sure to bring your camera!
find london info guide on social media
Apart from having this independent guide, we also have social media pages where we post beautiful photos and also notify our followers when we have a new post!
Follow Us both on Facebook and Instagram for stunning photos of London.
We hope that London Info Guide will help you plan your holiday and that you enjoy your vacation to the full.
want to share what you read? share below