Weather in london
A Summary To The Yearly London Weather
Are you curious about the weather in London? Here is a guide to help you prepare for your visit to the city.
Check out these tips if you are planning a holiday and wondering what season or month will be best for you to visit.
London experiences a cool, damp, and rainy climate throughout the year as a result of the influence of the Atlantic Ocean. Nevertheless, due to its south-eastern location in the United Kingdom, it enjoys a milder climate than the rest of the country.
table of contents - weather in london
View of the London Eye from Westminster Bridge
london weather facts
The following statistics are provided on an average basis and should be viewed as a general guide only.
Average Yearly Hours of Sunshine: 1,675
Annual Yearly Precipitation: 690 mm | 27.2 inches
Average Number of Days for Rain: 156
Average Yearly Temperature: 3.9°C to 23.3°C (39°F to 74°F)

Hottest Month In London: July
Coldest Month In London: January
live weather forecast london england
Find out what the current temperature is today and for the rest of the week with this live weather forecast.
LONDON WEATHER
LONDON WEATHER
best weather season in london
London experiences different seasons during the 12 months of the year. We have categorised them into three seasons to give you an indication of what to expect and what is the best time for you to visit.
warmest season - june to august
During June, July and August, Londoners experience the warmest weather of the year, making it the ideal time to visit if you anticipate warm weather. In the summer, people are ecstatic when the weather is pleasant and sunny for some time. With the UV index reaching an average of 5 during the warmest season.
The summer weather in London makes it ideal for people to enjoy the various open spaces, where they can bring their chairs, picnic blankets and coolers, food and simply enjoy a relaxing time.
During this time of year, several events take place, and you will have the opportunity to experience the vibrant energy of the city.
mild season - september to october & march to May
Visit London in September or October when it is underappreciated. It is getting fresher outside, but with a light jacket, you can easily keep warm. There are usually fewer people in London, and you can enjoy the city more privately.
You can also visit during March, April and May since the days are starting to warm up and there are more hours of sunlight, though the crowds haven't arrived yet.
A new season awakens London, which is marked by the first blooming of the flowers and more sunlight. If you're visiting London in the spring, pack a warm jacket and layers so that you can adapt to the changing weather quickly.
coldest season - november to february
A chilly and damp winter is typical of London. The city is a good place to visit between November and February, if you don't mind rain and chilly weather. Organise it between Christmas and New Year's to keep your spirits high.
Since January and February are off-season, many people don't consider it to be the best month to visit London due to the cold weather, making it a fantastic time to visit on a budget.
December is one of the busiest months of the year due to the Christmas season. It will be very cold, but people still flock to the city.
Despite that, during those days it may seem cold and dismal, even the term itself sounds frigid. The weather may be cloudy and rainy, but there may be some brief sunlight as well.
Winter in London may be perceived as unattractive due to the short days, resulting in less time for touring and less sunlight. Since the days are short, visitors may not see as much as they would like to.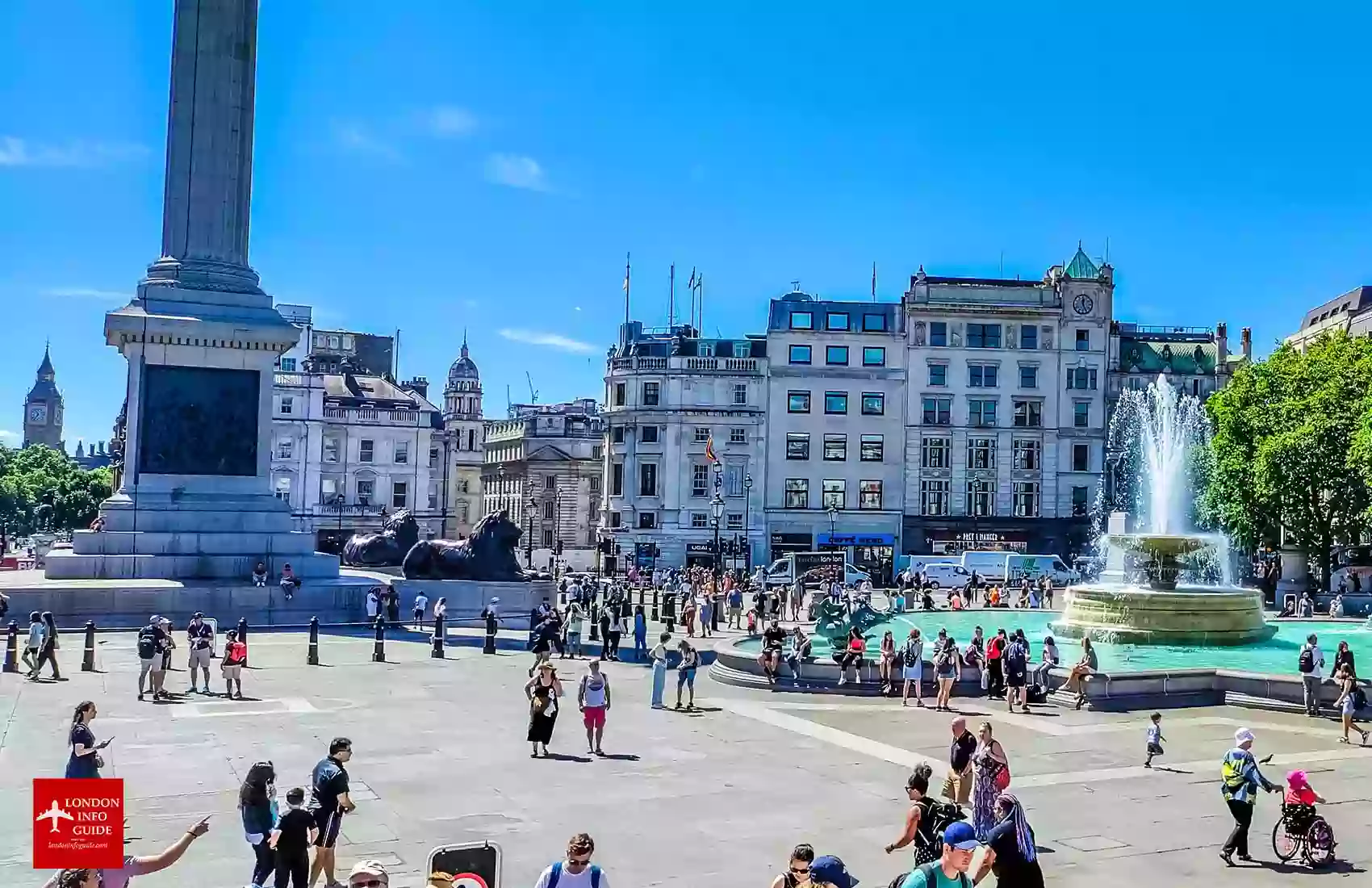 Trafalgar Square London
london weather month by month
Below is a summary of what the weather could be like month by month for the whole year.
london in january weather
The coldest month of the year is January. Despite its cool and wet climate, the city has a milder climate than other northern European cities. Depending on the weather, it will range from 2°C to 7°C (35.6°F to 44.6°F) outside, so you should ensure you are adequately wrapped up.
london weather in february
February's weather in London is cold and wet. During your visit, you should wear warm clothing, especially if you intend to walk around the city. As a result of the clearer skies and the lower rainfall than in January, the temperatures are usually cooler than in January. The days are still short, but they are getting longer as the month goes on.
weather in london in march
The weather in March in London gradually improves with milder temperatures, clearer days and averaging five hours of sunshine every day. Visitors are more likely to arrive during this month due to the cool temperatures and beautiful days. It is usually quite cloudy during this month, despite it being one of the driest.
london in april weather
The London weather in April gets warmer, but it still gets chilly late at night and early in the morning. There is a two-hour increase in daylight hours this month. There is more rain during this time than in March, but there is also sunshine coupled with a slight chill in the air. Spring is an enjoyable time to be here when it is in full bloom.
Bibury Village Cotswolds
london weather in may
May is characterised by a pleasant amount of warmth and longer days, making it a very pleasant month to visit. When the humidity is low in May, it can make it seem like the most pleasant time of the year, especially when it is sunny.
london in june weather
The weather for London in June gradually improves. Known for its long days and hot temperatures, the capital city is a popular tourist destination. The weather during the summer is not always predictable; be prepared for rainy days.
If this were the last month of the year, it would be ideal, since it is the best month. June's temperatures are similar to those of September.
london in weather july
It is a pleasant month for Londoners, where the weather in July brings longer days of sunshine and beautiful weather. July is one of the hottest months of the year since the temperature rarely fluctuates.
As a result, Londoners' moods are affected by the city's numerous activities and dynamic environment. The months of July and August are when temperatures are at their peak.
london in august weather
As the city enjoys its summer holiday, the weather in August brings some hot and humid days. By the end of the month, the days will be shorter, and the temperatures will be slightly lower.
At the beginning of the month, there may be a few warmer days, causing afternoon temperatures to rise higher than the morning.
Big Ben and the Palace of Westminster
weather in london september
As the month progresses, temperatures drop. Don't let a gorgeous sunny day fool you into thinking rain will never fall. Always take an umbrella when you go out.
Take an in-depth look at the weather in September, where we share all the necessary details you need to know.
During the first part of September, you can expect pleasant daytime temperatures in London. Near the end of the month, temperatures are expected to drop, and a few chilly mornings are expected.
london weather for october
There is much anticipation surrounding the arrival of winter weather. Although this is the wettest month of the year, it rains an average of 2.2 inches (56mm). You'll be able to explore this fascinating city with plenty of daylight as it gets five hours of sunlight on average every day.
Read about the weather in October, and find out more about what to wear, what to do and what to expect.
It is a time of the year when the city turns from shining green to the vibrant colours of copper and gold. Many Londoners find it to be one of their favourite times of the year.
london in november weather
The weather in London in November will likely be very cold, with only three hours of sunshine each day. There is, however, less crowding in November than it is in July, which means you will be able to enjoy a real English winter.
As a result, theatre tickets and flights are affordable, though London has terrific nightlife as well. Christmas is just around the corner, and Londoners are getting ready.
london in december weather
London's weather in December is chilly and damp. December is the wettest month of the year. Besides the chilly sensation, rainy periods are also becoming more frequent. With shorter days, sunlight becomes more scarce. Throughout December, London's weather is barely acceptable.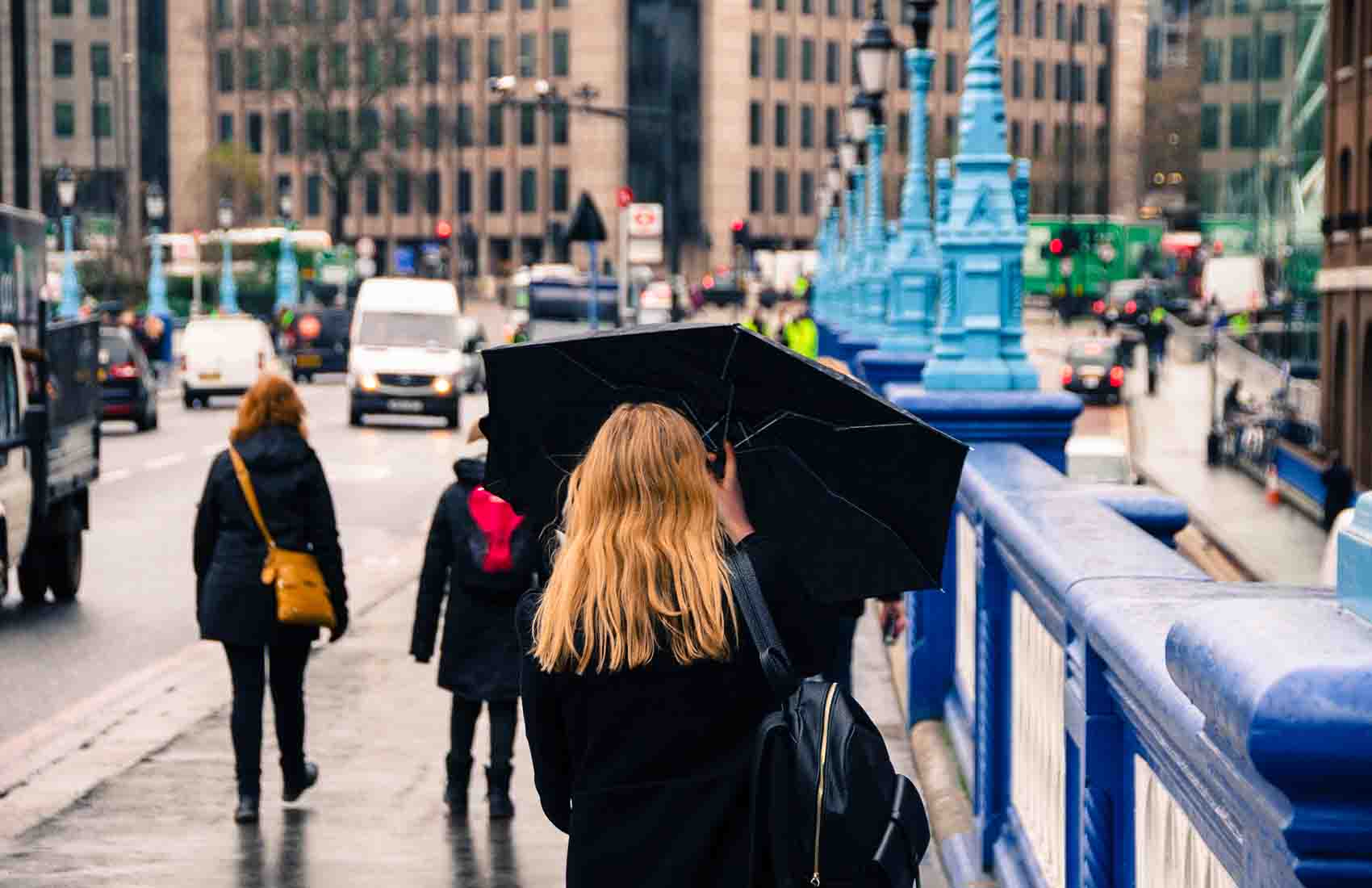 Rainfall in London
When Is Best To Come To London?
A truly enjoyable time to visit London is during any month of the year as it is a beautiful city all year round. The rest of it depends on the kind of holiday you want, your budget, as well as your personal preferences in terms of things to do on your holiday.
To conclude, the weather in London varies considerably, as one moment there may be sunshine, while the next there may be rain. Over a single day, the temperature fluctuates by five degrees or more. Realistically, you should not assume anything about the weather based on what it was like when you woke up.
Want To Share This Page On Pinterest? Pin It Here!
Rainfall In London Photo from Pixabay
want to share what you read? share below