Weather in London in April
weather in london in april
Experience the Charm of Spring in London
The weather in London in April is typically mild and can vary from day to day. You can encounter some days being sunny and warm, while others may be overcast and cool.

Although rain is still likely, it is lovely to see trees and flowers blooming after the long winter months. Ultimately, the weather in London in April is what it is, and people have different opinions about it based on their individual experiences and preferences.
St. James Park London
What to Find During This Month
statistics of the weather in london in april
Average Temperature: Highest 15°C (59°F) | Lowest 6°C (42.8°F)
Average Daily Temperature: 9.4°C (48.9°F)
Total Hours of Sunshine: 181
Average Daily Hours of Daylight: 14

Rainfall: Depth 42.3mm (1.67") | Days: 8.8
Humidity: 74%
Days of Air Frost: 0.8

UV Index: 3
Weather in London compared to other Cities
New York City, NY, USA: 10.4°C (50.7°F)

Dubai, United Arab Emirates (UAE): 27.7°C (81.9°F)
Paris, France: 10.7°C (51.3°F)
Los Angeles, California, USA: 15.8°C (60.4°F)
Tokyo, Japan: 13.4°C (56.1°F)
Rome, Italy: 13.8°C (56.8°F)
is april the best time to visit london?
April is a great time to visit London as the weather starts to get warmer and the city comes to life with blossoming flowers and greenery. It is such a great time to go out for walks and visit the many popular attractions such as Buckingham Palace, the Tower of London, and St. Paul's Cathedral. At the end it is a personal preference if its a good time to visit. You can also check other interesting things to do in London in April.

London Skyline
what should i pack or wear?
Packing is one of the most necessary things to do while travelling. While packing, we recommend to bring and wear the following items:

Light jackets or coats - Since the weather can be unpredictable, it's best to bring a light outer layer.
Comfortable walking shoes - Since you will be walking a lot, comfortable shoes are a necessity.
Umbrella - Despite April being mild, rain is still common, so an umbrella is essential.
Warm sweater or fleece - While temperatures are typically mild, it is still possible to get chilly, especially in the evenings.
Lightweight trousers or skirts - These are ideal for keeping comfortable in changing weather.
Waterproof jacket - A waterproof jacket is an essential when spending time outdoors.
Sunscreen - Sunscreen is a must, as the sun can be quite strong if you stay very long hours outdoors and the weather is sunny.
Scarf - A necessity especially during the early mornings and evenings.
Remember, these are general recommendations, and you should pack based on your personal preference and the activities you have planned during your trip to London.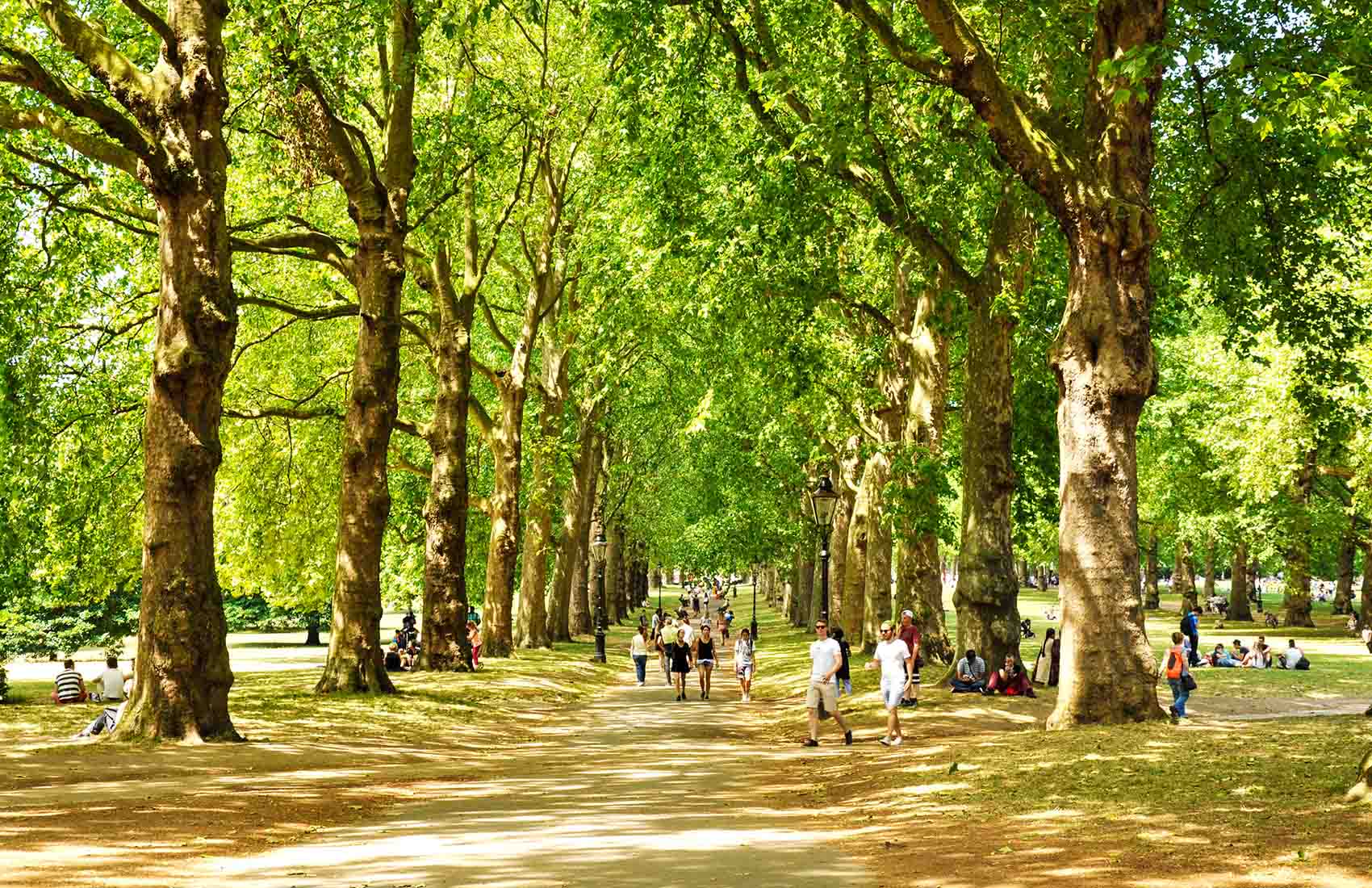 Green Park London
hints on the weather in london
The following information on the weather in London in April can help you plan your trip more effectively.

Spring weather in London can fluctuate from warm and sunny to cold and rainy as we are transitioning from winter to spring.
The average number of rain days in April is 8.8 days but the overall amount increases over that of March with an average of 42.3mm (1.67").
Travelling from January to April is highly recommended if you wish to avoid crowds, yet owing to holidays during this month crowds will be more noticeable around those days.
The overall number of hours of sunshine in April are around 176.7 which averages 5.9 hours per day. The number varies according to the cloud density.

Temperatures are expected to rise to around 15.0°C (59.0°F) on average and to drop as low as 6.0°C (42.8°F) during this month. It is around 3.0°C (37.4°F) higher than the previous month of March.
During the month, the average wind speed is approximately 17.5 kph (10.9 mph or Force 3).
During the month of April, the sunrise and sunset hours are as follows; On 1st April, the sunrise will occur at 06:36 and sunset will occur at 19:33, while on 30th April, the sunrise and sunset will occur at 05:34 and 20:21.

The probability of snow is diminishing as the climate warms up.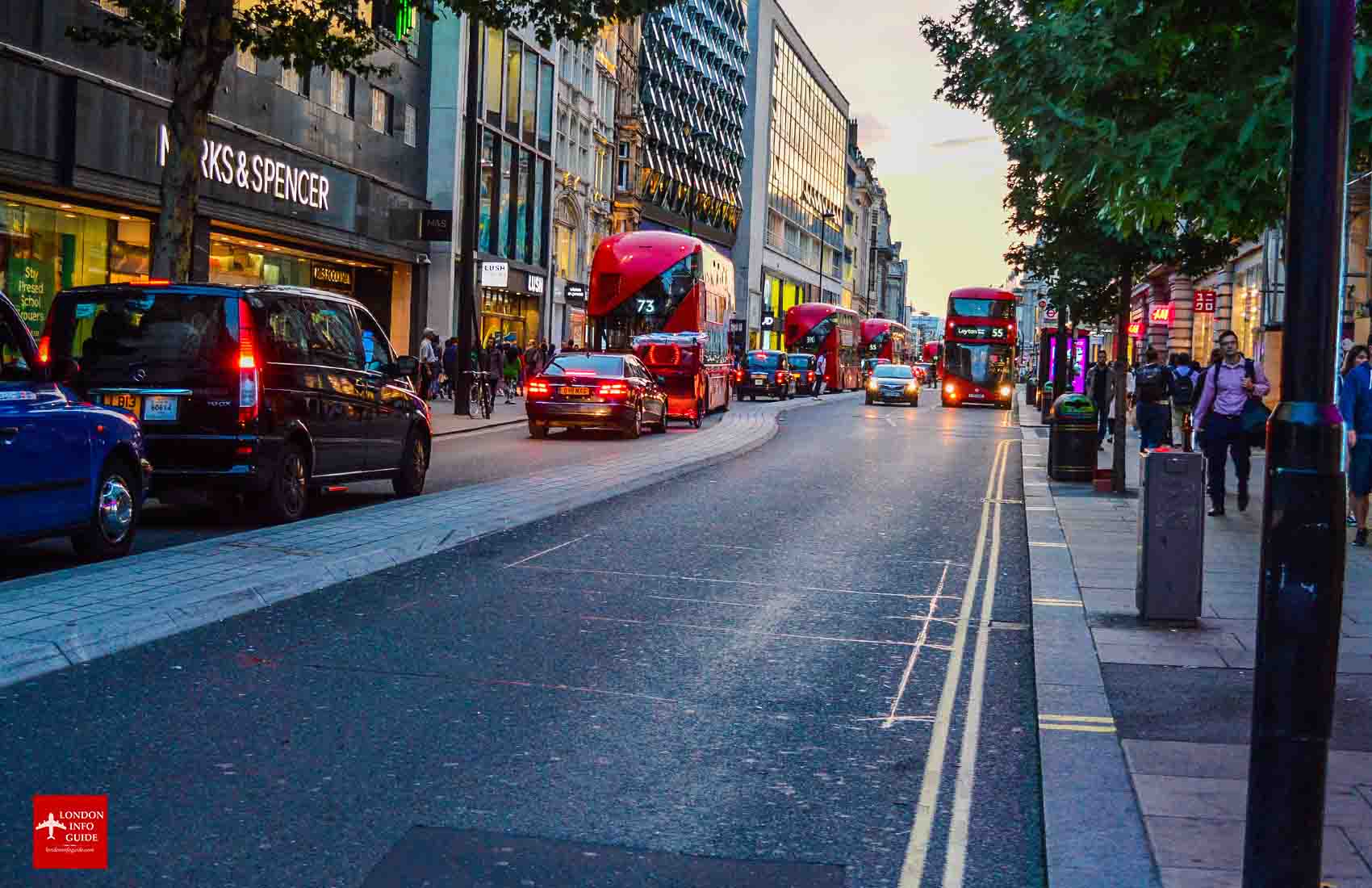 Oxford Street
current events in london april
London is a bustling city with a calendar full of events and activities. In April 2024, visitors can expect a variety of events such as the following suggestions.

London Marathon
The London Marathon is a popular event attracting runners from around the world. It features a 42.2 km route passing by iconic landmarks such as Buckingham Palace, Tower Bridge, and The Cutty Sark. With around 38,000 spectators, the marathon creates a festive atmosphere and is a celebration of London's diverse communities. 
Event Date: Sunday 21st April 2024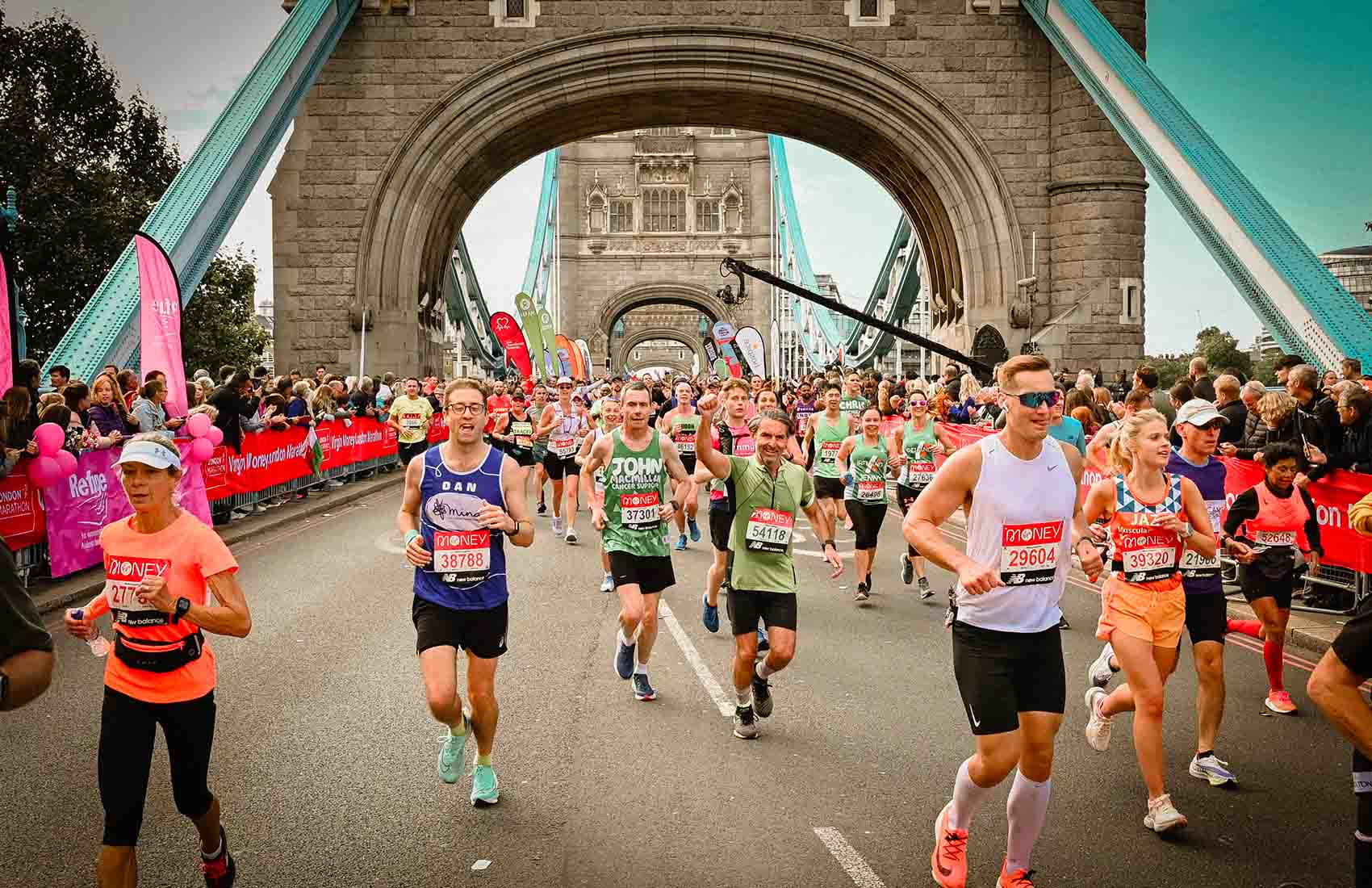 The London Marathon
The National Wedding Show
It is the ideal event for those planning their wedding. It brings  together a wide range of vendors, including wedding planners, photographers, florists, and dress designers, all under one roof. Attendees can browse through the latest bridal fashion, sample delicious food and drinks, and receive expert advice on planning their special day.

Event Date: Saturday 1st and Sunday 2nd April 2023

tours in london during April
Are you planning to visit London this year and would like to make the most of your trip? There are several wonderful tours that you can take, so you might want to consider one of them.

Westminster to Greenwich Sightseeing Cruise
Take a boat on the River Thames from Westminster Pier to Greenwich and see London's most famous landmarks while listening to live commentary. You will be able to see the Tate Modern, Tower Bridge, and the Houses of Parliament. It lasts between one and two hours.

Get Your Westminster to Greenwich Sightseeing Cruise Tickets From This Here
Tower of London early access tour with beefeater
With this tour, you will view the Crown Jewels' grandeur before the large crowds arrive. In royal ceremonies, ancient orbs, swords, rings, crowns, and scepters which you will be able to see. The tour is led by one of the legendary Beefeater guardsmen.

Buy Your Tower of London and Crown Jewels Tickets
Kensington Palace Sightseeing Entrance Tickets
Learn the amazing tales of many of the palace's residents over the ages, from Queen Victoria to Diana, Princess of Wales, when you visit this royal landmark. Explore the Queen's State Apartments in addition to admiring the King's State Apartments.

You can take the opportunity to book your tickets here
Buckingham Palace: The State Rooms Entrance Ticket
A privileged access to one of Her Majesty's Official Residences awaits you beyond the gates of London's arguably most iconic attraction. Discover the Buckingham Palace royal state rooms where monarchs receive visiting dignitaries with a multimedia tour in 9 languages.

Get Your Buckingham Palace Tickets
In conclusion, the weather in London in April can be quite unpredictable, with changes in temperature and weather conditions throughout the day. So, pack appropriately and enjoy your trip! While here, why not check out the weather in March or May, or just a general summary of the weather in London.
Want To Share This Page On Pinterest? Pin It Here!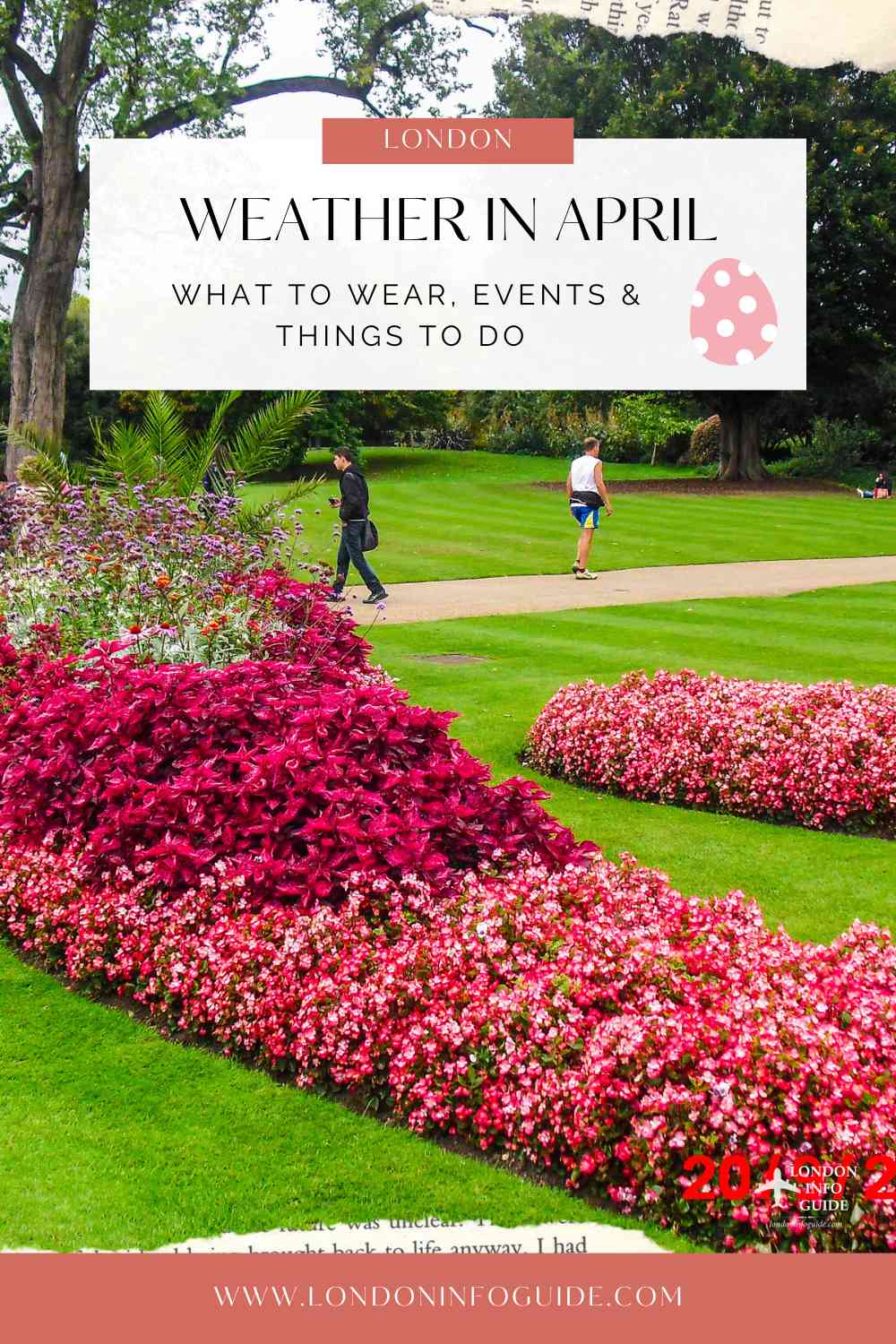 Photo sources
St James Park - Photo by Francais a Londres on Unsplash
Green Park London - Image by Lisa DiAntonio from Pixabay
want to share what you read? share below