Buckingham Palace in London
visit the Buckingham Palace in london
The Palace of the Monarchs: Discovering Buckingham Palace's Rich History
People always dream of being able to visit Buckingham Palace in London at least once in their lifetime. It is one of the most popular tourist destinations in the UK, which makes it a must-see attraction for anybody.

Around the world it is known as the residence of the monarch, the site of national and royal celebrations. Buckingham Palace is a magnificent royal residence in London with stunning architecture and rich history. 
table of contents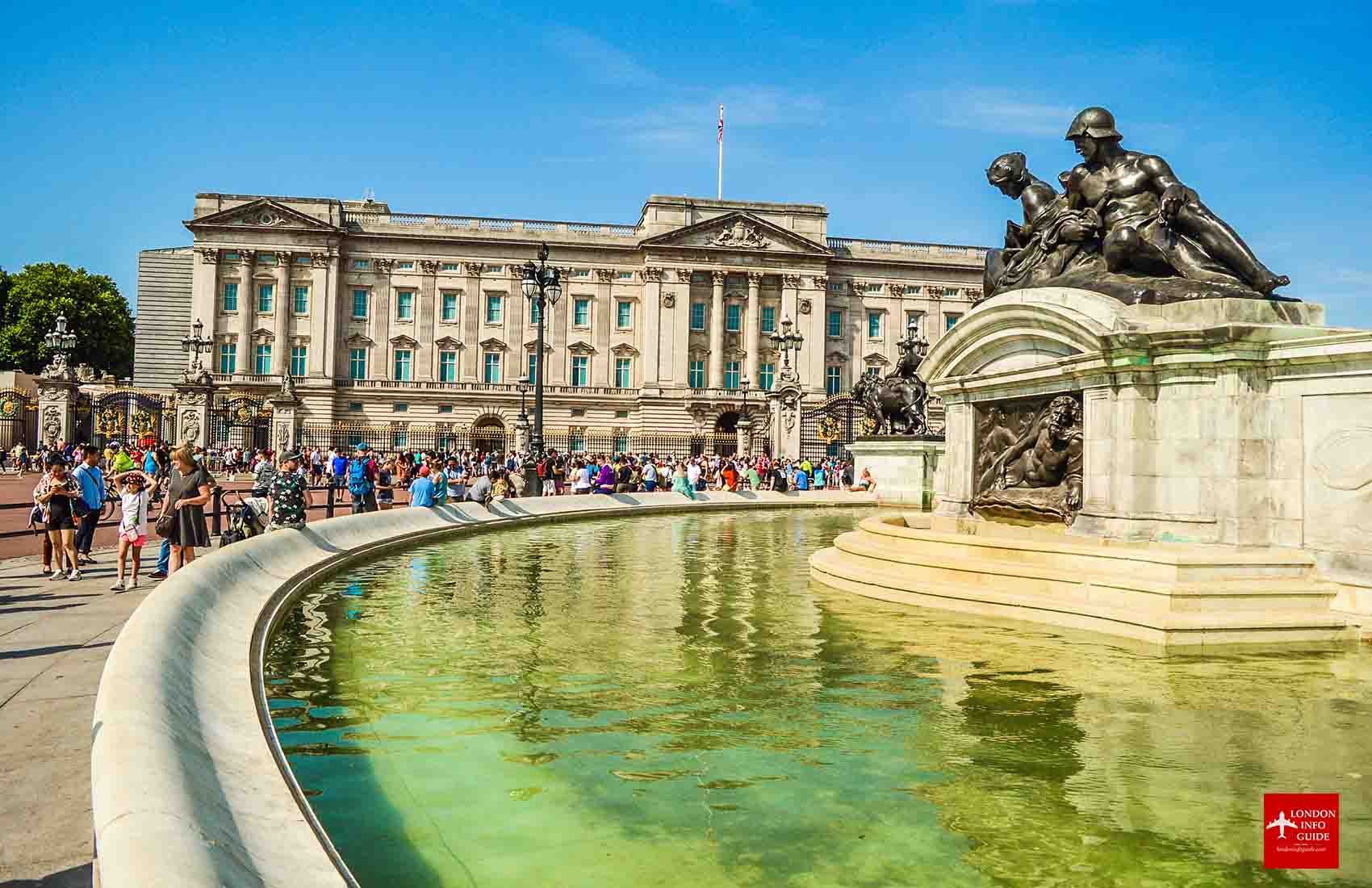 Fountain On the Outside of the Buckingham Palace
In addition to being the King's official residence in London, it is also a functional royal palace as being the main administrative quarters of the monarchy.

Visitors can see the magnificent State Rooms during a scheduled time during the summer. These rooms are decorated with precious artefacts, including pieces by well-known artists like Rembrandt and Vermeer.

The Changing of the Guard ceremony is another highlight, where visitors can witness the traditional military ritual with marching bands and soldiers in traditional red uniforms.
Tickets for Buckingham Palace: The State Rooms Entrance Ticket
A multimedia tour of Buckingham Palace's state rooms is an excellent way to get a sense of the royal state rooms which are located in the heart of the palace. Once you enter inside you will be able to see the Royal Collection and having the opportunity to explore the most precious works on display.

Every year, the Buckingham Palace State Rooms are open for a limited time, usually from late July to late September. A ticket to access the State Rooms provides access to the palace's most impressive and ornate areas.
To get your tickets to Buckingham Palace, simply click the icon below.
Tips Before Visiting Buckingham Palace

Here we have gathered some points to help you make the most of your visit to Buckingham Palace in London:

Location: It is located in the western part of the city, in the City of Westminster.
The summer opening: The palace is open to the public during a limited time each year, typically from late July to late September.

Opening Hours: The Palace is mainly open during the summer season, generally between mid-July and end September. There are tours during the winter season but more on a limited time only. The opening hours for the summer season are as follows: From 14th July to 31 August at 09:30 to 19:30 (last admission 17:15) and from 1st to 24th September at 09:30 to 18:30 (16:15).
Book your tickets in advance: You can purchase tickets online in advance to avoid long queues and ensure your preferred date and time. Since Buckingham Palace is a popular tourist attraction, and it's recommended to book tickets and tours well in advance to avoid disappointment.
Arrive early: To avoid long queues, it's best to arrive early before the palace opens. This will also give you more time to explore the State Rooms and other parts of the palace. We suggest between 2 and 2.5 hours.
Timed admission: The system operates at 15 minute time slots. This is the time you select when purchasing your ticket. If you already have your ticket, it is advised to arrive at the entry time printed on your ticket and not earlier.
Check out the gift shop and café: The palace has a gift shop where you can buy souvenirs and a café where you can enjoy refreshments and light meals.

Follow the palace rules and strict security process: Visitors are required to go through metal detectors and bag checks before entering. The palace has strict security checks and guidelines, including restrictions on photography and mobile phone use. Make sure to follow these rules and respect the palace's historic and cultural significance.
Photographs: Visitors are not allowed to take photographs or videos inside the palace, and mobile phones must be switched off while inside the State Rooms.
Food and Drink: They are not allowed inside the Palace, with the exception of bottled water.
Wear comfortable shoes: The palace is a large complex with many rooms and long corridors, so wear comfortable shoes that you can walk in for an extended period.
Be respectful of the palace and its history: Buckingham Palace is a historic and cultural landmark, so be respectful of its significance and follow the guidelines and rules to ensure a memorable and enjoyable visit.

Functioning royal residence: It is important to remember that some parts may be closed to the public or off-limits during your visit.
Visitors with disabilities or special needs: You can contact the palace in advance to arrange for assistance and access.

Plan your visit around other nearby attractions: Buckingham Palace is located in a historic and cultural district of London, so plan your visit around other nearby attractions, such as Trafalgar Square, St. James's Park, and the National Gallery.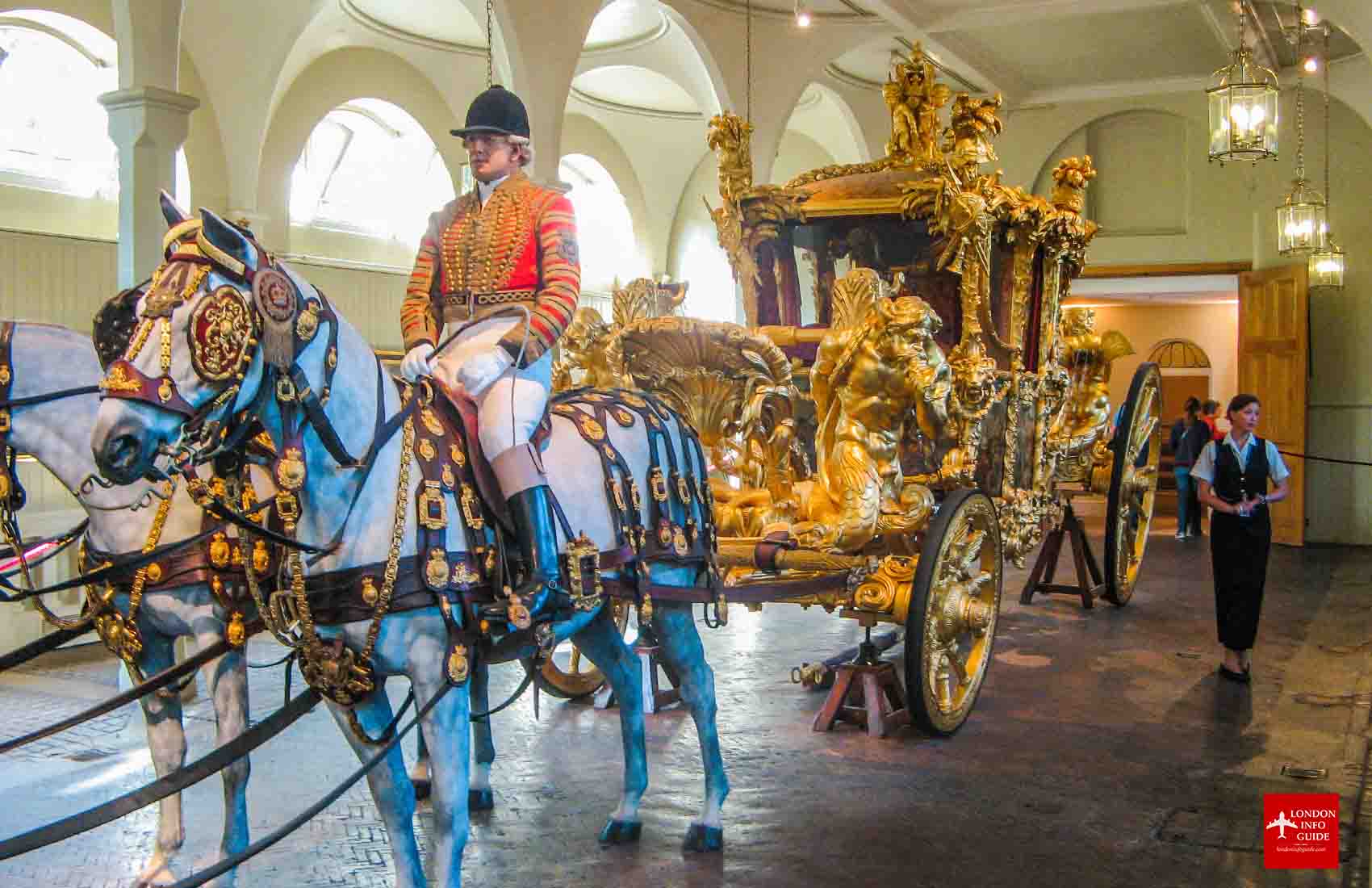 The Royal Mews
How to get to Buckingham Palace

There are numerous ways to get to Buckingham Place, including the metro, bus, car, boat, and train.

getting here By Metro

There are three tube stations closest to the palace, all of which are around the same distance away. The station at Charing Cross is a lot further away, but it is in front of The Mall, which leads straight to Buckingham Palace.

The closest underground is Green Park Metro Station which lies at the far end of Green Park at Piccadilly Street 0.4 miles (0.64 kilometres) which is served by the Jubilee Line (Grey), Piccadilly Line (Blue) and Victoria Line (Light Blue). Around 9 minutes walk.
St James's Park Station being 0.4 miles away or a 9 minute walk away is served by the Circle (Yellow) and District Line (Green).
Victoria Station which is 0.5 miles or an 10 minute walk and is served by the Circle (Yellow) District Line (Green) and Victoria (Light Blue).
Hyde Park Corner Underground Station is 0.6 miles away or a 12 minute walk served by the Piccadilly Line (Blue).
Charing Cross Station is around 0.9 miles with a 20 minute walk which is the furthest distance from the palace. It is served by Bakerloo Line (Brown) Northern Line (Black).
By coach
Walking distance to the palace from Victoria Coach Station is only 10 to 15 minutes.
by bus
There are several bus routes that pass close to Buckingham Palace, and the nearest bus stops will depend on your starting point and the direction from which you are arriving.
These are the lines and routes that have stops nearby: 13, 148, 16, 211, 36, 38 and 786.
Hop-on Hop-off buses
There is a sightseeing bus stop located just a short distance away from the palace, which is within easy walking distance of the palace.

River Thames transportation

The Westminster Pier and Embankment Pier are the closest to Buckingham palace with a 20 to 30 minute walk. You could also take a taxi if the walk is too long.
Bicycle
The closest free bicycle parking to Buckingham Palace in in St. James Park close to Birdcage Walk street.
There are other parking spaces around but much further away from the palace. Check out all the bicycle parking spaces.
Free parking spaces are available right close to the bridge.
Car Parks

Parking is accessible in a number of adjacent parking lots, although driving is not advised owing to congestion charges.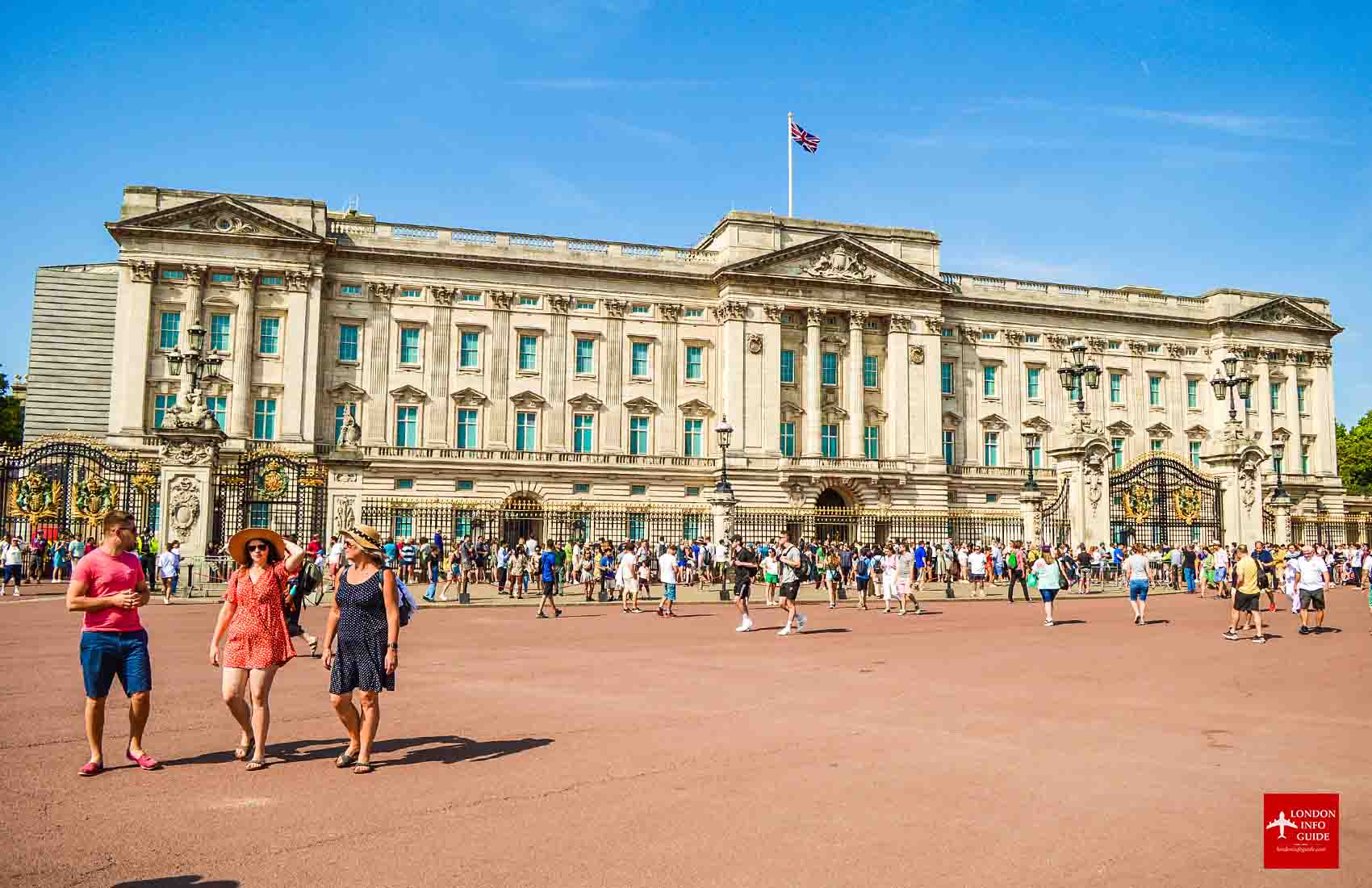 Buckingham Palace London
13 facts about Buckingham Palace in london
Following are some significant historical details:
On the site of a historic mulberry garden, Buckingham Palace was first constructed as a mansion for the Duke of Buckingham in 1703.
The palace, often known as "The Queen's Palace," was purchased by King George III in 1761 to serve as Queen Charlotte's private retreat.
During the reign of Queen Victoria, the palace had major renovations and enlargements by architect John Nash, and it was designated as the monarch's official residence.
Many significant occasions have taken place at the palace, including the coronation of Queen Elizabeth II in 1953 and the royal family's first outside appearance on the balcony in 1851.
German bombs dropped during World War II caused significant damage to the palace, which required major post-war repairs and reconstructions.
Several kings, including Queen Victoria, King Edward VII, King George V, King George VI, and Queen Elizabeth II, have lived in the palace.
Over the years, the palace has undergone numerous repairs and renovations, including the installation of electricity, contemporary plumbing, and a heating system.
Several parks and gardens, notably Green Park and St. James's Park, are located all around the palace.
The palace features its own post office, cinema, swimming pool, medical facility, and jewellery workshop.
Rembrandt, Rubens, and Canaletto pieces are part of the palace's substantial art collection.
The 42-acre palace grounds have a lake, tennis court, and landing pad for helicopters.
The Royal Protection Command, the palace's own police force, is in charge of keeping the royal family and the palace secure.
As a recognizable representation of British history and culture, Buckingham Palace continues to be a significant landmark and popular tourist destination in London for visitors from all over the world.
multiple combo Ticket Options Buckingham Palace
There are multiple choices in visiting the Buckingham Palace, either with just the entrance ticket or either with the following tours. Below you will find a mix from walking tours, to changing of the guards to a combo ticket to the Windsor Castle.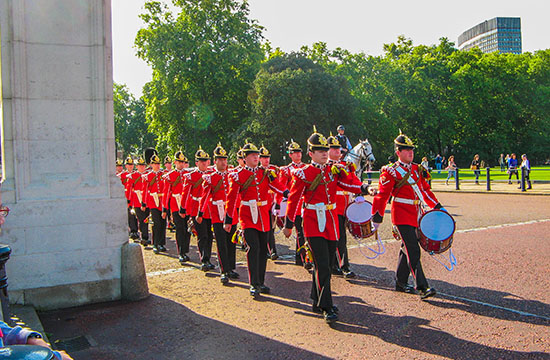 Changing of the Guard & Buckingham Palace Tour
Discover the history and traditions of the royal family in London with the help of an audio guide and tour. While watching the King's Household Cavalry change of guard outside the palace, view the opulent State Rooms of the British Monarchy's official London residence.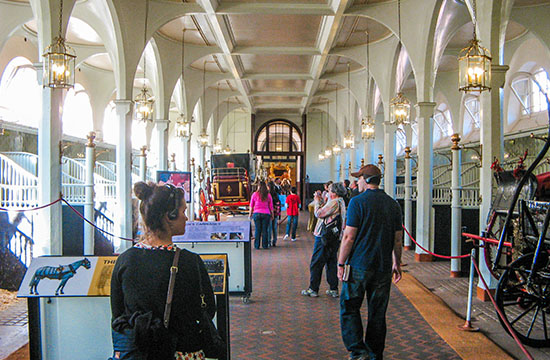 Buckingham Palace: The Royal Mews Entrance Ticket
The Royal Mews is home to the royal collection of carriages and coaches. Experience the history and customs of the British monarchy while viewing the royal horses. Among the antique carriages and coaches are the Gold State Coach, which is used for state ceremonies like coronations.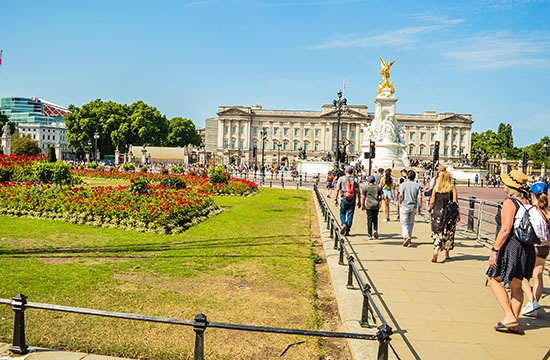 Buckingham Palace Tickets with Royal Walking Tour
Visit Buckingham Palace's State Rooms for a glimpse into the Royal Family's lifestyle. You can then stroll through St. James's Park and down The Mall in the city. It is possible to order tickets online in advance. To minimize disappointment, it is advised to do so well in advance.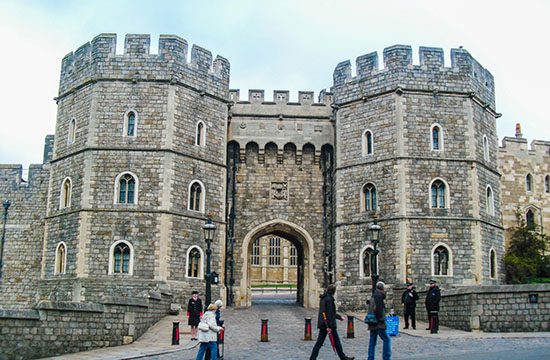 Buckingham Palace & Windsor Castle: Full-Day Tour

Spend a royal day out exploring Windsor Castle and Buckingham Palace with a guided tour. Tourists who want to see two of the most prestigious and famous royal houses in the UK will love this tour. Tours usually take 8 to 10 hours, including transportation between locations.

map of Buckingham Palace in london
London hotels near Buckingham Palace

Hotels near Buckingham Palace London can be found here. Here are a few suggestions that may be helpful.

View a list of London's top neighbourhoods for lodging.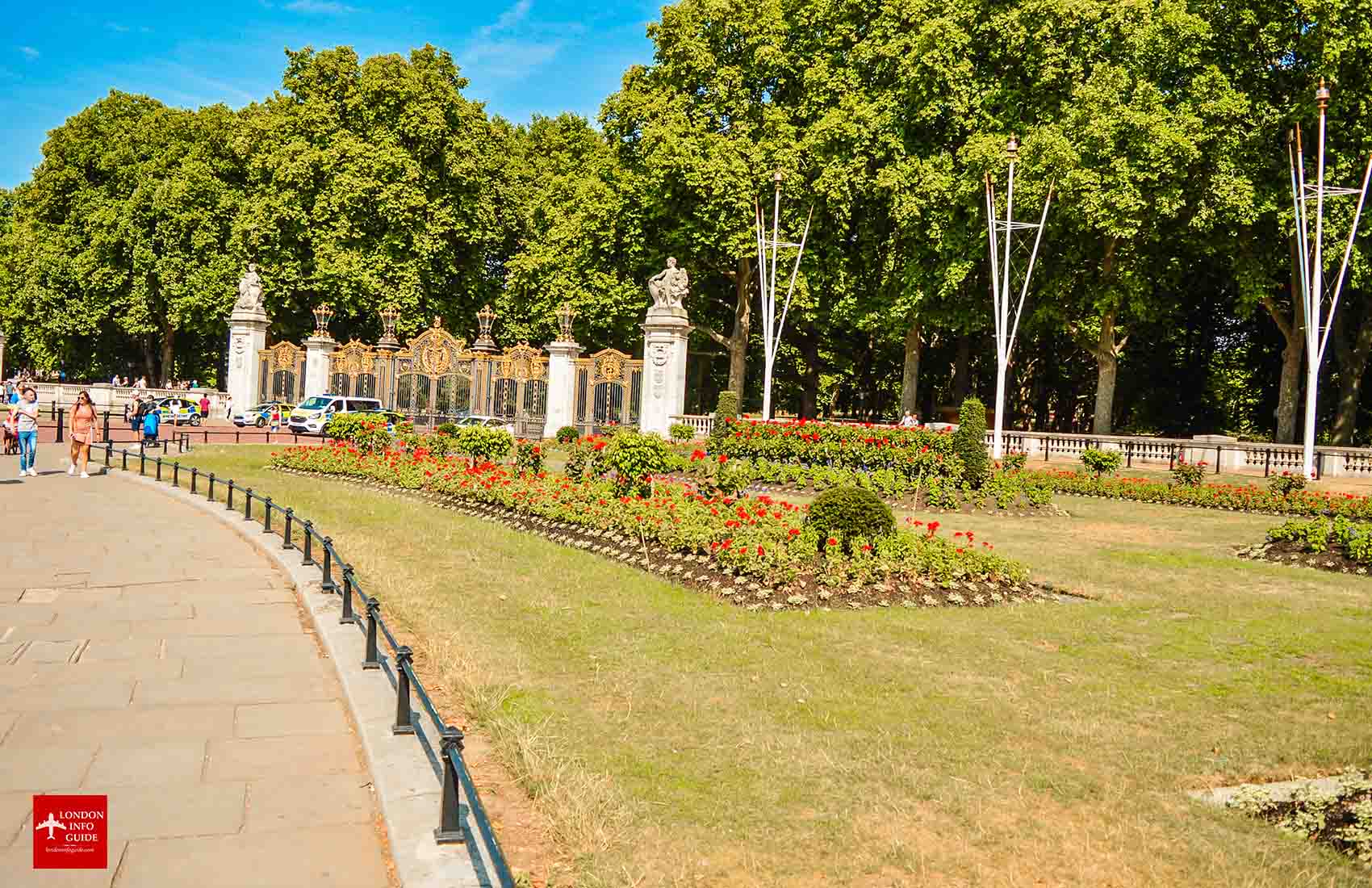 As a conclusion to our guide to Buckingham Palace in London, this is iconic landmark is a must visit if you are especially interested in British history, culture, and royalty. If you are also lucky enough, you also get to see the changing of the guards ceremony which happens outside the palace.
Apart from this beautiful palace are other things to do in London. Take a look and read out guides to the Tower of London, the Tower Bridge, Westminster Abbey or even the London Eye.
questions about the Buckingham Palace london

It is possible to tour Buckingham Palace between July and September on specific days during the year.
It takes between 2.5 and 3.5 hours to fully explore Buckingham Palace because there is so much to see. This link will take you right to this section where we have put up a number of tour suggestions.

Buckingham Palace is the official London residence of His Majesty The King.
As early as the 1600s, Buckingham Palace, previously known as Buckingham House, stood on the edge of Westminster City at the western extremity of the Tudor hunting park of St. James. It is surrounded by lush vegetation in St. James and Green Parks. It was not until 1837, however, that Buckingham Palace became the official seat of the royal family.

The address for Buckingham Palace is: Buckingham Palace, Buckingham Gate, London, SW1A 1AA

It is located in the western side of the city's centre. It may be found in London's City of Westminster neighbourhood, on the western edge of the city.
As they have done since 2003, Charles and Camilla are presently residing in their London home, Clarence House.

No formal announcement has been made regarding the King's relocation to Buckingham Palace.
Buckingham Palace is home to the monarchy of Great Britain. After Queen Elizabeth ll passes away now it is expected that King Charles lll and Queen Consort Camilla will move into Buckingham Palace.

A formal announcement has not yet been made.
Originally known as Buckingham House,  It was a London townhouse constructed by John Sheffield, 1st Duke of Buckingham and Normandy, in 1703 during the reign of the 1st Duke of Buckingham and Normandy on a site that had been in private ownership for at least 150 years.


It became known as The Queen's House after King George III bought it in 1761 to use as Queen Charlotte's private residence.

On Queen Victoria's coronation in 1837, the property was designated as the family's official residence.
There are 775 rooms total, including 52 master bedrooms, 188 servant bedrooms, 92 offices, 78 bathrooms, and 19 state rooms.
The front of the palace is 108 metres (355 feet) long across the front, by 120 metres (390 feet) deep and 24 metres (80 feet) high. The floor space is of 77,000 square metres equivalent to 830,000 square feet.
In addition to being the residence of the reigning king, Buckingham Palace is also the administrative headquarters for the United Kingdom monarchy. Numerous official events and receptions are held there by the King, as well as national and royal celebrations.
A guided tour can provide more insights into the history and significance of the palace, and you can learn more about the State Rooms and other areas not accessible to self-guided visitors.
Though this has nothing to do with the entrance tickets to the palace you can watch the Changing of the Guard ceremony which takes place in front of the palace several times a week.

Throughout the summer, the ceremony is held every day at 11 o'clock, weather permitting, on Monday, Wednesday, Friday, and Sunday.
Want To Share This Page On Pinterest? Pin It Here!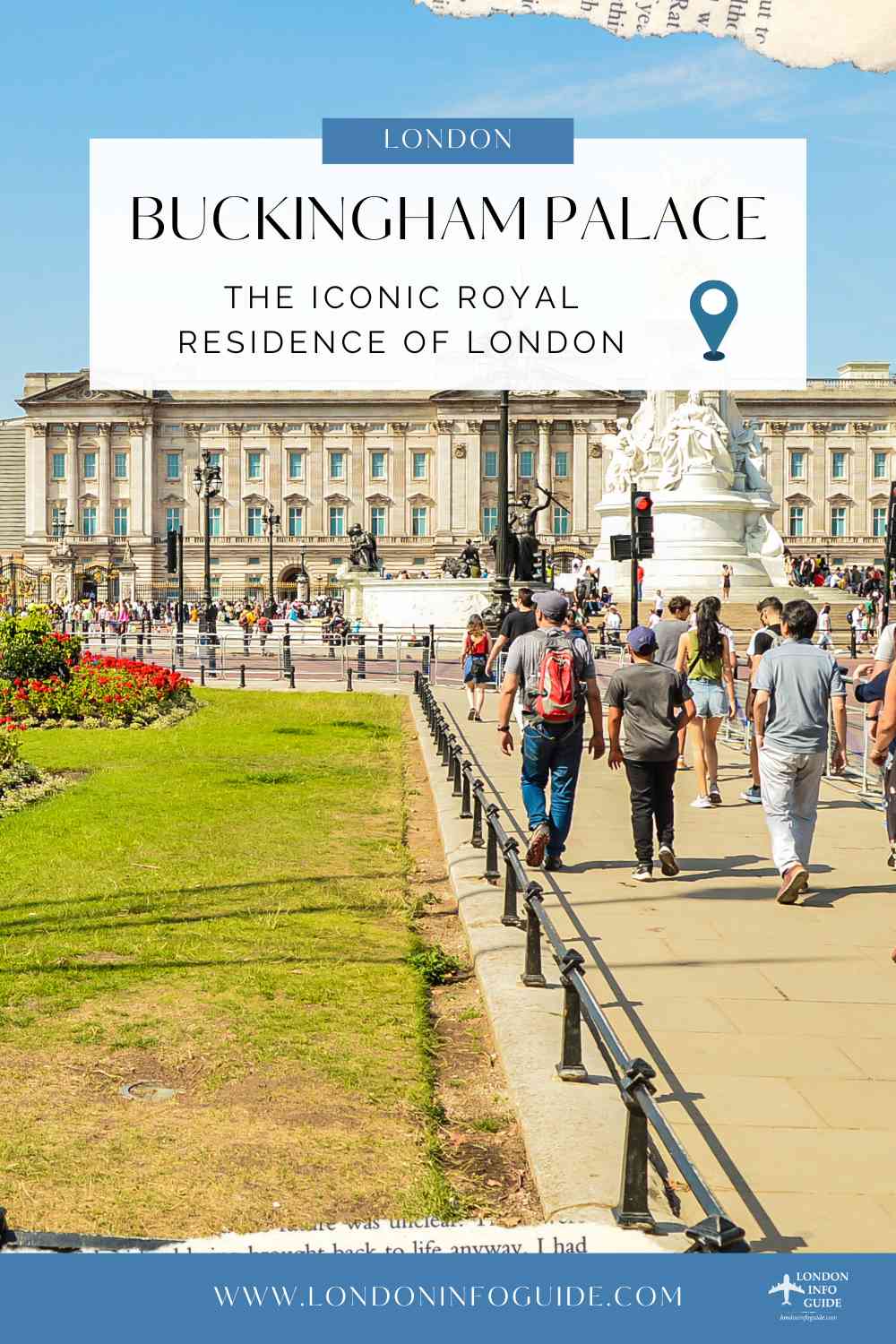 want to share what you read? share below