4 Days in London Christmas Itinerary
4 Days in london Christmas Itinerary
Immerse Yourself In The Festive Season
Christmas in London is already magical in itself. If you are planning a holiday and wondering how many days to spend here, we have crafted this guide about our experience. This 4 days in London Christmas itinerary has everything you need from visiting the famous attractions to enjoying London in the festive season. Join us on a journey through the heart of London's Christmas spirit
While four days may seem limited, our experiences have shown us that it's more than enough to immerse yourself in the best that London has to offer. We ensure that you will enjoy an enriching and memorable Christmas holiday in London.

4 days in london christmas itinerary
Before reading this guide there are a few points you need to know.
This guide can be altered as your heart desires as this is our personal experience and we wanted to give you our side of how we enjoyed London.
'4 Days' does not include the day you arrive and the day you depart. These are a full 4 days in London.
This guide can be of help to a longer holiday you tend to have, meaning that you can use our tips as help for your holiday planning.
day 1 in london
- Visiting London's Main Attractions
The first day of your London trip should be mainly focused on sightseeing and visiting several attractions. On this day we will focus on visiting the main sights in London and walking through London's most popular areas.

Waterloo in Christmas - The London Eye
morning of day 1
Start your early morning with a delightful breakfast then head out and catch the metro and stop at Westminster Station. From here you will start your sightseeing and exploration of this wonderful city of London.
big ben, Westminster Abbey, River thames
Our first stop is the tube Westminster Station which comes exactly opposite Big Ben. From here start your stroll towards the Westminster Abbey which is a few minutes away on the right-hand side from the underground station. Feel free to take your time exploring the majestic church and consider taking a tour if it piques your interest.

Afterwards, make your way back towards Big Ben. Admire the beauty of the recently restored Elizabeth Tower while crossing Westminster Bridge and take some Insta-worthy memorable photos of the Parliament House, London Eye and River Thames.
London Eye, Sea Life Aquarium, Shrek's Adventure, dungeons
Once you get to the other side of the bridge, here you will find a wide variety of attractions including the London Eye, Sea Life Aquarium, London Dungeons and Shrek's Adventure. If you are up to seeing them all, take a combo ticket to save a penny. The London Eye is a definite must-do, especially during the Christmas season when the entire city is decorated.
afternoon of day 1
By now, it's time for a well-deserved lunch. Treat yourself to one of the cosy eateries around the London Eye or as you approach Trafalgar Square. To get to Trafalgar Square, you must cross the Golden Jubilee Footbridge and keep on heading straight up until you reach it.
Trafalgar Square
After satisfying your taste buds, it is time to keep exploring the city. Trafalgar Square is just waiting for you to take a stroll around. Since it is Christmas, there will surely be a Christmas market as well as a Norwegian Christmas tree with festive attractions around. In Trafalgar Square, you will find the National Gallery where you can decide whether to check it out now or save it for another day.

piccadilly circus london
Proceed walking towards Piccadilly Circus passing by beautiful architecture, shops and hotels. A vibrant area where you will be surprised by the plenty of entertainment options. If you've got little ones with you, make sure to pop by the M&M London candy store and Lego Store which are right opposite each other. Just a short walk away is Chinatown, a vibrant district known for its rich Chinese culture and delicious cuisine. Plenty of opportunities to taste Chinese food and other oriental cuisines.

evening of day 1
After a full day of excitement you either might want to wind down or continue your adventure. We have a few options here. If you would like to see London at night you might want to revisit certain areas you went to during the day as now they are dressed up in their festive street light decorations.
Another possibility is heading to Oxford Street or Hyde Park Winter Wonderland. Before doing so you might want to freshen up at your hotel and have a lovely dinner at a restaurant in the vicinity of your hotel or while exploring London at night.
day 2 in london
- kensington area, Winter Wonderland
Today is all about exploring another side of Christmas in London. This day is focused on exploring the Kensington area. For the morning you have an option of two museums to choose from then head to Winter Wonderland at Hyde Park, explore the vicinity areas then for the evening enjoy the Nutcracker show. The advantage is that all the locations mentioned for this day are all at walking distance from each other and the majority of the time you will be walking through the London parks.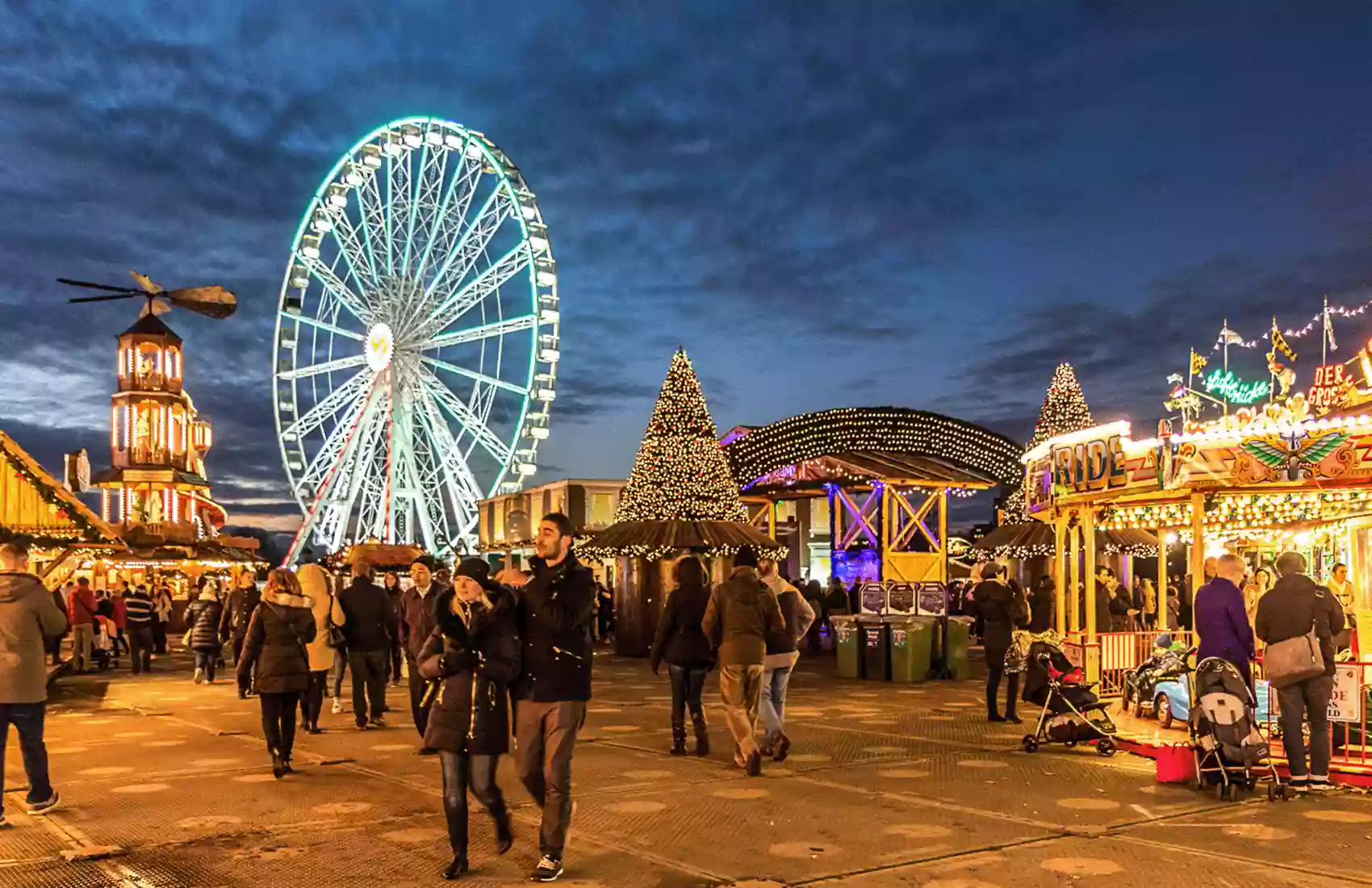 Hyde Park Winter Wonderland
morning of day 2
In the early hours of the morning after having your breakfast head straight to two famous museums which are the Natural History Museum and Victoria And Albert Museum. You can go to both or choose one as you need a couple of hours for each.
Natural History Museum
The Natural History Museum in London concentrates mostly on the natural wonders. There is a vast collection of fossils, minerals, and specimens from the animal kingdom, including the famous Diplodocus dinosaur skeleton. As a visitor you can explore its magnificent architecture and engage with interactive exhibits, making it a must-visit for nature enthusiasts and curious minds.
Victoria and Albert Museum
This museum is a world-renowned hub for art and design. It houses an extensive and diverse collection, ranging from fashion and textiles to sculpture and ceramics. With its beautiful galleries and a focus on creativity and craftsmanship, the V&A is a cultural treasure trove for art lovers and history buffs alike.
afternoon of day 2
Now, it's time for some festive fun. Make your way to Winter Wonderland in Hyde Park. It is probably one of the most popular landmarks for the festive season in London. Enjoy the Christmas markets, rides and stalls selling handmade gifts and tasty holiday treats. You can plan to spend a few hours here.
If you have time later on, head to Buckingham Palace. Note that entrance to the palace is only available between June and September so you will not be able to visit during the Christmas season. If instead you plan to visit the palace in the morning (around 10am) you can watch the Changing of the Guard ceremony.
Other plans for the afternoon can include a stroll through Kensington Gardens and a visit to Kensington Palace. The gardens are all decked out for the holidays, making for a pretty winter walk. The palace has a lot of history and used to be a royal place.
evening of day 2
For the evening enjoy the Nutcracker show, a classic show performed in London theatres during the Christmas period. The shows typically start at around 7pm so we recommend you have a light dinner before. You also have the choice of buying some snacks at the theatre before or during intermission. 
day 3 in london
- Harry Potter Tour or cotswolds day trip
Day three of your trip to London will be a day outside the city's hustle and bustle. If you are a Harry Potter fan you can choose to go on a day trip to the Warner Brother Studio tour and spend a day wandering through the sets and having a wizarding experience.
On the other hand, if you wish to explore the UK's countryside you can do so by going on a day trip to the Cotswolds, a lovely tour that takes you through the country lanes, historic villages and charming scenery.
Now, if you're like us and you'd love to do both tours, prepare for a full two-day adventure, reserving one day for each.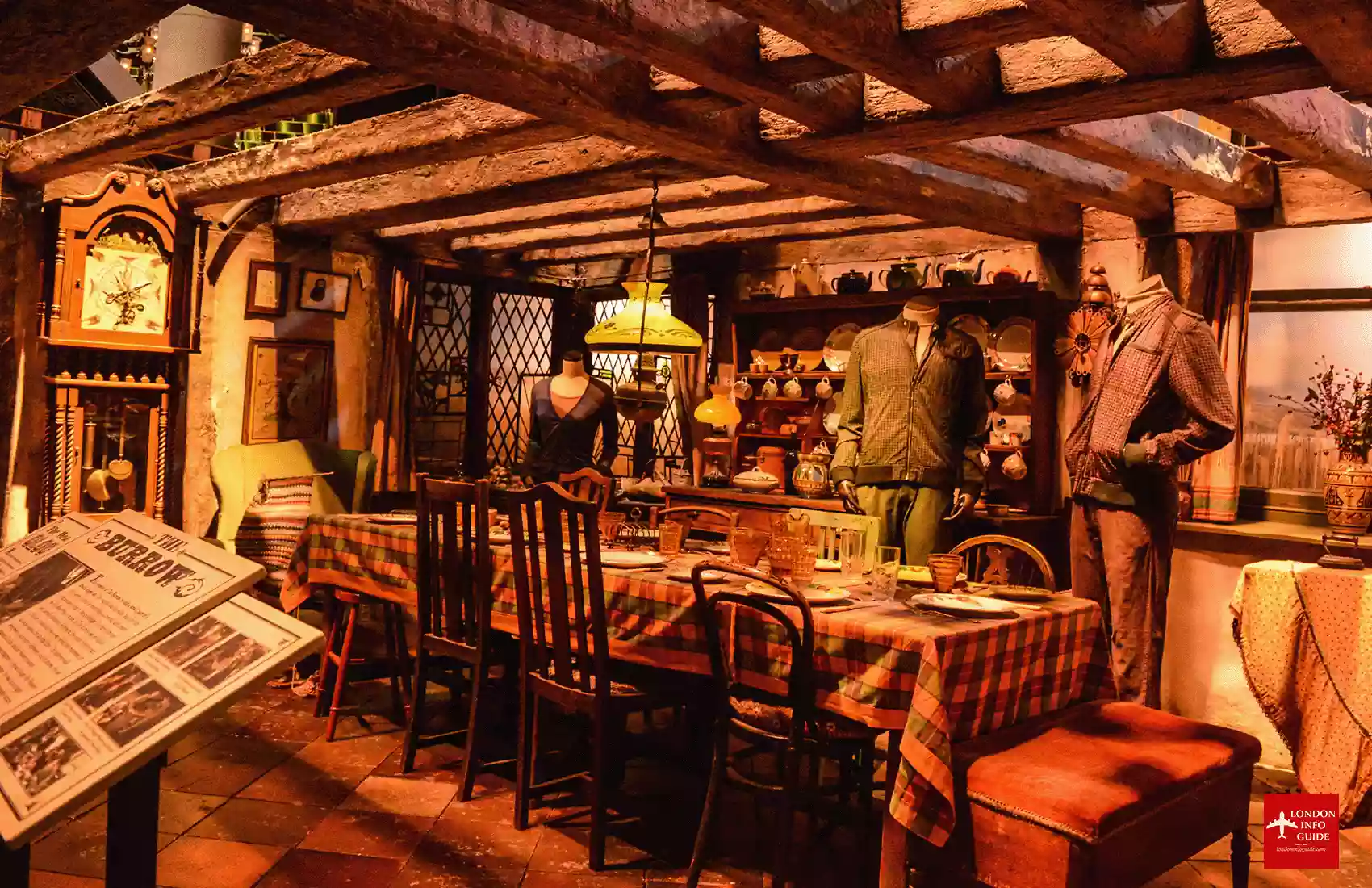 Harry Potter Studio Tour London
warner bros studio tour: harry potter
This tour is highly recommended especially during the Christmas season as the entire studio will be themed 'Hogwarts in the Snow'. Expect enchanting winter and festive decorations throughout the studio.

What do you expect to see on this tour and why do you need a whole day?
Firstly, the studio is around 1.5 hours away by transport from London. You can either get your transport or have transport included if you book tickets from here. So, factor in roughly 3 hours of travel time there and back.
If you have tickets pre-booked you should be able to go to the studio straight away instead of waiting in the queue and buying tickets.
Plan to spend around 4 to 5 hours here depending on how in-depth you would like to go around the studio and explore the props. In between you can have lunch as there is a cafeteria inside the premises.

Note that if you are travelling with transfers booked, there is a schedule you must abide by in order not to lose your transfer back to London. If you are travelling alone, meaning that you have your transport, you can spend till late evening exploring the studios.
Keep in mind that after your time at the studios, you will head back to London. In the vicinity of the studios, there are limited recreational options, as the area primarily consists of residential properties.
day to the cotswolds
For a tranquil escape out of the hustle and bustle of the city then a day trip to the Cotswolds is a must. This tour starts from central London in a coach and takes you to the enchanting villages inside the Cotswolds.
Since your visit will be during the Christmas season, the Cotswolds towns and villages will be decorated for Christmas and there is a chance that you will see snow. The tour will take you to Burford, Bibury, Bourton-on-the-water and Stow-on-the-Wold. You will have specific time slots in each place to explore, have a bite to eat and take photos. Keep in mind that this is a planned tour and you must follow the tour guide's instructions.
Keep in mind that this tour spans the entire day, so don't schedule any other activities.
We can't recommend this tour enough – our experience was simply lovely.
evening of day 3
Depending on what time you return from your tour, your evening plans can vary. If you have some energy left you can visit a Christmas market that is closest to your hotel. You can also have a bite to eat and go for a small walk.
day 4 in london - city of london, shopping, lights tour
The last and final day of your trip to London in the Christmas season will be a mix of sightseeing and shopping. This time again in another part of the city. Later during the day you will have some time for shopping then end you lovely holiday with a Christmas lights tour around the famous streets of London.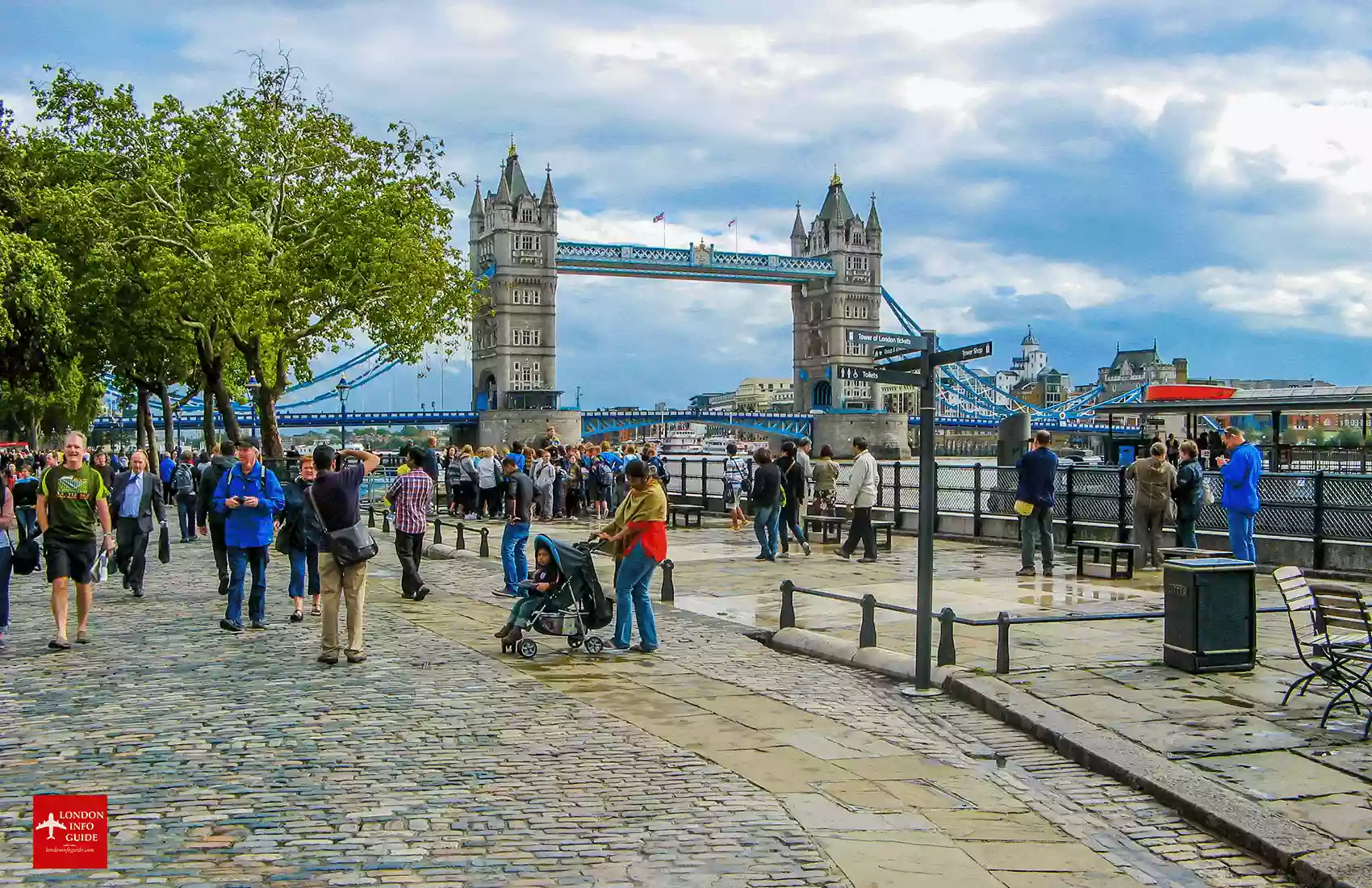 The Tower Bridge London
the morning of day 4
Being that this will be a long day it is encouraged to leave early. From your hotel depart to St. Paul's Cathedral by metro and stop at St. Pauls metro station. Visit the church then explore the City of London and walk to the Tower of London.
On the way, you can stop at Leadenhall Market and Sky Garden. However Sky Garden can take some time but you can stop by to have lunch. Upon arriving at the Tower of London, you have the possibility of entering and exploring the tower. We recommend you pre-book your tickets. Also since it is Christmas, for six weeks there is ice skating close to the River Thames. 
Afterwards, you can walk to the Tower Bridge and if you want you can go inside and explore. As with other attractions, pre-booking tickets is a smart move.
afternoon of day 4
After spending a morning sightseeing you might opt to go for a little shopping spree. You have several choices but it also depends on the weather. If it is a nice cold day and not raining you can stroll around Oxford Street and if it is a miserable rainy day you can go to a shopping mall.
visit a shopping mall
The great advantage of going to a shopping mall is that you have plenty of shops under one roof together with other amenities. When we are looking to do a lot of shopping we prefer going to a shopping mall knowing that we will find a wide range of shops with different prices. Whenever we visit London we always opt to go to Westfield London as it is one of the largest malls in London. It is reachable by metro so it shouldn't be that difficult to get there.

Several shopping malls include:
Westfield Stratford City - More than 200 shops and 80 places to eat.
Westfield London - More than 280 luxury retailers and almost 100 places to eat.
ICON Outlet at The O2 - Check out the world's best accessible fashion and lifestyle brands
One New Change - Around 60 stores and some restaurants.
Brent Cross Shopping Centre - Around 150 shops including a few restaurants.
shop at oxford street
Another alternative is to take the tube to Oxford Circus station and head on to Oxford Street walking your way straight towards Hyde Park. Along the road with the numerous shops and department stores which you will surely visit to see the latest fashion trends.
Admire the Christmas shop window displays and enjoy your stroll in this iconic shopping district. Walking along, if you wish go into side streets like the popular New Bond Street and Bond Street and even Regent Street.

In Oxford Street itself keep on walking up to Marble Arch just the end part of Hyde Park. here you can visit Kensington Palace and the Diana Memorial.
evening of day 4
After spending a lovely day sightseeing and shopping you might want to close the day with a lovely Christmas tour round the streets of London. There are plenty of tours to choose from so we have a dedicated page where you can select and tour and book it in advance. Since these tours typically take around 1.5 hours, you can go and have a lovely dinner at a restaurant in the heart of London.

where to stay in london
You cannot conclude planning your holiday without booking your accommodation. Discover which hotel is perfect for you with this user-friendly widget provided by Booking.com. Set you own dates, preferred location in London and number of people travelling. The map will adapt automatically according to your input.
If you are still unsure about the perfect London neighbourhood, check out out in-depth guide to where to stay in London!

Start your booking adventure now!
As our '4 Days in London Christmas Itinerary' draws to a close, we hope that London in Christmas will be a delightful experience for you. We have shown you our experience, but feel free to tailor your trip to your preferences. Happy Holidays & Travels!
For more travel ideas in Christmas why not check out our 'Trip to London in December' guide.
Want To Share This Page On Pinterest? Pin It Here!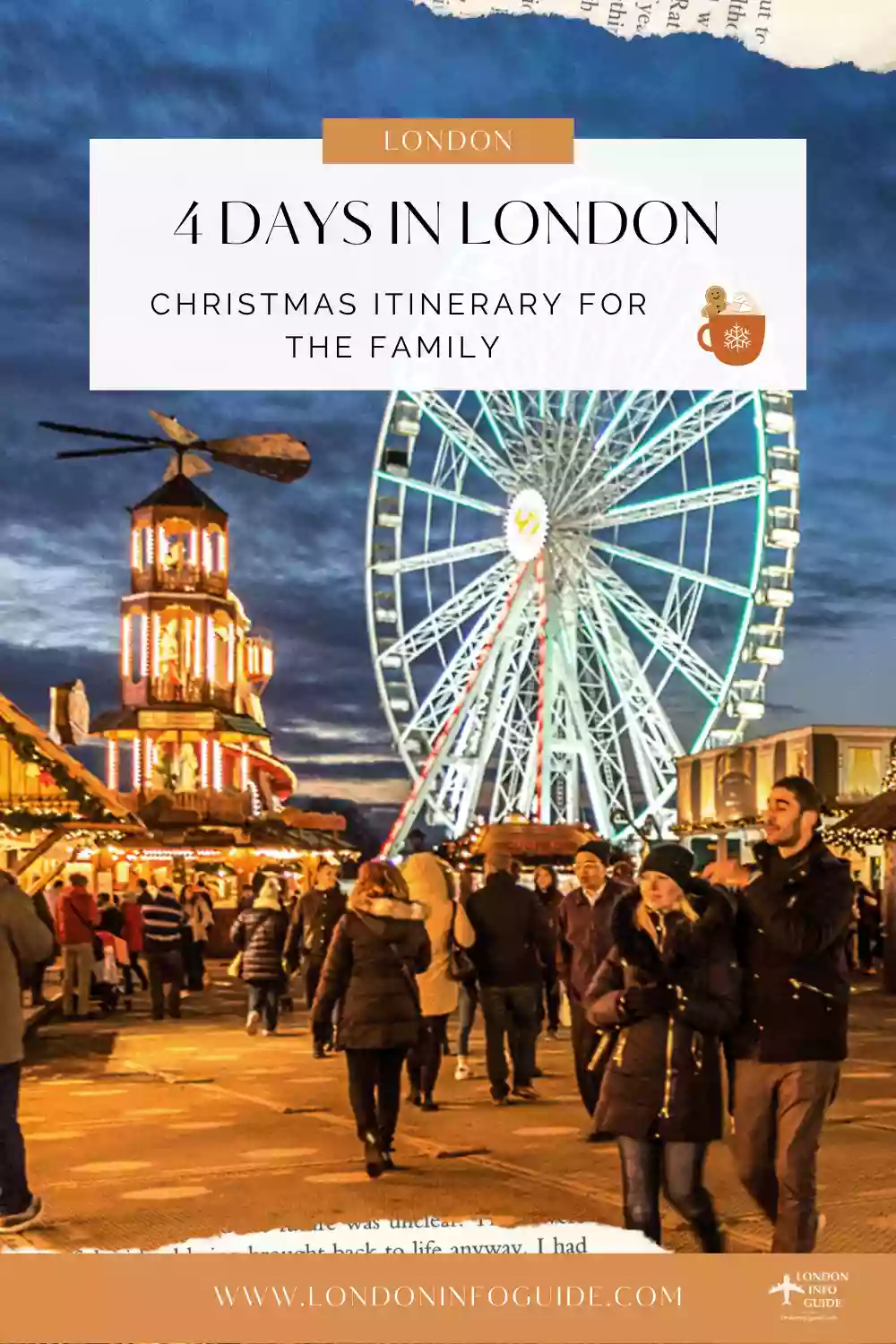 Photo sources
want to share what you read? share below