Trip to London in December
a trip to london in december
A First Time Visitors Guide To The best neighbourhoods in London
As a family we love heading to London every December - it's our little tradition! No matter how many times we've done it, it's just as exciting every time. Like you, we always look for new stuff to explore on each trip but, of course, we cannot skip the iconic London landmarks.
We are always kind of thrilled (and a bit anxious) about the weather there. We do our homework but London weather can be as unpredictable as it is infamous! Not to mention, we also keep an eye out for major events and holidays happening there.
To get the most bang for our buck, we start scoping out the best deals on vacations, flights, and hotels months in advance.
Hopefully, sharing our little process with you on this page will help make planning your stay in London a breeze.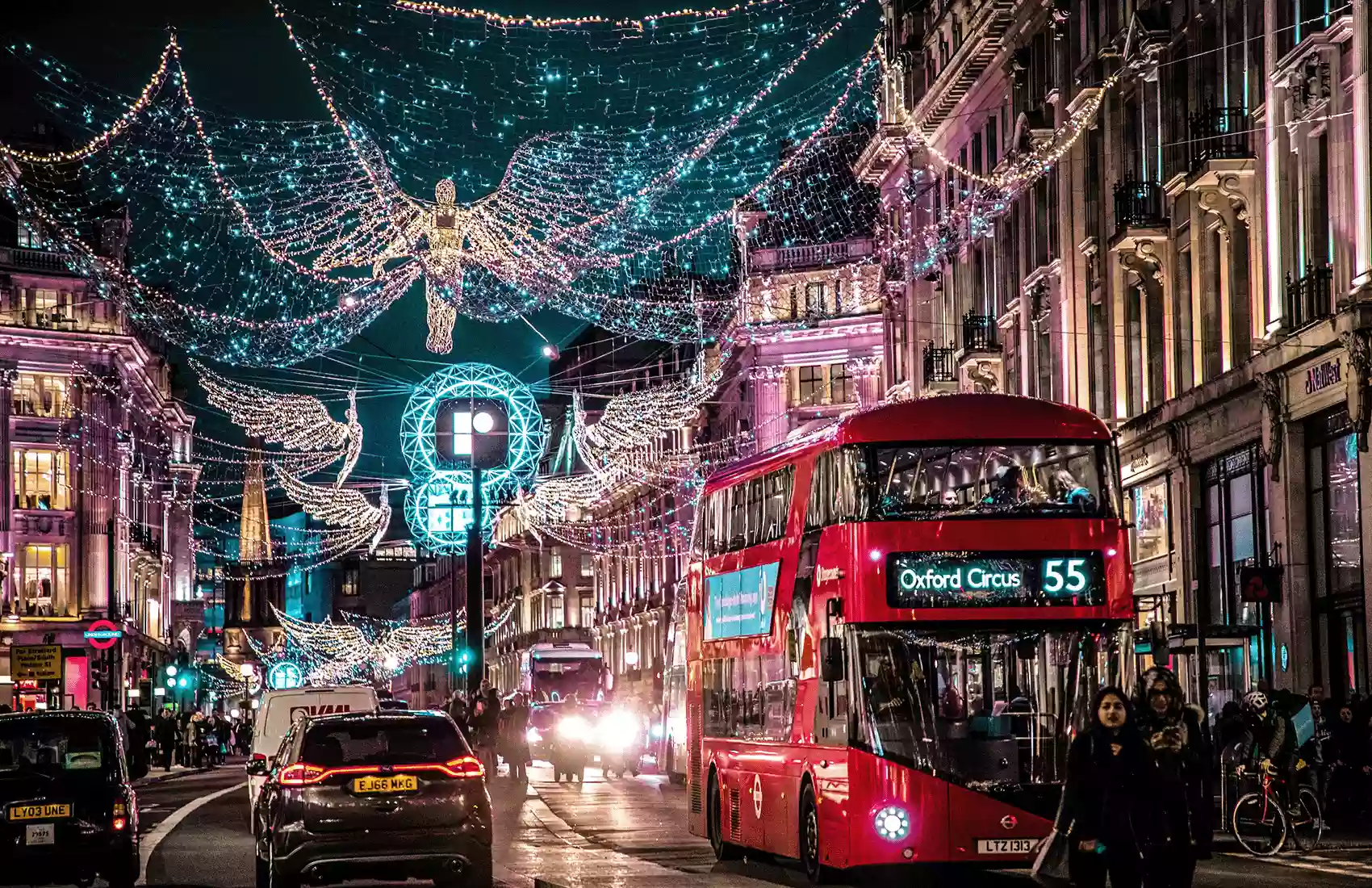 Dazzling Christmas Lights in London
what people ask when planning a trip to london in december
When you're planning a trip to London in December, you are probably thinking about a variety of things that could or will occur while you are there. The following are the most often-asked questions when planning your vacation.

What is the weather in london for december? 
The weather is cold, damp and rainy but also beautiful for the month of Christmas as it brings you in the Christmas spirit. Expect an average of 10 days of rain with temperatures around highest 8.8°C (47.8°F) and lowest 3.1°C (37.6°F). Days are shorter than the nights. Check out our detailed page about the London weather in December.

is december a good time to visit?
London is excellent in December for those who enjoy Christmas events and the Christmas mood. For people who prefer milder weather and celebrating holidays at home, this may not be the best option. There is something magical about the city during the holiday season, especially with its seasonal charm and festive events.

How busy is London in December?
Christmas shopping and the holiday season make London rather crowded in December. Popular attractions, commercial districts, and markets may experience crowds. Plan ahead of time for major attractions and expect lengthier lines at famous tourist destinations. Despite the crowds, this is a great time to visit the city.

Does it snow in London in December?
December can sometimes bring snow to London, but it's relatively rare and usually light. The snow creates a beautiful winter landscape, adding to the festive character of the city. It is rare for severe snowfalls to occur, and delays in travel and daily life are also rare. It is significantly more likely to rain.

what part of december is best to visit to enjoy the best of christmas in london
Christmas in London is best experienced between mid-December and early January. Special activities, markets, and holiday lights decorate the city during this time. It's especially magical on Christmas Eve and Christmas Day when many attractions and services are open. Even in early November, London is adorned for Christmas. Some come for the sales from Boxing Day to the beginning of January.

New Year's Eve is ideal for fantastic celebrations at the river Thames, complete with fireworks and everyone enjoying himself.
how should i dress for my trip to london?
Prepare for inclement weather when visiting London by dressing warmly. Having a rain jacket or umbrella with you is a good idea because the city sometimes experiences unexpected showers. Especially when temperatures fall at night, scarves, gloves, and beanies are recommended.
This does not mean that you will not need them during the day. It is important to keep in mind that most indoor settings have central heating, so you can modify the layers of your clothing to keep warm.

how can i be budget-friendly?
Being that during December, the prices tend to soar due to the influx in demand, here are a few tips on how to keep the cost of your holiday low.

Low-Cost/Free Activities - During this time of year, London is full of events. If you are on a tight budget, then looking for free or low-cost activities is your highest priority. When taking a tour, book it in advance as online tickets as usually cheaper than booking it on the day. We use GetYourGuide to book all our tours as we can reserve without paying until a few days before. You can also cancel up until 24 hours before the tour commences if plans change.
Oyster Card - Public transport is the best way to travel around London. An Oyster card is a convenient way of payment for public transportation in London and the Greater London area. There are several ways to use them, including the Tube (London Underground), trams, buses the London Overground, Docklands Light Railway (DLR), and select London National Rail services.
Reserve Your Hotel in Advance - Consider booking your hotel months in advance to take advantage of the low-cost hotels. With Booking.com you can reserve your hotel without paying anything and also cancel if plans change. Make sure you book a hotel that allows these options.
Consider Alternative Accommodation - Renting an apartment can be beneficial in saving a buck or two as you have the liberty of cooking your food instead of having breakfast or eating at a restaurant. If you plan to do this make sure you find a supermarket close by so that you can buy the food.
Shopping Sales - Exactly after Christmas Day, the sales start which means you can grab great bargains while shopping. These sales typically keep running until the first week of January.
Setting a Budget - Not everyone can afford an expensive holiday so setting a budget is one of the most important things in saving money. It can be hard and sometimes impossible but having a budget will keep you on track in saving lots of money. What we usually do is write down what expenses we will have on our holiday (flight, accommodation, food, spending money) and see where we can save. Writing down everything gives you a clearer picture of how much the holiday will cost.
Planning Your Day - To avoid constantly using public transport to visit close locations, plan your day trip to do it on foot. London is big but the main attractions are close so walking shouldn't be that difficult. This depends on the weather but saving on transport will save you a buck. Also, plan what you are going to see in a particular location to avoid revisiting it. Through this, you save time and money.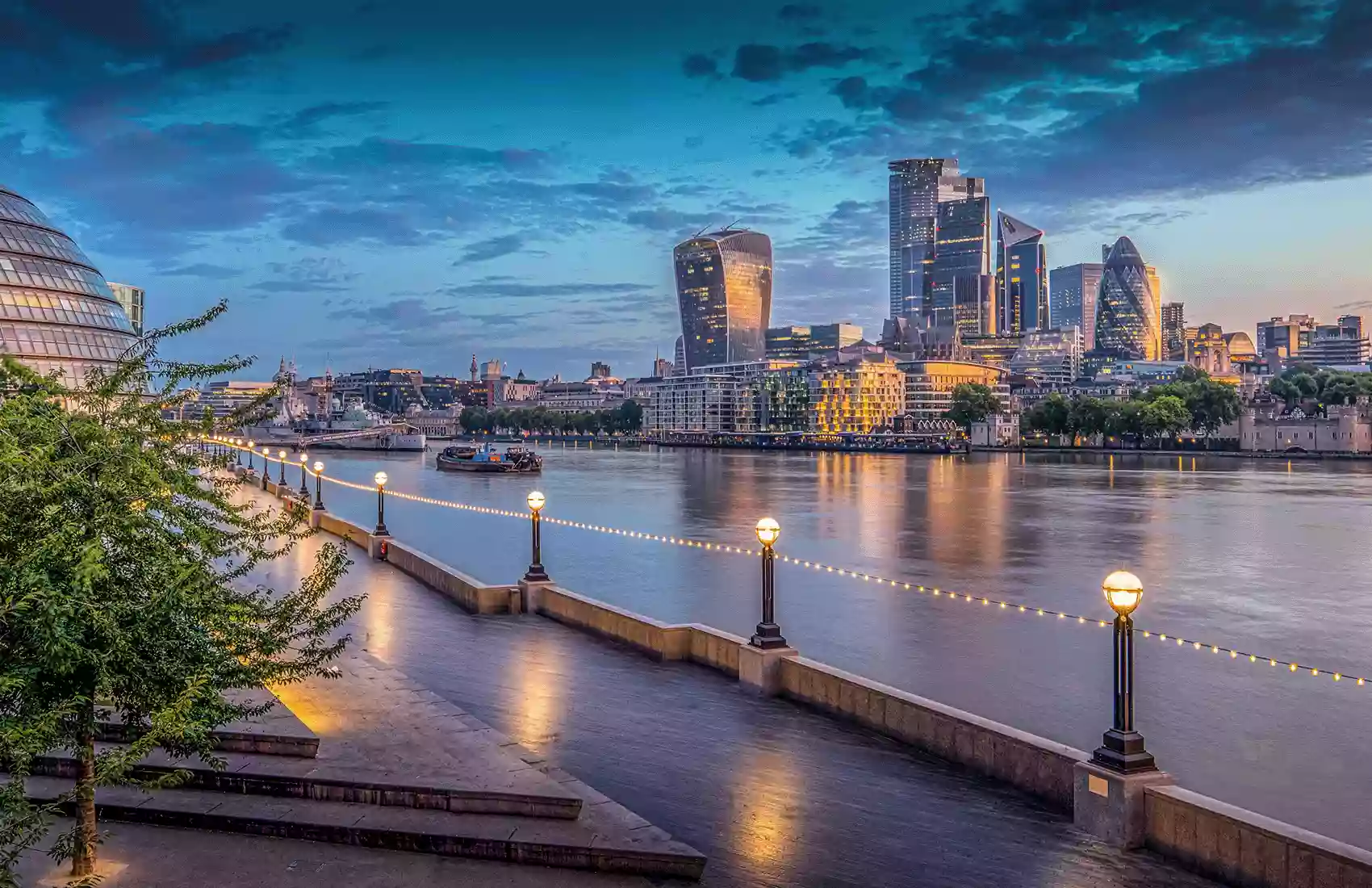 Sunset Over City of London
what to expect on your trip to london in december
December is a month when London has some interesting facts going on. If you come at the beginning or the end, things will probably be slightly different and busier. Since it's the festive season there are some tips to keep in mind when planning your trip to London in December.

The city gets quite crowded especially by mid-December as it is very close to Christmas Day and then to New Year's celebrations.
Rain is expected so weather waterproof shoes and clothing are required. Warm up to joy it to the full.
If you plan to do a lot of sightseeing on foot, bring comfortable and waterproof shoes. An umbrella is also a necessity.
Sales are expected by Boxing Day, 26th December and run through the middle of January so look out for great bargains.
Black Friday is always on the 4th Friday of November, though this day is very close to December and you might be thinking of coming over covering this day till the first days of December.
Since the demand for tourism increases, hotel rates get more expensive. Planning beforehand is a necessity in terms of budget and availability. Pre-book your hotel for months before and keep an eye on the prices as they change regularly. You might find a nice hotel with a sweet price.
Early booking of attractions will help you reduce waiting time and disappointment. We suggest booking them online much before your holiday dates.
The London transport is very efficient so make use of it when roaming the city. You can purchase the oyster card which offers an advantage to how many times you use the transport systems.

The daylight hours in December are limited, so plan your outdoor activities.

On days like Christmas Eve/Day and New Year's Eve/Day the opening hours of some establishments (convenience stores, small shops, tourist attractions and entertainment venues) may be shortened.
Christmas Lights Illuminating Brompton Road London
17 things to do in london in december
December tends to be slightly less crowded than the peak summer months. You can explore attractions with more ease and enjoy shorter queues

Visit the iconic sites of London: From the Tower of London to the splendour of Buckingham Palace, there is something for everyone. Wander along the River Thames, take in Big Ben, Parliament House, Tower Bridge, Hyde Park, and other sights. Plan a walk as most of them are near together, as we did when we were there.
Christmas Markets: There are wonderful Christmas markets in London. Check out our list of locations where you can find them for delicious holiday foods, presents and enchanting ambience.
Mulled Wine and Roasted Chestnuts: These soothing treats may be found easily at attractive Christmas market stalls and other festive locations all across London. The brisk weather is ideal for indulging in a warm treat.

Make Reservations for Attractions: During the holiday season, popular sights such as the Tower of London, Buckingham Palace, and museums can get extremely crowded. Consider purchasing tickets in advance to avoid long queues.
Ice Skating: During December, many historic venues such as Hampton Court Palace, Somerset House, and Winter Wonderland at Hyde Park set up outdoor ice rinks. Skating in front of historic landmarks is a fantastic experience.

Theatre & Shows: With fascinating performances, experience the magic of London's West End theatres. Get tickets to a theatrical classic or a musical extravaganza for a fantastic evening of pleasure. Book early and book the best seats for yourself.

Museums & Galleries: London's world-class attractions provide indoor attractions, making it a superb winter destination. You can visit the National Gallery, British Museum, Tate Modern, National Maritime Museum, Natural History Museum and others. Check out the list of free museums in London.

Christmas at Kew: Enjoy the enchanting holiday atmosphere by wandering through Kew Gardens, which will be decorated with festive lights and decorations this Christmas. Don't miss out on this wonderful show of holiday cheer!

New Year's Eve: Along the River Thames, London offers one of the most stunning New Year's Eve fireworks displays, which includes the London Eye. It's a unique way to start the new year. Plan ahead of time to be near the event.

Shopping at Christmas: The holiday shopping scene in London is a great treat, with big-name stores such as Harrods, Selfridges, John Lewis & Partners, Debenhams, Marks & Spence, and Liberty coexisting harmoniously with charming boutiques selling one-of-a-kind presents and treasures.
Christmas Tours: Embark on enchanting Christmas tours to immerse yourself in the holiday spirit. Wander through twinkling light displays, visit Santa's grotto, and discover the city's festive history with knowledgeable guides. These tours are your ticket to a merry and magical London Christmas.
Go to Paris for a Day: Enjoy a romantically enticing day in Paris. Take the Eurostar on a fast-paced journey through the City of Love as you discover famous sights, indulge in French cuisine, and make priceless memories.

River Thames Tours: Explore interesting tours, particularly romantic night dinner cruises. Sail by lit landmarks, dine on exquisite cuisine and raise a glass to love under the beautiful skyline.
Pubs and Restaurants: London has an active food scene. There are numerous restaurants and pubs around every corner to sample different flavours and enjoy the city's gastronomic delights, ranging from historic watering holes to Michelin-starred eateries.
Harry Potter Tour: Set out on a fantastic journey through the wizarding world of Harry Potter. Explore amazing settings, visit classic film locations, and learn the secrets behind the spells.
Visit A charming City Close to London: Extend your London vacation by visiting a wonderful English city nearby. Escape to historic locations such as Oxford, Bath, or Cambridge, each of which has its own culture, architecture, and history waiting to be discovered. Consider the many tour options.
The Winter Wonderland in Hyde Park: Explore a winter paradise complete with exhilarating rides, authentic Bavarian markets, captivating ice shows, and many other attractions. It's a seasonal show that guarantees treasured Christmas memories.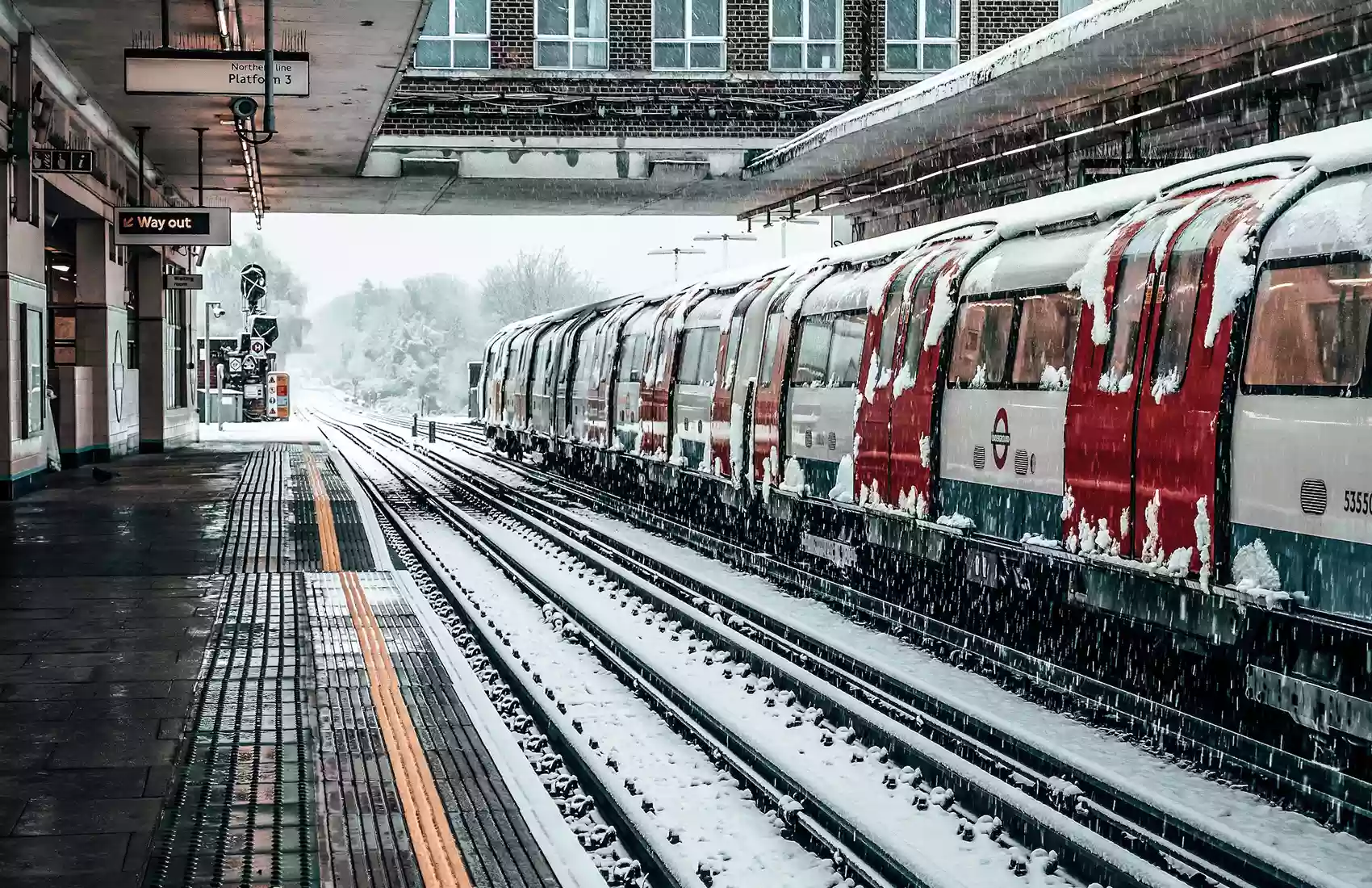 Snow Cover in London
best hotels in london
Use the widget below to find the accommodation that is right for you. Just enter the dates and number of people. The map will help you pinpoint where the hotel is located as well as the prices around London. The map will update according to the information you provide it.
If you still have no idea where to stay in London check out which location is best for you!
So let's get booking!
This is the end of our guide to a trip to London in December. Make sure to keep this guide bookmarked for later reference when you book your holiday! We hope that you have taken some great points from our experience and that you will include them in your plans.
This guide has given you a summary of some popular FAQs, suggestions on what to do in December and some great tips to take note of when booking your holiday.
Want To Share This Page On Pinterest? Pin It Here!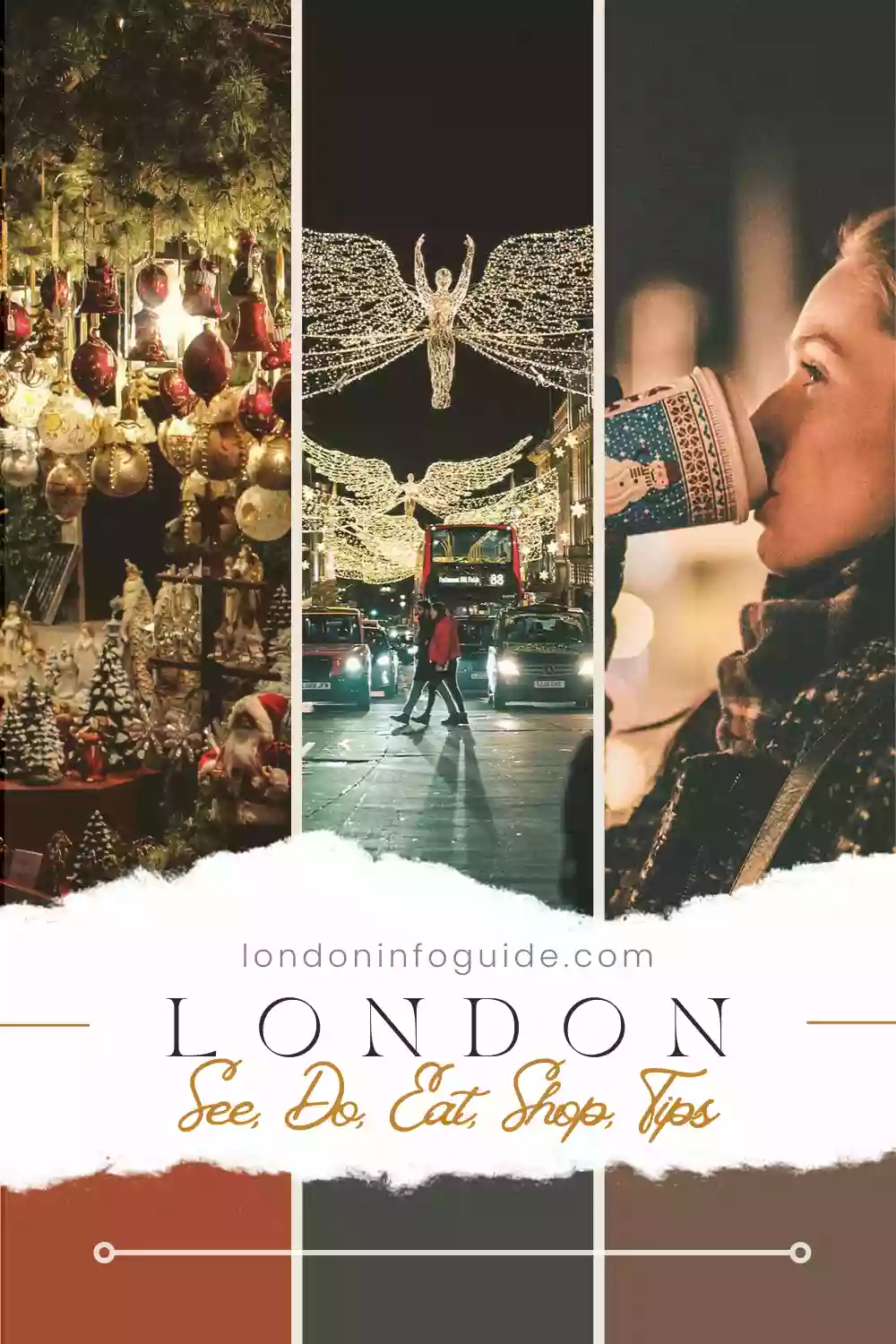 Photo sources & resources - trip to london in december
Snow Cover in Train Station - Photo by Will Kennard on Unsplash
Sunset in London - Image by Pierre Blaché from Pixabay
Brompton Road Christmas Lights London - Photo by Dmitry Vechorko on Unsplash
Oxford Street Christmas Lights - Photo by Jamie Davies on Unsplash
want to share what you read? share below