London Weather In December
london weather in December
It's Going To Be A Very Cold Month
The London weather in December is cold and wet, but you will still be attracted to visit with well-decorated shops and twinkling lights and plenty of buying opportunities.
London is also extremely popular during December, so prepare to see both local and international tourists crowding the streets with holiday shoppers.
If you plan to visit during December, we highly recommend you plan your visit between Christmas ad New Year's as during that time London will be in high Christmas spirits.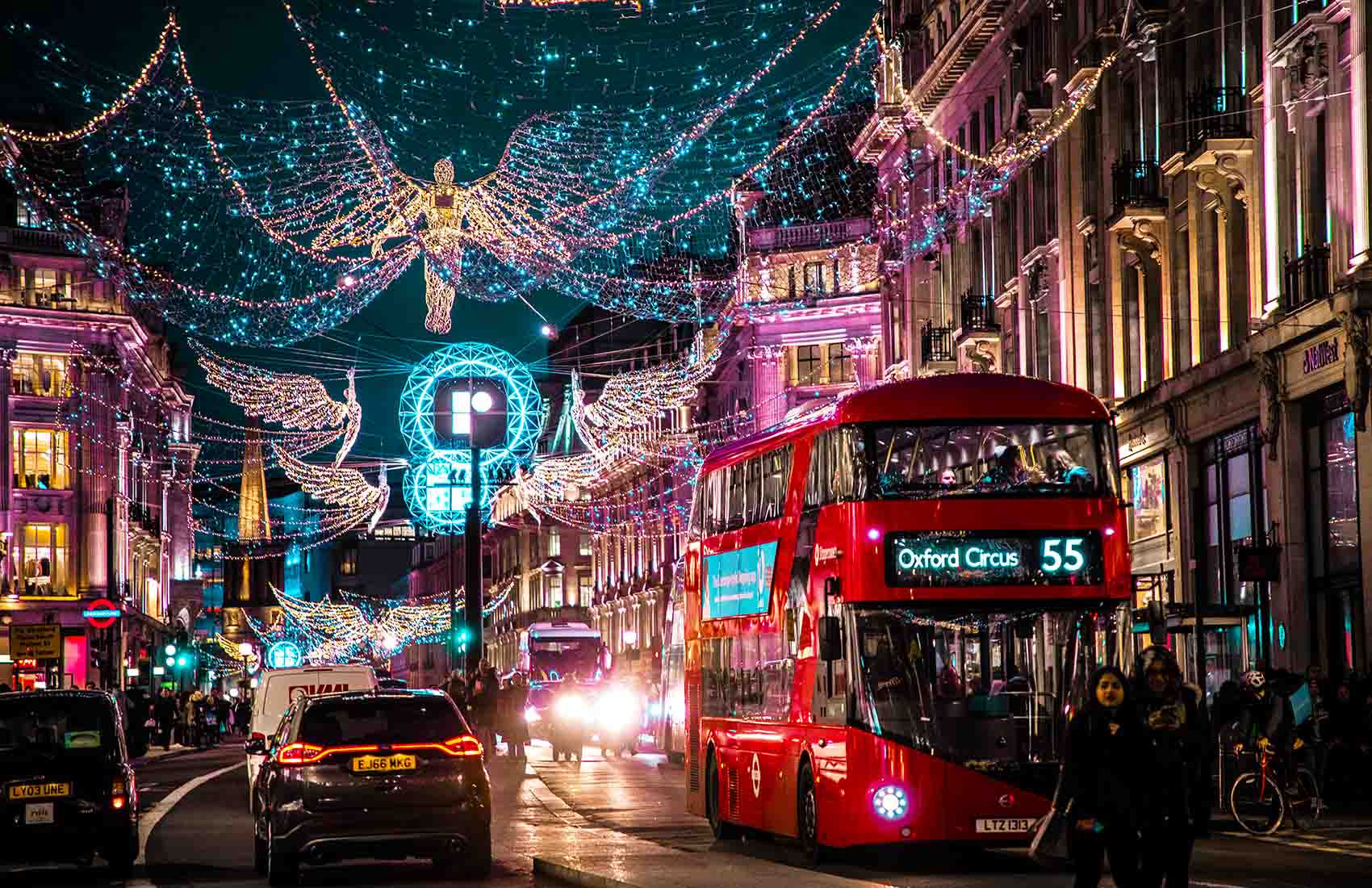 Christmas at Oxford Street London
What to Find During This Month
statistics of london weather in December
Average Temperature: Highest 8.8°C (47.8°F) | Lowest 3.1°C (37.6°F)
Average Daily Temperature: 5.3°C (41.5°F)
Total Hours of Sunshine: 53
Average Daily Hours of Daylight: 8

Rainfall: Depth 57.1mm (2.25") | Days: 10.8
Humidity: 86%
Days of Frost: 7.2

UV Index: 2
Weather in London compared to other Cities
New York City, NY, USA: 2.5°C (36.5°F)
Dubai, United Arab Emirates (UAE): 21.3°C (70.3°F)
Paris, France: 4.8°C (40.6°F)
Los Angeles, California, USA: 11.6°C (52.9°F)
Tokyo, Japan: 6.7°C (44.1°F)
Rome, Italy: 8.5°C (47.3°F)
is December the best time to visit london?
Christmas is with us, with lights and decorations filling the city up with spirit. It is cold, so you will need to wear layers and huddle yourself up. During this time of year, tourism increases as Christmas gets closer. Check out what December in London is like with plenty to offer during the festive season.
London Weather in December - Snow at Tower Bridge
what should i pack or wear?
Apart from the items listed below, there are always other basic things you must carry with you on your trip to London such as toiletries, chargers, camera, electronics and so on. No matter when you visit London there are always the basics you should carry with you.
London in December welcomes a few days of rain, so make sure you bring the necessary things, such as an umbrella and rain jacket.
With temperatures being very low, we recommend layering up by packing a jumper, warm jacket, coat, hoodie, and scarf. Preferably various layers that will give you the possibility to dress according to the weather. With temperatures varying quite a bit from the outside to inside, bring clothes that you can easily remove and put on, such as coats and jackets.
Here are a few tips to help you decide what to pack for a trip to London in December.
Boots, Waterproof Shoes – Bring closed shoes because of the rain.

Jerseys — These are suitable as an extra layer, especially when the temperature drops.
Long Sleeve Tops & Jumpers – Bring a mix for during the day, depending on the weather.
Dress – You could bring one or two long sleeve dresses for an evening night out.
Jeans and Trousers – Bring a mix of both.
Rain and Winter Jacket – Bring one of each to alternate depending on the weather.
Christmas Ornaments
hints on the weather in london
Below are some quick hints regarding the weather in December that you might find interesting.

There are 55 hours of sunshine, with an average of 1.8 hours per day during the whole month. The months of November to February are when the sun shines the least during the whole year.
During the festive season, it can get chilly, so be prepared to keep warm.
London is notorious for experiencing misty days.
You can't escape London's crowds either: it's nearly impossible to avoid them.
By December, the rain average is less than the highest months being October and November. Around 53mm (inches) of rain falls during this month but it varies from year to year.
The average daily temperature for London in December is 7°C with an average low of 3°C.
London doesn't really have a white Christmas, but the last one on record was in 2010.
Frost is more likely to occur as during this month it is usually at its peak.
Humidity remains very high as during the months of November and January.
Wind speeds during the month of December average 15.2 kph (9.4 mph or Force 3).

The sunrise and sunset on 1st December will be 07:44 (sunrise) and 15:55 (sunset) and on 31st December will be 08:06 (sunrise) and 16:01 (sunset).
current events in london december
December is one of the busiest times of the year with lots of events. Check out the highlights for this month.

christmas in kew
With Christmas at Kew, you can embark on a journey into a glittering wonderland that awaits you at the Royal Botanical Gardens at Kew.
It is a wonderful experience to explore glittering light tunnels on the route, dancing lakeside reflections, and colourful trees as you journey along the route. Featuring some of the best street food vendors around, you can enjoy hot cuisine, sweets, hot cocoa, and spiced winter warmers.

Event Dates: Wednesday 15 November 2023 to Sunday 7 January 2024

Christmas Wonderland
Prepare for the world's best location for holiday fun in London's most sought-after area at Hyde Park.
There will be a range of festive entertainment and activities for the whole family during the holiday season, including anything from ice skating and circus performances to a Christmas market and live music. You'll have plenty to do to keep you occupied for the entire day or evening.

Event Dates: Returning November 2023 (Dates to be Announced)
New Year's Eve Fireworks
Every New Year's Eve, Londoners gather for a midnight fireworks display to usher in the new year. The fireworks are released from boats along the Thames River and from the London Eye.

Without a doubt, the South Bank serves as the focal point for this internationally renowned event, with Big Ben's chimes at midnight serving as a signal that the new year has arrived.
To watch the New Year's Eve fireworks display, you must reserve your tickets here.
Event Date: Sunday 31st December 2024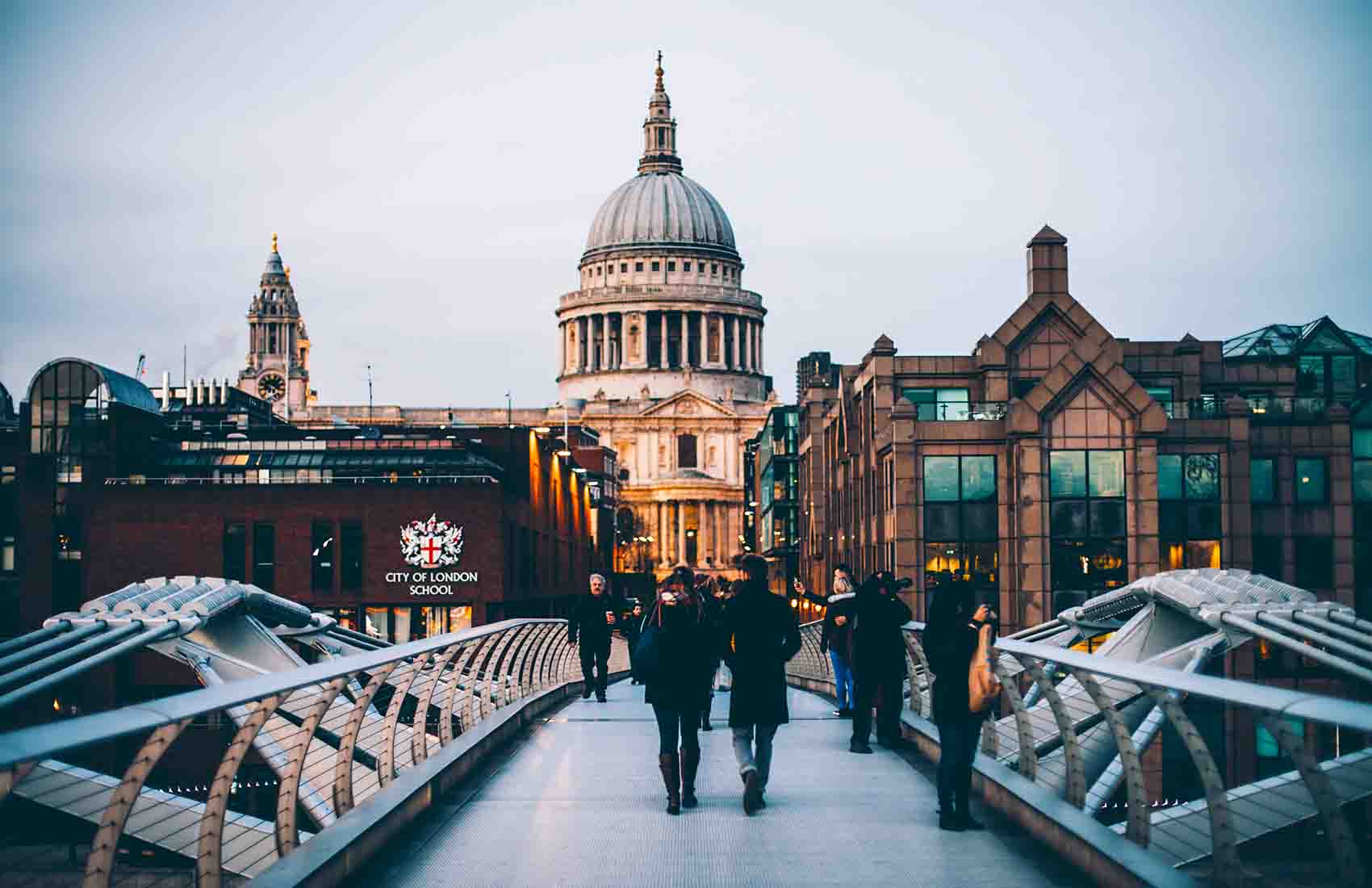 London Weather in December - St. Paul's Cathedral
tours in london during December
This Christmas, why not get a taste of the Christmas spirit in London with these tours among the many others that this capital has to offer?

London Christmas Lights Experience
Discover the beauty of Christmas lights from a unique perspective from the top of a classic Route master bus decorated for the holidays. Look at the windows at Harrods and the lights on Oxford Street.
See for yourself the tour details, and if it suits your requirements, book your tickets through this link.
Get Your London Christmas Light Experience Tickets
London Christmas Lights Tour In Black Cab
Travel in a black taxi for 2.5 hours to experience London from a different point of view. You will end the journey at Winter Wonderland, where you will see dazzling displays of Christmas lights. Make it a point to stop often to take pictures.
Buy London Christmas Lights Tour In Black Cab Tickets
london: Madame Tussauds, London Eye & SEA LIFE Combo
With a single pass, you will save 40% on three of London's most popular sights.
From the London Eye, you can enjoy a 360° rotating panorama of the city, as well as the beautiful underwater world at Sea Life and Madame Tussauds, as well as the 360° rotating panorama from the London Eye. After the first activation, a three-month validity period will be included in the package.
Buy your Combo 3 Attraction Ticket
London: Harry Potter Warner Brothers Studios Tour & Transfers

Enjoy a magical full-day tour of the Warner Brothers Studios by bus from central London. Explore the sets of the Harry Potter films to discover your favourite characters and follow in the footsteps of your favourite characters.

Get Your Harry Potter Warner Brothers Studios Tour Tickets From Here

Our goal is to provide you with the information you need to enjoy the weather in December to the best of your ability. While you are here, why not check out how the weather was in November and how it should be in January.
Check out our guide to the weather in London month-by-month if you wish to get a complete understanding of the weather in London.
Want To Share This Page On Pinterest? Pin It Here!
photo sources
Oxford Christmas – Photo by Jamie Davies on Unsplash
Tower Bridge Snow – Photo by Robert Bye on Unsplash
Christmas Decoration Ornaments – Photo by Rodion Kutsaev on Unsplash
St Paul's Cathedral – Photo by Anthony DELANOIX on Unsplash
want to share what you read? share below