Weather in London in March
weather in london in march
A Guide To The Weather, What to Pack and Wear and Things to Do
The weather in London in March means the beginning of mild weather. Whatever time you come to London, be sure to bring an umbrella and warm clothing so you will be at ease and have a fulfilling vacation.
In March and April, the daytime gets longer, and it's a wonderful time to come. London is at its most beautiful in March through May, when temperatures are mild and parks are lush and blooming.
Greenwich Park London
What to Find During This Month
statistics of london weather in march
Average Temperature: Highest 11.7°C (53.1°F) | Lowest 4.1°C (39.4°F)
Average Daily Temperature: 6.7°C (44.1°F)
Total Hours of Sunshine: 128
Average Daily Hours of Daylight: 11.9

Rainfall: Depth 38.8mm (1.53") | Days: 8.5
Humidity: 78%
Days of Air Frost: 2.9

UV Index: 3
Weather in London compared to other Cities
New York City, NY, USA: 4.1°C (39.4°F)
Dubai, United Arab Emirates (UAE): 23.3°C (73.9°F)
Paris, France: 7.4°C (45.3°F)
Los Angeles, California, USA: 14.1°C (57.4°F)
Tokyo, Japan: 8.5°C (47.3°F)
Rome, Italy: 10.6°C (51.1°F)
is March the best time to visit london?
Whether March is the best time to visit London depends on personal preference. March ends the winter era and starts the spring season. Even though winter is coming to an end, the weather in still remains cold and rainfall is always expected. The tourist season is still low but with the change in weather, it will start to increase.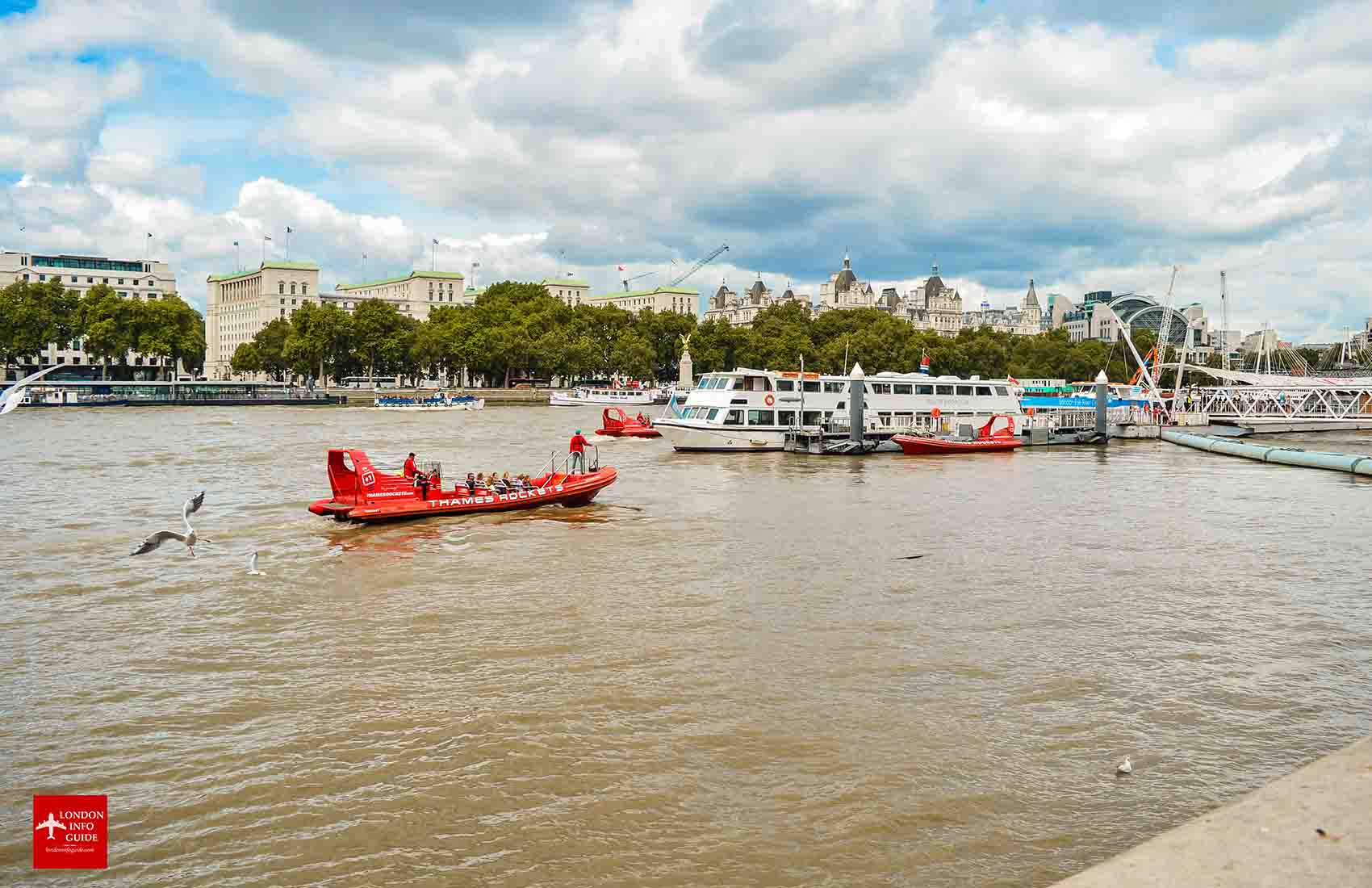 London In March Weather - London River Thames
what should i pack or wear?
London experiences slightly milder temperatures in March but it is still very chilly and rainy, although with a little less rain than in February. There are a few things you should always bring with you when visiting London, especially in the colder months.

The weather is still very cold and you should pack the right things for so. It is important to keep in mind that the weather can quickly change the temperature into freezing conditions so keep your summer clothes at home.
There will be days when it will be warmer and you can wear a few lighter items, but bear in mind that it is not summer and that you still need to take protection outside in case it starts to cloud over and rain.
Boots, water-resistant footwear, and sneakers - With the rain and cold weather, these are highly suggested.

Sweatshirts and long-sleeved tops - highly recommended and also bring enough with you for the duration of your holiday.
Jeans, pants, and tracksuit pants -  these are all good to bring with you as you can have a mix of different clothing both for during the day and evening.
Rain and warm coat - These are essential as March in London is very cool.
Scarf, beanie, and gloves - These are handy clothing items to carry with you when you are on the go.
A light sweater, dresses and closed shoes - this is useful when the temperatures rise slightly and the weather might be warmer than expected.
Umbrella: Rain showers are common in London in March, so an umbrella is a must-have item.
Tower Bridge
hints on the weather in london in march
To help you better prepare for your visit, the following is a summary of the weather in London for March.

It is highly recommended that you travel during January to April if you wish to avoid crowds.
London's weather can change dramatically from cold and rainy to warm and sunny as it transitions from winter to spring. It gradually increases throughout the month.

You can also visit from March to April. While the temperatures are warming, crowds are still far away. But midterm holidays and bank holidays effects the influx of locals and tourists in London.
The average rainfall decreases further 38.5mm (1.51 inches).

The overall number of hours of sunshine in March are around 124.5 which averages 4.0 hours per day. The number varies according to the cloud density.
The typical daily temperature may fluctuate between 4.1°C (39.4°F) and 11.7°C (53.1°F). It is approximately 2.5°C (36.5°F) higher than the month of February.
During the month, the average wind speed is approximately 20.5 kph (12.7 mph or Force 4).

During March, the sunrise and sunset hours are as follows; On 1st March, the sunrise will occur at 06:46 and sunset will occur at 17:40, while on 31st March, the sunrise and sunset will occur at 06:38 and 19:31. During this month the time shifts one hour forward.
The possibility of snow this month exists, but it is rare that it accumulates on the ground and it often only lasts for one day at a time.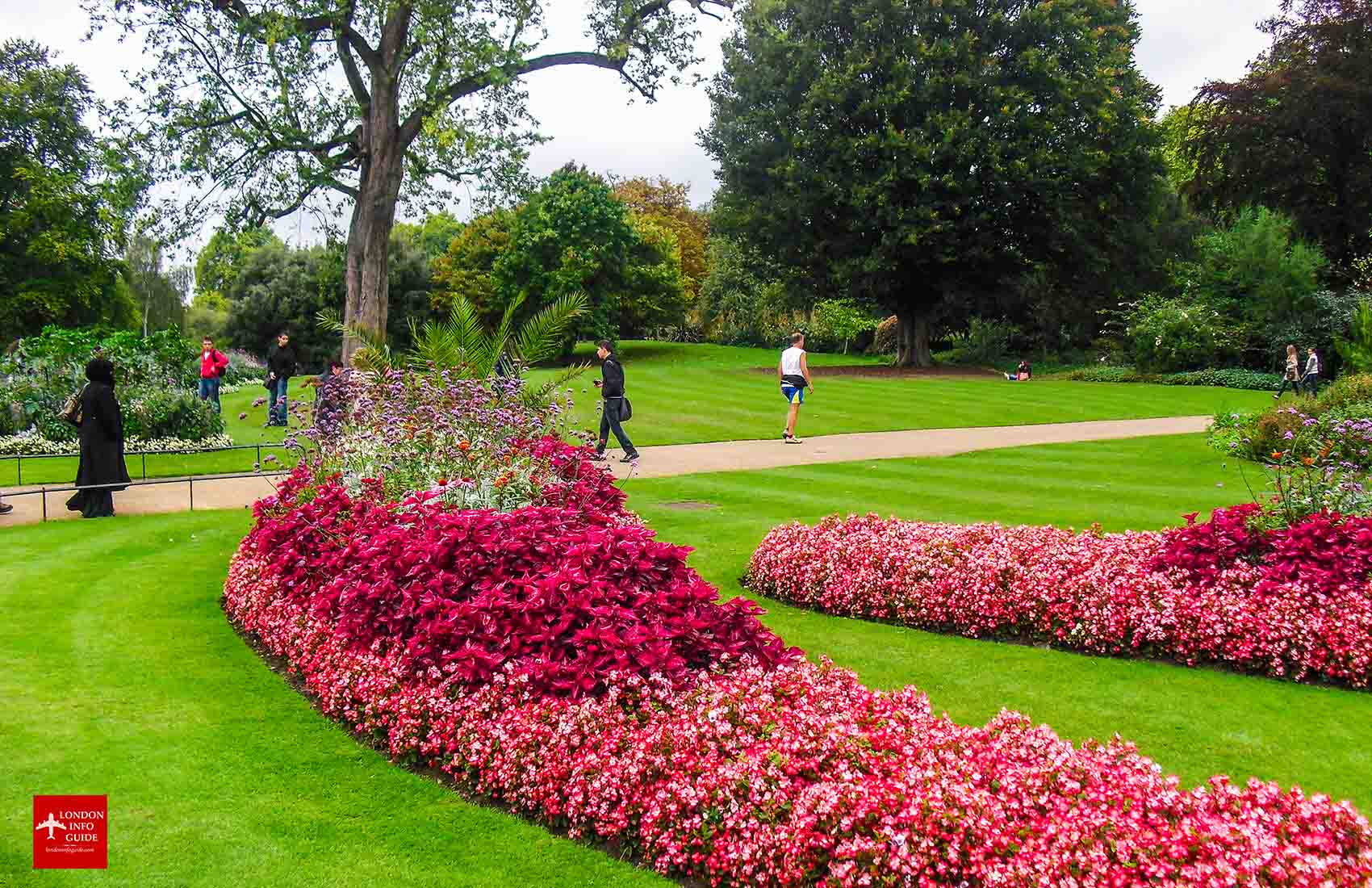 March Weather in London - Hyde Park London
current events in london in march
A variety of events and festivals take place throughout the city in March. From cultural celebrations, such as St. Patrick's Day, to large-scale exhibitions, there is something for everyone. You can also check out the various things to do in March.

St. Patrick's Day
Take part in London's St Patrick's Day celebrations and activities. It is a fun and spectacular tradition year after year, usually over the weekend closest to 17 March, even though it is not a public holiday in England. Get a taste of Irish food and Guinness at the peak of London's cultural calendar and enjoy free performances in Trafalgar Square.

Event Date: Sunday 17th March 2024
International Women's Day
International Women's Day (IWD) is a global holiday celebrated annually to mark the achievements of women. London hosts various events and activities to mark the occasion, including rallies, workshops, conferences, networking events, and performances.

Event Date: Friday 8th March 2024

Easter Weekend
Easter is an important holiday celebrated in London and is marked by various events and festivities throughout the city. You can attend to church services, egg hunts, and traditional food and drink events. Visitors can also attend concerts, exhibitions, and theatre performances. Parks and gardens provide a beautiful setting for picnics and outdoor activities during this month.

Event Date: Thursday 28th March to Sunday 31st March 2024
Mother's Day
Mother's Day is marked in the UK three weeks before Easter Sunday, therefore this year it falls on March 19. If you can choose the gift that will make your mother pleased, it will be a wonderful moment.
Mother's Day in London offers a wide variety of activities, including dining at outstanding restaurants, taking a tour, seeing an exhibition, and watching a theatre performance in the evening. Make it an occasion to remember.

Event Date: Sunday 10th March 2024
tours in london during March
Do you want to get the most out of your time in London? Think about going on one of these fantastic tours.

Harry Potter Warner Brothers Sudio Tour & Transfers
You can spend an entire day touring the Warner Brothers studio by catching the bus from central London. Interact with costumes and other movie-related items to experience the Harry Potter movie sets.

Read About The Tour And Get Tickets From Here
Tower of London and Crown Jewels exhibition ticket
Explore the Tower of London, an important site in British history dating back to the 11th century. As you explore the history of the Tower, see the Crown Jewels, discover the Yeoman Warders, and look for the ravens.

Buy Your Tower of London and Crown Jewels Tickets
Madame Tussauds London
You may view your favorite celebrities from the worlds of entertainment, sports, and the red carpet at Madame Tussauds London. Count yourself among the millions of people who have visited it since it first opened 200 years ago.

Get Your Madame Tussauds Tickets
Buckingham Palace: The State Rooms Entrance Ticket
Explore London's arguably most iconic attraction as you explore one of Her Majesty's official residences. Your journey through the rooms will lead you to many valuable treasures and superb Royal collections. Live guide for 2.5 to 3.5 hours.

Book your tickets to the Buckingham Palace
This wraps up the weather in London in March and we hope this gave you a better insight of what to expect when here. While here, why not check out the weather in February or April, or just a general summary of the weather in London.
Want To Share This Page On Pinterest? Pin It Here!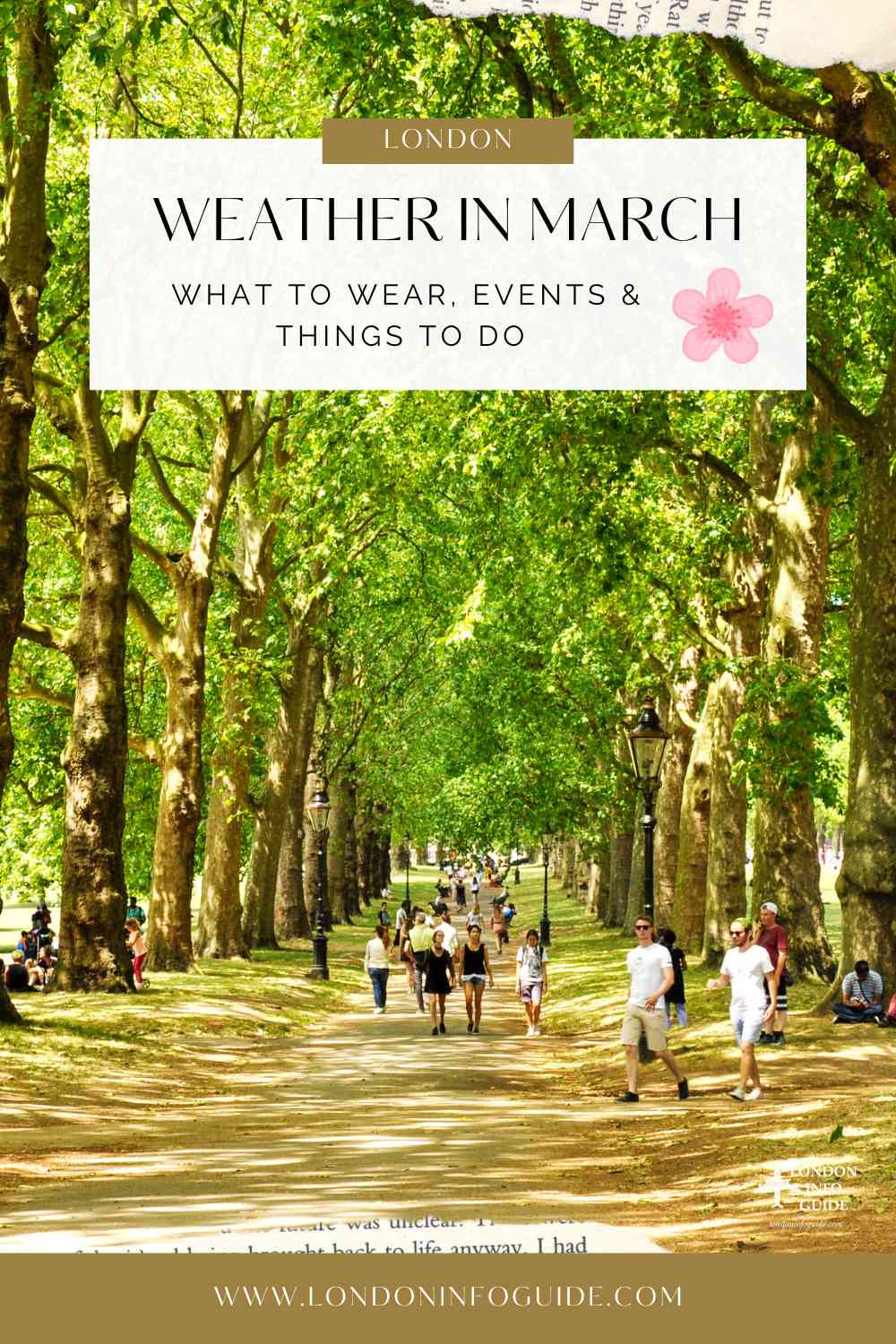 Photo sources
Greenwich Park London - Photo by Fas Khan on Unsplash
want to share what you read? share below