things to do in london
What To Do For Every Month Of The Year
A city that attracts close to 30 million tourists a year, there is definitely a list of things to do in London. When you hear 'London', the first thing that crosses your mind is 'how expensive it is'.
Discovering the attractions that scatter the city doesn't have to drain your bank account, as you can pretty much enjoy the plenty of attractions by just walking and exploring the city for 'Free'.
Below are the top five attractions in all of the capital city and a summary of what to do for every month of the year.
1. the london eye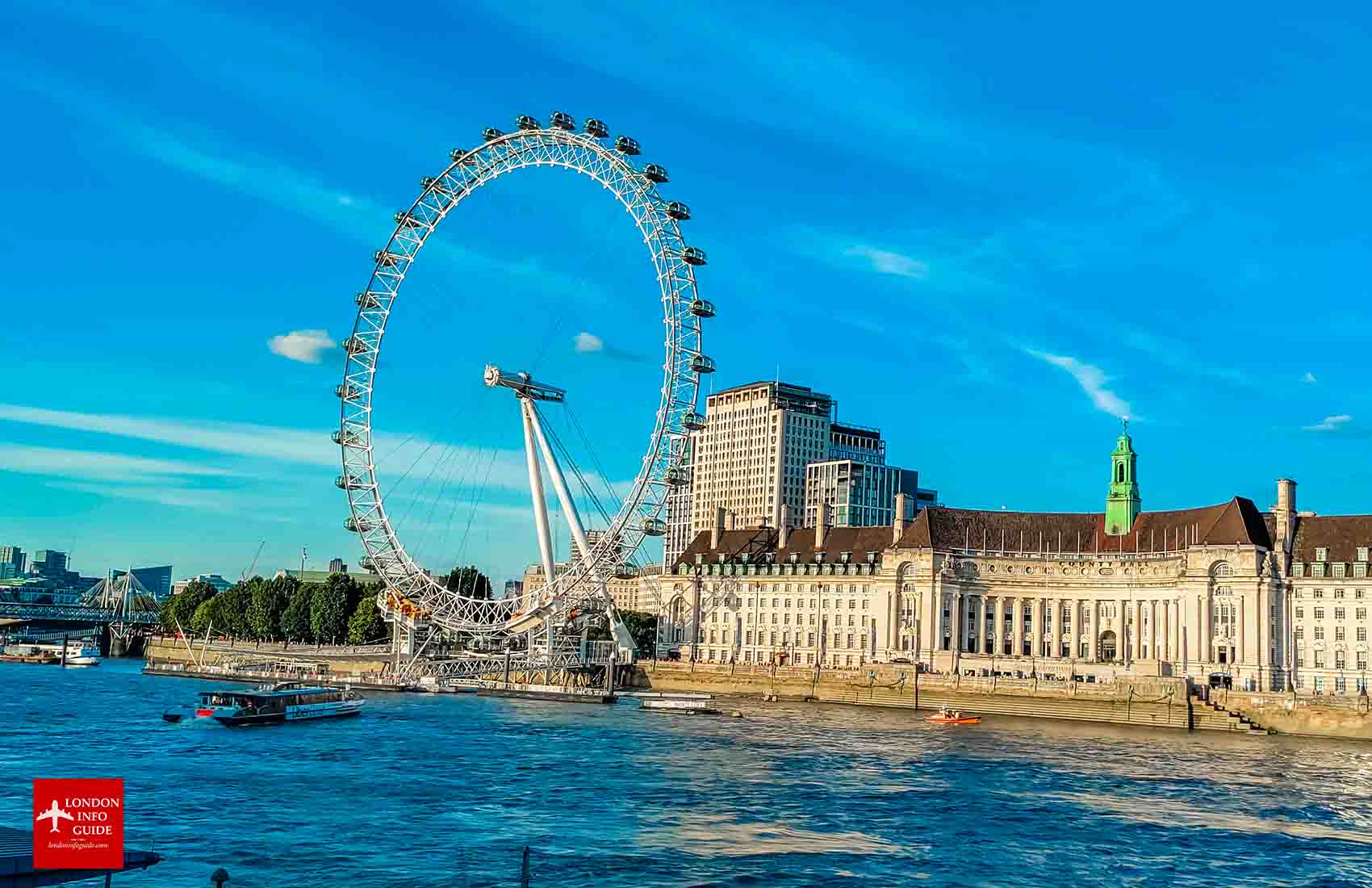 The London Eye
As one of the most popular and recognised tourist attractions in the United Kingdom, the London Eye, or the Millennium Wheel, is a cantilevered observation wheel. Throughout the year, it is always booked up, and you can also purchase a block ticket with a reduced price for very popular attractions.
In addition to enjoying the panoramic views, visitors are given the opportunity to take photos and videos from every angle on the ride thanks to its slow speed.
As the wheel turns slowly, you get to have a bird's eye view of the capital city main attractions which include, Tower of London, Tower Bridge, Big Ben/Westminster, Buckingham Palace and many more.
Make sure you benefit from the fast track tickets, which will give you fast access and also skip the long lines.
2. Tower Of London
The Tower of London
On the north bank of the River Thames is, the Tower of London which dates back to the 11th century. William the Conqueror built this castle in 1086, which is now a UNESCO World Heritage Site. For over 500 years, it was the royal palace residence.
The castle is now visited for its history and the 140 Crown Jewels collection, which comprises of regalia and vestments used by British Kings and Queens over the course of the country's 800-year history.
3. Tower Bridge london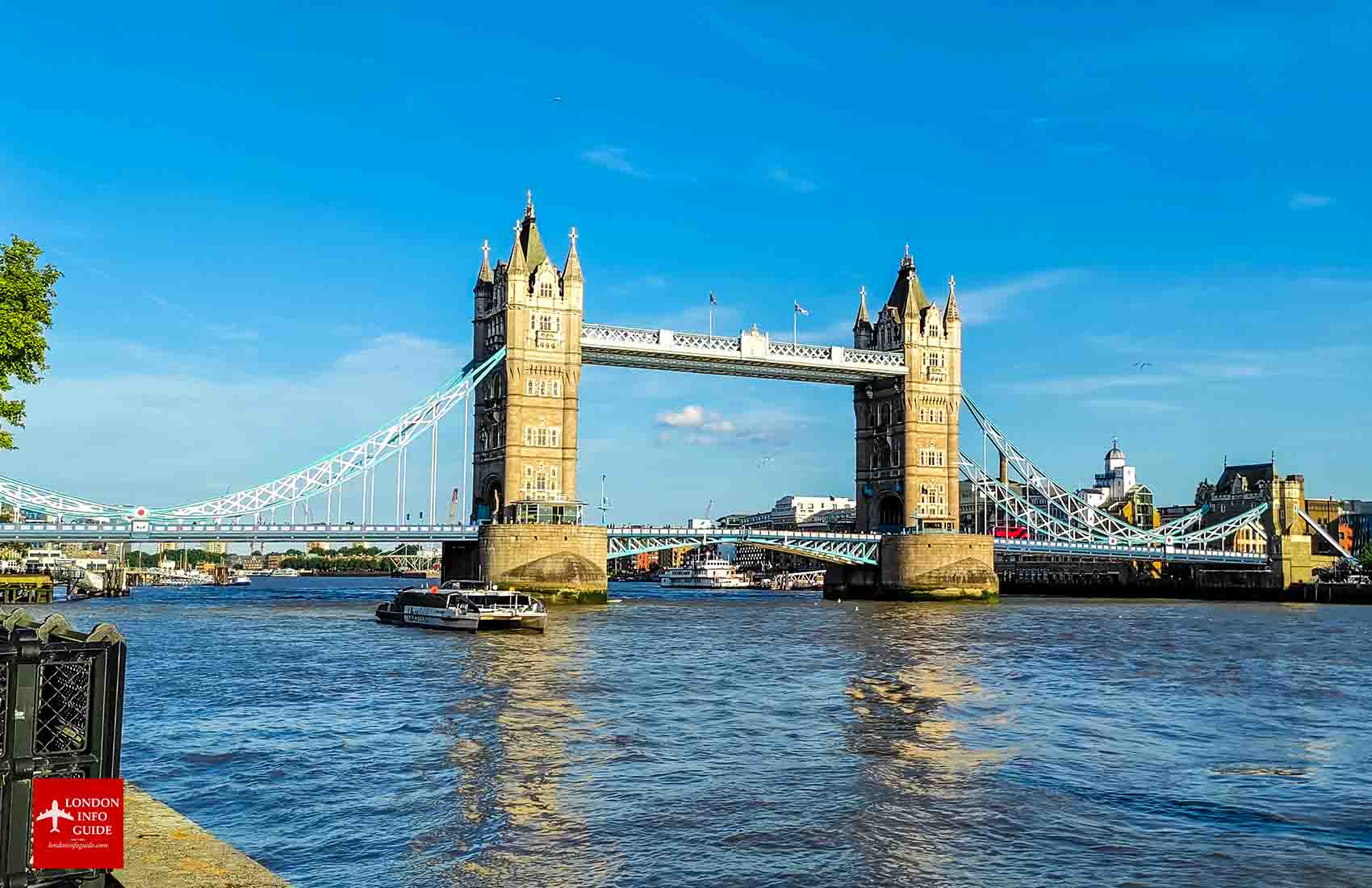 Tower Bridge
One of London's most famous attractions is the Tower Bridge. This structure, which is one of the most instantly recognizable structures in the world, was built between 1886 and 1894.
An incredibly large and impressive Victorian bridge which is 800 feet (243.84 metres) in length and is 192 feet (64.92 metres) high, with two towers of the same height, with piers supporting the bridge.
Explore the engine chambers that once powered the massive bridge arms, and take a guided tour of the bridge itself.
4. Buckingham Palace london
Buckingham Palace
Since 1837, Buckingham Palace in the City of Westminster has served as the British monarch's official residence in London. The first person to live in this palace was Queen Victoria. Besides serving as the monarchy's administrative centre, it also holds important gatherings, meetings, and official events.
Tourists crowd to this location to take in the famed Changing of the Guard ceremony and to walk the expansive gardens next to the palace. You can buy tickets to go inside Buckingham Palace and explore the State Rooms which are open to the public every summer.
5. Westminster Abbey in london
Inside Westminster Abbey
Explore one of London's most recognizable structures and take in the breath-taking gothic architecture. Westminster Abbey, officially known as the Collegiate Church of Saint Peter at Westminster, is situated close to the west of the Palace of Westminster.

The Coronation Chair is the only piece of furniture in the nation that is still in use for that purpose. The Abbey is home to the graves of numerous notable monarchs, poets, singers, scientists, and statesmen. Find Poets' Corner, which got its name from all the poets and writers who are buried there.
By ordering your ticket online, you may explore its history at your own pace.
Things to do in London month by month
The capital city is full of cool things to do month after month, so there is never a time when you will visit and there is nothing to do. We have dedicated an individual page for each month of the year giving more details about things to do.
Each month has a summary of what the weather is like, some of the most popular events, several things to do and also our recommended tours we highly suggest you take.
london in january
You're sure to find something to suit your interests when visiting London in January with everything from New Year's Day Parades, Burns Night events ice skating and the last days of Christmas Wonderland. Must be prepared for the extremely cold January weather. But it will be worth visiting by taking advantage with the big bargains just after Christmas.
london in February
February in London results in fewer crowds and fewer queues. It hosts some fabulous events during this month namely the Chinese New Year's Parade, Valentine Day, London Fashion Week, LGBT + History. The weather in February is quite rainy and cold, but don't let the weather put you off from visiting.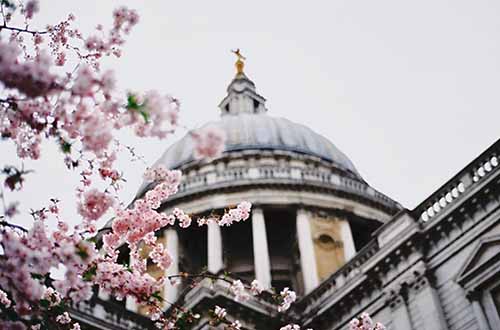 March in london
During March, London hosts the very popular yearly events of St Patrick's Day and International Women's Day take place. Crowds are still slightly lower than the busy season. In London, springtime begins around March, even if it is still a little chilly outside. The weather in March is still cold, so dressing accordingly is crucial. The flowers begin to bloom after a long, cold winter.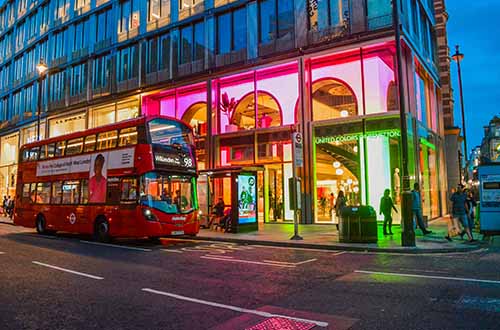 London in April
April in London is the best month to start enjoying the outdoors as it is not too hot and neither too cold. Tourism is still yet to arrive. Easter is just right around the corner, so expect celebration while here. Day tours are highly recommended during this time as the weather in London in April is perfect. Several events and performances will take place in around the city.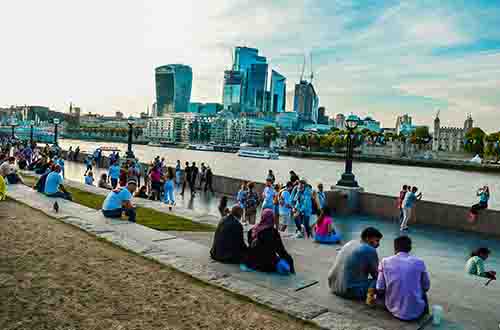 london in may
May in London is pretty exciting as no matter when you come, there are plenty of fun things to do and annual events to enjoy such as RHS Chelsea Flower Show, Eid Festival and more. The weather in May gets warm after a cold and gloomy winter. There are fewer tourists during this month because the peak is still a few weeks away.
london in june
June in London is a warm month, which makes it the perfect time to visit as it is more enjoyable due to the weather. The summer atmosphere starts to take place with a number of events such as Father's Day, Pride week, West End Live and plenty more. Spending some time in the countryside is worthwhile during this season.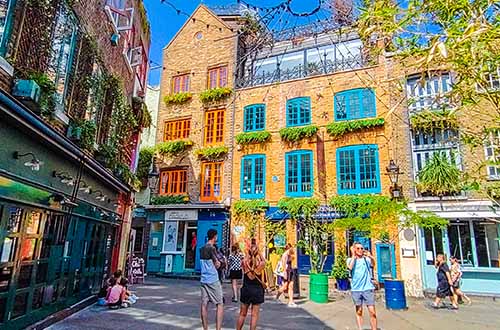 london in july
In July, London offers a great combination of weather, celebrations, and atmosphere that is perfect for anyone who wishes to visit. The weather in July is perfect, with summer temperatures. Tourist season is at its peak, so London will be crowded. Outdoor events are most common during this time of year, beginning with the Wimbledon Tennis Championships and ending with the opening of The State Rooms at Buckingham Palace.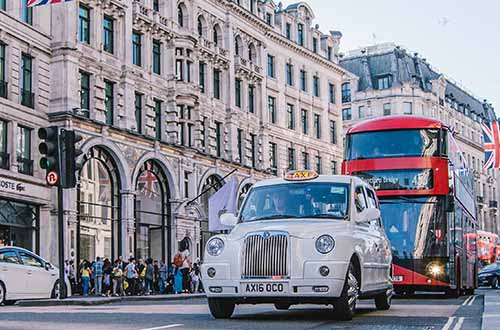 london in august
Summer in London doesn't get any better than during the month of August. Hot weather, light clothes, tourists enjoying this blissful weather in August. Walking around the city and visiting its landmarks is more fun due to the warm weather. Day trips are a must and there are plenty that leave from London. Annual events during this month such as Notting Hill Carnival, cricket games and other amazing and fun events.
london in september
Sun-filled, mild days are perfect for day trips and sightseeing. September is filled with yearly events such as Totally Thames, Open house London, London fashion week, and London design Festival. The weather in September begins to cool down by this month. With a warm, good jacket, you can easily beat the cold. Make sure you carry an umbrella every time you go out, don't be deceived by a beautiful sunny day.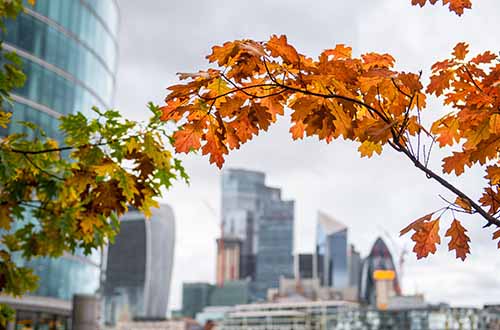 london in october
As October progresses, the weather in London gets colder. Autumn splashes the city with autumnal colours as parks and gardens change from glossy greens to coppers and golds. Don't be fooled by October's sunny days, as unexpected downpours are very likely to occur at any time. During October there is the Black history month, NFL London games, the London marathon and other events celebrated annually.
london in november
November means, we are getting closer to Christmas, so London streets and iconic landmarks start being illuminated with Christmas lights, markets, and ice rinks. You can enjoy annual events such as EFG London, Jazz Festival, Lord Mayor's Show and much more. The weather in November is cold and wet, so be prepared to dress warmly.
london in december
Christmas is here, so don't miss out on some amazing things to do in London in December during this festive season. Enjoy tours dedicated to Christmas, events such as Winter Wonderland at Hyde Park, Christmas Kew, and New Year's Eve fireworks. The tourist peak during this month is hit mostly in the week between Christmas and New Year's. The weather in December will be pretty cold, so be prepared.
So this is the end of our guide of things to do in London. We hope you have gained a bit more knowledge of what to do, and we hope that this guide has given you more excitement on your next visit to London.
If you want to have a read at our guide to the weather in London for the whole year, why not check it out.
Want To Share This Page On Pinterest? Pin It Here!
Photo sources & resources
Inside Westminster Abbey – Photo by Cameron Mourot on Unsplash
Taxi and Bus – Photo by Sabrina Mazzeo on Unsplash
Snow in Train Station – Photo by Will Kennard on Unsplash
Autumn Leaves – Image by Victor Jr Jomoc from Pixabay
St. Paul's Cathedral with flowers – Photo by Jacob Hilton on Unsplash
Hyde Park Winter Wonderland – Photo by Bruno Souza on Unsplash
Merry Christmas Pink Car – Photo by Rumman Amin on Unsplash
Check out more things to do in London.
want to share what you read? share below