Best Day Trips From London
Best day trips From London

Explore England's Beauty With The Finest Day Escapes
With these best day trips from London, you can escape the hustle and bustle of the city. This selection of destinations offers a tapestry of history, culture, and natural beauty within easy reach of the city. Having visited many of the above locations, we have a good sense of what to expect in these places due to our first-hand experience.
The purpose of this guide will be to highlight the top places to visit in the UK, as well as the top landmarks in these places, as well as transportation options to get there and optional tours that you can take from London to these places.
Here is a list of the locations that will be discussed in this guide: Cotswolds | Bath | Oxford | Windsor  | Canterbury & Dover | Stonehenge | Liverpool.
1. Cotswolds: Where Beauty Blooms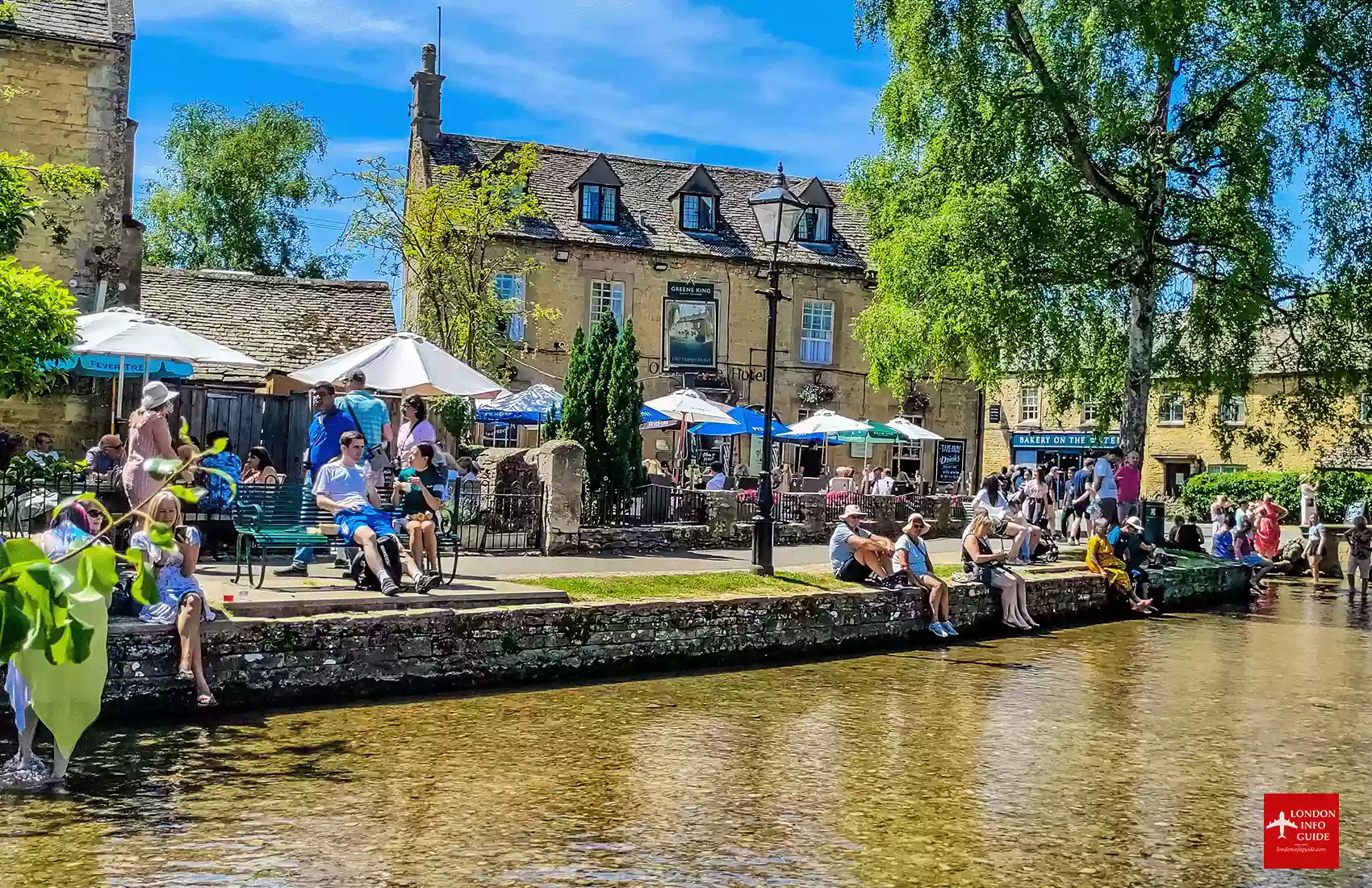 Bourton-on-the-Water Cotswolds UK
The Cotswolds, a charming area of South Central England known for its charming villages, rolling hills, and classic rural appeal, continue to attract tourists from all over the world. With its pristine landscapes and distinctively British personality, it is an experience you will not forget.

Why Visit Cotswolds UK?
A beautiful place with honey-coloured villages, undulating green hills, and charming market towns awaits you here. Experience a wealth of historical and cultural experiences by dining on regional specialities and strolling along scenic paths. A relaxing and soothing experience awaits you in the Cotswolds, offering a peaceful haven of rest and renewal. This is an escape from the rush of modern life.
getting to and around cotswolds - train, bus & car

Trains from London: Direct trains departing from the London train stations of Paddington, Marylebone, Euston, Waterloo, and Kings Cross will take you to the Cotswolds. Travel time takes between 50 minutes and 2 hours.

Train Services Around Cotswolds: You can utilise the local train services to get to particular towns and villages in the Cotswolds after arriving at one of the main stations. Due to the limited train network, you might have to complete the final leg of your journey via buses or taxis. The trains within the vicinity or inside Cotswolds are Gloucester, Stroud, Kemble, Oxford, Cheltenham Spa, Banbury, Bath, Cam and Dursley Charlbury, Kingham and Moreton-in-Marsh.
Travelling by car from London: By car to the Cotswolds will take you between one and two hours, depending on where you are going in Cotswolds. To reach different Cotswolds towns and villages, take the M4 or M40 motorways and then follow the signage.
Getting Around Cotswolds By Bus: A network of bus routes connects the cities and villages throughout the Cotswolds. To travel around, especially if you plan to use the train network from London or other nearby cities, you might check the schedules for the local buses. Services, however, may be few, particularly in more isolated locations.
Always take a chance and do some research about the place you want to visit from the comfort of your own home.
villages around cotswolds UK to visit
Bourton-on-the-Water: Often referred to as the "Venice of the Cotswolds". It is well-known for its charming stone bridges that span the serene River Windrush, classic Cotswold homes, picturesque landscapes, charming cottages, and inviting cafes.
Stow-on-the-Wold: This historic market town is known for its centuries-old buildings, market square, ancient cross, and numerous antique shops, which exude timeless elegance. It is one of the highest towns in the Cotswolds.
Bibury: Experience the tranquillity of its English gardens and winding streams. Its most famous feature is Arlington Row, a stretch of charming cottages constructed from honey-coloured Cotswold stone.

Burford: Due to its blend of history and natural beauty, nothing has changed over the years, making it a favourite destination for tourists. The city is famous for its pubs, restaurants, and tea shops, as well as for its shopping, particularly for antiques.
Lacock: A fascinating English village preserved in time is a historical snapshot brought to life. Visitors are transported back in time by its superbly maintained mediaeval architecture and cobblestone streets, renowned for serving as the filming site for the Harry Potter films and other several British TV shows.
cotswolds tours from london
- best day trips from london
Visit the Cotswolds with a guided tour. Take note that some tours visit other locations in the UK apart from the Cotswolds.
2. Bath: Where History and Elegance Converge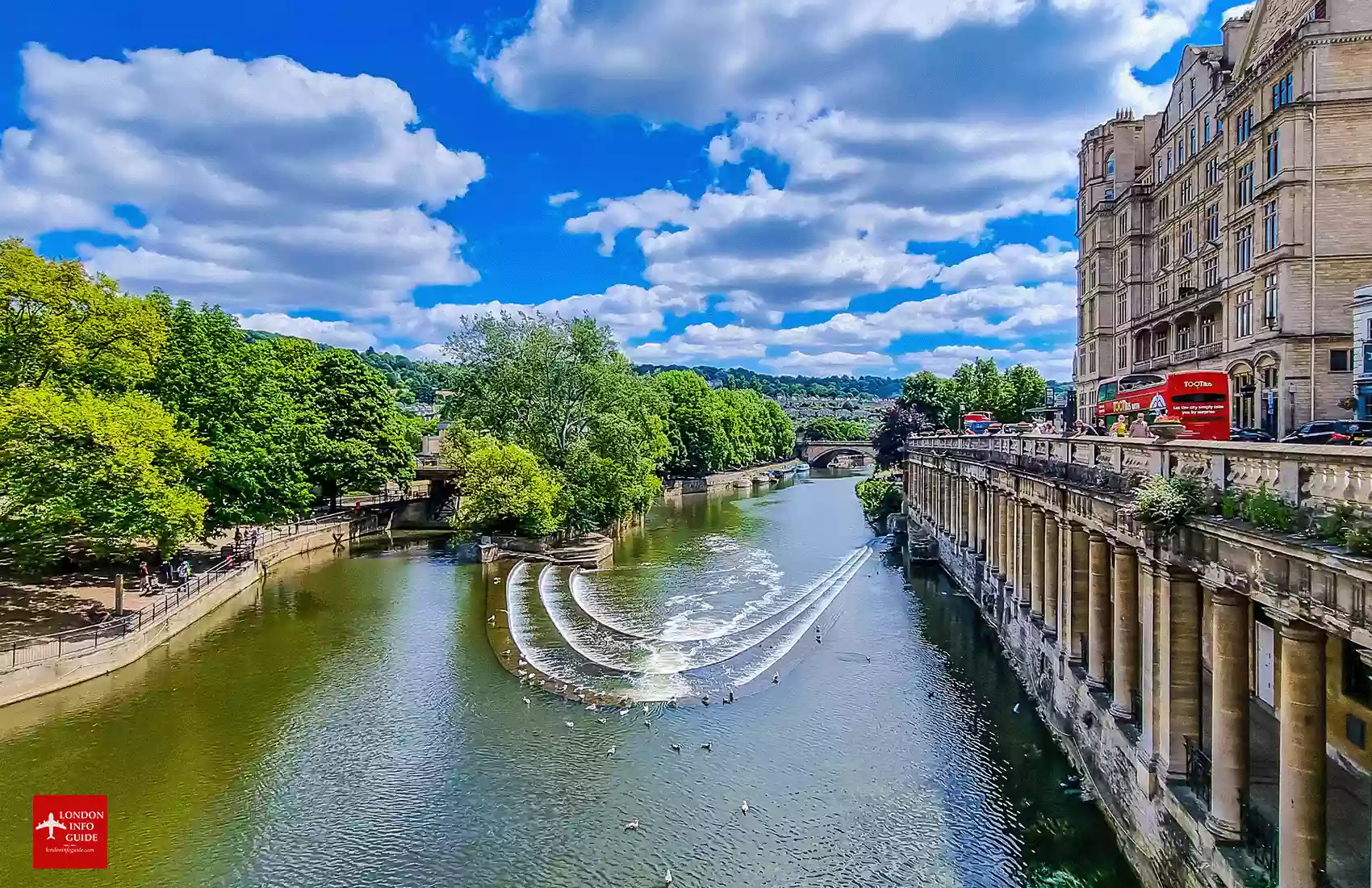 Best Day Trip From London - River Avon Bath
Bath, a UNESCO World Heritage Site, attracts tourists from around the world with its mix of culture, history, and scenic beauty. Immerse yourself in Bath's timeless charm by exploring charming neighbourhoods, experiencing luxurious spa treatments, and enjoying delicious cuisine.

Why Visit Bath UK?
Bath Abbey and other magnificent ancient sites are among the city's many museums and galleries. Beautiful cafes, boutique stores, and a thriving cultural scene give Bath's medieval streets a contemporary edge. The same revitalising waters that the Romans drank are now available to guests at Thermae Bath Spa.
how to get to bath from london
Trains from London: Bath has excellent train connections to London, and multiple London train stations offer connections to Bath. Paddington, Marylebone, Euston, Waterloo, and Kings Cross are the main train stations in London that have connections to Bath. Direct trains from these stations travel to several locations in and surrounding Bath.

Bath's principal train station is Bath Spa Railway Station, which has frequent, direct trains to London, especially from London Paddington. The trip takes between one and two hours.
Depending on the routes, you may have to change trains or go to different locations to reach the other train stations from London, which could take up to 3.5 hours.
Checking train schedules and purchasing tickets in advance are always recommended.
By Bus from London: London Victoria Coach Station and other main bus terminals are the starting points for National Express and Megabus coach services.
Local bus routes: Both regional and local bus services are centred at Bath Bus Station. Numerous businesses, including First West of England, Stagecoach, and others, run a local bus network.
Bath's local buses travel several routes across the city, making it simple to go to various districts, sites, and facilities. Additionally, Bath has bus connections that connect it to neighbouring cities and villages in Somerset and the Cotswolds, making it simple to explore the area.
iconic sights in bath to explore
Roman Baths: They provide an interesting glimpse into the past. In this archaeological site, you will find thermal springs, temples, and remarkably well-preserved Roman baths. Visit this popular location to explore its historic chambers and learn more about its fascinating past.

Bath Abbey: It is a beautiful example of Gothic architecture that embodies creativity and faith. As a result of its historical significance, the abbey's beauty is enhanced by its fan vaulting and stained glass windows.
The Royal Crescent: Among the most famous examples of Georgian architecture is 'The Royal Crescent'. A refined 18th-century legacy is embodied in this exquisite semi-circular row of townhouses overlooking Royal Victoria Park.
The Circus: It was designed by John Wood the Elder, is another excellent example of Georgian architecture. Bath's majestic façade and circular layout contribute to its architectural beauty.

Pulteney Bridge: It was built in the 18th century and spans the River Avon. With its shop-lined layout, the city's historic centre is linked to the attractive surroundings, which evokes the beauty of Florence in its surroundings.

Sally Lunn's Historic Eating House: Sally Lunn's was built in the fifteenth century and is one of Bath's oldest homes. The museum in the basement of the establishment renowned for its Sally Lunn Bun reveals Bath's culinary past.

Day Tours To Bath
- Best Daytrip From London
From London, there are no tours directly just to Bath, but to other popular locations within the same area such as the following.
3. Oxford: The Scholarly Gem of England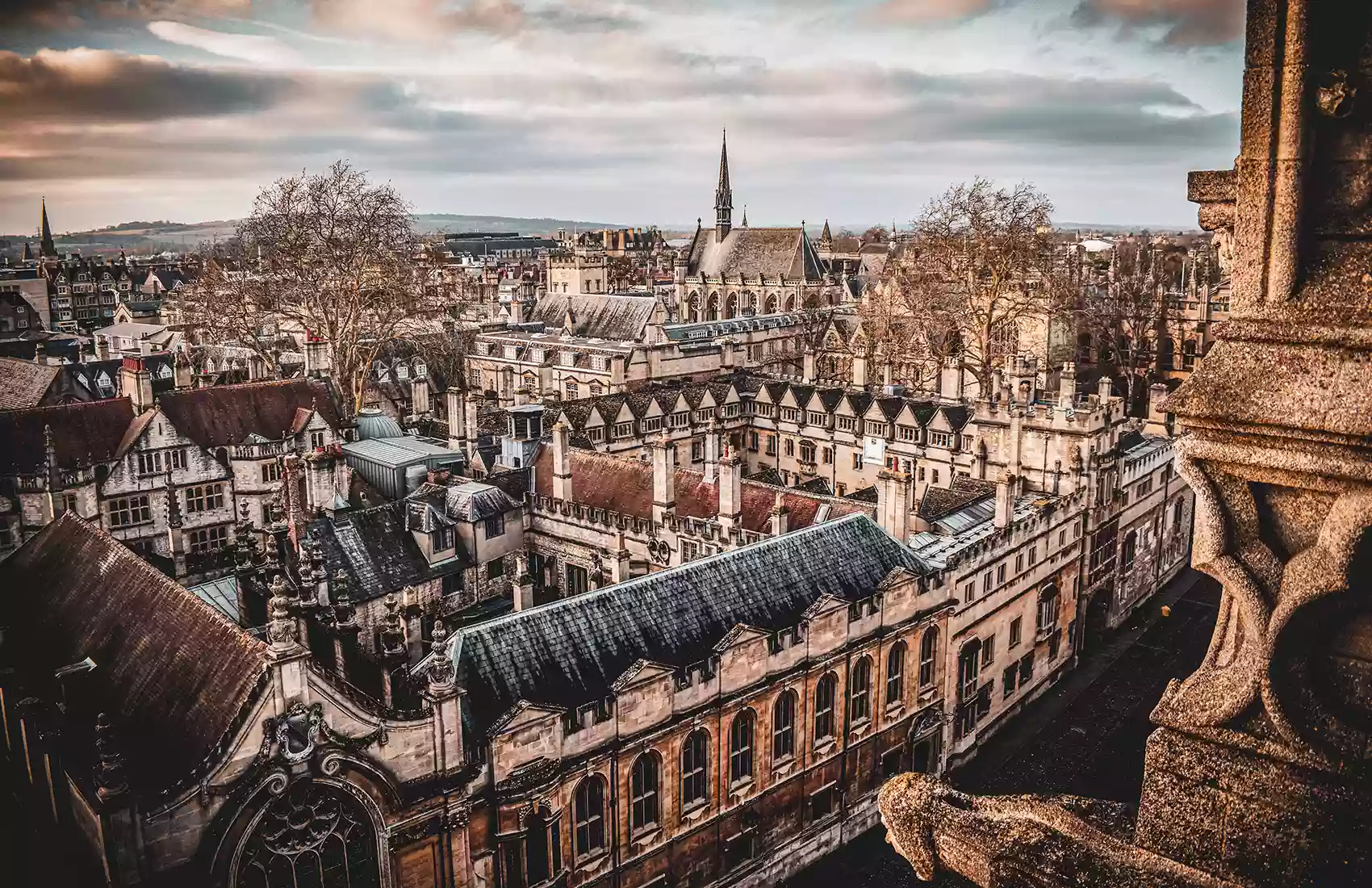 Oxford Day Trip From London - The Village of Oxford
Oxford, an English city with a long history, a prestigious university, and lasting appeal, captures visitors. Founded in the twelfth century, Oxford University is one of the oldest universities in the world. It has stunning architecture as well as being home to a large number of libraries, museums, and other establishments, including the Bodleian Library and the Ashmolean Museum.

Why Visit Oxford UK?
Discover the rich history, Gothic architecture, literary legacy, and esteemed University of Oxford. Discover a rewarding experience, listen to knowledgeable commentary, and explore effectively with the help of a tour guide. There are many things to do in Oxford, including the university, the Radcliffe Camera, literary locations, Oxford Castle, botanic gardens, punting, and cultural attractions.
Getting To oxford from london
Trains from London: Paddington, Marylebone, Euston, Waterloo, and Kings Cross are all major train hubs that connect it to the city.

It takes approximately one hour to one hour and fifteen minutes to get from Paddington to Oxford. The trip takes a little longer from other stations, and depending on which London train station you leave from, you have a few options.
There are two train stations in Oxford. The most often used one is Oxford Railway Station, also known as Oxford Main Station. Regular train services are provided to and from major cities such as Birmingham, London, and others. The other is Oxford Parkway, which is north of Oxford and connects to Bicester and London Marylebone.
By Bus from London: Buses typically leave from Marble Arch, Victoria Coach Station, and other stations, among other places in London. Find out the most convenient departure place by contacting the operator of your choice.
explore oxford's historic sites
The University of Oxford: The university dates back to the twelfth century and is considered to be the oldest in English-speaking countries. It has a long academic history, several educational institutions, and a commitment to learning and research.
The Great Hall at Christ Church College: It is an iconic and historic part of the university. This 16th-century grand hall featured in the Harry Potter movies is renowned for its Gothic architecture. The building represents the intellectual brilliance and historical significance of the college.

The Oxford Botanic Garden: A tranquil, lovely garden with a large variety of plant species. It is one of the most popular gardens in the city.
Punting on the river: From the water, punting along the River Thames or the Cherwell is a scenic and peaceful way to see the city from a different perspective.
Covered Market: An antique market with a wide range of shops, cafes, and boutiques that offer a wide range of goods.
Day Tours To oxford
- best london day trips
When taking a tour to Oxford from London take note that the tours do not just visit the city but also additional areas in the UK.
4. Windsor day trip: A Royal Journey Awaits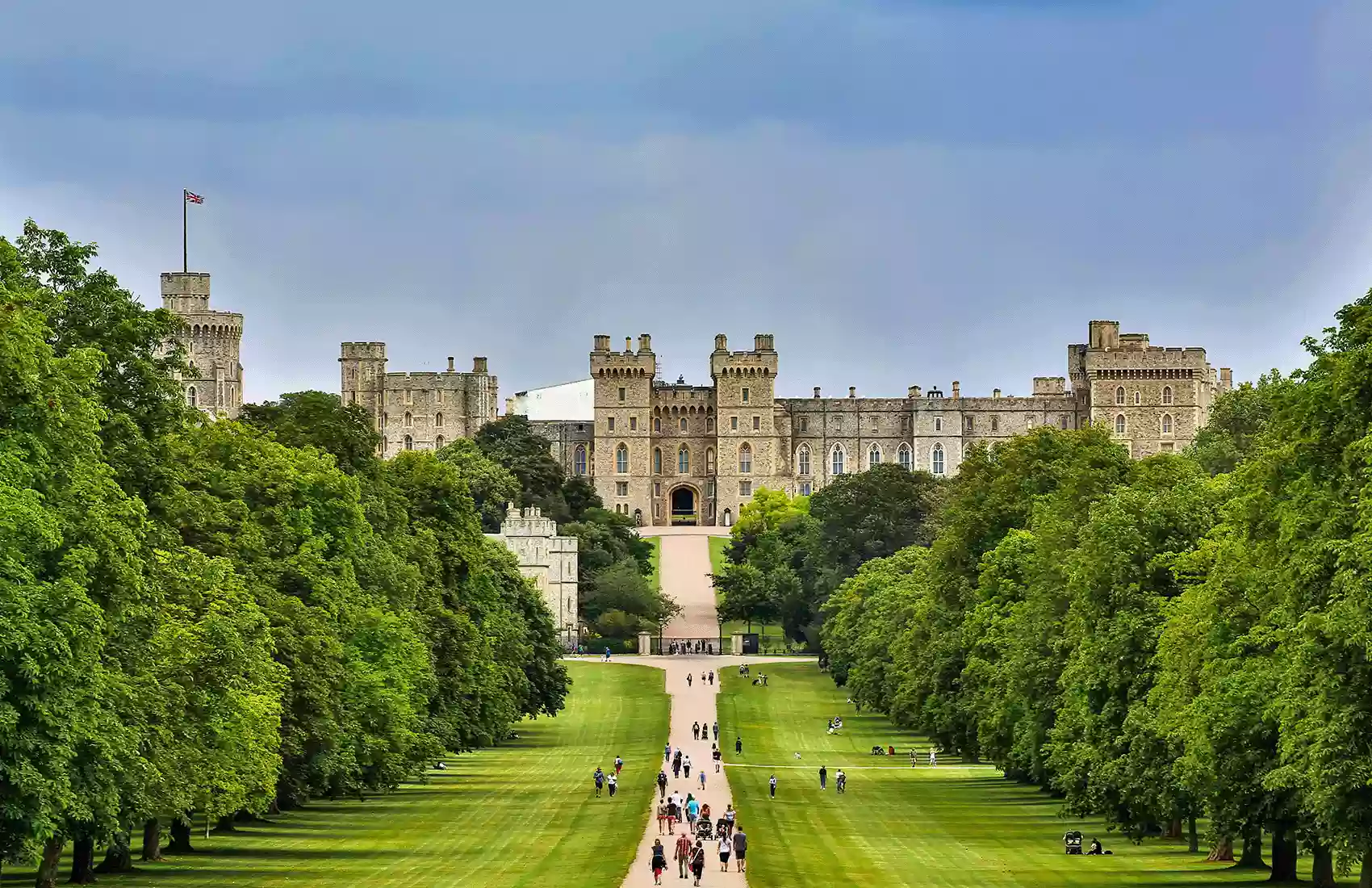 The Long Walk Road, Windsor Castle
A quaint town in England's Berkshire county, Windsor has royal and historical ties. Windsor Castle, one of the world's largest and oldest inhabited castles and a royal palace for more than 900 years, is the town's most notable attraction. Royal heritage and tourism make Windsor a popular tourist destination. History, culture, and scenic surroundings combine beautifully.

Why Visit Windsor London?
Visitors to Windsor Castle are attracted by its fascinating trip through time. This picturesque setting, the breathtaking River Thames backdrop, and Eton College's and St. George's Chapel's exquisite architecture further enhance its appeal. Due to its convenient location to London, cultural events, and quaint town centre, Windsor is a favourite destination for many.
how to travel to windsor from london
Trains from London: South Western Railway has direct trains from the London stations of Paddington and Waterloo to Windsor. From each station, the trip usually takes 30 to 35 and 50 to 55 minutes, respectively.

Windsor's two train stations: Windsor & Eton Central and Windsor & Eton Riverside, are both conveniently located close to the town centre and Windsor Castle. The station you choose may vary depending on where you are in London and where you want to go in Windsor.
By Bus from London: Windsor is reachable from London via a few bus companies. Speak with bus companies that frequently travel to Windsor, such as Green Line or National Express. Buses typically leave from London Heathrow Airport, Victoria Coach Station, and Victoria Railway Station, among other locations. Consult your selected operator about the precise departure spot.
discover Windsor's hidden Treasures
Windsor Great Park: A large royal park ideal for picnics, leisurely walks, and taking in the tranquil surroundings. It has lovely gardens, vistas, and the well-known Long Walk.
Windsor and Eton Riverside: The region by the River Thames provides scenic vistas, walks along the river, and a chance to observe boats and swans.
Frogmore House and Gardens: Near Windsor Castle, Frogmore House is renowned for its exquisite grounds and rich history. It was the location of the Duke and Duchess of Sussex's engagement shoot.
The Windsor Farm Shop: Offers artisanal and organic goods in addition to regional produce.
Windsor and Eton Brewery: It would be a great experience for beer lovers to tour the Brewery and taste some of their products.
day tours to windsor castle
- best day trips from london
Windsor Castle is the most popular attraction in Windsor so without a doubt each tour will visit the castle.
5. Charming Canterbury and Coastal Dover: A Tale of Two Enchanting Worlds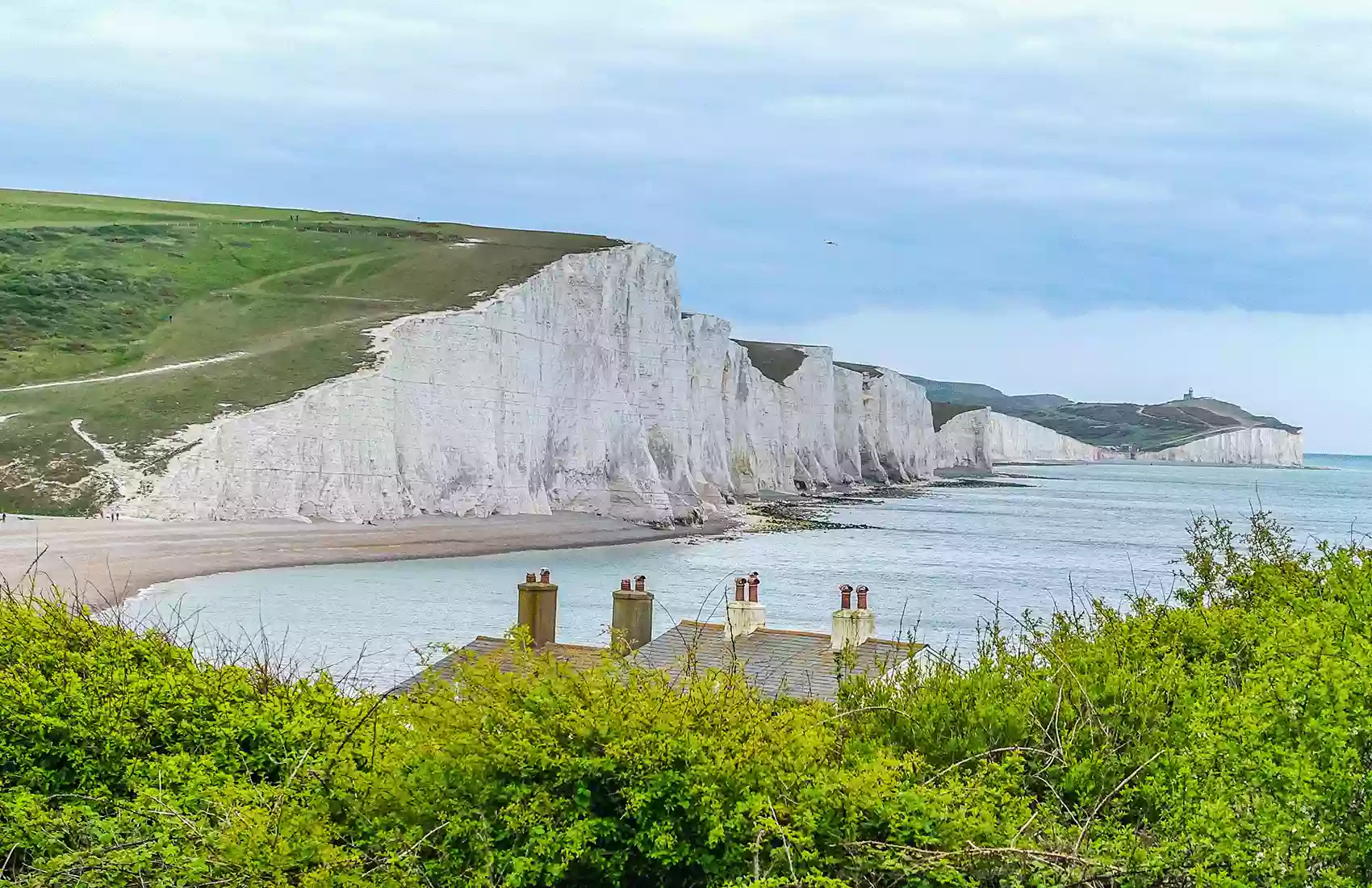 Canterbury & Dover Day Trip - The Dover Cliffs
Canterbury: Unravelling History's Tapestry

This historic and picturesque city in Kent has a strong religious and literary heritage. A World Heritage Site and an iconic symbol of Christian pilgrimage, Canterbury Cathedral stands at the centre of the city. Middle-age artistry can be seen in its magnificent buildings, including the well-known Bell Harry Tower.

Why go to Canterbury UK?
Walk through the city's winding medieval streets and discover the peaceful River Stour, historic city walls, and timber-framed buildings. A visit to Canterbury Tales, St. Augustine's Abbey, and Westgate Towers Museum will give you an insight into the city's rich history.
unmissable sights at Canterbury UK
Westgate Gardens and River Stour: Enjoy a stroll along Westgate Gardens' river while enjoying the tranquil surroundings.
Canterbury Cathedral: Canterbury Cathedral is a UNESCO World Heritage Site. Take a tour of the Thomas Becket Shrine and see its magnificent architecture.
The Canterbury Tales: Explore Geoffrey Chaucer's well-known medieval tales for a fun and interesting journey.

Dane John grounds: Walking through these beautiful grounds and taking in the city views is a wonderful way to relax.
Canterbury Punting Company: You can experience the city from a unique vantage point by punting on the River Stour.
Canterbury Historic River Tours: Embark on a guided boat ride along the River Stour and learn about the city's history.
Dover's Cliffs and Castles: A Coastal Odyssey

The historic coastal town of Dover, located in the southeast, is known for its iconic White Cliffs, rich heritage, and remarkable natural features. Dover is both a symbol of England and a gateway to the world, serving as a junction between the UK and continental Europe.

Why Visit Dover?

The coastal hikes, especially those that follow the White Cliffs, are very popular with hikers and outdoor enthusiasts. A fascinating window into the past can be found in the WWII tunnels for people who are interested in history.
As a major transportation hub, Dover is an intriguing travel destination that combines natural beauty with historical significance.
top tourist attractions in dover UK
Dover Castle: One must see this castle that is one of England's most recognisable. In addition to its extensive history as a defensive stronghold, it has been involved in numerous conflicts. As well as the castle's amazing architecture, passageways, and exhibitions. Guided tours are also available.
White Cliffs of Dover: You can see the French coast and the English Channel from the White Cliffs of Dover on a clear day. There is no better natural attraction than this, and it is a symbol of Britain.
Dover Western Heights: Fortifications, tunnels, and barracks can be found at this historical military site, providing a fascinating glimpse into the town's military past. There are guided tours available.
Dover Museum: The Dover Museum is a great place to learn about the town's history and heritage, including its Roman past. It also has a wide range of artefacts and exhibits.
Getting To canterbury and Dover from london
There are several possibilities for a simple train journey from London to Canterbury, and from there to Dover. The main train stations in London and the approximate travel times to Canterbury and Dover are as follows:

London to Canterbury:
London St Pancras International to Canterbury West: Southeastern offers direct trains between the two stations. The trip takes between 55 minutes and an hour.
London Victoria to Canterbury East: From London Victoria, other trains go to Canterbury East, but they usually stop at Faversham. It may take between one and two hours to complete the trip.
Canterbury to Dover:
Canterbury West to Dover Priory: There are direct trains run by Southeastern from Canterbury West to Dover Priory. The journey takes around 20 to 30 minutes.
Canterbury and dover day tours
- best day trips from london
Make sure you check out which locations around the UK you also visit with a Canterbury and Dover tour.
6. Stonehenge UK: Standing Stones of History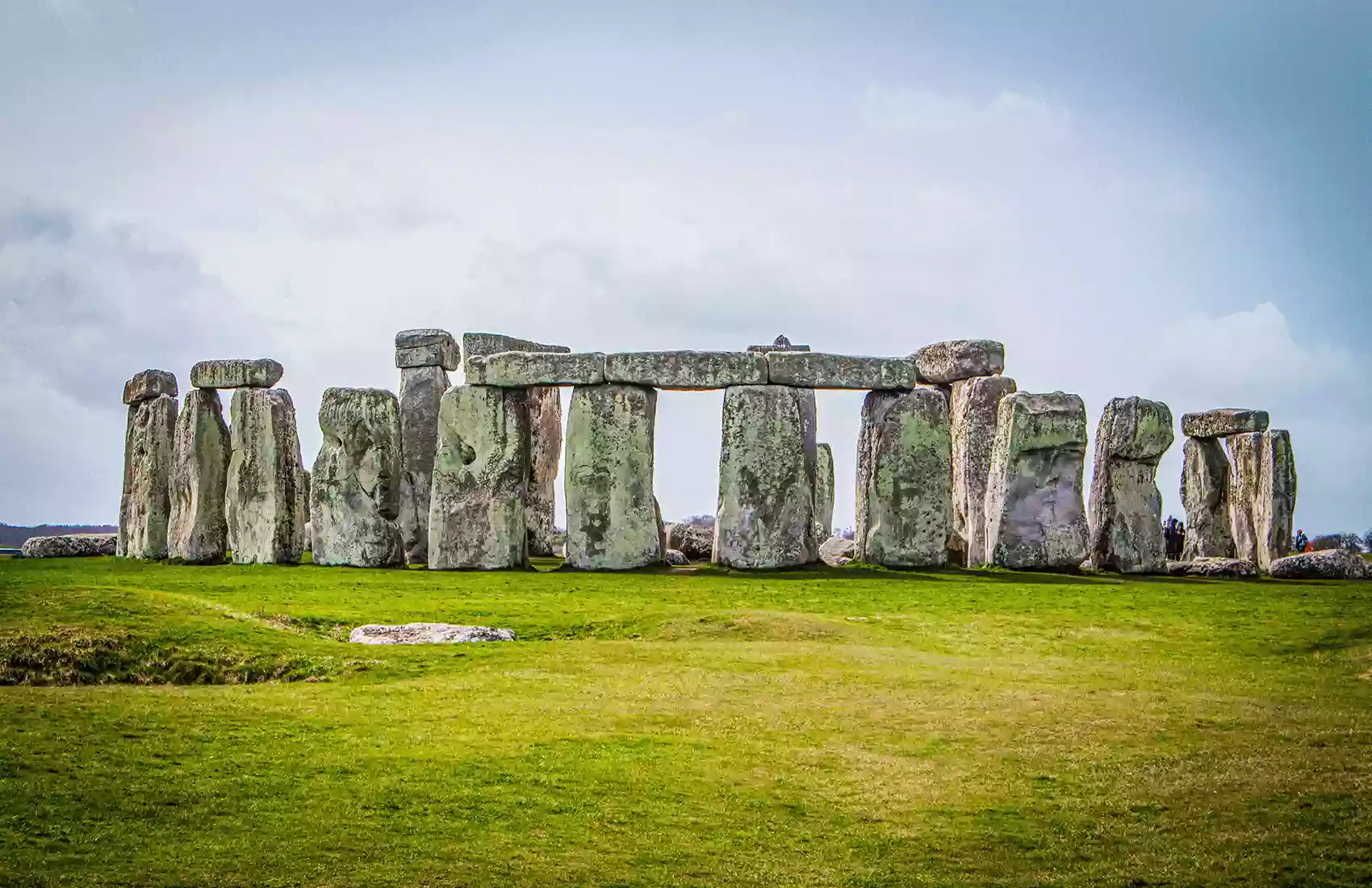 Best Day Trips From London - Stonehenge UK
Located in Wiltshire, England, Stonehenge was built approximately 2500 BC. A mystery surrounds its gigantic standing stones even today. Its function and construction methods still confound experts. At sunrise and sunset, this UNESCO World Heritage Site is filled with a mystical atmosphere due to the celestial alignments.

The fact that it coincides with the equinoxes and solstices further emphasizes its astronomical importance.
Why Visit Stonehenge UK?

A visit to Stonehenge allows you to learn about ancient history, admire heavenly wonders, and make connections with the mysterious past. It is an opportunity to imagine the wisdom of the ancient people who placed these massive stones and to be amazed by their sheer size. Visiting Stonehenge from London is an opportunity to connect with ancient heritage and lose yourself in a timeless mystery.
transport to stonehenge from london
Trains from London: From Waterloo Station in London, take a train to Salisbury or Andover. From there, change to a local bus or service to go to Amesbury. You may travel to Stonehenge from Amesbury in a short bus or taxi ride. The trip takes between one and two hours.

From Salisbury To Stonehenge: Due to its closer proximity to Stonehenge and more direct connections, Salisbury continues to be the most popular train station for tourists travelling to the site.
Arriving by bus: Stonehenge is roughly 8 miles (13 kilometres) north of Salisbury. From there, you can get there by bus or cab.
Take a tour from Salisbury: There are often tour options that include transportation to Stonehenge. Tour operators often include transportation to Stonehenge, guided tours, and sometimes additional stops at nearby attractions in their packages.
By Bus from London to Stonehenge: Travelling by bus usually takes the longest time and in this case, it can take around 3 hours one way then an additional 1 hour from Salisbury to Stonehenge. Prices are cheaper but considering the amount of time spent travelling it will not be worth it. If you still consider taking a bus, the National Express offers most of the journeys from London.
stonehenge day trip from london
- day trips out of london
Below are several tours from London that visit Stonehenge. Keep in mind that most of the tours are combined with visits to other cities around England. If you wish to purchase a ticket just to Stonehenge, you can only book the admission ticket but this does not include transport.
7. From London to Liverpool: Exploring the Beatlemania and Beyond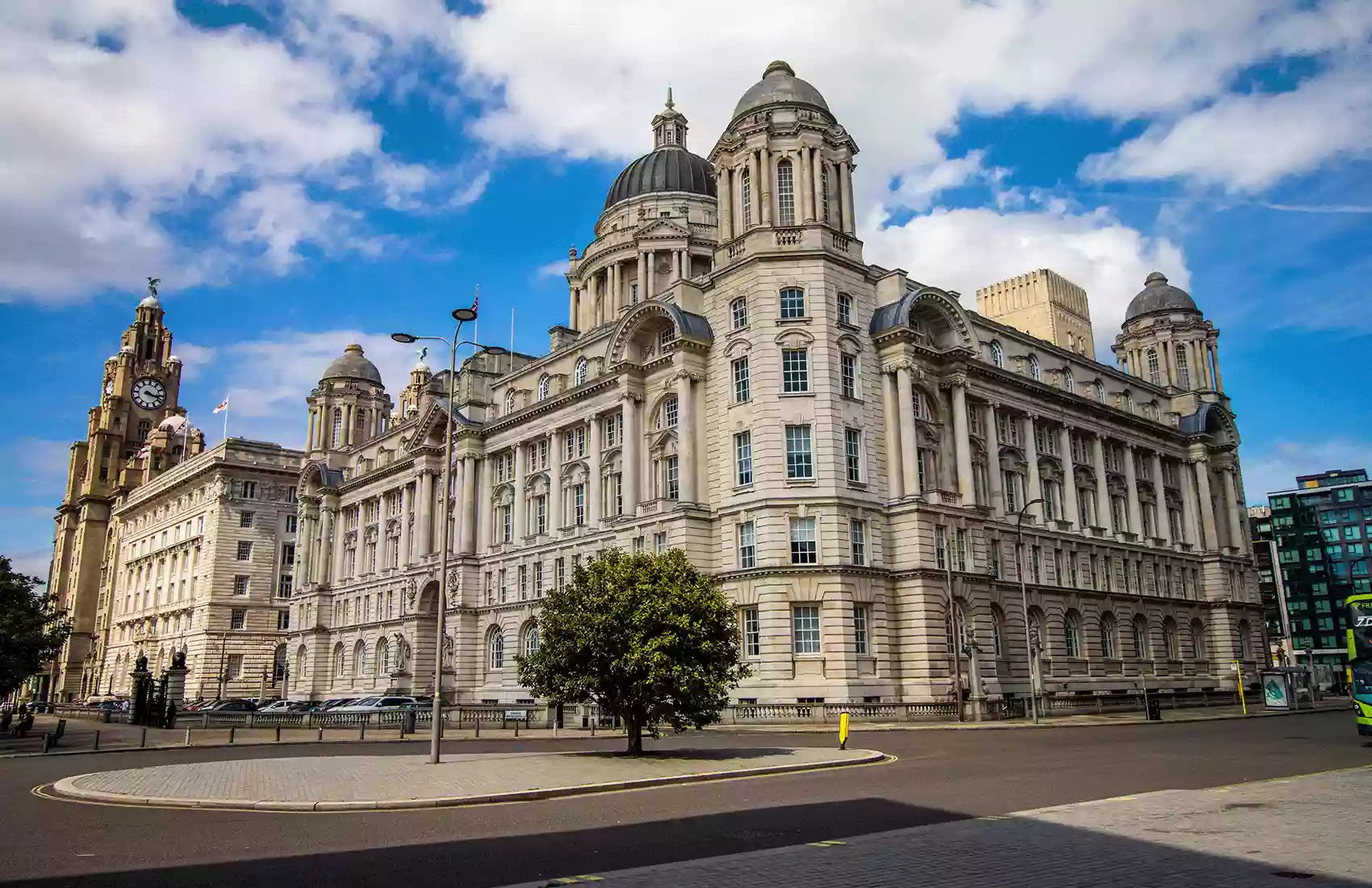 The Three Graces Liverpool
Interested in going on a Liverpool day trip from London?
There is a unique charm and a rich cultural history to this city in the northwest of England. Liverpool attracts tourists from all over the world due to its welcoming residents, exciting street art scene, and a number of culinary and entertainment options. If you are interested in history, music, or just a real British experience, you are in the right place.

Why Visit Liverpool UK?
This city, known for its strong musical ties, was home to the Beatles. Many people begin their musical journey through the history of the Beatles with the prospect of a London tour.
Fans from around the world fill Anfield and Goodison Park, demonstrating Liverpool's passionate love for football. The Walker Art Gallery, Tate Liverpool, and Liverpool Museum also house a remarkable collection of art and culture.
how to get to liverpool from london

If you choose to travel alone, our information on buses and trains will surely come in handy when planning your itinerary.

Trains from London: There are several alternatives for getting to Liverpool by train, depending on which London train station you leave from (Euston Station is the only one with the quickest travel time on this route, taking 2 hours and 15 minutes).
Though you might need to make a change, you can begin your journey from these additional London train stations: Paddington, Marylebone, Kings Cross, and Victoria.
Train station in Liverpool: Liverpool Lime station, the city's main and busiest railway station, is where you'll arrive if you're travelling from London. It provides quick access to the city's transit options and attractions. Avanti West Coast is the company that operates the trip.
Arriving by bus: Bus service is available from London to Liverpool. Reaching Liverpool's only bus station, which is ideally situated in the city core and offers quick access to the city's transportation options and attractions. Depending on the route the bus takes and the volume of traffic, the bus ride usually lasts between four and five hours.
landmarks that make liverpool unique
Childhood Homes: Houses where John Lennon and Paul McCartney spent their childhood, a look into the early years of the Beatles icons.
Penny Lane: It is a vibrant Liverpool lane that gained popularity as a result of a Beatles song. See its lively atmosphere, unique stores, and well-known sites.
Strawberry Field: Known from another Beatles hit, is a former Salvation Army children's home. A peaceful garden area, a café', a shop, and an interactive exhibition await visitors.
The Beatles Story: An interactive museum reveals the history of the Beatles. Take a look at souvenirs, interesting exhibits, and interactive displays to learn about their lives, music, and cultural influences.
The Cavern Club: Located at 10 Mathew Street, was where The Beatles first gained fame in the UK.

Brian Epstein who was an English music entrepreneur, first saw Pete Best, Paul McCartney, George Harrison, and John Lennon at the club.

The Royal Albert Dock: It is a historical waterfront complex that has been transformed into restaurants, shops, museums, and galleries.
Liverpool Cathedral: Discover its rich history and contemporary art displays while exploring Gothic architecture and city views from the tower.
Anfield Stadium: For football fans, a stadium tour is a must-see to learn about Liverpool FC's passionate history.
World Museum Liverpool: Discover ancient artefacts and interactive displays, along with exhibits on culture, natural history, and science.
Merseyside Maritime Museum: The museum features historic waterfront areas, ship models, and marine artefacts, including those from the Titanic disaster.
Walker Art Gallery: An immense collection of high-quality artwork, ranging from modern to European classics.
beatles tours to liverpool from london

We hope that our guide to the best day trips from London has given you a great insight into what there is to explore outside London.

Throughout the United Kingdom, there is so much to explore beyond London's boundaries. These locations around the UK were handpicked based on their history and unique attractions. Don't just stop here. There is more to discover, and these are only a few of them.
Before you go check out some recommended pages:
London's Free Museums: See the history and beyond London.
London Shopping Escapes: Discover the best markets in the city.

London's Natural Retreats: Parks, gardens, and scenic spots.
some frequently asked questions from travellers
People often ask questions about going on a day trip or taking a tour to a location around the UK from London. Here are a few that may help.

The closest and most popular places to visit from London include Stonehenge, Windsor Castle, Oxford, Stratford-upon-Avon, Bath, and the Cotswolds. It is good to know that multiple tours leave from London and visit one or multiple of these locations.
You can book a day tour in London through tour operators, online booking platforms, or your hotel's concierge service. Compare options, read reviews, and choose a tour that suits your interests and schedule.
It's advisable to book your day tour in advance, especially during peak tourist seasons (spring and summer). Booking a few weeks or months ahead can help ensure availability.

Once you decide your holiday dates you should research the location you would like to visit and book your place there and then. Today with platforms such as GetYourGuide you can reserve your spot without paying anything.
The time needed always depends on where you want to visit. You would always need to reserve an entire day no matter where you are going. If you happen to take a tour, they always last between 8 to 13 hours.
Want To Share This Page On Pinterest? Pin It Here!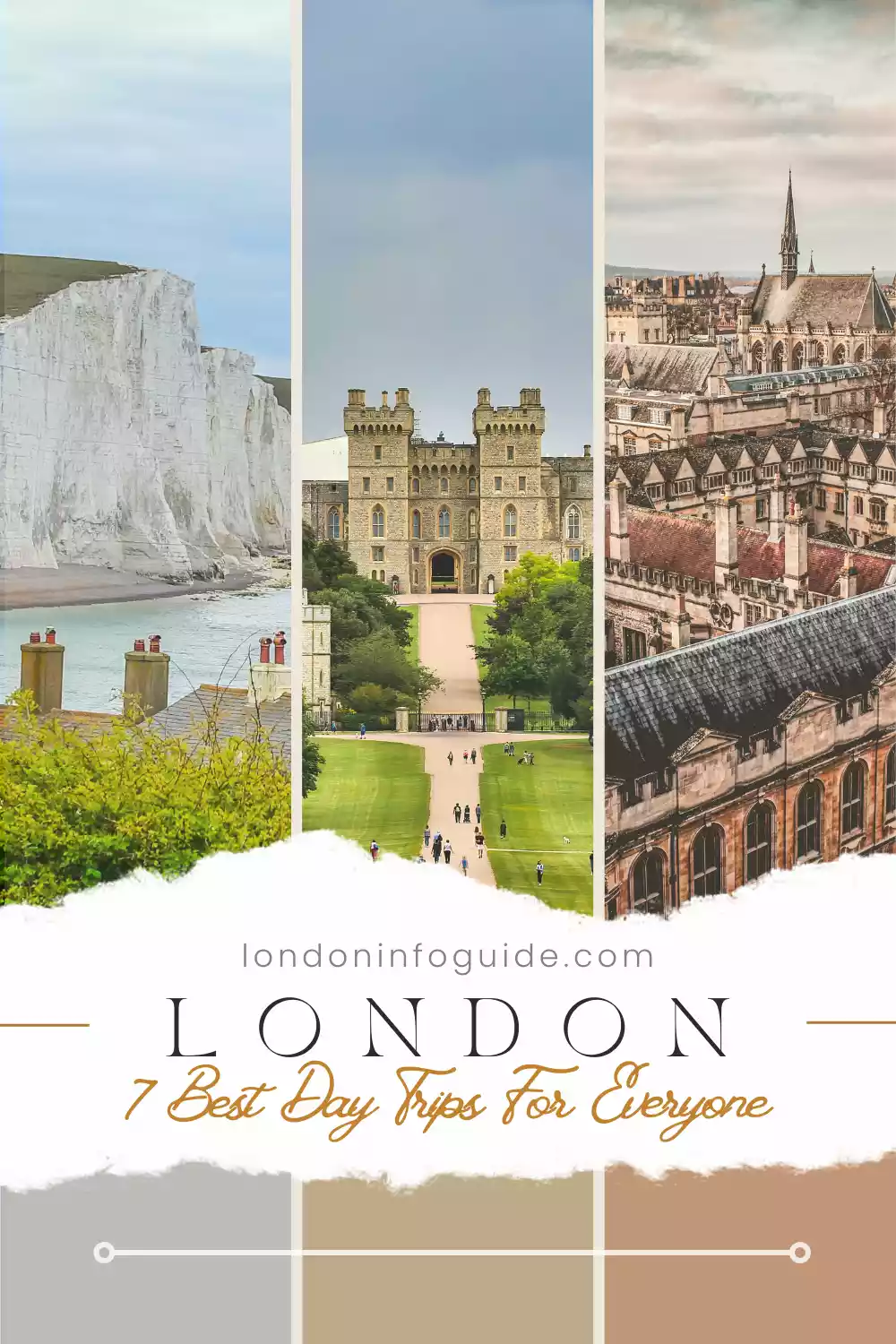 Photo sources - Best Day Trips From London
The Village of Oxford UK - Photo by Liv Cashman on Unsplash
The Long Walk Road Windsor UK - Photo by Simon Hurry on Unsplash
The Dover Cliffs UK - Photo by SC Chong on Unsplash
The Standing Stones Stonehenge UK - Photo by Priyank V on Unsplash
Three Graces Liverpool UK - Image by Paul from Pixabay
want to share what you read? share below