Things to Do in London on a Rainy Day
things to do in london On A Rainy Day

A Rainy Escape In Such A Busy City
Rain in London is very unexpected throughout the entire year, so this guide will help you plan your itinerary in case it does. If you think this weather will ruin your plans you are wrong as there are plenty of indoor activities. In this guide, we will discuss the various options for things to do in London on a rainy day. These include shopping, indoor activities, visiting the Harry Potter studio, markets and much more.
things to do in london on a rainy day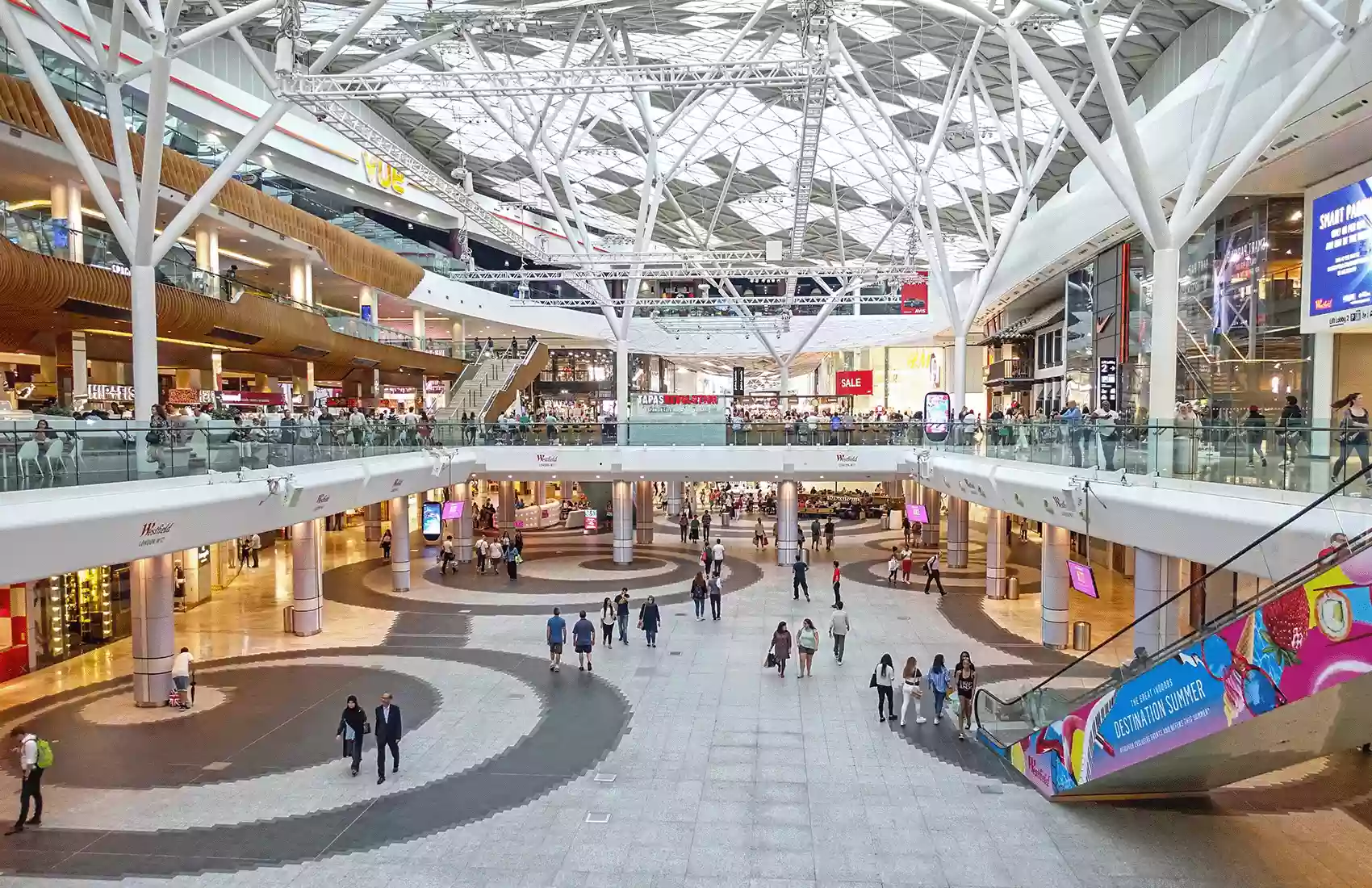 Westfield Shopping Mall London
If you need to do some quality shopping, you should take advantage of rainy days. You will find a wide variety of upmarket stores, lifestyle stores, and beauty boutiques here. A variety of restaurants serve a variety of cuisines, as well as high-end movie theatres.

If you have kids, the first set of department shops is better because there is a lot of room for them to run around and play in addition to a play area where they can spend their time in any way they like.
Westfield Stratford City: Over 200 stores and 80 restaurants.
Westfield London: Nearly 100 restaurants and 280 luxury shops.
ICON Outlet at The O2: Featuring the best accessible lifestyle and fashion brands in the world
One New Change: There are around 60 stores and a few restaurants.
Brent Cross Shopping Centre: It has around 150 shops, including a few restaurants.

Department stores known for offering a wide range of high-quality brands are as follows:

Harrods: Located in Knightsbridge, the world's most famous and luxurious department store.
Selfridges: Situated on Oxford Street, renowned for its trendy fashion, beauty and designer brands.
John Lewis: A British department store chain with a flagship on Oxford Street including clothing, homeware, electronics, and furniture.
Debenhams: They offer clothing, beauty products, and home furnishings.
House of Fraser: Various locations in London, offer a range of fashion, beauty, and home goods from a variety of brands.
spend a rainy day at harry potter studios london
Diagon Alley Harry Potter Studio
If you are visiting London on a mostly anticipated rainy day, you might consider a day trip to the Harry Potter Studio Tour of Warner Bros. You will travel by bus from central London to the studios, all indoors, while enjoying the characters you love.

You can also enjoy a variety of meals and snacks, and hot and cold food options in the cafeteria-style food hall on the studio tour.
Warner Bros Studio Tour: Learn what goes on behind the scenes of the Harry Potter films as you visit the sets of the movies. It is estimated that this tour will take around 7 to 8 hours to complete. The studios will be open to you for four hours during your stay. On display, there are props, costumes, and effects from the movie series. At platform 9 ¾, take the opportunity to go on board the Hogwarts Express train.
family attractions on a rainy day in london

Things To Do In London On A Rainy Day - Tower of London
a combo ticket - 5 Top attractions in one Pass
With the Combo Ticket serving as your ticket to an exciting and varied experience in London, you can unlock the finest of the city. Five of the most popular sites in the city are accessible with a single ticket. With this convenient pass, you may save time and money while enjoying nonstop entertainment for all ages.

Madame Tussauds: Lifelike wax replicas of famous people, historical figures, and fictitious characters are on display at the world's first wax museum.

SEA LIFE Aquarium: You will explore a fascinating underwater world featuring incredible marine life, from vibrant fish to majestic sharks. 1.5 to 2 hours required.

The London Dungeons: The entire experience, including the different interactive presentations and displays, will take 1.5 hours.
DreamWorks Tours - Shrek's Adventure: Dive into the unusual world of Shrek at Shrek's Adventure!, an interactive attraction that lets you join Shrek and his pals on a hilarious journey through Far Far Away

London Eye: A gigantic observation wheel on the South Bank of the River Thames provides breathtaking panoramic views of London's landmarks.
top historical & cultural attractions to visit on a rainy day

Even though you need a different amount of time to see various attractions, you can stay indoors without getting wet. It depends on your personality, whether you have kids, like to visit historical sites, or want to find intriguing places where you can stay for a considerable amount of time without getting wet outside.

Westminster Abbey: If you wish to explore it all including the various chapels you need approximately 1.5 to 2 hours.

St. Paul's Cathedral: Around 1.5 to 2 hours, depending on if you plan to climb to the top of the dome.
Churchill's War Rooms: The time required to explore the bunkers and the museum exhibits is usually between 1.5 and 2 hours.
Tower of London: You should allow at least 2.5 to 3 hours to complete the tour including seeing the Crown Jewels and traversing the walls.

Kensington Palace: Normally, it takes 2 to 3 hours to thoroughly explore the staterooms and the lovely gardens.

Houses of Parliament (Palace of Westminster): A tour typically lasts between 1 to 2 hours. You may need to allocate additional time and check the programme in advance if you want to attend debates or sessions.
The Tower Bridge: Allow 1.5 to 2 hours to explore the bridge, the glass-floored corridors, and the nearby engine rooms.
Buckingham Palace: Only during the summer is the palace open. Please give yourself enough time to fully enjoy your stay, even if rainy days can occur in the summer as well. We recommend 2 to 2.5 hours.
Keep in mind that these are approximate times, and your visit duration may vary based on factors like crowd size, your level of interest, and any special exhibitions or tours that you choose to participate in. It is a good idea to check the opening hours and any current restrictions or requirements at each location before your visit.

other indoor attractions
The Shard: This spectacular location offers a captivating experience for adults and kids even on a rainy day. Enjoy panoramic views of London's skyline from the observation decks, with interactive telescopes for kids. Families can explore virtual reality fun, while adults can relish fine dining and cocktails at its restaurants and bars. Create lasting memories with the city's breathtaking backdrop.

The Sky Garden London: Another tall and spectacular building in London which offers a beautiful view of the surroundings. This particular attraction has both an outdoor and indoor area meaning you can also visit when the weather is nice and dry. The building consists of eateries and cafés where you can unwind, have a meal or an afternoon tea. A distinctive ambience can be created for photography on rainy days.
Choosing between Sky Garden or The Shard:
The Sky Garden and The Shard are two great attractions that both deserve a visit. You should allocate an amount of time for each, depending on what you want to do. The Sky Garden is free to enter and to lay back and enjoy the vibe and the view, whilst the Shard is against a fee to watch 'The View' on levels 68, 69 and 72 and enjoy the different amenities the building has to offer. To compare both, The Shard is more luxurious and hence at a higher price to visit and eat there while Sky Garden is more of a budget-friendly attraction. However, whichever attraction you choose, will leave you with an unforgettable experience.
Do Adventure Indoor Sports On A Rainy Day
To make the most of your vacation journey in the capital city, turn wet days into exciting inside adventures.

Tenpin bowling: There are several indoor entertainment options in London. It is a fantastic means of entertaining friends and family.
Indoor Karting Experience: Enjoy a thrilling race with family and friends at a go-kart track. Enjoy the thrills and competitive intensity of these adventures at 5 different locations in London.
Escape Rooms: As the players solve challenging problems in themed rooms, they are locked in. Solving puzzles, finding clues, and completing challenges is the key to unlocking the exit.

go on a sightseeing tour around london in an open top bus
Sightseeing Bus in London
Since it will be raining, we guess you will not be walking around the city to do your sightseeing so why not take a Hop-On Hop-Off Sightseeing Tour on a double-decker bus and witness London in the rain from a different perspective? When we took this tour we were able to see numerous sights we would have not been able to see if we just walked around the city.
This tour goes around the city and stops at different bus stops where you can get off and then get back on at a later time. The ticket you purchase is valid for either 24, 48 or 72 hours. The buses do not run for 24 hours straight but they have their schedule.
Restaurants & pubs - where to eat in london on a rainy day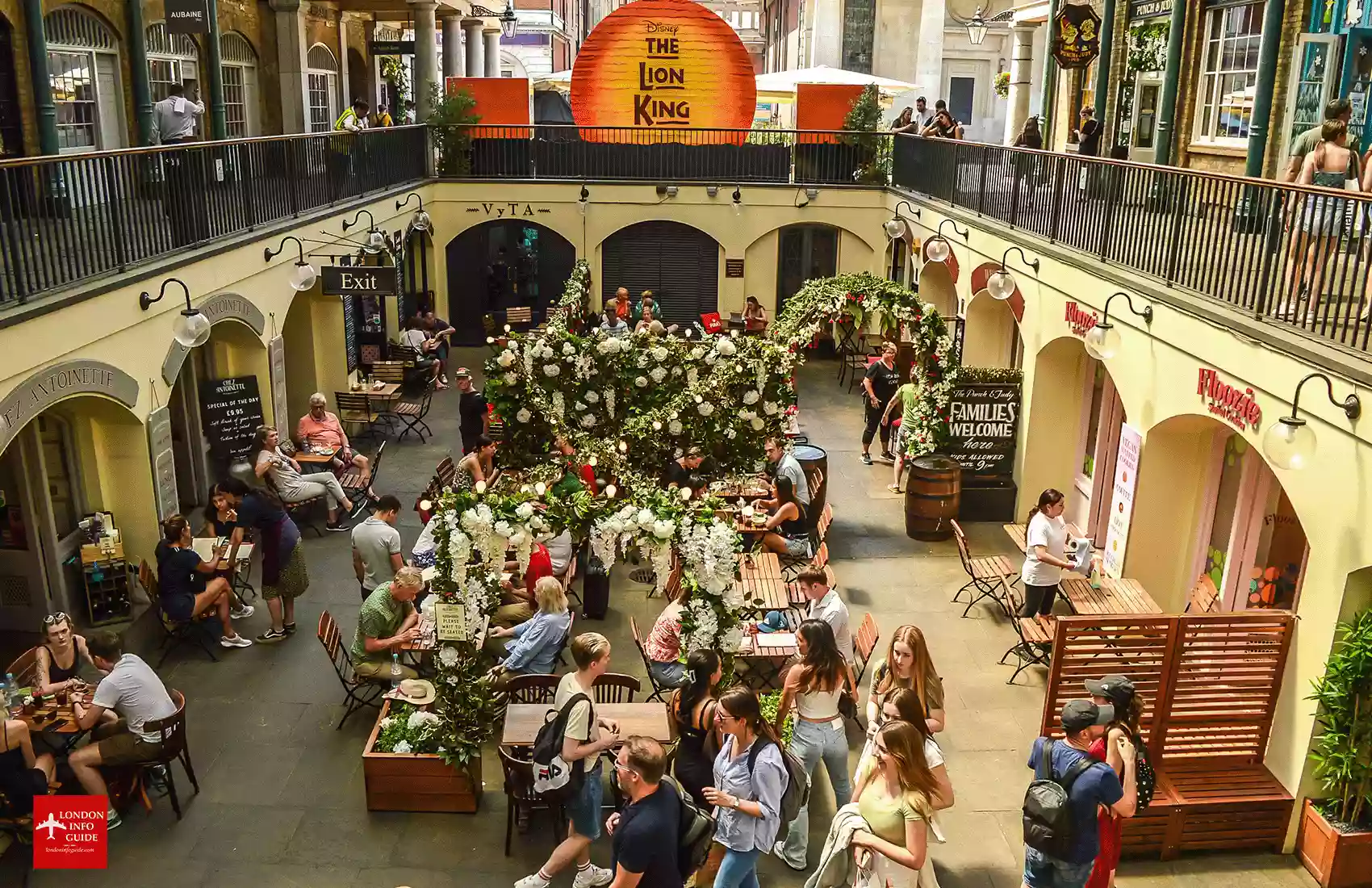 Covent Garden Restaurants
London is a melting pot of cultures, which is reflected in its diverse culinary offerings from Italian, Indian, Thai, and other international cuisine. Make reservations in advance, especially at popular restaurants.

Traditional Pubs: Seek out a traditional pub with a crackling fireplace to savour classic British comfort food like fish and chips, bangers and mash, or a hearty pie. Don't forget to pair your meal with a pint of local ale.

Afternoon Tea: Rainy afternoons are a quintessentially British experience, perfect for indulging in a traditional afternoon tea. You can find elegant tearooms and hotels that offer an array of teas, finger sandwiches, scones, and sweet pastries.
Cosy Cafés: London is dotted with charming cafés where you can unwind with a cup of tea or coffee and a slice of cake. Many cafés have big windows where you can watch the world go by while staying dry inside.
Markets and Food Halls: Many indoor food markets and food halls like Borough Market and Mercato Metropolitan offer a range of culinary delights.

Gastropubs: For a combination of high-quality food and the ambience of a traditional pub.
Fine Dining: If you are looking for a special rainy day treat, London boasts numerous Michelin-starred restaurants and fine dining establishments.
Roof-Top Restaurants: Some restaurants in London have indoor seating with fantastic views, and they can be a great choice on a rainy day. 
museum & galleries - see the history and art of london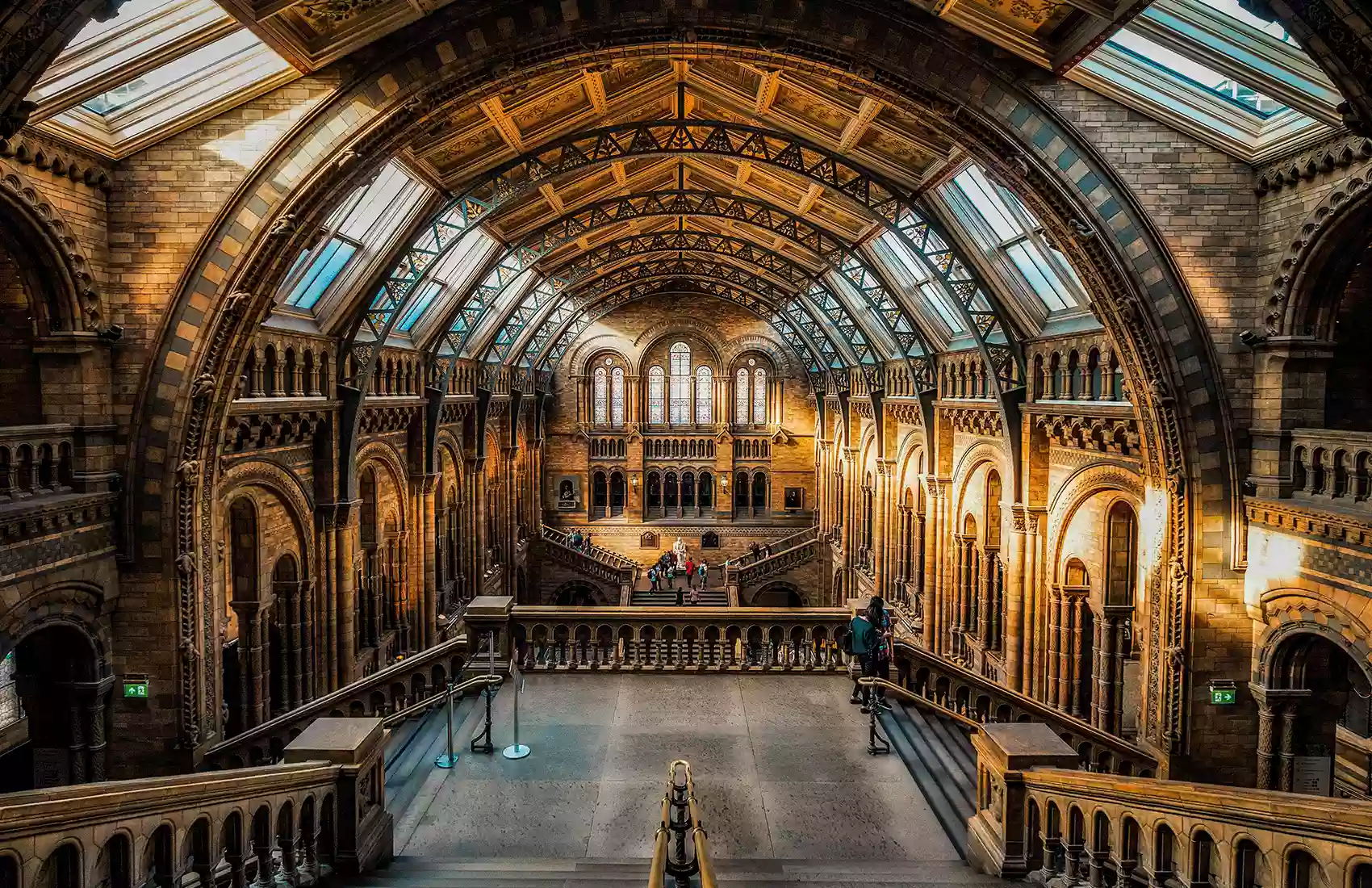 Things To Do In London On A Rainy Day - Natural History Museum
If you are a family or a group, visiting a museum or gallery is a great option when it rains. Art enthusiasts and curious minds will find a wide variety of museums and galleries not only informative but also entertaining and intriguing.

However, you should keep in mind that if the weather is unsteady, most likely people will flock to the more popular museums meaning they will be busier. In this case, try to find less popular museums if crowdedness is something you wish to avoid.
We suggest the following museums and galleries to choose from. Write these down in case one of your already planned days ends up being a rainy one.
The iconic British Museum showcases global artefacts.
The Natural History Museum with its prehistoric wonders.
Victoria and Albert Museum celebrates art and design.
The Tate Modern for contemporary art.
The Science Museum explores scientific progress.
The National Gallery hosts classical masterpieces.
London Transport Museum the history of London's transport.
Design Museum, a Permanent collection such as fashion, architecture, engineering and the digital world.
shows & Theatre - watch a fun and interesting show in london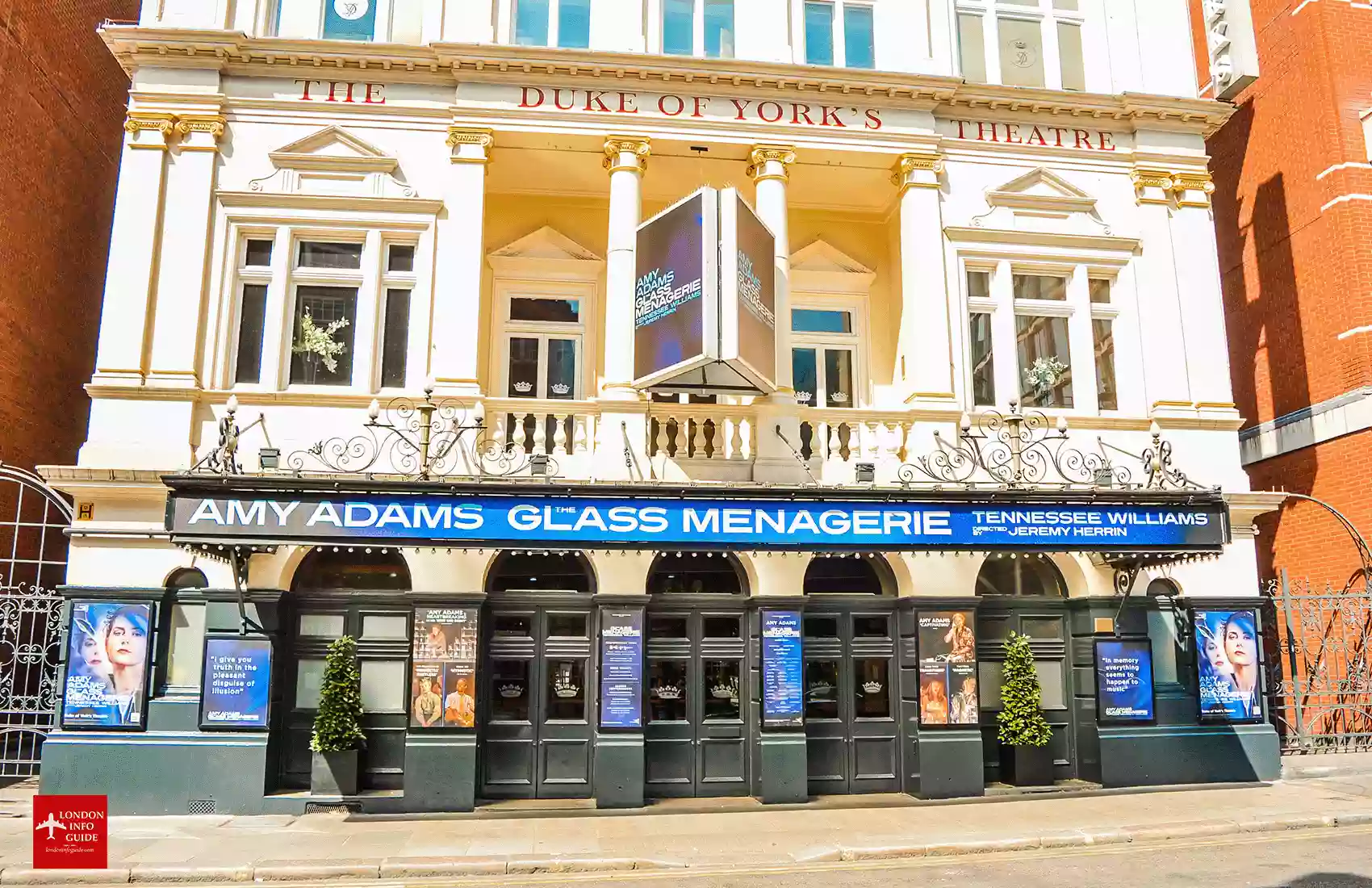 Duke of York Theatre London
Whether you want an unforgettable night out in London or an afternoon out, there is nothing like a West End show. There are many theatres in London's West End, offering performances suitable for people of all ages and interests. There's something for everyone, no matter what you like. Dramas, musicals, or comedies are all available. No matter what the weather is like in London, we make it a tradition to attend a different show every single time we visit.

We highly recommend securing your tickets in advance to enjoy the West End to the fullest. Not only does this provide you with the best seats, but it also means you will often be able to get them for a more reasonable price. If you want to avoid the disappointment of missing out on the show, we recommend you steer clear of last-minute ticket purchases at the theatre door, as they are often sold out.
The following are some popular shows including the theatre:

explore and splurge on the markets in london

Things To Do In London On A Rainy Day - Leadenhall Market
London's many covered markets offer a distinctive shopping and cultural experience that makes it a great place to go on rainy days. Every market has its different type of charm from historic ambience to art and entertainment and food stalls for a snack along the way. Here are the markets you should consider checking out.

Covent Garden Market: An arcade with eateries, shops, and boutiques undercover.

Borough Market: Several food vendors offer both local and international cuisine.
Leadenhall Market: This is a fantastic, lovely, airy market where you may browse boutiques, shops, restaurants, and pubs. It has a deep history and gorgeous architecture.
Camden Market: a wide range of stalls selling artisanal foods, arts, crafts, apparel, and accessories. Although it is mostly an outdoor market with some covered areas, it is spread out over a sizable area.

Greenwich Market: Located in the centre of historical Greenwich, offers a wide variety of artisanal delicacies, antiques, and exquisitely made goods.
Want To Share This Page On Pinterest? Pin It Here!
Photo sources - things to do in london on a rainy day
Westfield London - Tiia Monto, CC BY-SA 3.0, via Wikimedia Commons
Natural History Museum - Image by Public Co from Pixabay
want to share what you read? share below