Westminster Abbey in London
Westminster Abbey In London

A Century Of Royal History
A visit to Westminster Abbey in London offers a unique opportunity to explore the site of coronations and royal weddings. It is the historical and iconic landmark of London. It is also the burial place of British monarchs and other notable figures apart from its stunning Gothic architecture, royal connections, and rich history.
The most recent royal occasions where Westminster Abbey was used are the wedding of Prince William and Kate Middleton on 29th April 2011 and the State Funeral of Queen Elizabeth II on 19th September 2022.
table of contents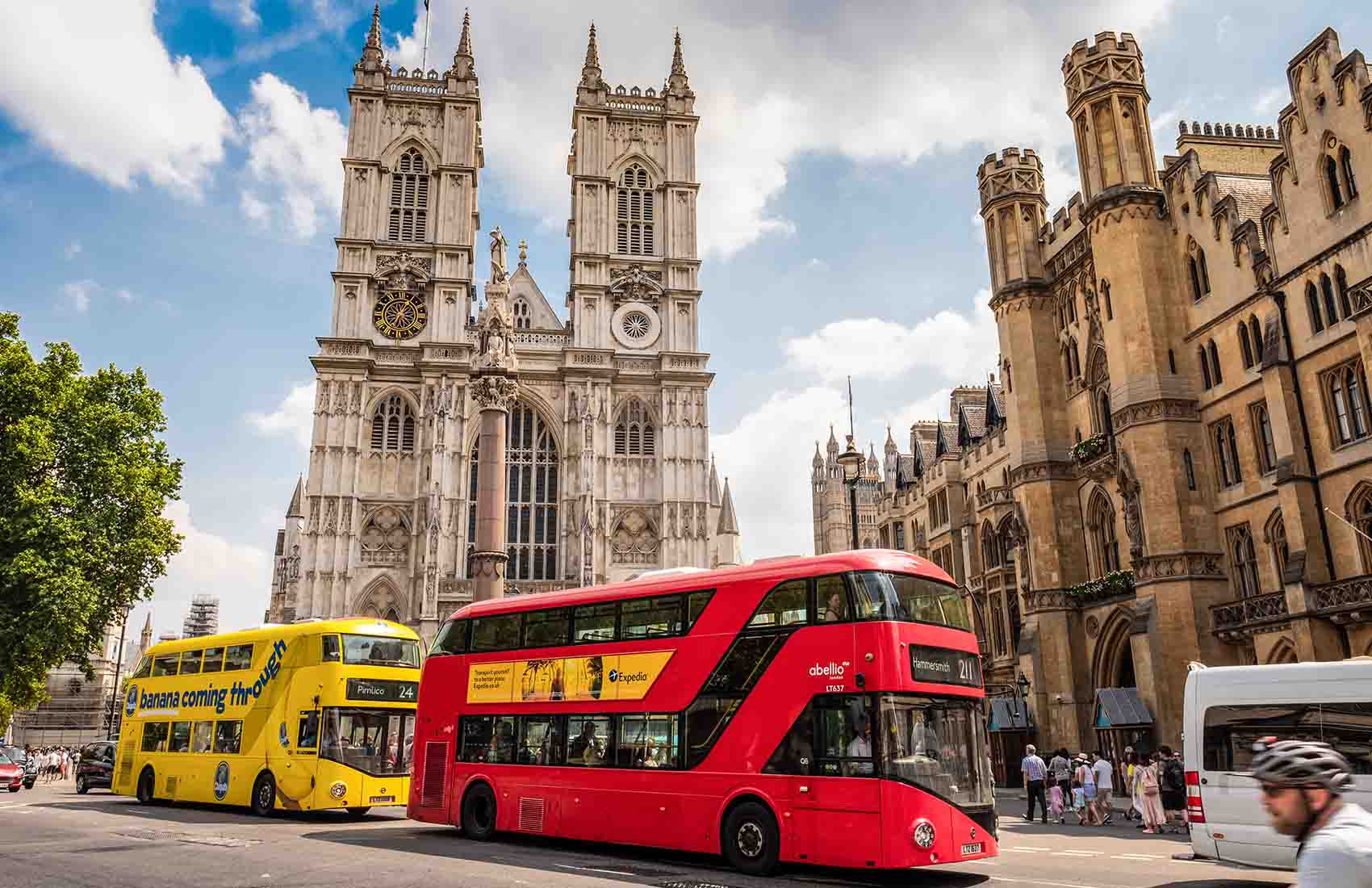 Two London Buses Outside Westminster Abbey
No matter if you are a first-time visitor or a local, Westminster Abbey is worth seeing for the following reasons. Firstly, the architecture is extremely stunning with beautiful stained glass windows, intricate stone carvings, and soaring vaulted ceilings. Secondly, you also get to walk around this incredible building and go back and learn about British history and all that has happened inside Westminster.
As part of our effort to provide you with a memorable and informative experience, we have gathered a wide range of information about the abbey.
tickets to Westminster Abbey

Tickets to the entrance of Westminster Abbey in London can be purchased online or from the Abbey itself. To avoid waiting in the queue and to make sure that you will find availability we highly recommend that you pre-book your tickets in advance.
This ticket will give you a chance to learn about the history by immersing yourself in the building, seeing the famous Coronation Chair and exploring the memorials in Poets' Corner.
Click the button below to go ahead and book your tickets.
how to visit the Westminster Abbey london

The following is information about how to visit Westminster Abbey as well as several facts and tips before going.

Location: It is located in the Greater London borough of Westminster, to the west of the Houses of Parliament. It is found adjacent to the Thames River.
Opening hours: In general opening hours are from Monday to Friday 09:30 to 15:30 (last entry) and Saturday 09:00 to 15:00 (last entry). On Sundays opening for services. Since opening hours vary it is best to check before you go. As a functioning living church, the abbey occasionally needs to restrict access to certain areas and keep its hours of operation shorter.
Dress code: Visitors are expected to dress appropriately, with no shorts, bare shoulders, or hats inside the Abbey.

Photography: Photography is allowed inside the Abbey, but only without flash or tripods.
Guided tours: Guided tours are available and highly recommended to fully appreciate the history and significance of the Abbey.
Accessibility: While the Abbey is a historic building, efforts have been made to make it accessible to visitors with disabilities, including wheelchair access and audio guides for visually impaired visitors.
Visitors with disabilities or mobility issues: Disabled visitors and their carers are welcome at no charge. There is no advance ticketing. They are available only on the day of admission and cannot be pre-booked.
Security: As soon as you arrive at the Abbey, your bag will be searched before you can enter. Additional checks might also be necessary. Security checks are quick, but they can take a long time during busy times. It is not permitted to leave luggage or large backpacks at the abbey.
Pre-booking: To make the most of your time in London, we recommend pre-booking your tickets online. The abbey can be crowded with tourists, so it's best to plan your visit ahead of time and arrive early in the day. 

Photography for personal memory is allowed inside the abbey. No pictures can be taken during services. The use of tripods, drones, video recording, flash, extra lighting and selfie sticks is prohibited.

Appropriate dress is required, and visitors are asked to be respectful of the religious nature of the site.
Audio Guides: There are audio guides available to provide information about the history and significance of the various areas of the abbey.
Individual prayer visits: If you would like to visit for an individual prayer you are welcome to do so and there is no charge to enter the church. The entrance is through the Great West Door.
Food and Drink: Meals are offered all day long at the Cellarium Café and Terrace, while drinks, snacks, and a light lunch are available at the Kiosk. Whether or whether you are a visitor to the Abbey, you can still savour some delicious food and refreshments.
The Westminster Abbey shop is open depending on the overall opening hours of the Abbey as there are variations of opening and closing times. Apart from this shop, there are two branches. The main shop is at Broad Sanctuary, London SW1P 3JS. The Cellarium Shop is at Dean's Yard, London, SW1P 3PA.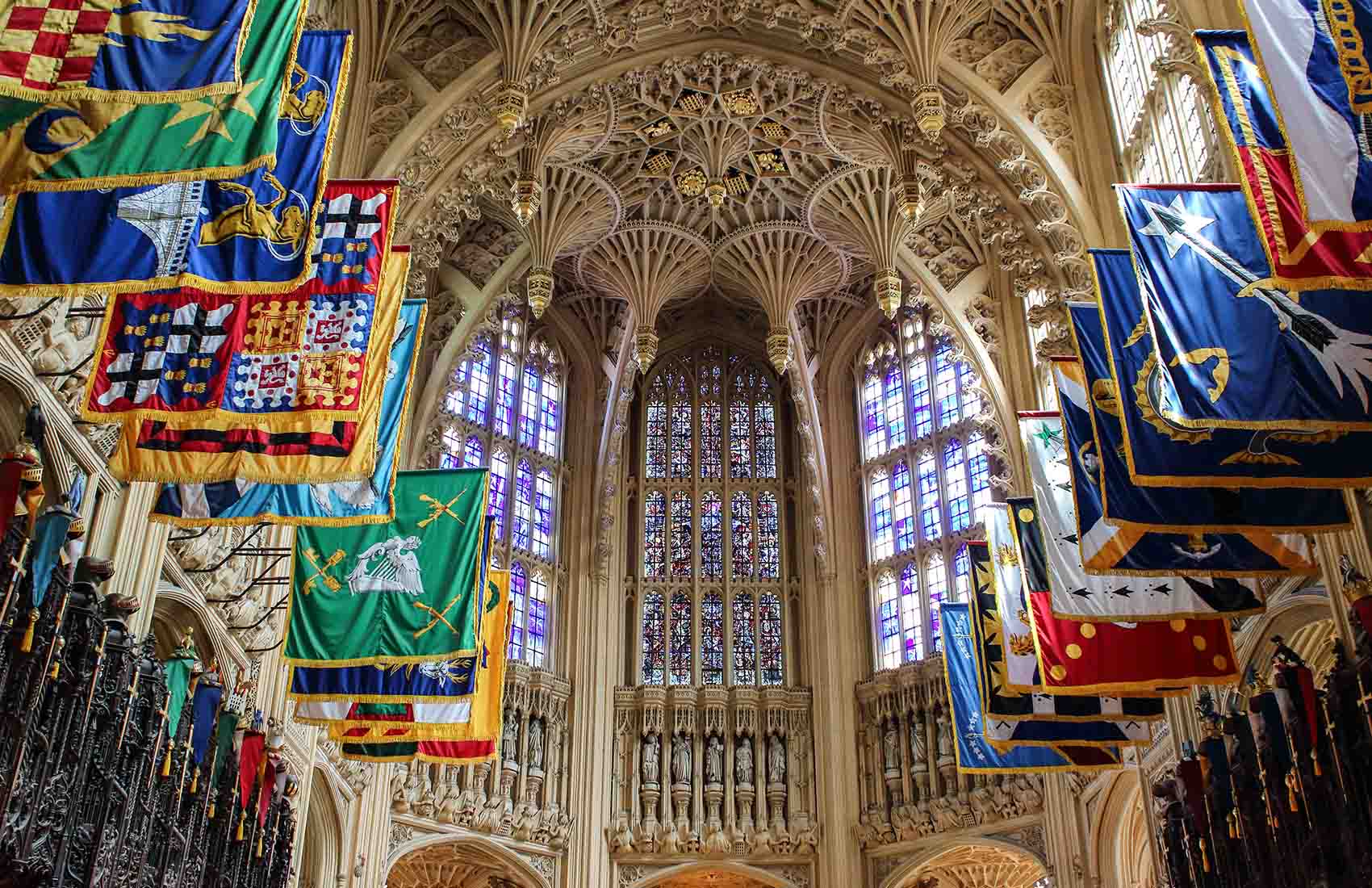 Inside Westminster Abbey London
How to get to Westminster Abbey

You can reach Westminster Abbey using the metro, a bus, a vehicle, a boat, or a train.

getting here By Metro

The nearest underground stations are:

St James's Park Station is 0.2 miles away and is served by the Circle (Yellow) and District Line (Green). A five minutes walk.
Westminster Station (adjacent to Big Ben and the Houses of Parliament) underground station which is around 8 minutes walk (0.3 miles). It is served by the Circle (Yellow), District (Green) and Jubilee (Grey) lines. A five minutes walk.
by bus
Westminster Abbey can be reached through routes 11, 24, 88, 148 and 211 which are past the Abbey entrance.
Hop-on Hop-off buses
As the sightseeing buses stop right near the abbey, it is easy to walk to the abbey on foot.
River Thames transportation

Thames River Boats Westminster Pier is located on the north side of the river Thames, just a few minutes walk.

by Train
Victoria and Waterloo are the nearest stations with 18 and 16 minutes, respectively.

Bicycle
Free parking spaces are available right next to the attraction.

Car Parks

Nearby parking lots are available, but due to the congestion fee, it is also advised against driving here. The Southbank Center and Westminster's Q-Park are the closest.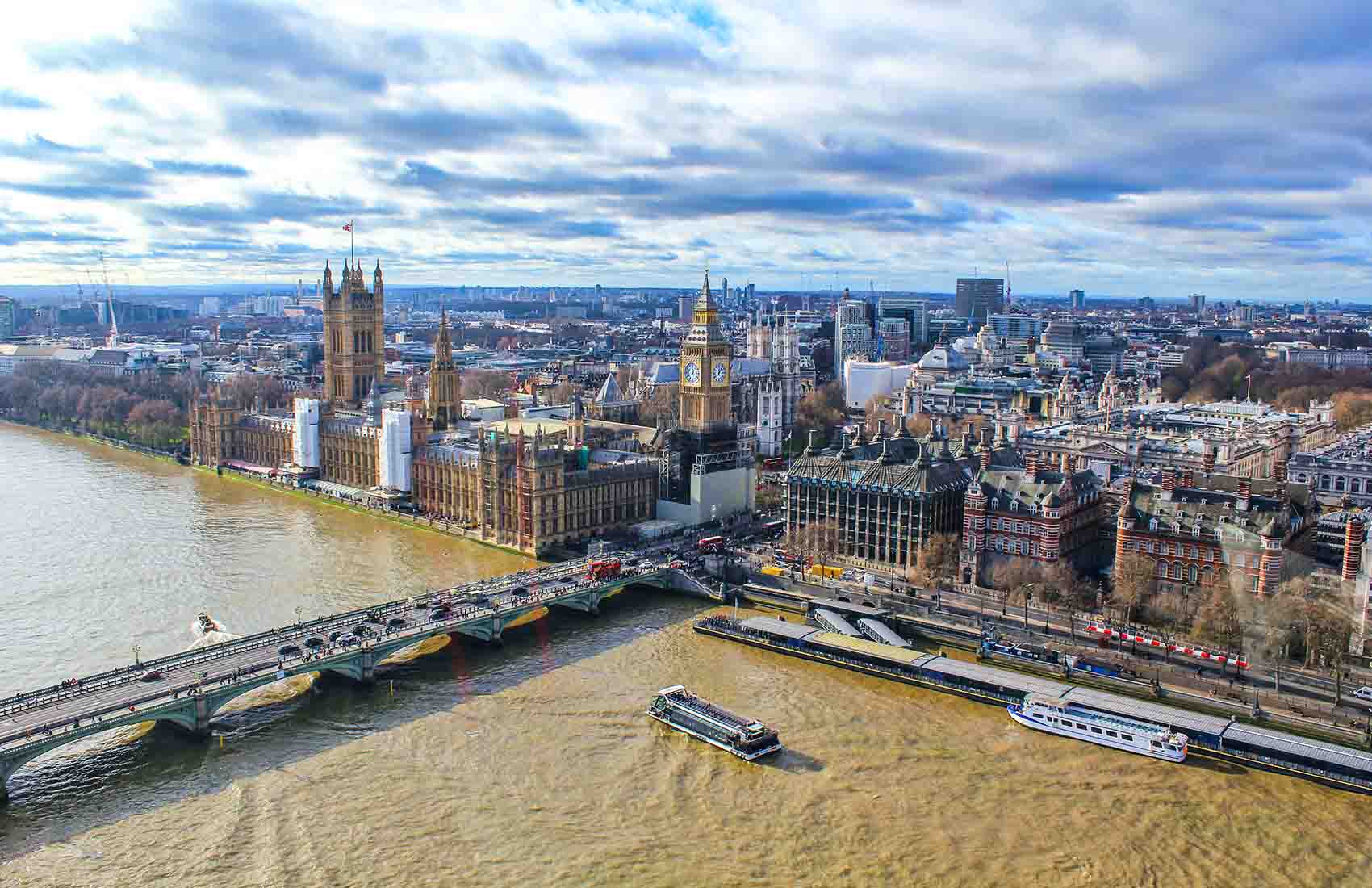 Birds Eye View of Westminster City
11 facts about Westminster Abbey in london
This famous landmark is a Gothic-style church located in the City of Westminster. The interior is covered with  amazing Gothic architecture, towering ceilings, stained glass windows, and elaborate sculptures.
Westminster Abbey is the more familiar name around the world for the Collegiate Church of St. Peter.
This site has been home to some kind of religious building since the early 7th century. However, today's Westminster Abbey is the only one that will stand here.

Built around the turn of the 10th century as a Benedictine monastery, Westminster Abbey is almost a thousand years old.
Over the centuries, numerous renovations and additions have been made to the current church, which was built in the 13th century.
Ever since William the Conqueror's coronation in 1066, the abbey has been the site of every British king or queen's coronation.
Many British monarchs are buried at the abbey, including King Henry III, Queen Elizabeth I, and King George VI.
Isaac Newton, Charles Darwin, David Livingstone, William Shakespeare, Charles Darwin and Laurence Olivier the most famous actor in Britain are all buried at Westminster Abbey, as are many other well-known British figures.
There was much damage done to the abbey during the English Reformation when many of its treasures and artworks were destroyed.

In the 18th and 19th centuries, the abbey was restored and renovated, and it remains an active place of worship today.
Westminster Abbey is governed directly by the British monarch, not a diocese like other Anglo-Protestant churches.
multiple combo Ticket Options Westminster Abbey
Apart from purchasing the entrance ticket to Westminster Abbey, there is a combination of tours that you can choose from. The following are two different tours, one which includes a tour of the Houses of Parliament and the other is a guided tour inside the Abbey.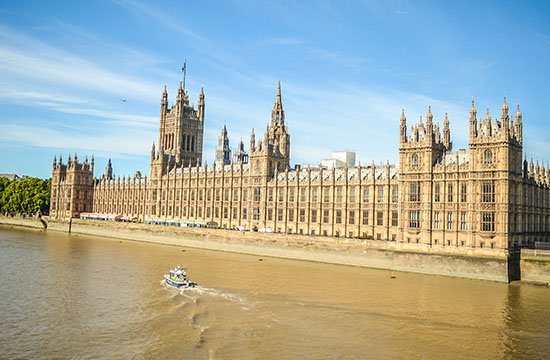 Westminster Abbey Tour with Optional Houses of Parliament

Explore Westminster Abbey and the Houses of Parliament on a 4-hour guided tour. Discover how these famous London landmarks were constructed and how the political process works. Consider visiting the Houses of Parliament if you choose to do so.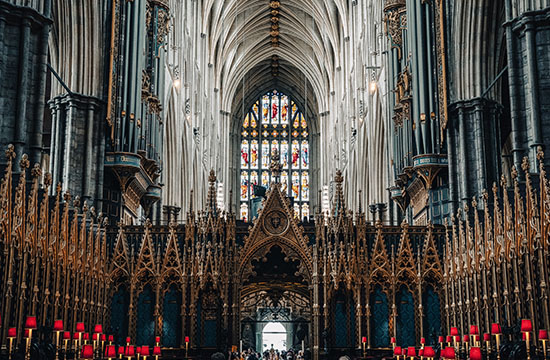 Inside Westminster Abbey Guided Tour
If you're in London, you can't miss Westminster Abbey. Be one of the first to experience this early access. Take advantage of this opportunity to learn more about this fascinating heritage site. Join us on this tour to experience the history and beauty of this amazing building.

map of Westminster Abbey in london
London hotels near Westminster Abbey

Locate lodging close to Westminster Abbey. We suggest some of the following.

Find out which are the top neighbourhoods in London to stay in when you visit.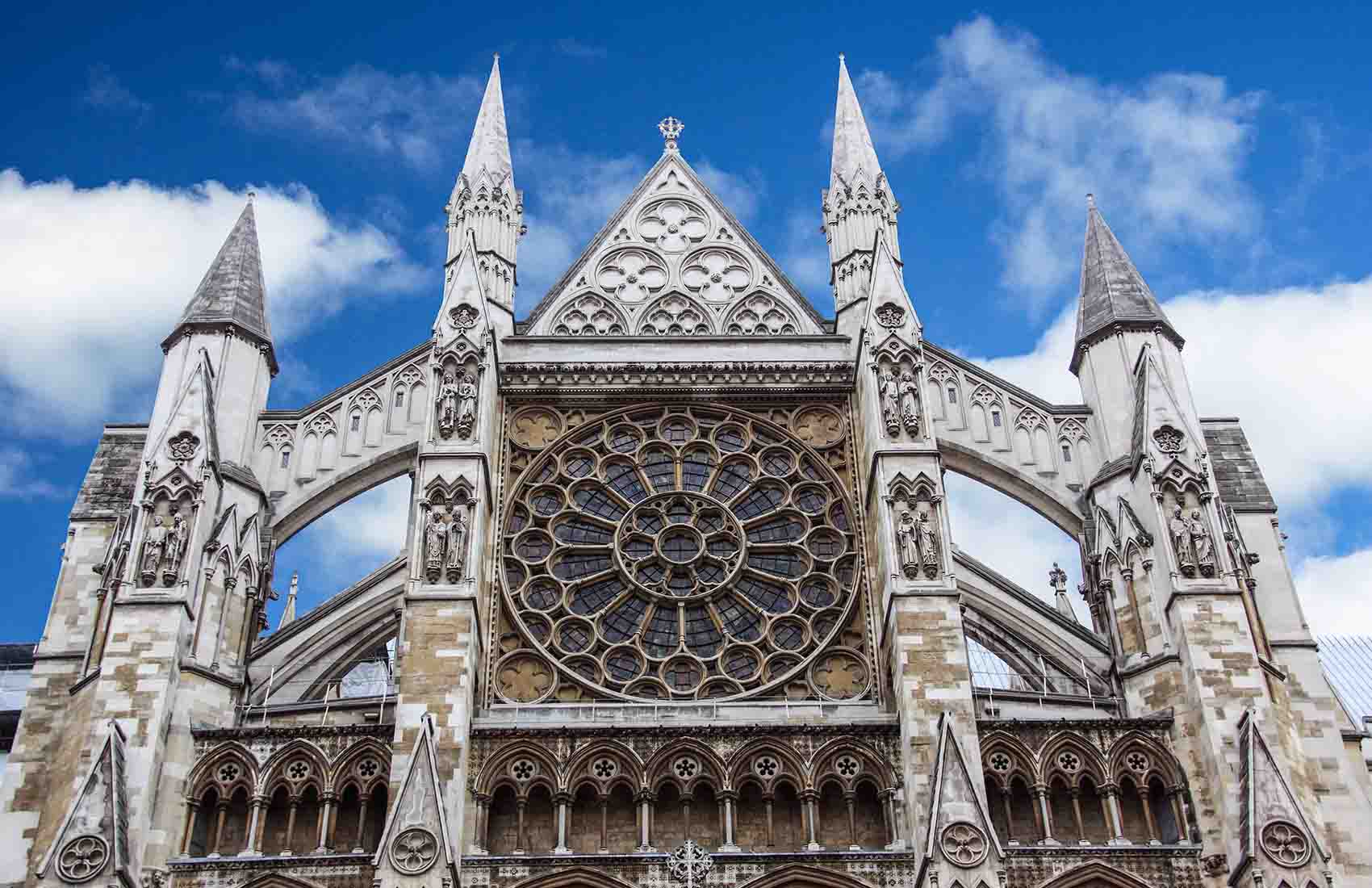 Triforium Westminster Abbey
In conclusion to our guide to visiting Westminster Abbey in London, we can surely say that this attraction is one you should not miss especially if you are deeply interested in British and Royal History.

Check out more things to do in London that have a significant history including the Tower of London, Buckingham Palace and Tower Bridge. These are also recommended landmarks that you must visit to get the whole picture of British History.
What you need to know about Westminster Abbey

The opening hours vary so it is better to check before you go. Check the out here.

The place is free of charge if you wish to worship. You can purchase tickets to tour the Westminster Abbey.
Visitors should plan to spend at least two hours at Westminster Abbey to fully explore the site and appreciate its history and significance. It depends on your interests and can also acquire a multimedia guide that lets you explore at your own pace.
The majestic Gothic architecture of Westminster Abbey has served as a venue for royal weddings and coronations. It is also the final resting place of many famous British figures and monarchs. It is today acknowledged by UNESCO as a World Heritage Site.
It is an Anglican church that is formally titled the Collegiate Church of Saint Peter at Westminster.

Westminster Abbey is an Anglican church, whereas Westminster Cathedral is a Roman Catholic church. These are two distinct structures. Considering that Westminster Cathedral was consecrated in 1910, the distance between the two structures is 400 meters.
The building began around 1045 and was completed during 1090. Nonetheless, the abbey has undergone numerous upgrades and additions throughout the years, and some of the existing building's structure date back to the thirteenth century.
It serves as a primary place of worship and provides daily services for both visitors and congregation members. Every year, millions of tourists flock to the abbey to soak in its history and significance. It is another well-liked tourist destination. Moreover, royal occasions like marriages and coronations are held. Many well-known British have their final resting places at the abbey. It is also a school where gifted young choristers can receive both education and musical instruction.

The abbey contains the graves of more than 3,000 great Britons, including famous individuals like British monarchs, politicians, statesmen, scientists, poets, writers, scientists, inventors, musicians, composers, and artists.
Westminster Abbey dates back more than a thousand years.
In addition to being one of London's most important landmarks, the abbey is a popular destination for visitors from all over the world due to its long history and rich heritage.
The Abbey is in the borough of Westminster, very close to the Houses of Parliament.

Address: 20 Dean's Yard, London SW1P 3JS, United Kingdom
Although many visitors see similarities to the Durham Cathedral, the Abbey was not used as a site for any Harry Potter movie.
Originally, Durham Cathedral was the setting for Hogwarts School of Witchcraft and Wizardry. It was at the cathedral that many important scenes from The Philosopher's Stone and The Chamber of Secrets were filmed.
Want To Share This Page On Pinterest? Pin It Here!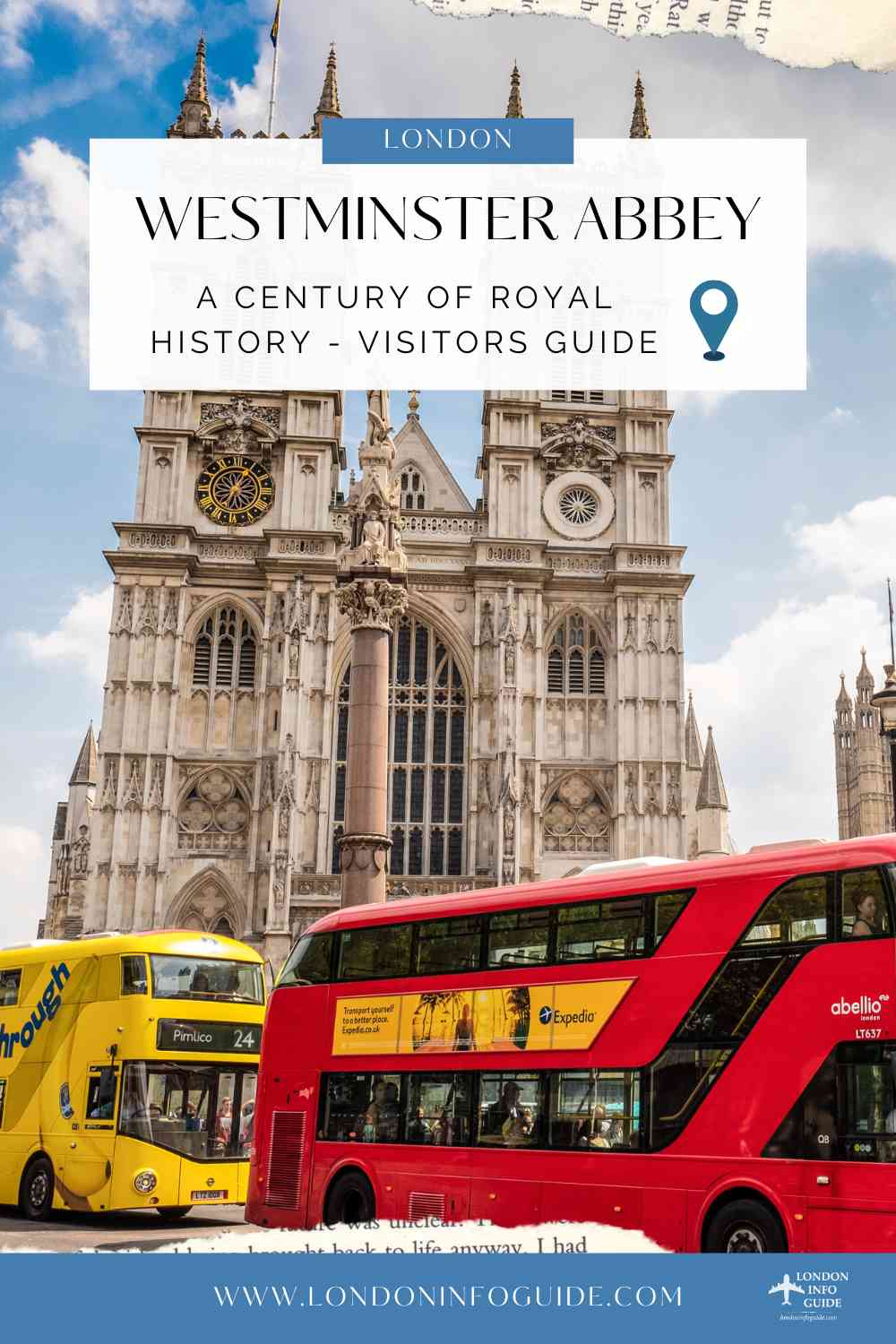 photo sources
Westminster Abbey with London Buses - Image by Alfred Derks from Pixabay

Inside Westminster Abbey London - Image by Jason from Pixabay
Triforium Westminster Abbey - Image by PublicDomainPictures from Pixabay
Inside Westminster - Photo by Cameron Mourot on Unsplash
Birds Eye View of Westminster City - Photo by Niteesh Yadav on Unsplash

want to share what you read? share below