South Bank london uK
A Guide To A Vibrant Neighbourhood
South Bank London UK is a neighbourhood along the River Thames that allures plenty of visitors due to its dynamic and vibrant environment. From historic and iconic landmarks to world-class theatres and bustling markets.
If you are a first-time visitor to London; Welcome to the heart of London's creativity and charm!
table of contents
Westminster Bridge Overlooking South Bank London
where to stay in southbank london
Staying in Southbank puts you right in the heart of London, where most iconic landmarks are just a few minutes away. The area of Southbank lies on the river Thames, so you might get the chance of having a spectacular view right from your room window.
Amongst this neighbourhood, you will find a wide range of hotels such as high-class 5-star hotels, or mid-range 3 to 4-star hotels. Check out our guide to the best hotels to stay in Southbank.

Things to do in South Bank london
Join us as we stroll through a few things to do in Southbank while on your holiday in London.
Family-friendly attractions around the area
London Eye - Enter a capsule and ride a 135-metre (443 feet) giant Ferris wheel and enjoy 360-degree views of the marvellous capital. This is perfect for the whole family which provides a unique experience.

SEA LIFE London Aquarium - Explore what's beneath the ocean at the London Aquarium. Walk through the glass tunnels and get up close to various marine creatures, including sharks, turtles, and penguins.
Shrek's Adventure - Step into the magical world of Shrek and his friends at Shrek's Adventure! This interactive attraction combines live performances, 4D experiences, and Shrek-themed storytelling for an immersive family adventure.
The London Dungeons - The ride will transport you into the dark and gruesome past of London with a cast of remarkable performers, special effects, scenes, stages, and rides that will transport you throughout this dark and gruesome history.
Jubilee Gardens - A beautifully landscaped park with mature trees, large lawns and an enclosed adventure playground for children is a perfect location for families to relax and enjoy the park's amenities.
Thames River Cruises - Go on a cruise and see the sights of London along the River Thames from Westminster to Greenwich.
The closest underground station to all the above attractions is Waterloo.
Aerial view of South Bank London UK
Shopping And Food Markets around south bank london
Southbank is known for its variety of food markets with a wide array of fresh produce, artisanal products, street food, and international delicacies. The closest metro station to the following markets is Waterloo unless specified under the market.
Southbank Centre - This centre offers a variety of activities for people of all ages, from theatre performances to art exhibitions and film screenings. It's a great place to explore the city's rich cultural heritage and discover something new.
Southbank Centre Market - Located outside the iconic Southbank Centre, this market showcases a diverse range of stalls selling arts, crafts, jewellery, and vintage clothing, making it a haven for art lovers and fashionistas.
Gabriel's Wharf - A charming riverside market featuring boutique shops, artisanal crafts, and independent galleries, where visitors can discover unique gifts, and artworks, and enjoy stunning views of the Thames.
Lower Marsh Market - A historic market street with a bohemian atmosphere, offering a diverse selection of street food, fresh produce, vintage clothing, and quirky shops, attracting locals and tourists alike.

Leake Street Arches - An Underground Market Located In The Famous Graffiti-Covered Tunnels Of Leake Street, Featuring Urban Art, Streetwear, Vinyl Records, And A Lively Atmosphere Of Creativity And Urban Culture.
The Southbank Book Market - Nestled beneath Waterloo Bridge, this quirky market is a paradise for bookworms, offering a vast collection of secondhand and antique books, rare finds, and literary treasures.

Queen's Walk Market - Situated along the picturesque Queen's Walk promenade, this market offers a delightful mix of stalls selling handmade crafts, souvenirs, street food, and beverages, creating a vibrant riverside shopping experience.

Borough Market - It has evolved continuously over 1000 years. There are fresh produce, gourmet delights, and international cuisines to choose from.

Closest Underground Station: London Bridge
Oxo Tower Wharf - A converted warehouse housing design studios, galleries, and boutiques, where visitors can explore contemporary art, jewellery, ceramics, and fashion, and enjoy riverside dining with panoramic views.
Closest Underground Station: Blackfriars
Theatres in southbank london
National Theatre - With three auditoriums, this internationally renowned arts centre presents new works, classics, comedies, and musicals. Annually there are over 20 productions held here.
Royal Festival Hall - Built in 1951 for the Festival of Britain, this 2,700-seat hall is located at Southbank Centre.  The hall has hosted a variety of events, including classical and pop concerts, theatre, dance, and film screenings.

Shakespeare's Globe - It was built in 1599 and has since been a popular tourist attraction, offering tours and productions of Shakespeare's plays.
BFI Southbank -  Experience the world of cinema like never before, with a variety of screenings, events, and festivals at the British Film Institute (BFI) Southbank.
Southbank Area in London
Best Restaurants In South Bank london
If you are looking for a quick bite to eat or fancy a nice dinner overlooking the River Thames, here are a few restaurants that might tantalize your taste buds.
Skylon: A brasserie overlooking the Thames with a European menu elegant for the entire family.
OXO Tower Restaurant: Featuring panoramic views and an array of British cuisine, you can enjoy fine dining at this restaurant.
Gillray's Steakhouse & Bar: Set in a modern, contemporary atmosphere, Gillray's Steakhouse & Bar is the perfect location to enjoy a luxurious steak dinner with a stunning view of the city.
Côte Brasserie: Featuring classic brasserie dishes in a warm atmosphere, this restaurant is French-inspired.
Strada: Like Italian food? This restaurant offers a wide Italian cuisine ranging from pasta to pizzas and more.
Sea Containers London: A restaurant inside a stunning hotel set for any occasion, offering a wide range of selective items including amazing views of the river Thames.
Brasserie Blanc: A French restaurant founded by celebrity chef Raymond Blanc with seasonal French-inspired dishes.
Wagamama: An Asian-inspired restaurant chain that specializes in fresh and vibrant noodle and rice dishes.
Caffè Nero: Fancy a coffee and a bite to eat? A well-loved coffee shop where you can enjoy a range of coffees, sandwiches, and pastries.
historical Facts About South Bank
Industrial Past - The Southbank was a hub of industrial activity during the 19th century, with warehouses, factories, and wharves lining the river.
Festival of Britain - In 1951, the Southbank was a focal point of the Festival of Britain, an arts, design, and culture festival. As part of this event, the Royal Festival Hall was built.
Globe Theatre - Located near the current Southbank, the Globe Theatre was where Shakespeare's plays were performed in the 16th century. A reconstruction of Shakespeare's Globe continues this legacy.
Skateboarding Legacy - The Southbank Centre has been a magnet for skateboarders since the 1970s.
World War II - As a result of WWII, the Southbank area was heavily damaged by bombings; however, it was revitalized in the postwar period as cultural institutions and public spaces were developed.
London Eye - One of London's most recognizable landmarks is the London Eye, an observation wheel constructed to celebrate the millennium.
Graffiti Murals
How To Get to South Bank london UK
South Bank in London can be reached in several ways, including by metro, bus, vehicle, boat and train.
Metro/Underground/Tube: There are several underground stations within the neighbourhood of Southbank namely Waterloo, Lambeth North, and Southwark stations.
Train Station: There is one in the heart of Southbank called Waterloo Station.
Buses: Quite a few buses pass through the neighbourhood, especially in the vicinity of the London Eye.
Taxi: Grabbing a taxi to this neighbourhood is very easy and easily accessible.
Hop-On Hop-Off Buses: These buses pass along the Westminster Bridge into the Southbank area.
River Thames Transportation: The Westminster Pier is right next to the Westminster Bridge with easy access to South Bank
map of the area of South Bank
Below is a map pinpointing to all the locations mentioned on this page for ease of reference when planning your visit to South Bank.
This concludes the guide to Southbank in London. We hope this guide has given you a better insight into this vibrant neighbourhood. A must-visit location when visiting London to admire the iconic landmarks that surround this area. If you wish to discover other areas, check out other the City of London or more best areas in London.
common questions about South Bank
South Bank is located in the south-east of London in zone 1. The River Thames separates the City of Westminster and the South Bank.
Around the area of South Bank are several free or budget-friendly things to do. You can visit one of the many markets around South Bank. The famous London Eye is located here which is worth doing and reasonably priced. Walk around the neighbourhood and discover what it has to offer.
Yes, South Bank is easily accessible by all types of public transport.
Yes, along the River Thames is a beautiful long promenade where you can walk and visit the locations you have on your itinerary. It is recommended to walk from Westminster Bridge along the promenade towards Golden Jubilee Bridge and further on along the promenade.
Want To Share This Page On Pinterest? Pin It Here!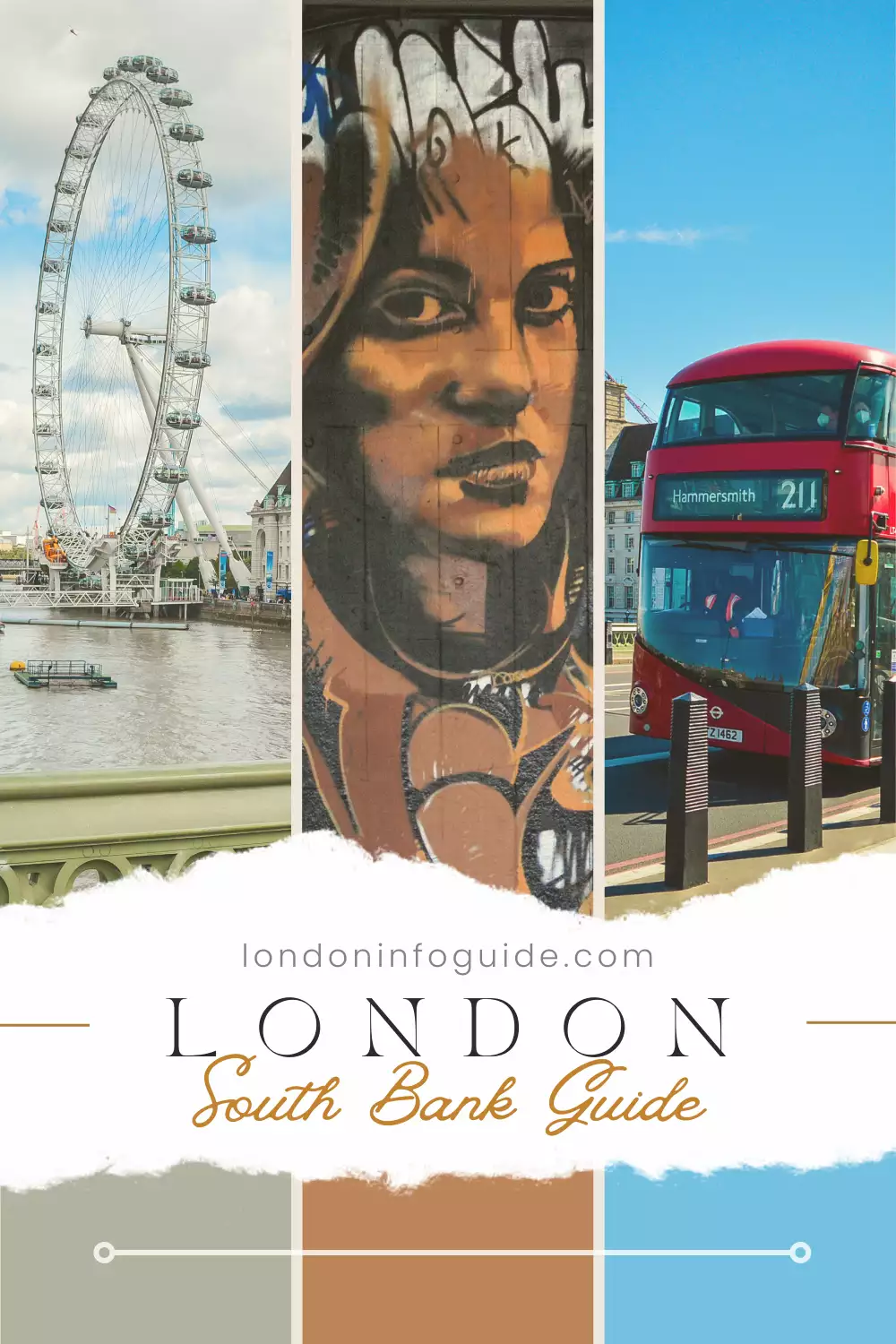 photo and website sources
Aerial View of South Bank London UK - Image by Kev from Pixabay
Graffiti Mural - Image by Steve Bidmead from Pixabay
Check out Southbank In London website for more information.
want to share what you read? share below