Best Christmas Lights in London
best christmas Lights in London uK 2023

Dazzling Lights During The Holiday Season
If you happen to be in London during the Christmas season, you will have the privilege of experiencing the best Christmas lights in London, and it is nothing short of magical. The city transforms into a mesmerizing wonderland, with dazzling displays of Christmas lights adorning its streets and landmarks.

When we planned our visit, we did our research to find the best streets as well as combining our visit with must-see locations, blending the beauty of the Christmas lights with iconic attractions and shopping destinations.
12 best christmas lights in london
Check out a few other locations around London for lights.
Check out our map pinpointing the street locations in London.
Now, we're thrilled to share our first-hand experience and insights with you through our guide to Christmas lights in London 2023. Join us as we navigate the capital's most festive areas, including Oxford Street, Regent Street, Covent Garden, Carnaby, and renowned department stores like Harrods and Selfridges.
To help you better understand where these locations are, we have included a map pinpointing the streets or attractions mentioned on this page.
1. Oxford Street Christmas Lights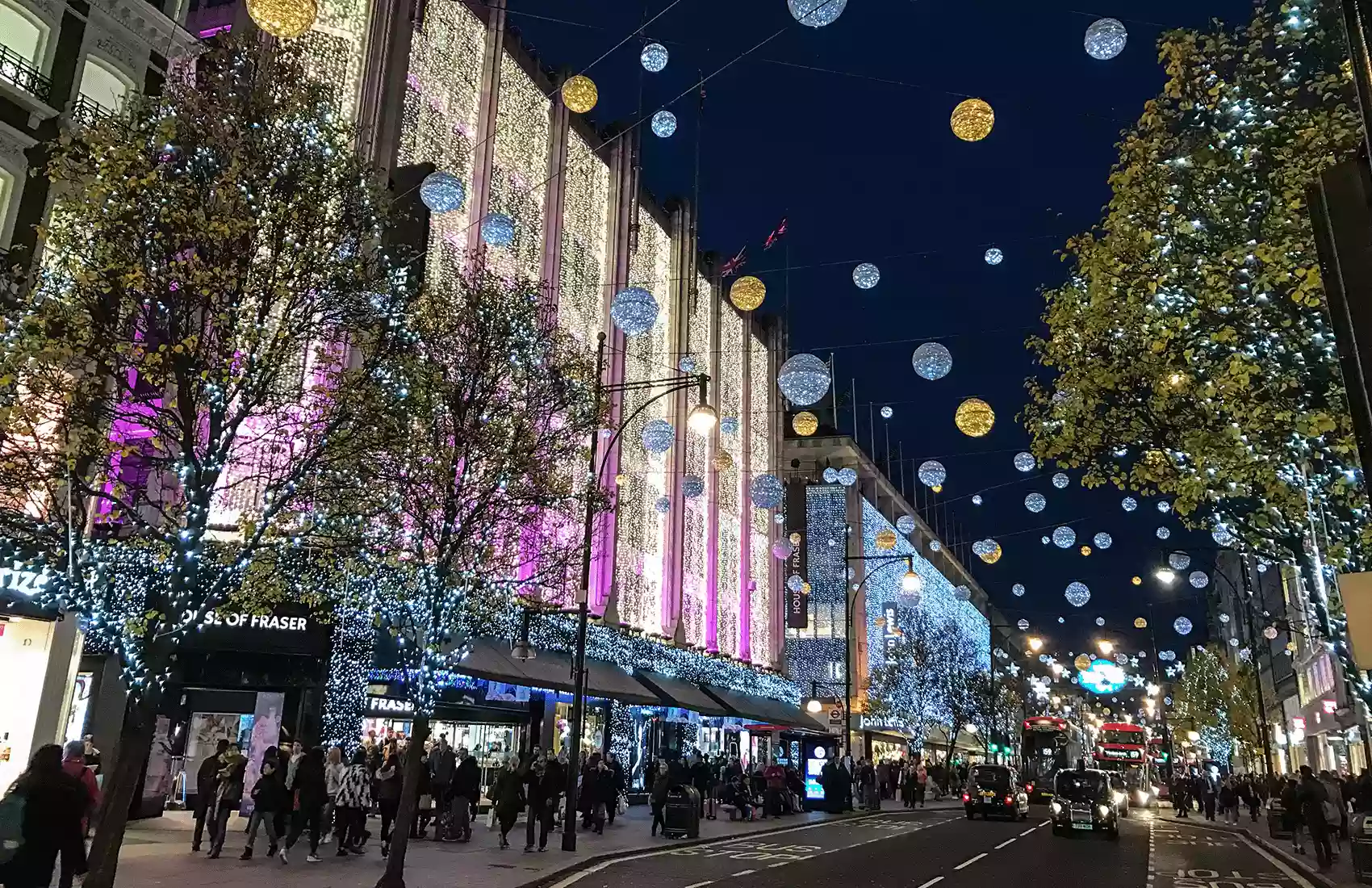 Oxford Street London Lights
The spectacular Christmas light display that illuminates Oxford Street in central London is known all over the world. Every year, Oxford Street comes alive as the holiday season approaches with sparkling lights and captivating decorations that stretch as far as the eye can see. When you stroll down this busy retail area, you'll feel the holiday spirit surround you, especially when you stop to admire the festive window displays at various establishments, making it a must-visit during the holidays.

2. Regent Street Christmas Lights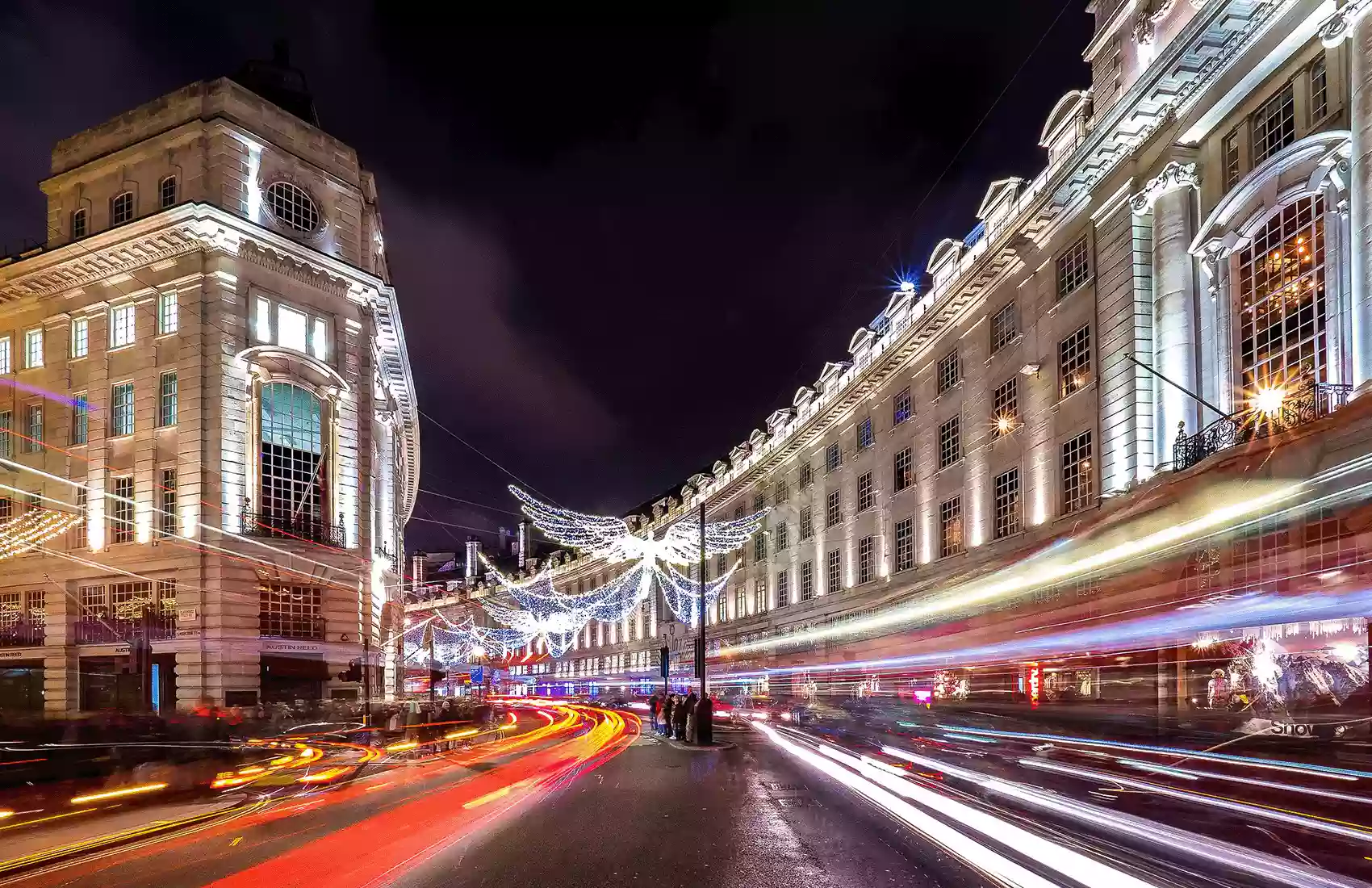 Regent Street London Christmas
Regent Street's magical transformation during the holidays enchants the West End. Throughout the street, customers are directed to renowned retailers like Hamleys and Liberty for holiday gifts. Markets selling mulled wine chestnuts and other seasonal treats bring life to the pavements during the holidays. Enjoy a spectacular Christmas experience in London with handcrafted ornaments and bespoke apparel among this seasonal fervour.

3. Piccadilly Circus Christmas Lights

Piccadilly Christmas Lights
The area around St. James's Market and Jermyn Street in St. James's, London, has beautiful Christmas decorations. There is something magical about Piccadilly Circus with its captivating lights and recognizable advertisements that enclose all the streets surrounding it like a centerpiece. There is a lot of holiday glitz at Fortnum & Mason and other nearby stores. Enjoy traditional tastes of mince pies and mulled cider at the Somerset House Winter Market or ice skate at Somerset House.

4. christmas lights in Covent Garden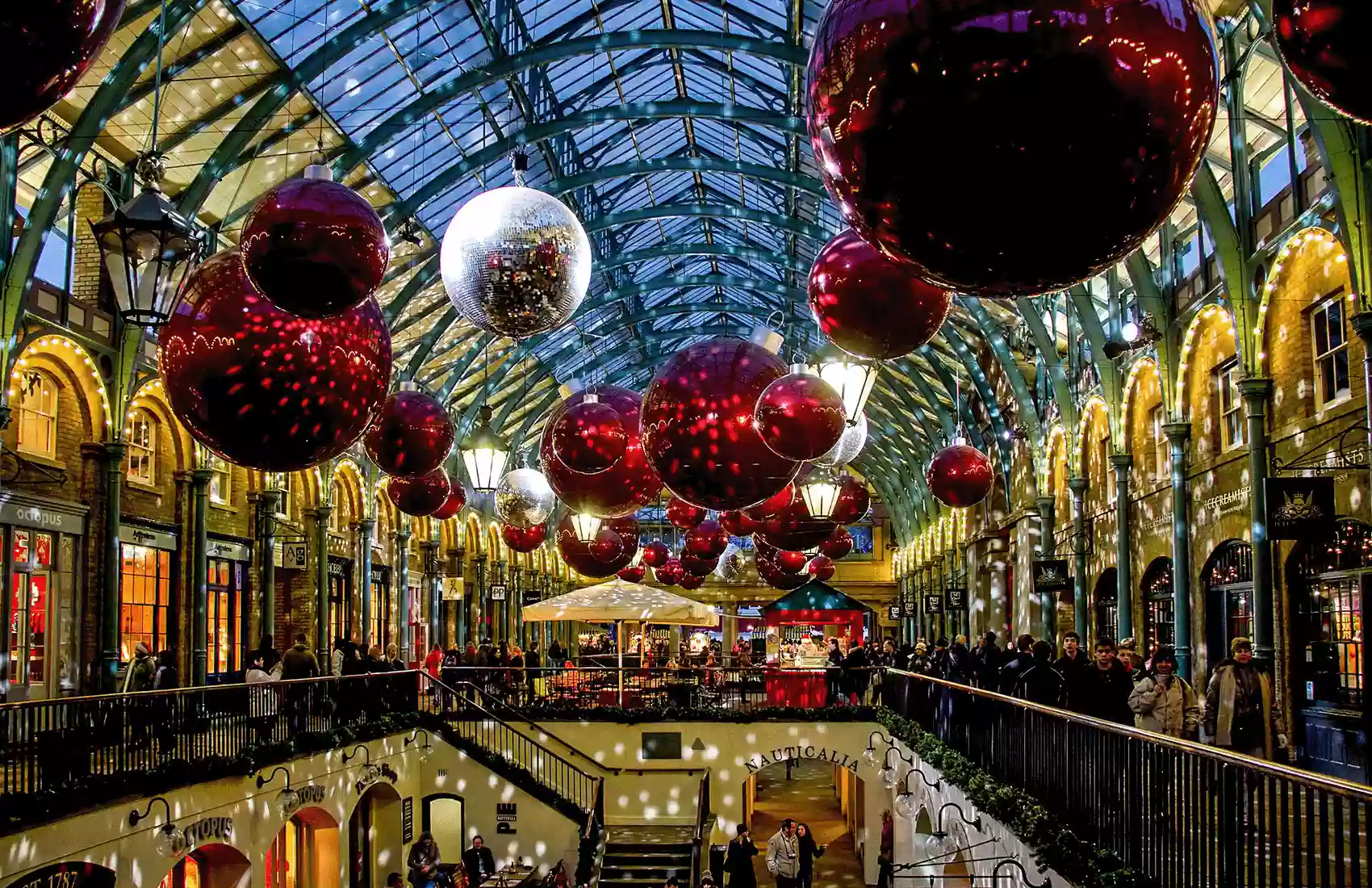 London Covent Garden Christmas
During the Christmas season, Covent Garden's old market hall is illuminated with charming Christmas lights that draw both locals and tourists. Market booths, boutiques, and designer stores are full of handcrafted items. Indulge in delectable street food while sipping handcrafted hot chocolate or mulled wine. A huge Christmas tree lights up the area, casting a warm glow over the crowds, while street performers enliven the event. Winters in Covent Garden are breathtaking.

5. kew gardens at Christmas
With its spectacular light displays, the Royal Botanic Gardens at Kew changes into something magical throughout the holiday season. Wander through enchanting forests and sparkling tunnels that have been brilliantly coloured-lit. Discover the quaint Christmas market's stalls to find one-of-a-kind gifts, and enjoy seasonal delights like warm mince pies and spiced cider. Don't miss the lovely vintage fairground, which enhances the joy of Kew's seasonal celebration by fusing old-world fun with contemporary magic.

6. South bank Christmas Lights

Enjoy the South Bank Christmas decorations along the Thames. While the riverbank glitters with enchanting decorations, the Southbank Centre Winter Market tempts with artisan items, international cuisine, and holiday beverages. Ride the London Eye for breath-taking views of the city. Visit art exhibits, enjoy mulled wine, and shop in quaint chalets. Along with other attractions, the South Bank is a must-see location for holiday satisfaction in London.

7. Carnaby Street christmas lights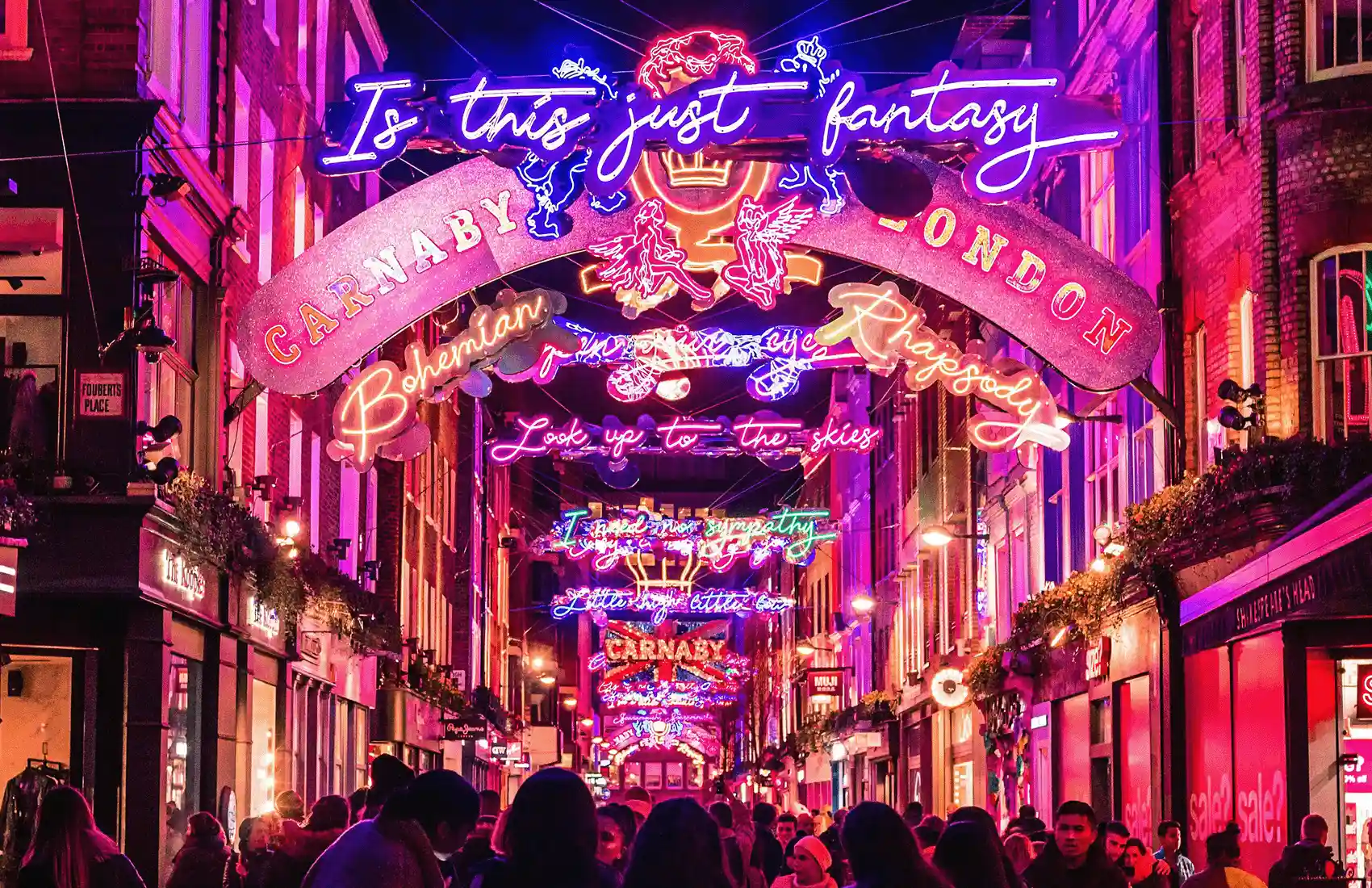 Carnaby Street Christmas Lights
Christmas lights at Carnaby Street are distinctive and creative. Unique items are available in the several outlets within this area. At Carnaby Christmas Carnival, visitors can dine and shop while surrounded by colourful displays.
These lights pay homage to rock bands, robins, and even outer space. Those looking for exceptional holiday décor should visit Carnaby's landmark Christmas installations. Unlike typical lighting displays, this is an unusual experience.

8. Trafalgar Square Christmas Lights

As a yearly gift from the Norwegian people, an enormous Christmas tree is decorated with stunning ornaments and lights. This adds to Trafalgar Square's holiday decorations. Enjoy the amazing holiday centrepiece and carol-singing events. Trafalgar Square also features a traditional Christmas market that offers a wide selection of seasonal delicacies and homemade items to make the Square an enjoyable experience for family and friends during the holidays.

9. South Molton Street In Mayfair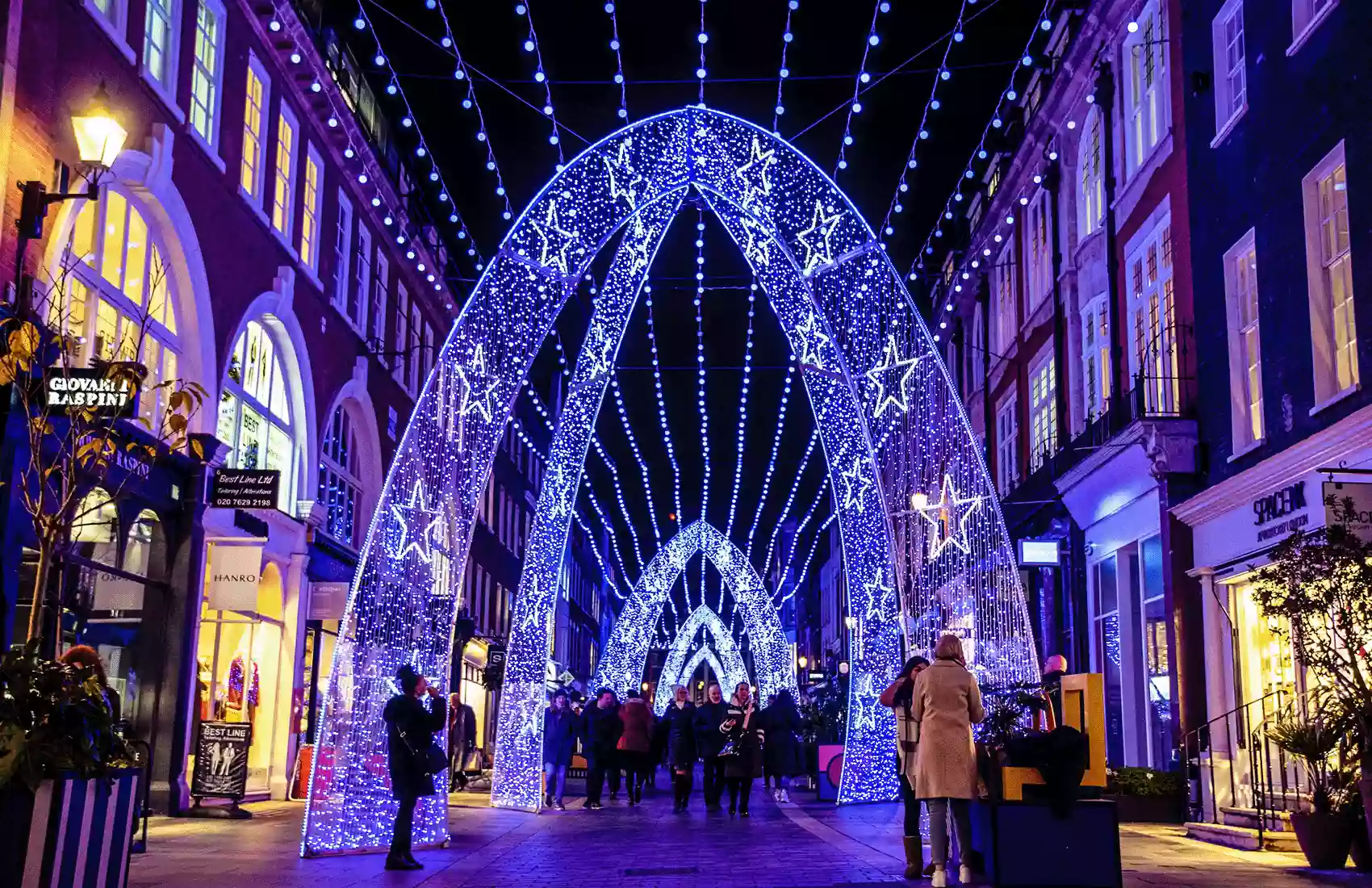 South Molton Street London Lights
During Christmas time, South Molton Street in London's Mayfair is dazzling thanks to its lavishly decorated lights. A car-free shopping paradise near Oxford Street is a popular spot for holiday shopping around the holidays.
A magical atmosphere is created when the sparkling arches illuminate the facades of independent boutiques and world-class luxury stores. This hidden gem is the perfect place to browse unusual items in boutique stores and stuff stockings for loved ones during the holidays.

10. Leadenhall Market Christmas lights

Leadenhall Market, a Victorian shopping arcade with magnificent architecture that is transformed into a magical wonderland and decked out in Christmas decorations, attracts both locals and tourists. The City of London's Magical Leadenhall Market will have Christmas lights turned on by the Lord Mayor of London.

Discover a variety of upscale boutique stores, gourmet food vendors, and inviting pubs, making it a must-visit location for the holiday season.
11. bond street christmas lights
A majestic festive mood is created by sophisticated Christmas lights on New Bond and Old Bond Streets during the holiday season. On this famous boulevard, upscale boutiques and designer stores entice shoppers with expensive gifts and clothes. Additionally, nearby Christmas markets offer handcrafted goods and delicacies such as champagne and fine chocolates.
12. christmas at The Shard
There is no doubt that London's most recognisable skyscraper, the Shard, is known for its incomparable light display, which covers its exterior with a stunning display of LED lights. The interiors of its pubs and restaurants are warm, inviting, and tastefully seasonal. The Shard's viewing platforms and dining locations offer panoramic views of London's lit-up skyline, which makes it a great way to see the city at night.

Other Locations you can visit
Churchill Arms Pub, Kensington - It is famous for its extravagant Christmas light displays.
Elizabeth Street, Belgravia - The lights are put up along this street.

Seven Dials Christmas Lights - A formation of seven roads culminating in an epicentre.
King's Cross and Neal's Yard is close to Covent Garden
Leicester Square is located very close to Piccadilly Circus

Coal Drops is located at the back of St. Pancras International Train Station at King's Cross.

Marylebone Village is in the centre of Marylebone
We have reached the end of our guide to the best Christmas lights in London. 

We hope this has helped you with planning your Christmas lights trip to London. London is just fantastic during the holidays. To make your trip even better, check out our other pages like "Christmas Tours," "Visiting London in December," "4-Day Itinerary for Christmas" and plenty of fun things to do in the city.
map of the best christmas markets in london
Frequently asked questions about the markets in london
Yes, there are a few Christmas light tours, mostly concentrated in the central London areas of Trafalgar Square, Southbank, West End, Covent Garden and Mayfair.

All the Christmas lights in London are free to visit at your leisure. Only if you decide to take a tour you must pay a fee.
Want To Share This Page On Pinterest? Pin It Here!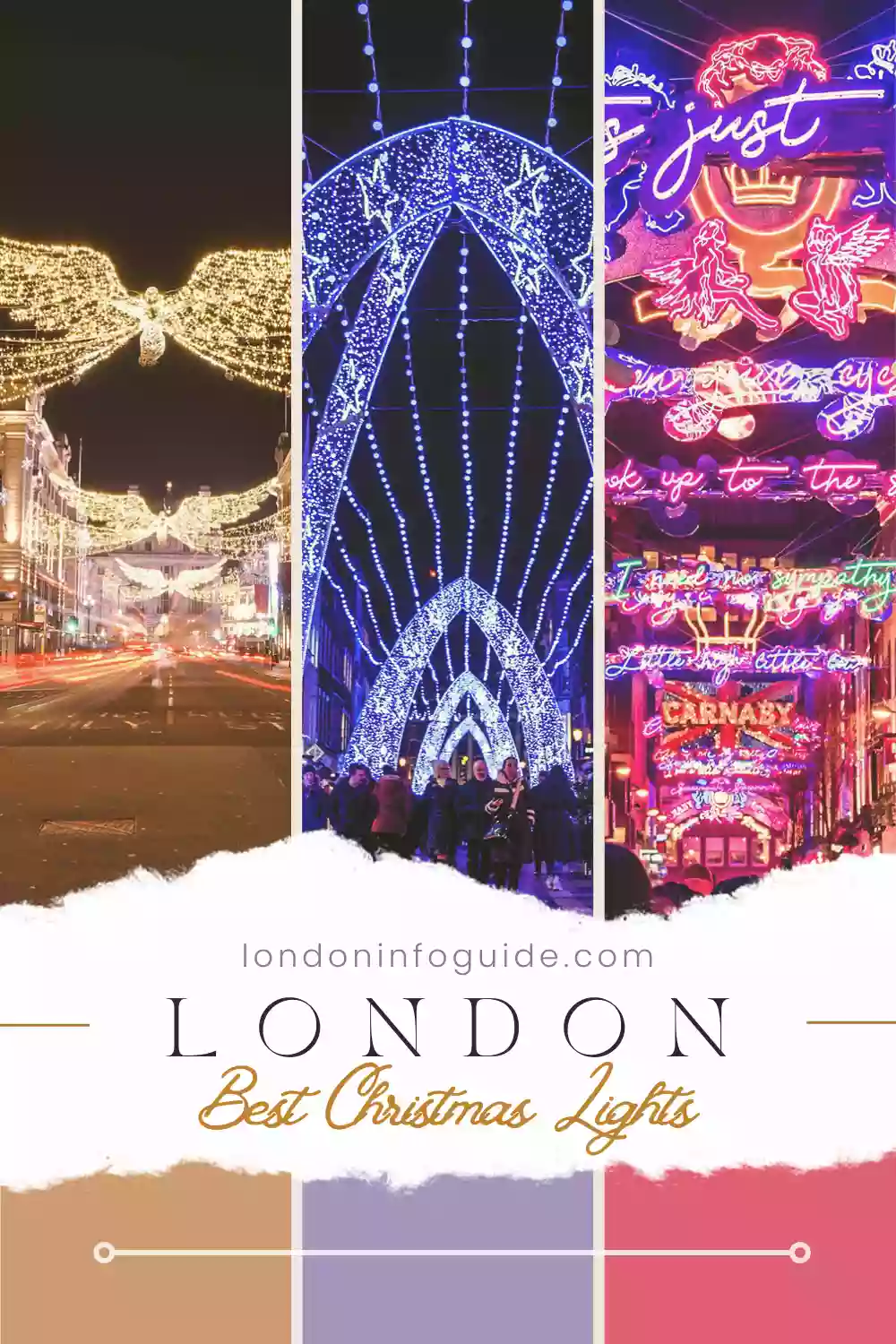 Photo sources
Oxford Street Lights - Kyle Taylor from London, 84 Countries, CC BY 2.0, via Wikimedia Commons
Leadenhall Market London - Jack Torcello, CC BY-SA 3.0, via Wikimedia Commons
South Molton Street, Mayfair, London, UK - Photo by George Ciobra on Unsplash
Regent Street Lights - William Warby, CC BY 2.0, via Wikimedia Commons
Piccadilly Circus - Photo by Tom Chen on Unsplash
Covent Garden - Tony Hisgett from Birmingham, UK, CC BY 2.0, via Wikimedia Commons
Carnaby Street - Image by d3Mn from Pixabay
want to share what you read? share below