Weather in London for August
weather in london for August
Mild Weather with Occasional Rain For August
The weather in London for August is typically very warm and considered one of the warmest months of the year. Since August is the peak of summer, expect an abundance of people who are enjoying either their day-to-day life or a holiday visiting London's most iconic attractions.

With the warm weather, you can wear light clothes which gives you more freedom to move around and not worry about the cold. Despite that, rain and unsettled weather is always expected so carrying an umbrella will do you good.
Events, walks in the park, festivals and outdoor activities, are some of the great things that you can experience during this summer month.
National Gallery London
During this month, here's what You will find

figures on the london weather in august
Average Temperature: Highest 23.4°C (74.1°F) | Lowest 14.1°C (57.9°F)
Average Daily Temperature: 17.3°C (63.1°F)
Total Hours of Sunshine: 207
Average Daily Hours Daylight: 14.6

Rainfall: Depth 52.8mm (2.08") | Days: 8.4
Humidity: 74%
Days of Air Frost: 0

UV Index: 4
Comparison of London's weather with other cities

New York City, NY, USA: 23.6°C (74.5°F)
Dubai, United Arab Emirates (UAE): 35.7°C (96.3°F)
Paris, France: 19.4°C (66.9°F)
Los Angeles, California, USA: 24.5°C (76.1°F)
Tokyo, Japan: 26.5°C (79.7°F)
Rome, Italy: 25.4°C (77.2°F)
Is august a good time to visit London?

London may experience high tourist traffic and higher prices in August, which is considered the peak tourist season. Summer weather in August is generally warm and pleasant, making it an ideal month to enjoy outdoor activities like picnicking, exploring the city's many open-air markets, and attending festivals and other events.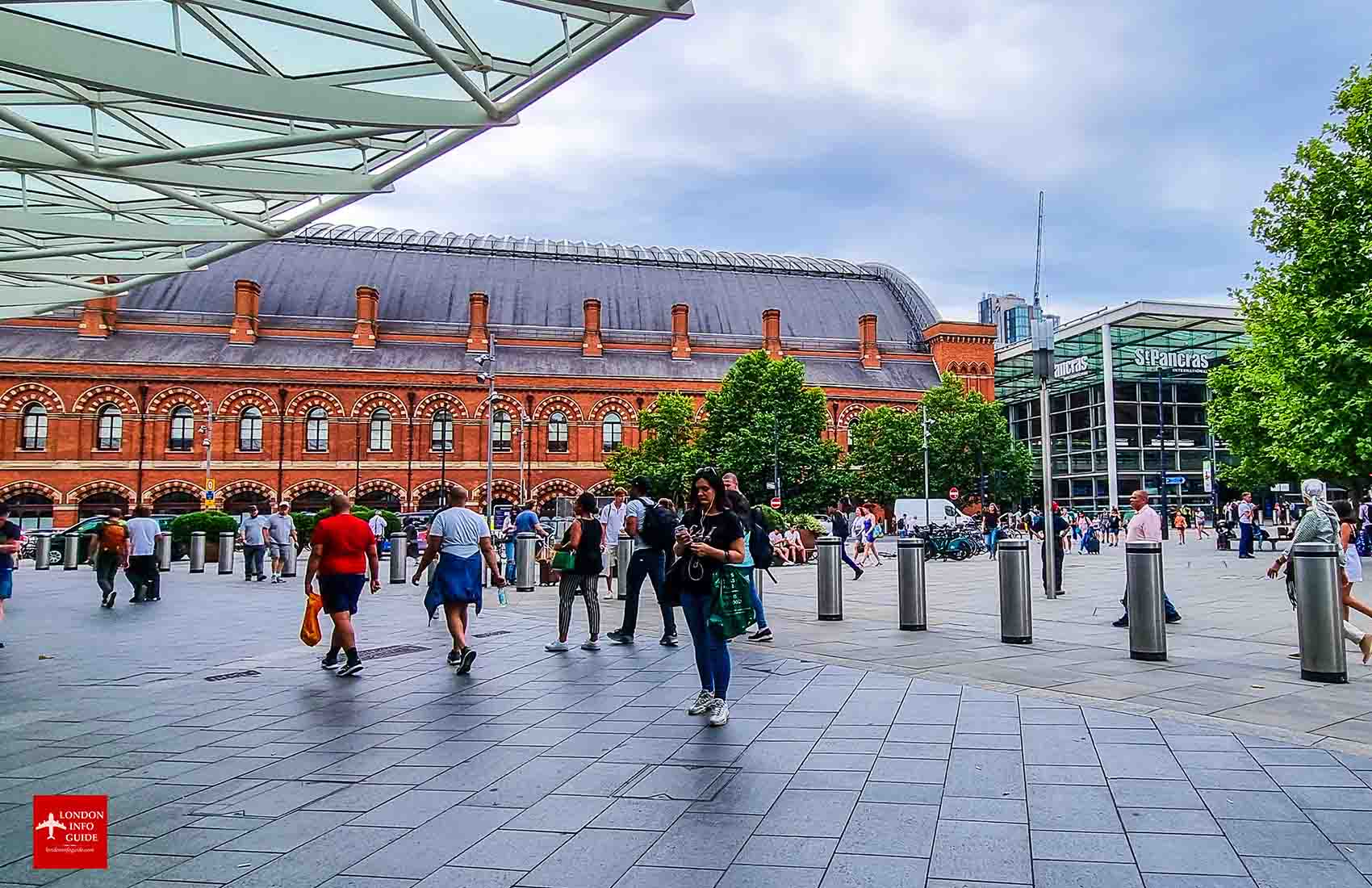 Outside of St. Pancras Station London
Packing or wearing what should I do?

As we can all predict, the weather in London is quite unpredictable, but during August it is usually mild and pleasant. Below are a variety of clothing options to pack and get in preparation for your holiday.
Light Clothes: Lightweight layers are enough for your day-to-day holiday routine.
Cardigan, light sweater, or jacket: These are only suggested for very early mornings or evenings.
Comfortable walking shoes: Since you will be exploring the city mostly on foot, bring a good comfortable pair of walking shoes. Sneakers or walking shoes are a good choice.
Rain Gear: As rain could be unexpected, pack a waterproof jacket or umbrella just in case.
Sun Protection: It is ideal to bring sunscreen, a hat, and sunglasses to protect yourself from the sun.
Jeans and Shorts: A mix of both as temperatures in August could fluctuate.

Overall, pack clothes that are comfortable, versatile, and appropriate for the weather.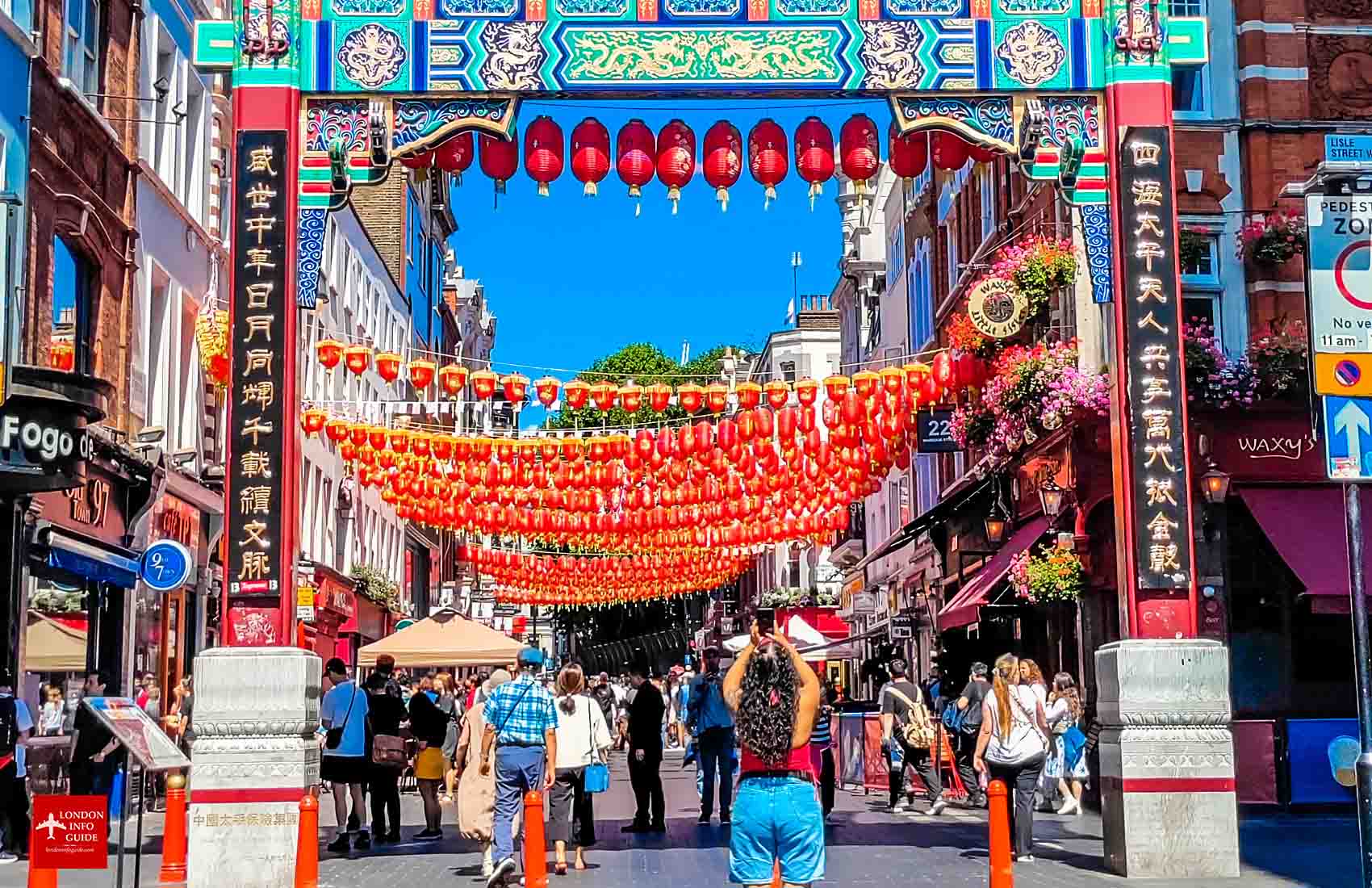 China Town London
A guide to London's weather in august

Planning a trip to London becomes easier when you know what the weather for August will be like. It is important to note that while these statistics can give you a general idea of what to expect, weather can be unpredictable and can vary from day to day. As you get closer to your holiday check the live weather forecast to get a more accurate read of the weather.

Summer is the warmest time of year to visit London, and it provides the ideal weather to visit outdoor landmarks and attractions.
The rain during August increases over the previous month of July. The average amount of rain in London this month is 52.8 millimetres, spread over 8 days.
There are fewer hours of sunshine each day than the previous month, with an average of six and a half hours a day.
The overall number of hours of sunshine in August is around 207 which averages 6.7 hours per day. The number of daylight hours begins to slowly decrease as of this month.
Temperatures are expected to rise to around 23.9°C (75°F) on average and to drop to 14.2°C (57.6°F) during this month. By this month the temperatures start already falling slightly lower than the previous month of July.
August is also a fairly breezy month in London with wind speeds of around 14.0 kph (10.9 mph or Force 3).
Daylight during the month is an average of 14 to 15 hours daily with sunrise and sunset times being as follows: 1st August, sunrise is at 05:23 and sunset at 20:49, while on 31st August, sunrise and sunset will occur at 06:10 and 19:49.
Summer is London's warmest season, and it's hands down the best season to visit.
Summer vacation in London is the busiest time for crowds, whether local or foreign.
You can feel the vibrancy of the city during these months as well as numerous events being held in the city.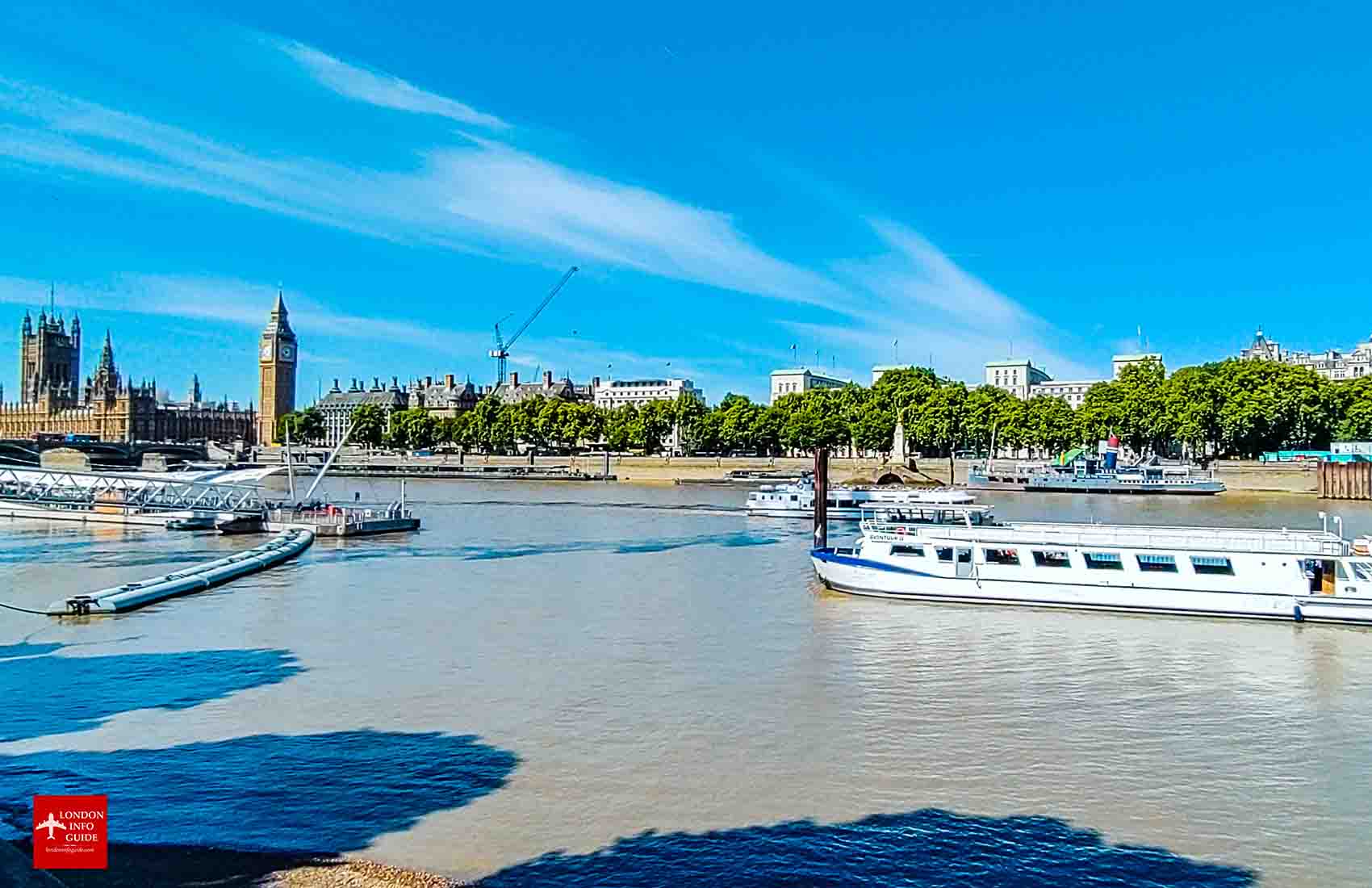 River Thames overlooking Westminster
London's Current Events for August

London is a city where there are always events, things to do, and activities going on. Visitors to the city can take in several events, exhibitions, and performances in August.

Notting Hill Carnival
Every year you can join London's biggest street festival, the Notting Hill Carnival with elaborate colourful floats, music, and tastes of the Caribbean. Held during the last weekend in August, incorporating Monday the bank holiday where the streets of west London come to life with 50,000 performers.
Event Date: Sunday 27 & Monday 28th August 2023

BBC Proms Classical Music Festival
The BBC Proms is a yearly two-month-long classical music festival that aims to expose as many people as possible to the best classical music. One of the most well-liked events in London, with reasonable costs and a relaxed atmosphere. Although concerts occur in several locations throughout the city, major events are performed at the Royal Albert Hall.

Event Date: Friday 14th July 2023 - Saturday 9th September 2023

tours in london during august
Hidden gems and local favourite spots are found all over London. Discover these by taking one of the many tours the city provides.

Hop-On Hop-Off Sightseeing-Tour
Take a double-decker bus to discover the very best that London has to offer. Enjoy the flexibility of a single or multi-day pass, allowing you to board at any time and exit at any stop. The audio commentary onboard offers insights and engaging commentary
Book Your Sightseeing Tour Here
Tower of London early access tour with beefeater
This tour allows you to experience the splendour of the Crown Jewels before the big crowds arrive. Royal ceremonial orbs, swords, rings, crowns, and sceptres will be on display. The tour is led by one of the legendary Beefeater guardsmen.

Buy Your Tower of London Early Access Tickets
Full-day Cotswolds small group tour
Join and spend a full day exploring the best of the Cotswolds in a relaxing day tour from London in an air-conditioned minibus with free time to explore each location. Known to be the quintessentially British countryside of the Cotswolds, an area known for its green landscapes, charming villages, and honey-coloured stone cottages. Duration 9 hours
You can take the opportunity to book your tickets here
Regent's Canal Waterbus Trip to Little Venice
Enjoy a relaxing one-way waterbus tour of Camden Market and London Zoo along the Regent's Canal. As you travel through Maida Hill Tunnel, admire the magnificent homes' canalside gardens. It's time to kick back, unwind, and enjoy London's attractions as you sail around its serene waterways.
Get Your Canal Waterbus Trip Tickets
Get ready for one of the most memorable months of your life. London's August is with you, and there are plenty of reasons to get excited about it because it is going to be a great month. It can be pleasant to spend time outdoors and explore the parks and open spaces of the city during periods of sunny and dry weather. If you're here, why not check out the weather in July or September, or just a general summary of the weather in London?

Want To Share This Page On Pinterest? Pin It Here!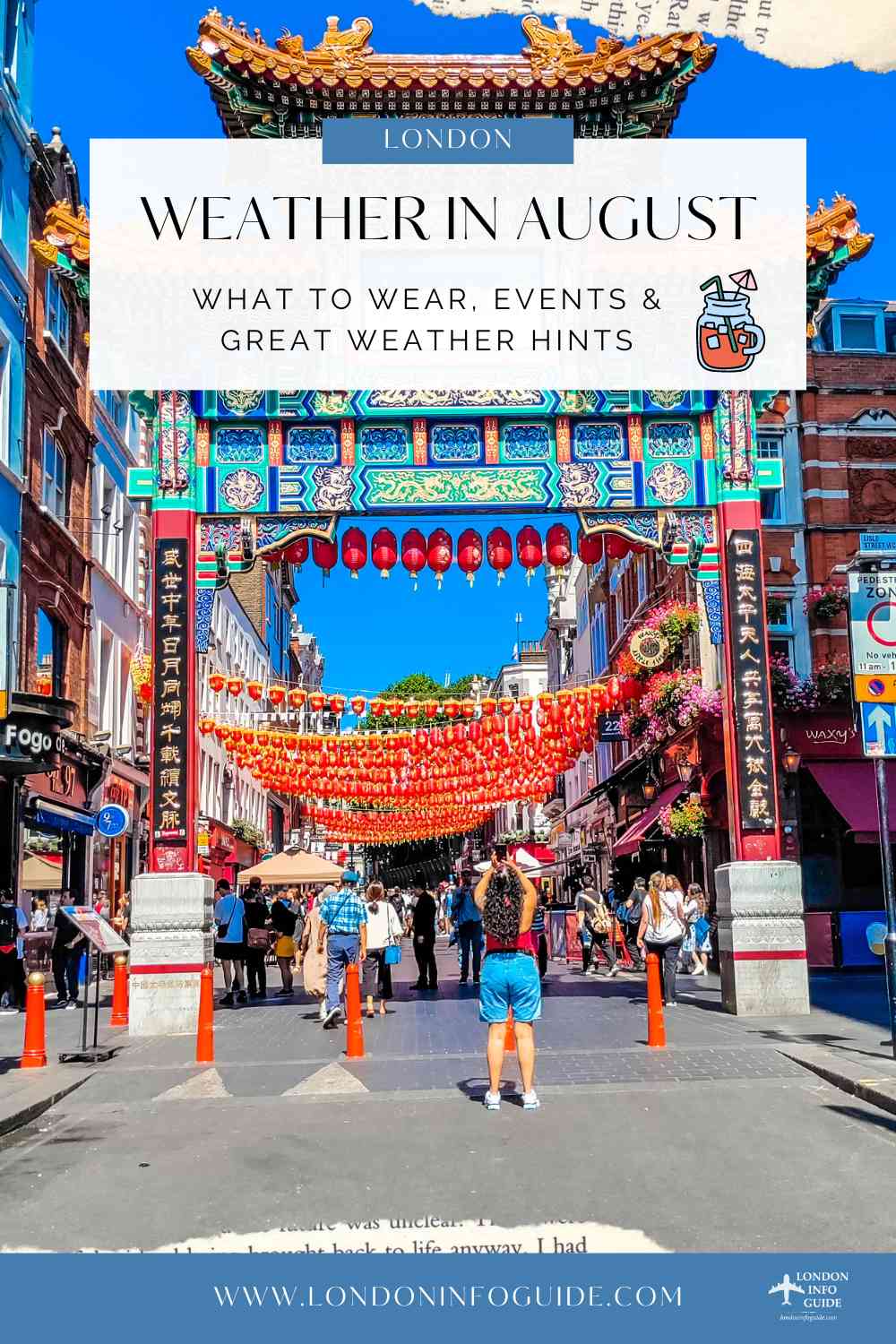 want to share what you read? share below