London Weather In October
london weather in october
A crisp and rainy autumn month
London's parks and gardens turn from glossy greens to the beautiful vibrant colours of copper and gold, as autumn splashes the city with autumnal colours. The London weather in October gets colder.

A visit to London, England in September or October is often overlooked. The next best time to visit London is now. As a result, there are fewer crowds, and you can actually enjoy more of London for yourself. A jacket is useful to carry with you at all times as the weather turns a bit chilly.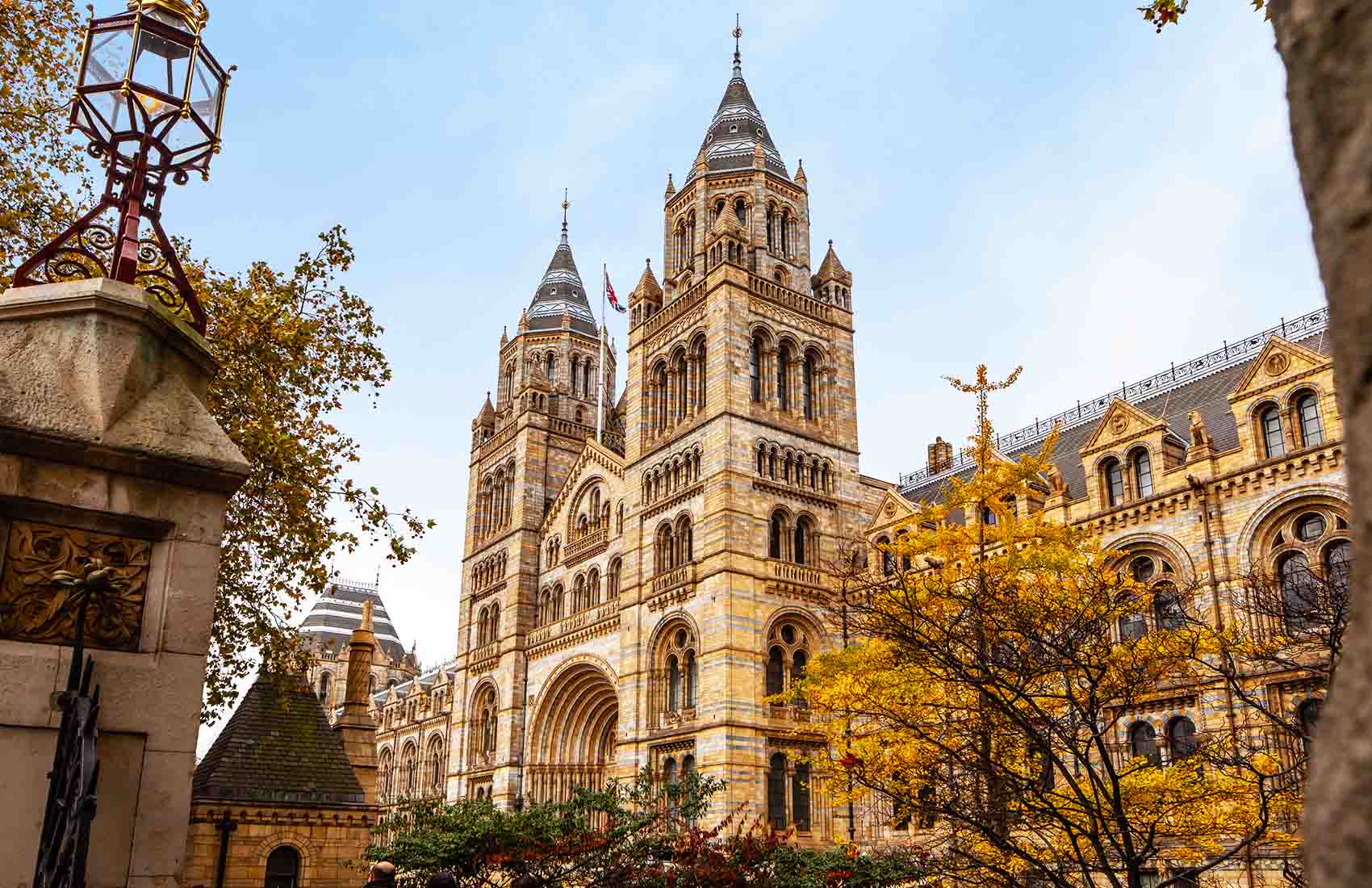 Natural History Museum
table of content - October weather
statistics of london weather in October
Average Temperature: Highest 15.8 °C (60.4°F) | Lowest 8.8°C (47.8°F)
Average Daily Temperature: 11.8°C (53.2°F)
Total Hours of Sunshine: 117
Average Daily Hours of Daylight: 10.8

Rainfall: Depth 65.1 mm (2.56") | Days: 10.8
Humidity: 82%
Days of Air Frost: 0.3

UV Index: 3
Weather in London compared to other Cities
New York City, NY, USA: 13.7°C (56.7°F)
Dubai, United Arab Emirates (UAE): 30°C (86°F)
Paris, France: 12.6°C (54.7°F)
Los Angeles, California, USA: 19.5°C (67.1°F)
Tokyo, Japan: 17.7°C (63.9°F)
Rome, Italy: 17.1°C (62.8°F)
Is london in october an ideal time to visit?
The climate in London is at its finest during October, and it is the most pleasant time of the year. Temperatures can drop, especially in the evening, so it is wise to wear a mix of clothes. Besides fewer crowds, you'll be able to experience the vibrancy of London with a number of massive events happening in the city.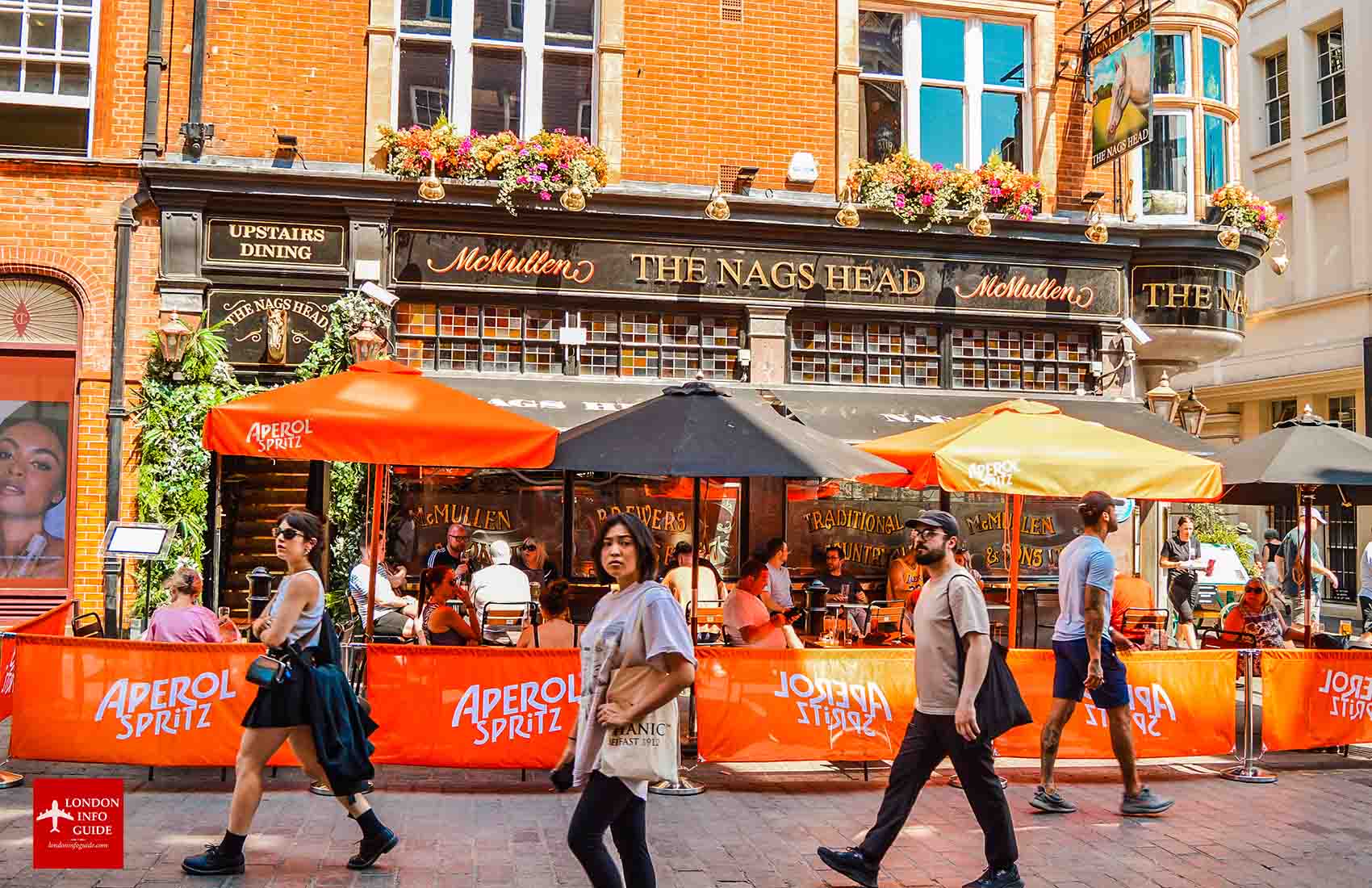 London Weather in October - Covent Garden
what should i pack or wear?
A jacket will help you beat the mild cold once the weather turns a bit chilly. Be prepared to wear more winter clothing.
Carrying with you an umbrella is ideal at all times due to the number of rainy days. Be aware that it can also get windy, so a waterproof raincoat will also be handy.
It is advisable to layer your clothing in order to stay warm. There may be some wonderful and warm days in a week, while other days may be cool or a little chilly in a week as well.
In order to assist you in making the right packing decision for a holiday to London in October, here are a few tips. Clothing requirements always vary based on the duration of your trip.
Boots and comfortable walking shoes: Don't forget you will be sightseeing and also exploring the city on foot.

Sweaters or Jumpers: Ideal for evenings or early mornings as an extra layer under your jacket or coat.
Shirts & Long Sleeve Tops: Ideal to bring a variety that will last you for the entire holiday.
Trousers and Pants: Pack at least two pairs of each for during the day and night. Make sure they are comfortable and warm.
Warm Coat or Winter Jacket: Pick any or get both depending on how cold you feel, but definitely get one of the two.
Scarf, gloves, and hat: If you feel quite cold then these are good to have with you especially if the temperature goes down.
Umbrella or waterproof/resistant jacket: A good cover is always necessary as rain in London is always expected.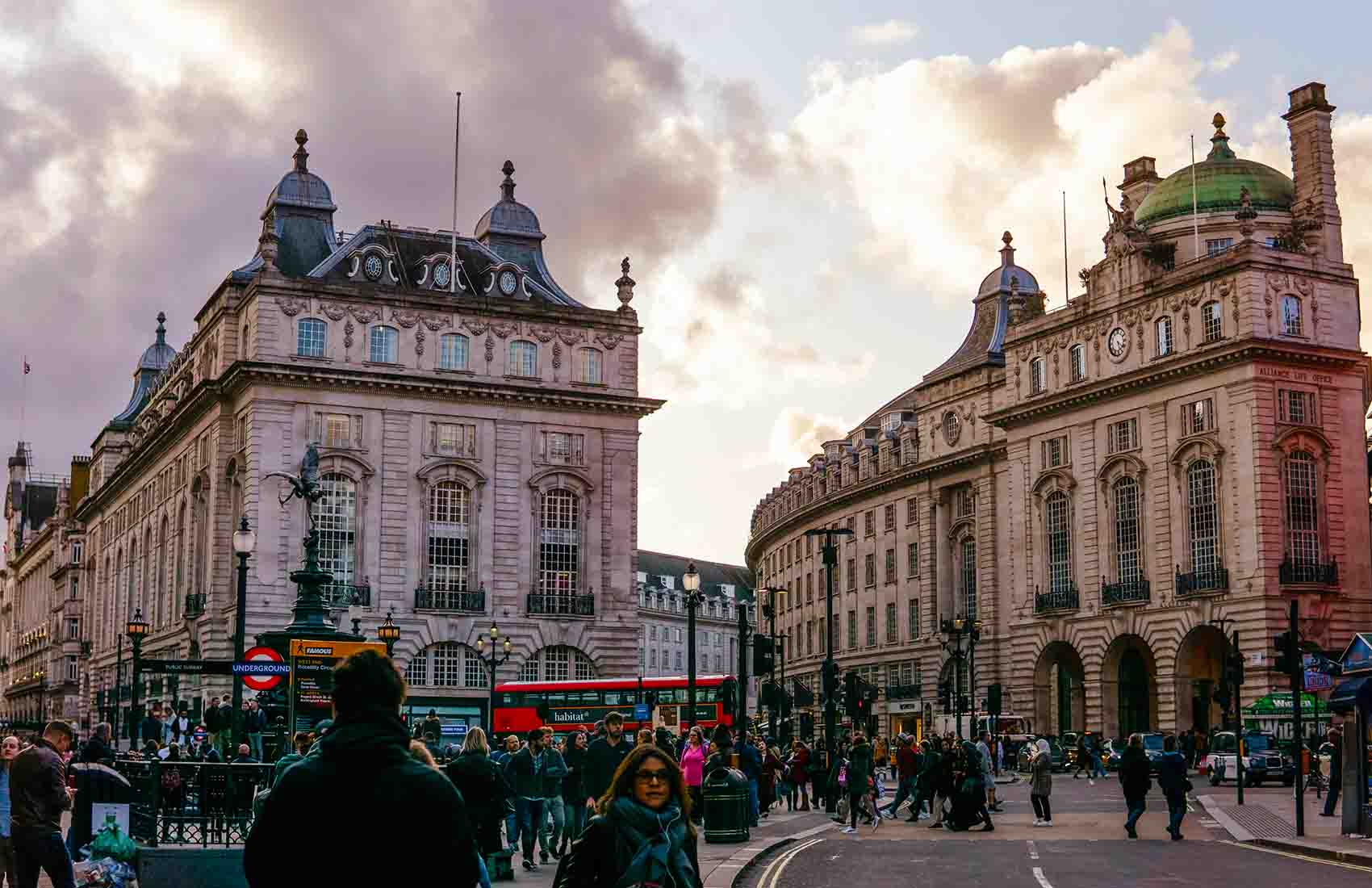 London Weather In October - Piccadilly Circus
travel hints for the weather in london in october

Those of you planning to visit London in October must keep an eye on the weather as weather conditions always change. Here is an easy-to-remember guide of what to expect in terms of climate.
Its beautiful colours and textures are among the reasons why autumn is the favourite season for many residents.

Fall splashes the city with vibrant coppers and golds in London's parks and gardens.

Due to fewer crowds, tourists often overlook a visit to London in the months of October and September.

A clock change is set for 30th October at 2:00am all over the UK, including in London. The time will be reverted by one hour.
In the span of the whole month, the average temperature in October fluctuates as follows: London weather early October 17°C (62.6

°F)

, during mid-October 15°C

(59°F)

, and late October 13°C

(55.4°F)

.
On average, it rains for around ten days through October, being one of the wettest months during winter.
With an average of four hours of sunshine each day, you'll have considerable daylight to explore this exciting city.
[*]The possibility of snow during this month is extremely rare. In fact, the last time Londoners experienced something like this was during 2008 while a cold wave spread to London.
ongoing events in london October

While here during the month of October you will get the chance to go to several events in London. Check out other things to do in October. Listed below are a few of the events that are happening this month.
Diwali on the Square 2023
This free annual event in Trafalgar Square celebrates Diwali, the festival of lights, with colourful stage acts and cultural activities. Music, dancing, workshops, yoga, meditation sessions, food, art, crafts, and a children's zone are all part of the festival.

Date of Event: Sunday 29th October 2023
Black History Month
The objective of Black History Month is to educate, inform, and inspire the community throughout the city with exhibitions, walks, and spectacular events celebrating the black community across the city as it celebrates black history and culture.
Dates of Event: Sunday 1st to Tuesday 31st October 2023
NFL London Games
NFL London Games feature favourite American football teams in action-packed matches. There are three games to watch, two at Tottenham Hotspur Stadium, the first stadium built specifically for NFL games outside the United States, and at Wembley Stadium.
Supporters can watch the following American football teams:
Sunday 1st October: Atlanta Falcons v Jacksonville Jaguars at Wembley Stadium
Sunday 8th October: Jacksonville Jaguars v Buffalo Bills at Tottenham Hotspur Stadium
Sunday 15th October: Baltimore Ravens v Tennessee Titans at Tottenham Hotspur Stadium
Dates of Event: Held on Sunday 1st, 8th, 15th October 2023.
Disclaimer: Information regarding any events may be changed without any notice or notification. If you are interested, double-check the event details to reassure yourself that nothing has changed.
halloween in london
It's clear that Halloween in London has evolved from a candy-centric celebration into a party event. Get a taste of London's haunted past on a ghost walk across the city, discover how the capital's haunted past manifests itself on a bus trip, or explore the city's scary attractions. Find a variety of entertainment spaced out over many days to celebrate with your colleagues.

Date of Event: Tuesday 31st October 2023
Museums of London in October
It's time again for the museums of London to open their doors after hours for late-night events that will appeal to art enthusiasts. Several London museums and galleries will host talks, performances, workshops, films, DJ sets, drinks, and more.
tours in london during october
A holiday in London wouldn't be complete without taking a tour. Why not full-fill this wish by selecting one of the following tours:

The London Eye, Madame Tussauds and SEA LIFE Combo Ticket
Save 40% on three of London's most renowned sights on a single pass. From the London Eye, you can take in 360° rotating views of the city, along with Madame Tussauds and Sea Life's underwater world. The validity period begins after the first activation and lasts for three months.

London: Wembley Stadium Guided Tour
Experience the stadium on an all-access guided tour. Discover places usually reserved for the greatest stars in sport and music behind the scenes in the UK's largest sports and music arena. Prepare yourself to be blown away by the sheer size of the empty stadium. Take a look back at some of the most memorable sports and cultural moments at Wembley Stadium.

Get Your Wembley Stadium Guided Tour Tickets

British Museum Tour

Discover the history behind some famous treasures held in the British Museum as you take a carefully designed tour back in time. With the aid of an expert guide, you can discover the treasures of the collection and become more knowledgeable about human history, art, and culture as a result.

Purchase the British Museum Tour

The View from the Shard
Observe London from 800 feet (244 metres) above with a spectacular 360-degree view. As you ascend to the 72nd floor of The Shard and watch the most iconic landmarks of London, you will witness the streets of London disappear. From the highest viewing platform in Western Europe, you can enjoy panoramic views of the city inside or outside, if you're feeling brave.

Find Out More About The View From The Shard

st. Paul's Cathedral Entry Ticket
St Paul's Cathedral, a London landmark, is available at a discount. Climb the 3 galleries of the cathedral and see panoramic views of London from the top of the dome. Explore the cathedral floor and crypt.

Buy St. Paul's Cathedral Tickets
The London weather in October, conditions will remain similar to those of September if you decide to visit in October. If you intend of travelling in November, the weather will be much colder.
Check out our full-year weather guide for London together with a live weather forecast to see what the weather will be like for the rest of the year.
Want To Share This Page On Pinterest? Pin It Here!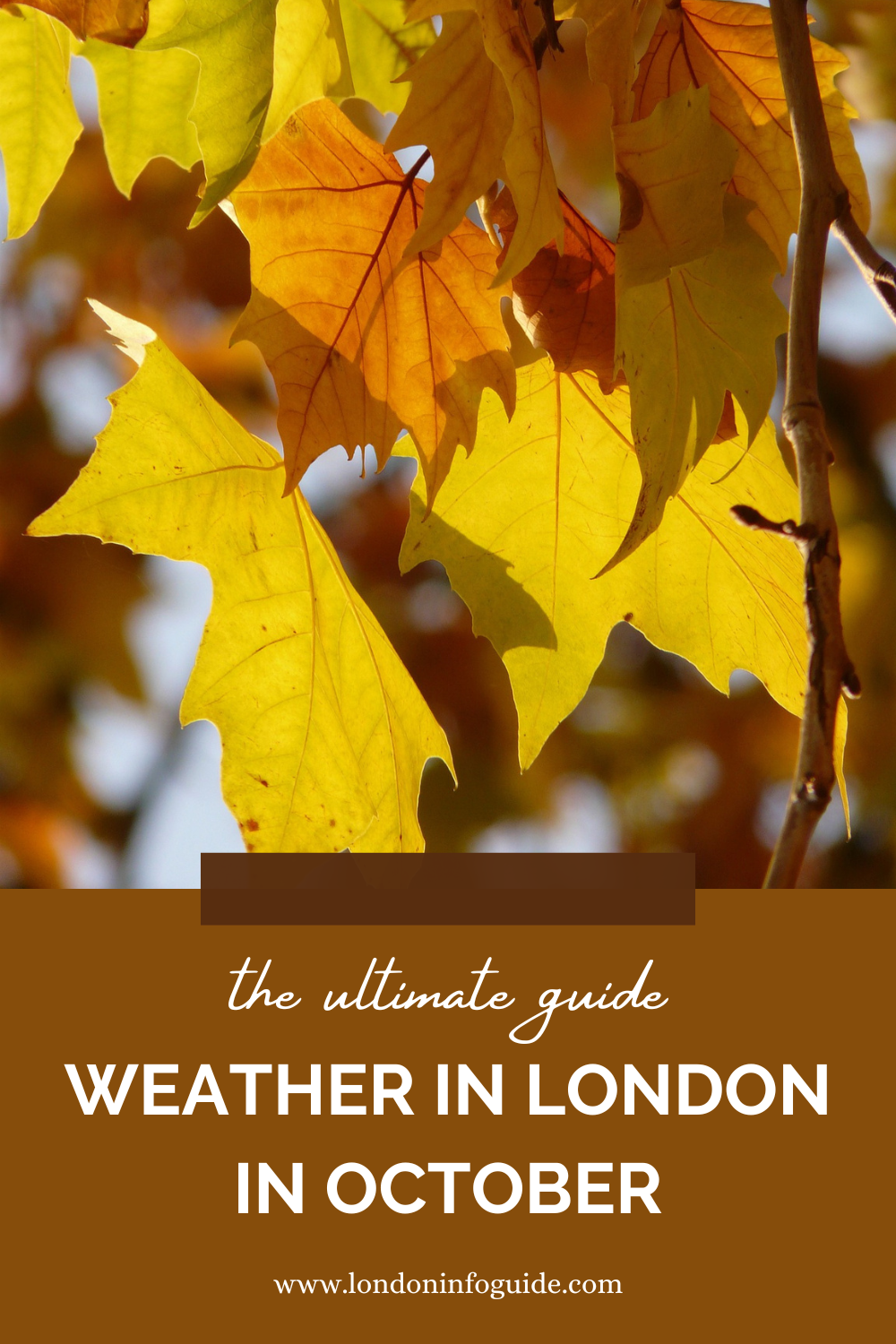 Photo sources & resources
Photo by

DanHuddleston

,

CC BY-SA 4.0

, via Wikimedia Commons

Photo by Grant Ritchie on Unsplash

Photo by Igor Sporynin on Unsplash
want to share what you read? share below