weather in london in may
London Experiences a Blend of Sunny Spells and Showers in May
The weather in London in May provides a mild and mixed weather experience. This month is often considered the beginning of spring in the UK and typically brings some warm, sunny days along with occasional showers. During May, the city is filled with blooming flowers and mild weather, making it an ideal time for outdoor activities and sightseeing.
Visitors to London can expect a mix of sunny spells and cloud cover, with a moderate chance of rain. Overall, May is a pleasant time to visit with mild temperatures and a mix of weather conditions, visiting this great city's historical monuments and walking around the streets.
Greenwich Park London
a short summary of what to find on this page
Weather in london in may statistics
Average Temperature: Highest 18.4°C (65.1°F) | Lowest 9.1°C (48.4°F)
Average Daily Temperature: 12.7°C (54.9°F)
Total Hours of Sunshine: 213
Average Daily Hours of Daylight: 15.6
Rainfall: Depth 45.9mm (1.81") | Days: 8
Humidity: 73%
Days of Air Frost: 0
UV Index: 4
temperatures from other cities around the world in may
New York City, NY, USA: 16°C (60.8°F)
Dubai, United Arab Emirates (UAE): 31.8°C (89.2°F)
Paris, France: 14.3°C (57.7°F)
Los Angeles, California, USA: 18.2°C (64.7°F)
Tokyo, Japan: 18.2°C (64.7°F)
Rome, Italy: 17.9°C (64.2°F)
is May a great time to come to london?
May is considered a great time to visit London as the weather starts to get warmer and the city comes to life with various outdoor events and activities. The famous Chelsea Flower Show takes place in May, and it is also the month when many parks and gardens start to bloom. Additionally, there are several cultural and musical events taking place, making it a lively and vibrant time to visit. Why not find out for yourself what to do in London in May?
Tower of London and Tower Bridge
what should i bring on my holiday?
For packing or wearing for the weather in London in May, it is important to keep in mind the weather which can vary and be quite unpredictable. The best way to prepare is to pack or wear layers. 

Comfortable walking shoes - It is important to wear comfortable shoes since you will be walking a lot.

Umbrella - Rain still occurs in May, despite it being mild.
Lightweight trousers or skirts - These are ideal in changing weather conditions.
Sunglasses, Hat and Sunscreen - Since we are coming closer to summer, the sun starts getting stronger.
Rain and Light Winter Jacket - Though summer is approaching for London weather they are essential. Prepare yourself for unpredictable weather by packing a light jacket or coat.

Soft Cotton Scarf - To keep you warm when the weather turns cold from summery hot.
It is always useful to check the local weather forecast to have an idea of the exact weather conditions on the days you will be in London.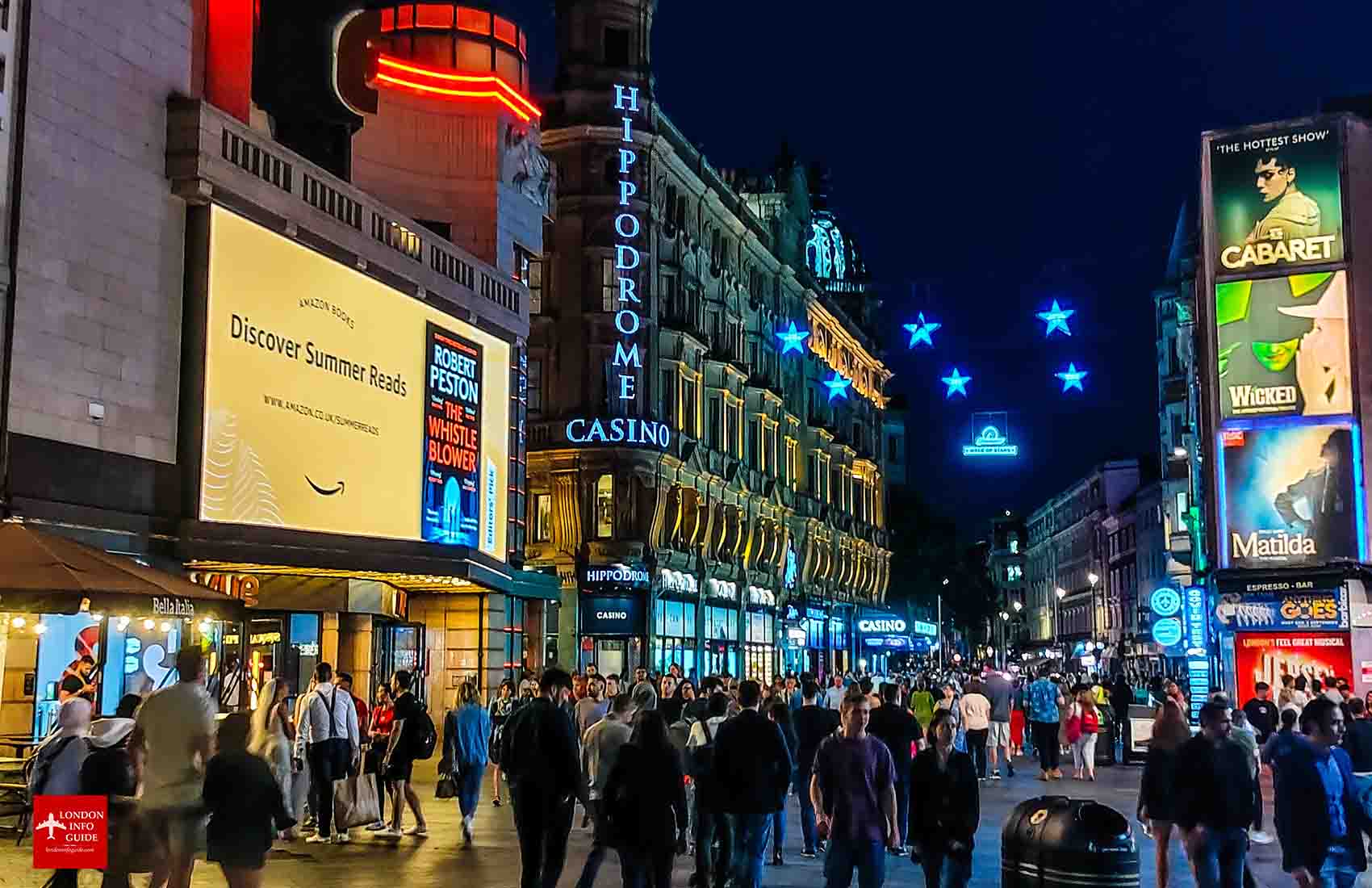 Piccadilly Circus
hints in london for may
To help you plan your trip more effectively, the following are points on the weather in London in May that you may find useful in preparing for your trip.

As this month continues to warm up it will be more pleasant. it makes for an ideal period for visiting this historical city.
The average rainfall increases further than the previous month of April to 45.9mm (1.81") spread on an average of 8 days.
Rain could fall for 15 days of the month, but only six or eight of them will be wet.

The overall number of hours of sunshine in May is around 207.5 which averages 6.7 hours per day. The number varies according to the cloud density.
The typical daily temperature may fluctuate between 18.1°C (65.1°F) and 9.1°C (48.4°F). The temperature keeps increasing steadily to approximately 3.0°C (37.4°F) higher than April.

During the month, the average wind speed is approximately 18 kph (11.2 mph or Force 3).
On 1st May, the sunrise will occur at 05:33 and the sunset will occur at 20:23, while on 31st May, the sunrise and sunset will occur at 04:50 and 21:06.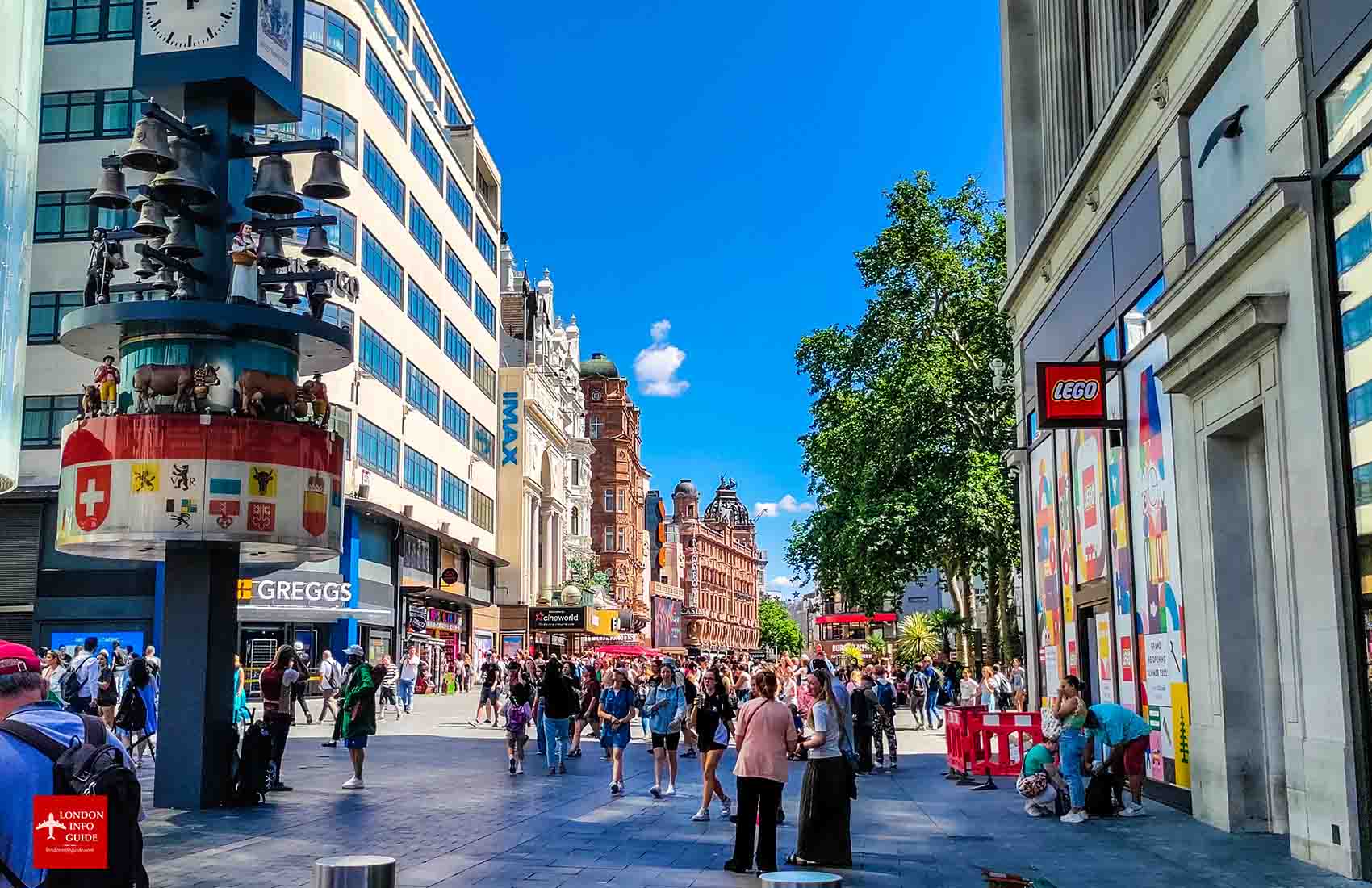 Leicester Square
events in london in may
London is a vibrant city with a variety of events taking place throughout the year, including in May. Some popular events in May include the Chelsea Flower Show, a renowned horticultural event showcasing stunning floral displays and gardening inspiration.
The Chelsea Flower Show

Discover cutting-edge garden design, new plants and ideas for your gardens at the Royal Horticultural Society Chelsea Flower Show. This is the place you can't miss to see how crazy the Londoners are about flowers and gardens showcasing beautiful gardens, wonderful floral displays, and infinite shopping opportunities.

Event Date: Tuesday 21st to Saturday 25th May 2024
suggested tours from london in may
London is a city rich in history and culture, making it a popular tourist destination all year round. No matter what your interests are, there is something for everyone in this exciting city.

Magical London: harry potter guided walking tour
Join a guide for a Harry Potter interactive tour of central London. Either take a London Underground trip or a boat trip. Your guide will be armed with weird and wonderful trivia all along the way. 

british Museum Guided tour
Take a 1.5-hour guided walk through history to learn more about the stories behind some of the iconic artefacts housed in the British Museum. You can explore the collections' treasures and learn more about the history, art, and culture of mankind.

Buy your British Museum tickets
The Shard Entry Ticket
Observe London from 800 feet above the ground for a breathtaking 360-degree view. Make your way to The Shard's 72nd floor to see the most famous London sights while the streets of London disappear below you.

You can take the opportunity to book your tickets here.
Buckingham Palace: The State Rooms Entrance Ticket
Visit Her Majesty the Queen's official residence, arguably London's most iconic attraction. Take a multimedia tour of the Buckingham Palace Royal State Rooms, where visiting dignitaries are welcomed by monarchs. Insider insight into Buckingham Palace's internal preparations.

Get Your Buckingham Palace Tickets
With its mix of sunshine and mild temperatures, May is an ideal time to visit London and make the most of this exciting city.

While you're here, why not look at the weather for April or June or simply a general overview of the weather in London, which can help you plan your vacation better?
Want To Share This Page On Pinterest? Pin It Here!
Photo sources & resources
Greenwich Park - Photo by Rob Keating on Unsplash
want to share what you read? share below