is london worth visiting?
Advice For Travelling to London
Looking for your next holiday destination but not sure where to go? Why not consider London as an option? Is London worth visiting?
Yes, most definitely! It has all the beauty, culture, markets, theatres, quirky things, and everything a visitor could wish for in a holiday. It is one of the most amazing cities in the world.
One might ask, but why London out of the beautiful destinations in the world? The timeless charm of London is shaped by over two thousand years of history, making it more diverse and impressive than ever.

We will take you through the best reasons to visit, what a first-time traveller should know, where to stay, and travel tips.
is london worth visiting? - an itinerary of the page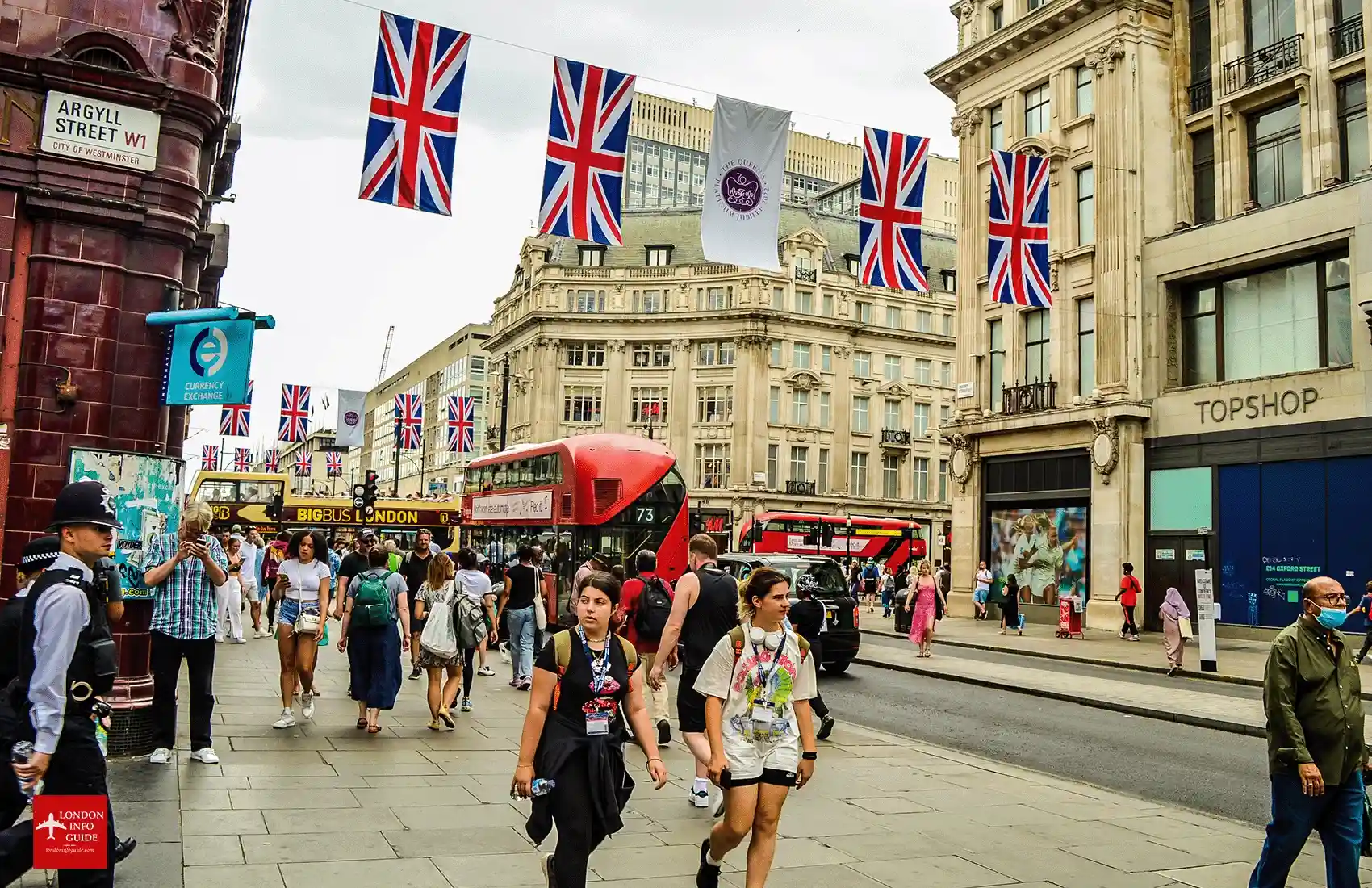 Is London Worth Visiting? - Regent Street London
15 reasons to visit london
The vibrant city of London is as exciting and breathtaking as it sounds, from its rich history to the many modern wonders it has to offer, here are 15 reasons why you need to visit this amazing city.

1. discovering the wonderful landmarks of london
London is home to a rich tapestry of landmarks to enrich your visit both historically and culturally. These architectural marvels can be admired from the outside or explored from within, ensuring to take you on a journey through time and space.
Have a closer look at the top landmarks in London that you should include in your itinerary:

Big Ben - The iconic clock tower.
London Eye - The famous Ferris wheel.
Tower of London - Home of the Crown Jewels.
Tower Bridge - London's most famous bridge.
St. Paul's Cathedral - A glamorous building inside and outside.
Buckingham Palace - An exceptional Royalty history found in one building.
Westminster Abbey - Home to where monarchs are crowned and notable figures rest in peace.
2. have a magnificent shopping spree
London is not only famous for its attractions, amazing culture, and spectacular history, but it is also a shopping paradise. London is particularly popular as a shopping destination among tourists. We always reserve half or an entire day for shopping when planning our trips. Why? Among the many shopping venues in London, there are lively markets, bustling shopping streets, and top-notch shopping malls with exemplary retail experiences.

Listed below are a few markets, streets, and department stores we believe would enhance your itinerary.
Streets: Oxford Street, Regent Street and Bond Street.
Markets: Borough Market, Camden Market, Covent Garden Market and Portobello Road Market. Check out more markets in London here.
Shopping Malls: Westfield Stratford City, Westfield London, ICON Outlet at The O2, One New Change, Brent Cross Shopping Centre.
3. london has plenty of free museums
London opens its doors to locals and visitors inviting them to experience the rich culture, arts and museums. Stroll through the world-class exhibits, delve into centuries of history, and marvel at artistic masterpieces. The majority of the museums here in London are free to visit.

Some museums we highly suggest you visit are the following:

Natural History Museum
British Museum In London
Tate Modern
Victoria & Albert Museum
Check out more free museums across London.
4. every corner is something different
Despite London's 607 square miles, you only see a very small portion of it; the core. There is something new around every corner, such as people playing instruments, street art, luxury cars roaming the streets, people going about their daily lives, landmarks, residential streets, commercial establishments, and so on.
A Porsche Taycan driving through the London streets
5. a vast range of nature and parks
The secret of London's bustling metropolis lies in its profound love for nature and dedication to creating lush green sanctuaries for its residents and visitors. Eight prestigious royal parks and about 3,000 other green spaces dot the boroughs of London.
Even though they're not all in central London, these green oases contribute to the city's commitment to preserving and enhancing its natural surroundings.
Check out the list of parks you can visit around London.
6. the festive season is mesmerising
Enjoy the magic of Christmas as London transforms into a winter wonderland, casting a radiant glow from day to night. Christmas enchantment begins in early November and continues through December.
Christmas lights transform London's streets into a mesmerizing spectacle. Discover the charming Christmas markets that adorn the city's decorated thoroughfares. Join specialized festive tours in London to immerse yourself in the city's holiday magic during your Christmas holiday. London offers an abundance of festive attractions to explore, whether you're planning a short break or a multi-day getaway.
7. around 39 theatres in london's west end
Any visit to London would not be complete without experiencing a theatrical performance. Theatre lovers can enjoy a wide range of entertainment, especially in the renowned West End, in this city renowned for its vibrant theatre scene. Throughout the West End alone, 39 theatres are offering captivating narratives, mesmerizing performances, and breath-taking productions.
8. there are many day trips to take from london
Even though London is in the south of England, there are plenty of day trips to take around the area, including the Cotswolds, Oxford, Bath, Stonehenge, Cambridge, and others.
There are a variety of ways to take these day trips, including renting a car, taking a train, and even taking a tour. The choice is yours. If you are uncomfortable wandering around the country on your own, a tour is a great option. You won't have to worry about anything on the day since the tours are already planned.
Check out the 7 locations you can visit from London for a day.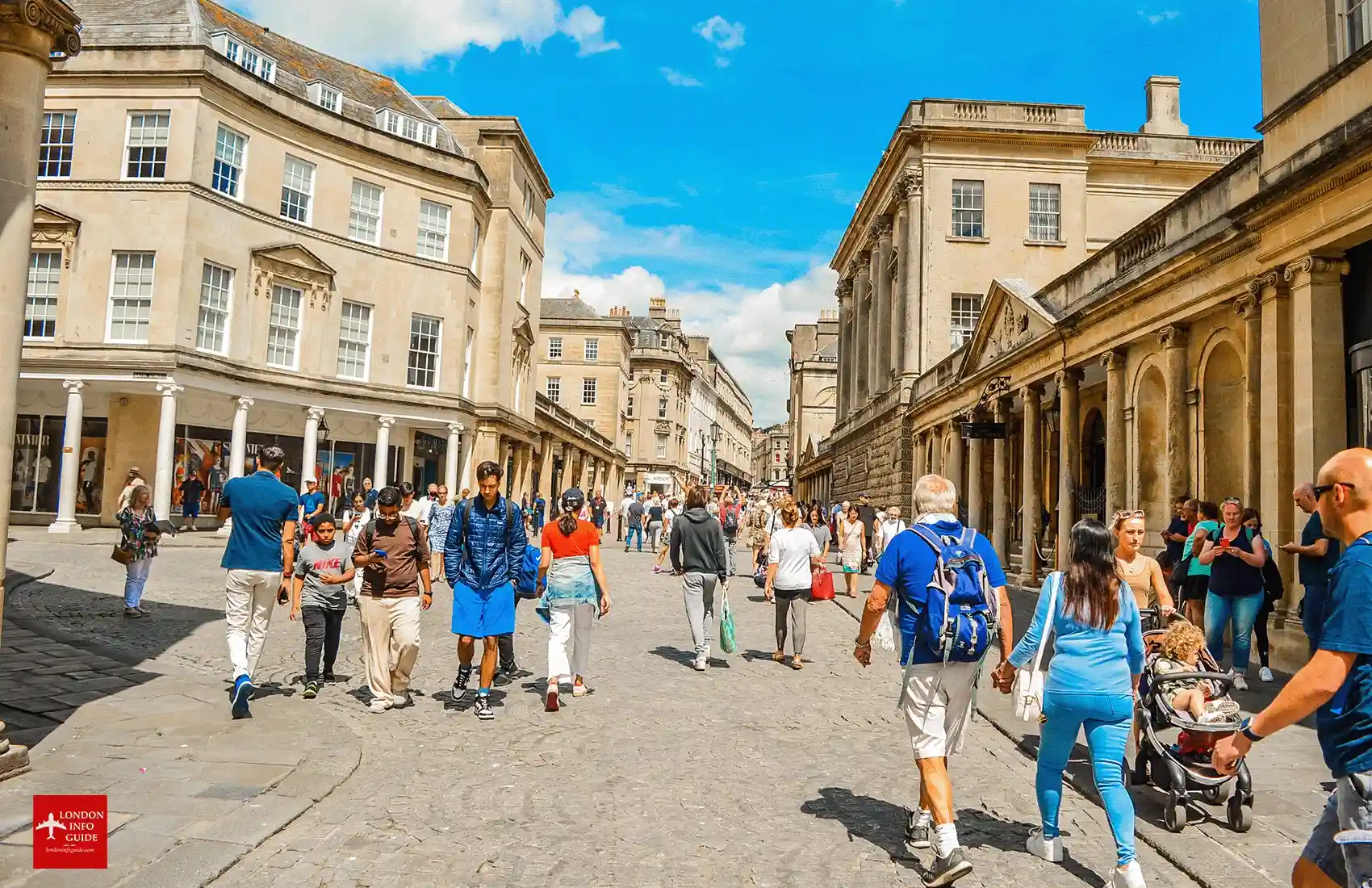 Is London Worth Visiting? - Bath, UK
9. the city has a Remarkable skyline
London City looks great from both eye level and from a bird's eye view. The city passes right before your eyes as you observe it from different perspectives. Several landmarks in London will provide you with an opportunity to view the city from above. These include taking a ride on the London Eye, walking up the Shard (London's tallest building), visiting Sky Garden, riding up the Tower Bridge, or taking a helicopter tour of the city.
10. remarkable well known films were filmed here
There have been a great many notable films filmed in London over the years. It has been a prominent backdrop in plenty of films capturing the city's iconic landmarks and vibrant atmosphere.
The Harry Potter film series is probably one of the most prominent to have been filmed here. Many of the scenes were filmed in London, but the films were shot in various locations throughout the UK. There is a Warner Brothers Studios tour where you can experience the magic for yourself, or you can check out these locations in London on your own or take a tour that takes you around these locations.
Here are some notable film series that have been filmed in London:
Notting Hill (1999)
Harry Potter Series (2001-2011)
Love Actually (2003)
The Dark Knight (2008)
Bridget Jones's Diary (2001)
Shaun of the Dead (2004)
Skyfall (2012)
The King's Speech (2010)

Slumdog Millionaire (2008)
Certain Scenes in Johnny English Movies

Skyfall (2012)
Sherlock Holmes (2009)

Paddington 2 (2017)
28 Days Later (2002)

These are just a few of the films that had scenes filmed in London. The list is too long to mention all of them.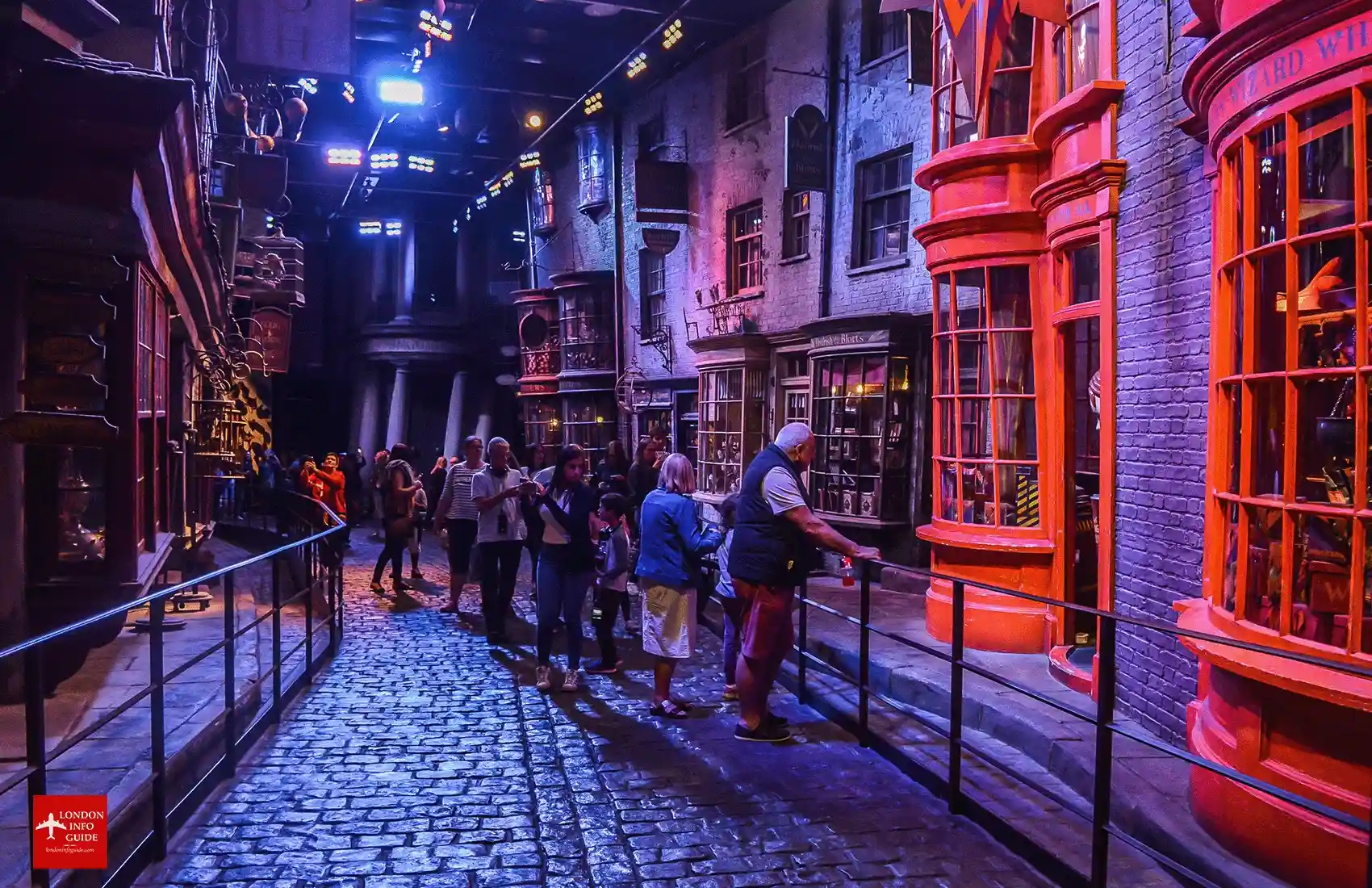 Harry Potter Studios in London
11. london is famous For Its Pubs
London's central district boasts over 3500 pubs offering a lively and diverse bar-hopping experience, ensuring there's something for everyone. Whatever kind of night you are looking for, London has a place for you. Among the many pubs and bars in London are historic pubs, theme bars, rooftop bars, bar crawls and live music pubs.
12. venture through london's restaurant for lip-smacking food
With its diversity and vibrant culture, London is a multicultural city that boasts a diverse culinary scene. You are bound to find a wide selection of restaurants offering a wide range of mouth-watering dishes here, regardless of whether you enjoy traditional British fare, international cuisine, or fusion dishes.
13. london is known for its royalty
When we hear the word "London", we are always reminded of 'Royalty'. How come? The British monarchy is one of the oldest in the world. A long history of monarchy in the United Kingdom can be seen with the recent passing of Queen Elizabeth II, the longest-reigning monarch.
There has been a rollercoaster of emotions for Britain between September 2022 and May 2023 with the death of Queen Elizabeth II, the longest reigning monarch in the United Kingdom, and the Coronation of King Charles III, making it one of the most memorable months for the country in recent years.
London has also some notable landmarks that give off a royal vibe, such as Buckingham Palace, the official residence of the monarch, and Westminster Abbey, where unforgettable and historic monarchy events took place.
14. london is connected with great transport
What is the best way to see London?
There is a great transportation system in the city that ensures that every corner can be reached easily. Whether you prefer the iconic red double-decker buses, the seamless underground system, or the famed black cabs, London's transportation options seamlessly link its diverse neighbourhoods and landmarks. London is indeed enormous, but by using one of the mentioned transportation systems you will be able to travel very efficiently.
London Black Cab
15. london is known for its business and financial centre
With its bustling financial districts and unwavering economic influence, London is a global business and finance powerhouse. As a thriving financial hub, London's skyline features towering skyscrapers such as The Shard and The Gherkin. 

With the London Stock Exchange and the Bank of England, the city is a hub of international trade and commerce. A symbol of modernity and corporate prowess, Canary Wharf houses major financial institutions and multinationals. 
what a first time visitor would expect to ask
First-time visitors to London usually have a lot of questions regarding the city and how to make the most of their trip. Whether it's navigating the city's landmarks or understanding its varied culture, here is what a first-time London visitor might expect to ask about.
Is london budget friendly to visit - is london expensive to visit
The city is a budget-friendly as well as a luxury destination. You have the choice! A number of factors determine which one is right for you, including your personal preferences, your travel style, and your budget. Holiday costs are mainly divided into these few categories: flights, accommodations, transportation, dining, and attractions. Aside from spending money, you can also acquire discount cards and there are plenty of free things to do.
London can be relatively expensive compared to some destinations, but you can stay on budget by planning and booking in advance to take advantage of the best deals.
Who Should Visit London?

Regardless of age, London is a perfect city for everyone. You can have a blast in London whether you're a family with kids, a couple, elderly or just a group of friends. The city has something for everyone. Whether you are a history buff, a nature lover, an adventurer, a businessperson, or just someone who enjoys exploring on a simple level, London has it all.
Is london great to visit with friends? - taking my friends to london
Visiting London with friends is an absolute blast! There is a wide range of activities that are available for groups to take part in, including adventure sports, indoor activities, taking a tour outside the city, wandering the streets, and shopping. I'm just scratching the surface here. It is ideal to book your events as far in advance as possible for a group so that you are sure the events can be accommodated.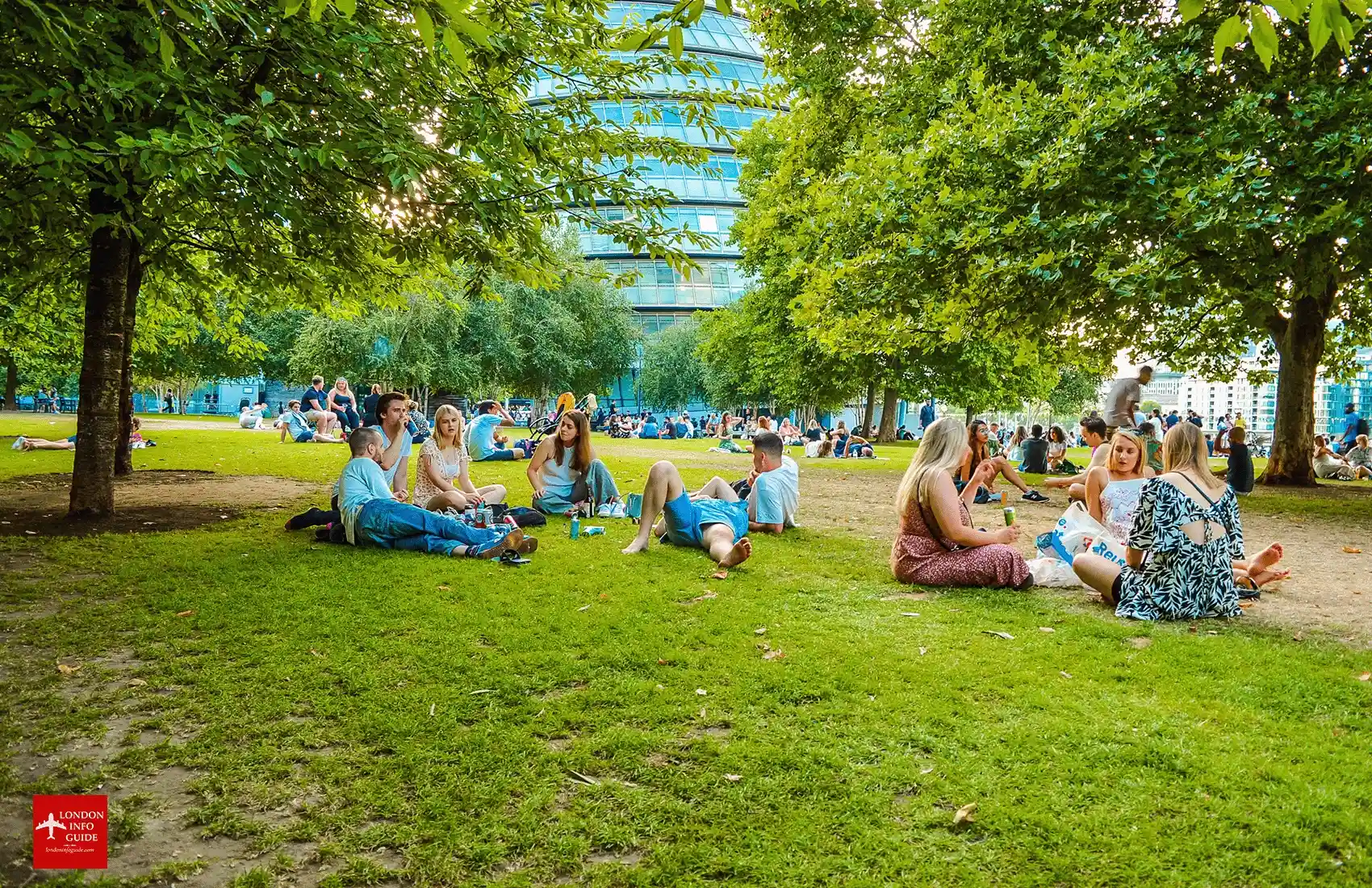 Is London Worth Visiting - Friends sitting and having a chat
When Should You Visit London
People always ask "When is the best time to visit London?". The answer is never so easy because you have to consider what you expect from London and your availability. There is always a lot going on in the city all year long. It depends on what you want to do in London and how busy you want it to be.
The summer and Christmas months are peak seasons in the city, so booking in advance is strongly recommended. If you travel during the lower seasons (spring and autumn), you will be able to find a more cost-efficient way to book flights, accommodations, and attractions.
how safe is london for tourists?
The truth is that London is safe, but you still need to take precautions against unnecessary events like pickpocketing and when you walk alone at night in secluded locations. You should always be aware of your surroundings and maintain a mobile phone on you at all times, especially if you are by yourself.
It has become common for people to pay by card today, so try to limit the amount of cash you carry with you at all times. There is also the possibility of using contactless payments today, which means that you can carry just your phone without having to carry any cash or cards with you. However, keeping small change is always a possibility.
London's transport service runs 24 hours a day, so even if you need to get to your accommodation late at night, you won't have a problem reaching it. A taxi is only a phone call away if that is the case.
How to travel To And around London
London has multiple airports that serve the city, making it well-connected to cities around the globe. Among the major airports are Heathrow, Gatwick, Stansted, Luton, and London City Airport. The most popular airport, Heathrow, has around 224 destinations served by 82 airlines.
In addition, train stations are a major means of connecting cities within the United Kingdom and abroad. Examples include King's Cross, Paddington, Victoria, and St Pancras International for Eurostar services.
As part of its extensive and efficient public transportation system, London also offers several other ways for people to travel around the city. These include the London Underground, which is commonly referred to as the Tube, buses, trams, black cabs and the Docklands Light Railway (DLR).
Where should you stay in london
View of Tower of London from a hotel window
One of the interesting things about London is that there are a wide variety of hotels to choose from, ranging from cheap and budget-friendly accommodations to high-class hotels that can only be afforded by the rich. The most popular neighbourhoods in London are listed in our dedicated guide for those who are in doubt about where to stay in the city.

Check out our variety of pages about London hotels located in different areas to choose the right hotel for you.
travel tips for a first-time visitor

The currency throughout the entire United Kingdom is the British Pound Sterling (£), meaning if you are in London or travelling outside London, the same currency is used.
London is a major hub for international tourists, so much so that there are five airports in London alone.
The main language spoken in London is English, but there are over 300 other languages spoken through the international business that runs through the city.
Unfortunately, pickpocketing is a common occurrence in London, so always be aware of your surroundings and keep your belongings safe.
The weather in London is unpredictable, even in summer. Check the weather beforehand and carry a compact umbrella or a waterproof jacket in case of light rain showers.
In the UK, people drive on the left, so if you are coming from a country that drives on the right, be extra careful when crossing streets or walking in the streets. Following locals or a group of people and walking behind them is a great tip.
London is located in the southern-eastern part of the United Kingdom. Check out where London is and also learn about its location.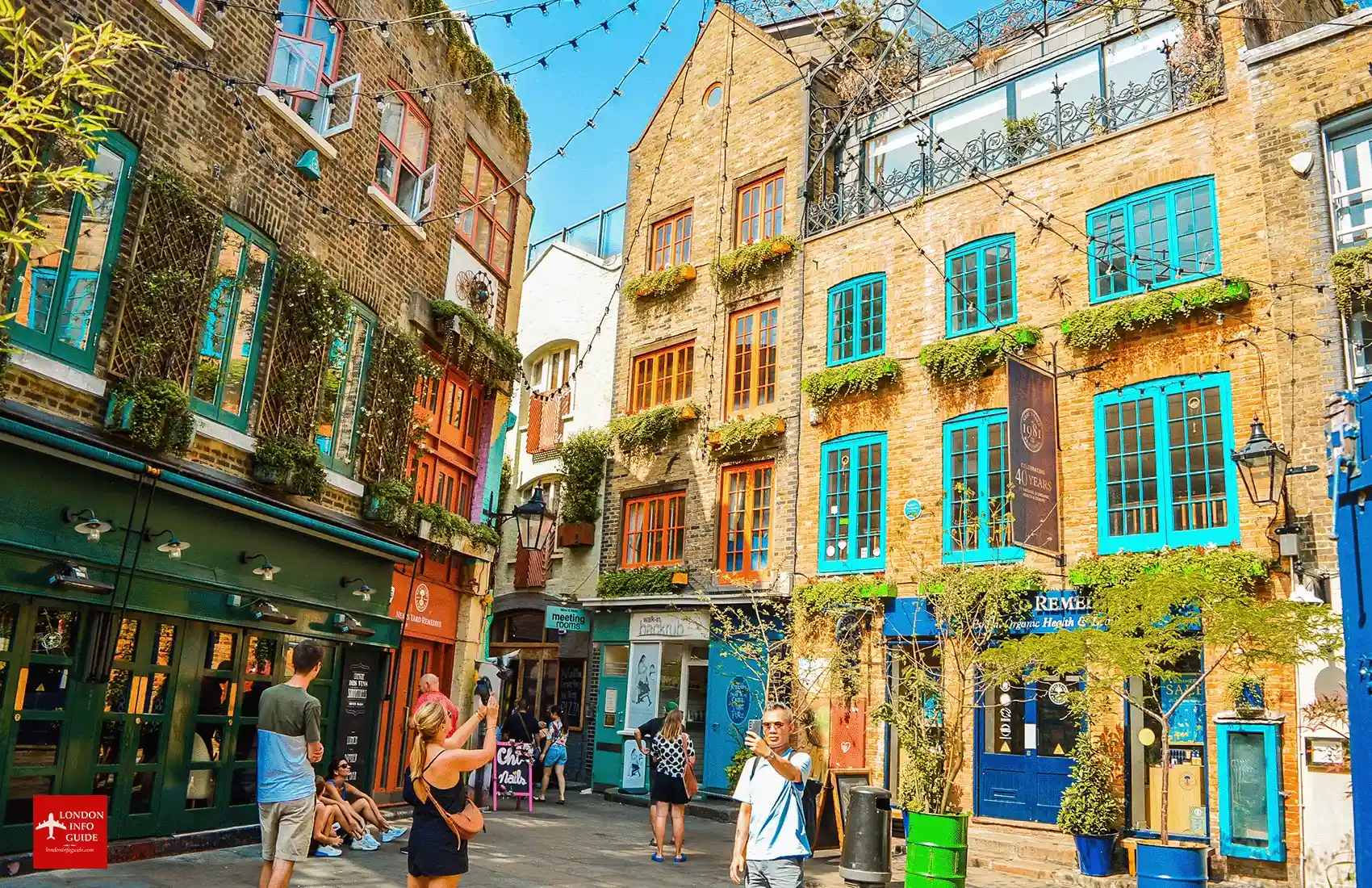 Neal's Yard Covent Garden
Having completed our guide to "Is London Worth Visiting", we have collected all the information that you would need on one page for a holiday, all in one place. We have highlighted the important factors in deciding whether London is worth visiting for you and what you need to consider when choosing a destination like London.
Want To Share This Page On Pinterest? Pin It Here!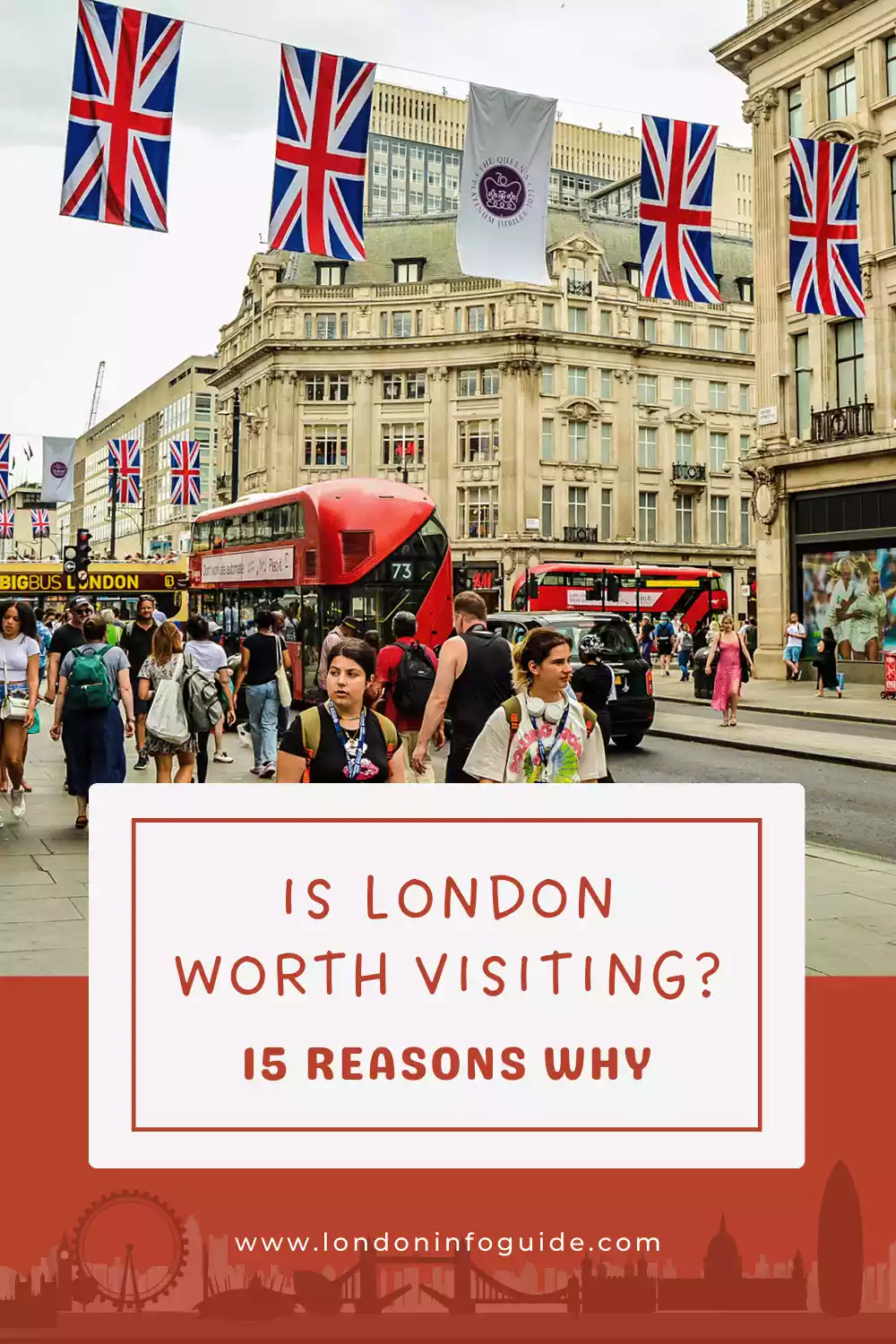 Photo sources & Resources - is london worth visiting
CitizenM Hotel in the City of London - Photo by Patrick Robert Doyle on Unsplash
Resources

want to share what you read? share below