Weather In London In January
weather in london in january
Cold, Gloomy and Fewer Crowds
There is no doubt that the weather in London in January is very cold. You have to wrap yourself up well when outside. London is still a great place to visit during this month since it is not overrun with tourists.
A warm welcome awaits you at the many bars and attractions. When it rains, make sure you have an umbrella and rain cover.
Snow on London Streets
What to Find During This Month
weather in london in january Statistics
Average Temperature: Highest 8.4°C (47.1°F) | Lowest 2.7°C (36.9°F)
Average Daily Temperature: 4.8°C (40.6°F)
Total Hours of Sunshine: 61.1
Average Daily Hours of Daylight: 8.4
Rainfall: Depth 58.8mm (2.31") | Days: 11.5
Humidity: 86%
Days of Air Frost: 6.8
UV Index: 2
Weather in London compared to other Cities
New York City, NY, USA: -1°C (30.2°F)
Dubai, United Arab Emirates (UAE): 19.4°C (66.9°F)
Paris, France: 4.3°C (39.7°F)
Los Angeles, California, USA: 11.9°C (53.4°F)

Tokyo, Japan: 4°C (39.2°F)
Rome, Italy: 7.2°C (45°F)
is january the best time to visit london?
Visiting London in January, just right after the Christmas season is quite a good time to visit since you can take advantage of the lower crowds and better sales. The weather is very cold with a number of rainy days so you must pack very warm clothes and also get cover for rainy days. Check out what London in January is like and what to do during this month.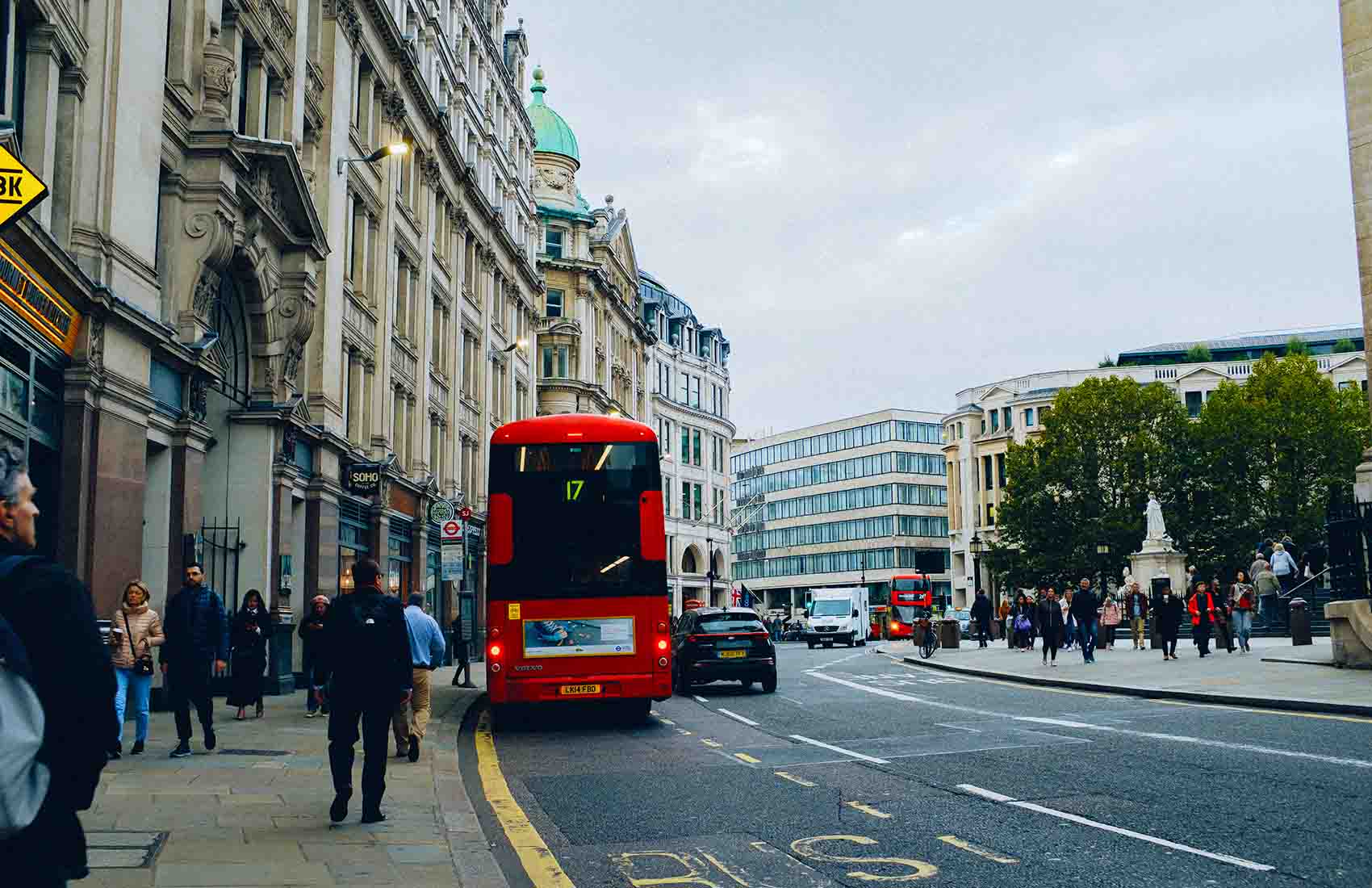 Cloudy Weather in London
what should i pack or wear?
London experiences slightly milder temperatures in January than other northern European cities, but it is still cold and wet, although it is the city's coldest month. No matter when you visit London, there are always the basics you should carry with you especially for winter.

The whole month is very cold, so wearing very warm clothing is essential. However, keep in mind that any indoor activities or establishments will have central heating, so do not wear unnecessary clothing because it will be far too hot.
A raincoat is ideal when walking around, especially since the weather is unpredictable. In addition, an umbrella is useful to carry with you at all times.
Below are the essential needs to bring with you to ensure you beat the cold while in London.
Boots, waterproof shoes and sneakers – These are great for sightseeing especially when it rains.
Long Sleeve Tops & Sweatshirts –

Bring 

a few of each, depending on the length of your holiday.

Jeans and Trousers – Jeans are great for during the day and trousers are thicker for the evenings.
Rain and Winter Jacket –

Jackets 

are a must for the whole duration of your holiday.

Scarf, beanie, and gloves

–

 These will help you keep warm and are easily removable when going indoors.

 
Weather in London in January - Snowy London
hints on the weather in london
The following is an overview of the weather in London for January to give you a better idea of what to expect when here.
It is not unusual for temperatures to freeze, nor is snow unheard of.
January's average temperature remains steadily at around 5-6°C with a little discrepancy. 
The average daily temperature could rise to around 8.4°C (47.1°F) and could go down to 2.7°C (36.9°F).
Snow, rain, fog, or frost; Keep in mind that during the entire month, there is a high possibility that you will experience some or all of these weather conditions.
Around 58.8mm (2.31") of rain falls during this month which comes to around 11.5 days.
If you want to enjoy some off-season crowds, then visiting between the months of January and April is the best time.
London in January has around 61.1 hours of sunshine in total, which averages 2 hours daily. This can vary due to the weather and cloud intensity.

Most days, the average wind speed is approximately 15.9 kph (9.9 mph or Force 3). In general, there is a mild to moderate breeze, usually coming from the south-west, followed by the west and then the east.
On 1st January, the sunrise will occur at 07:43 and sunset will occur at 15:54, while on 31st January, the sunrise and sunset will occur at 08:06 and 16:00.
An average of two days of snowfall happen in London.
current events in london January
The following are a number of the top events happening in London in January.
New Year's Day Parade
Take part in the annual London New Year's Day Parade to celebrate the beginning of a new year in the heart of London. A large parade of dancers, marching bands, and acrobats parade around the center of the city during this massive, confetti-filled festival, as thousands of artists from all over the world join in on the fun.
Event Date: Monday 1st January 2024
Christmas in Kew
At the Royal Botanical Gardens at Kew, you can embark on a journey into a glittering wonderland during Christmas at Kew.

Enjoy exploring light tunnels and dancing lakeside reflections along the route, as well as colorful trees along the way. The street food vendors will offer you a wide selection of hot food, sweets, hot cocoa, and spicy winter warmers to warm you up.
Event Dates: Wednesday 15 November 2023 to Sunday 7 January 2024
christmas wonderland
There can be no greater holiday location in the world than Hyde Park, located right in the heart of London's most prestigious area.

During this holiday season, there will also be a Christmas market and live music, in addition to ice skating and circus performances. It doesn't matter if you are here for a day or an evening, you will have plenty of things to keep you entertained.
Event Dates: 6 Weeks From November 2023 to Beginning January 2024 - Exact dates to be announced.

london short film festival
The London Short Film Festival, which runs for ten days, showcases the greatest independent films from the UK together with some submissions from outside.

These films range from dramas, comedies, and documentaries to animations, low-budget movies, and experimental works. The London Short Film Festival offers the chance to view unique short films and up-and-coming talent, which is uncommon in today's austere and conformist society.
Event Dates: January 2024 - Exact dates to be announced.
london art fair
London Art Fair will return to launch the international art calendar with over 100 leading galleries from all over the world exhibiting at the fair as part of its line-up to launch the international art calendar. A diverse cross-section of art is featured in the Fair's comprehensive gallery lineup, along with inspirational speeches and panel discussions.
Purchase your tickets today and join fellow art lovers and collectors
Event Dates: Wednesday 18th to Sunday 22nd January 2023
burns night
The birthday of Robert Burns, the Scottish national poet and lyricist and an iconic figure in the Scottish nation, is being celebrated today. Poetry readings, fancy dinners, traditional dances, and Scottish whiskey toasts are all part of the event.

In Scotland and throughout the United Kingdom, many restaurants and taverns celebrate Burns Night every year on January 25.
Event Date: Thursday 25th January 2024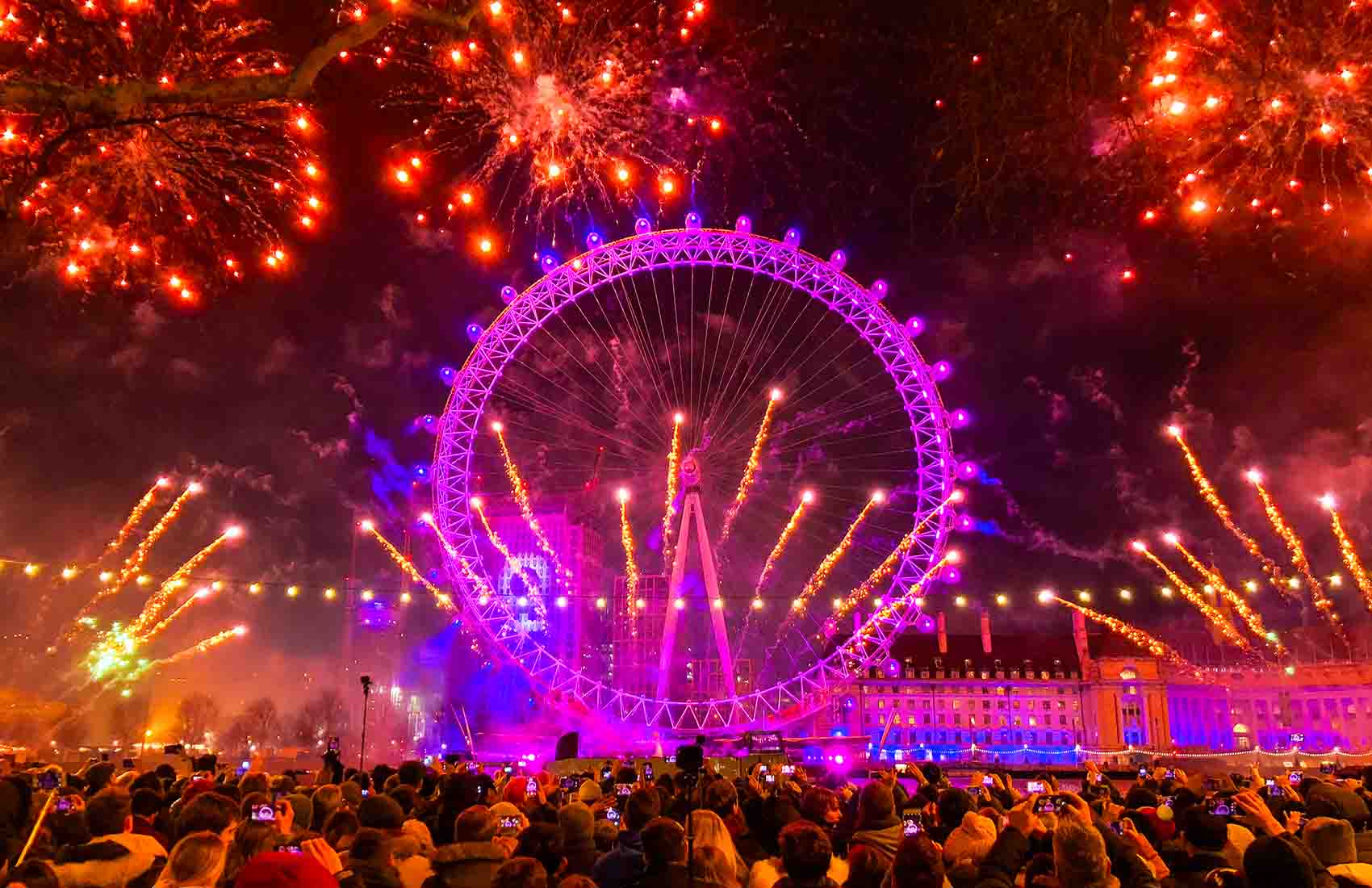 New Year's Eve London
tours in london during january
There is no holiday complete without taking a tour. Below are some of the most popular London tours.
London: The London Eye Ticket with Fast-Track Option

Experience the fast track line to see London's most impressive view from one of the world's tallest observation wheels. See the famous landmarks from 135 meters above the ground.
Get Your London Eye Fast Track Tickets

London Kew gardens admission ticket
Stroll along an elevated walkway to explore acres of glass gardens. Explore botanical galleries, step inside a royal palace, and learn about 250 years of royal history at Kew Gardens, London's largest World Heritage site.
Purchase London Kew Gardens Admission Ticket

London: Hop-On Hop-Off Sightseeing Tour
Experience the best of London from a double-decker bus. Take advantage of the flexibility of a single or multi-day pass and enjoy it at any stop. Listen to the audio commentary onboard for insights and engaging commentary.
Get Your Hop-On Hop-Off Sightseeing Tour Tickets
Westminster to Greenwich River Thames cruise
A river cruise from Westminster Pier to Greenwich offers the best views of London. Experience London's most iconic sights while listening to live English commentary on a cruise down the River Thames.
There are many iconic sights to see, including the Tower Bridge, the Houses of Parliament, and the Tate Modern. The audio guide can be listened to on your smartphone in six different languages using Wi-Fi. Duration 1 to 2 hours.
Reserve your Westminster To Greenwich River Thames Cruise Tickets
We hope this guide has given you sufficient information about the weather in London in January. While you are here, why not check out the weather in December or in February.

Also, if you want a general look at the weather for the whole year, check our weather in London page.
Want To Share This Page On Pinterest? Pin It Here!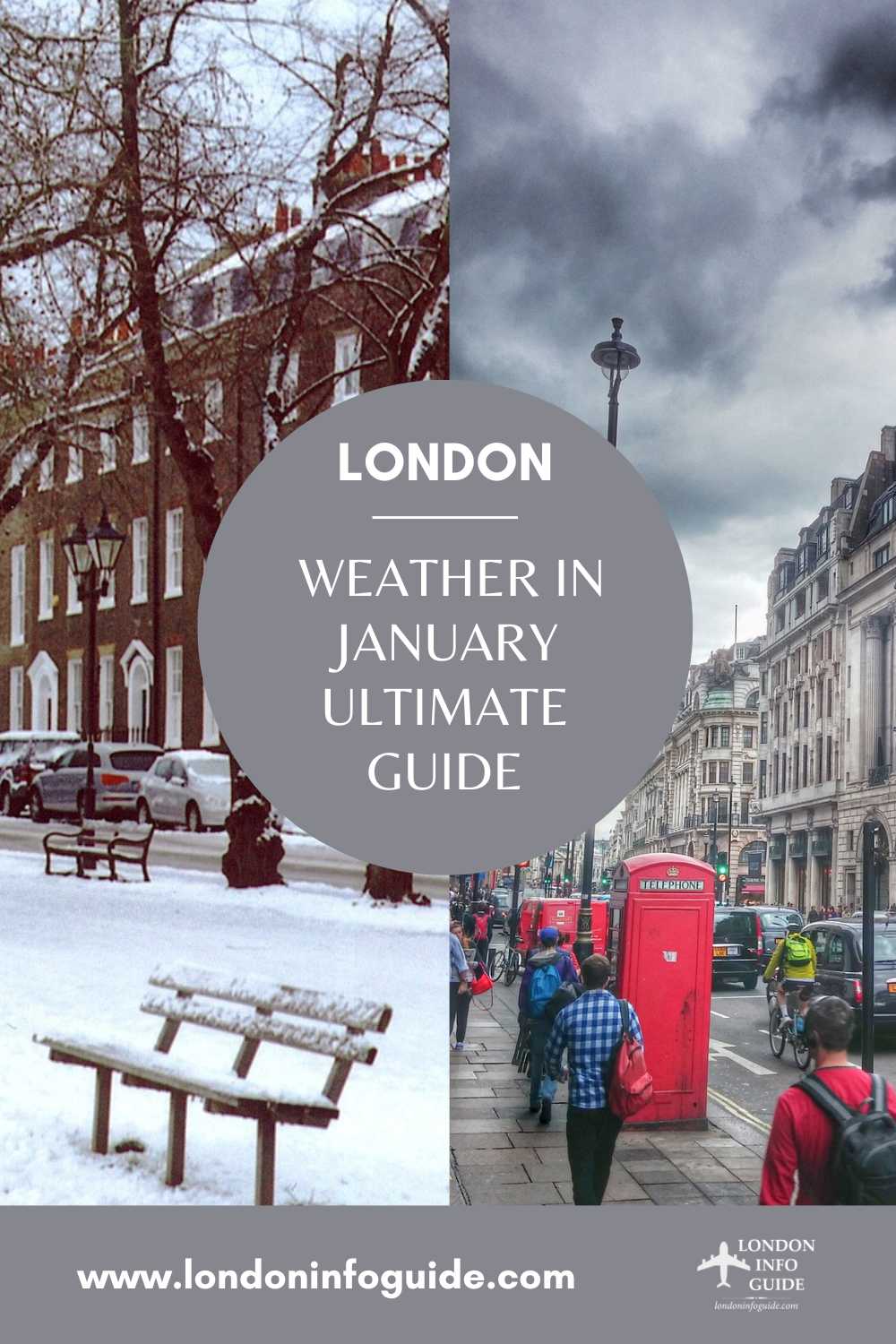 Photo sources
Snow in London – Image by Derek Sewell from Pixabay
Typical London red double-decked bus – Photo by Teresita Biafore on Unsplash
Snow in London – Photo by Valdemars Magone on Unsplash
London eye fireworks – Photo by Kevin Hackert on Unsplash
want to share what you read? share below