Wimbledon Tennis in London
wimbledon tennis in london
London's Tennis Legacy: The Wimbledon Experience
This is your ultimate guide to Wimbledon Tennis in London! The Wimbledon Tennis tournament is being held between Monday 3rd July 2023 to Sunday 16th July 2023. As one of the world's most prestigious and oldest tennis tournaments, Wimbledon is an event that sports fans and tennis enthusiasts do not want want to miss.

In this guide we will take you through a number of facts about this event, as well as recommendations of where to stay around London, things you need to know about visiting the tournament and much more.
table of contents
Throughout this page you will find useful information about Wimbledon, including its history, how to get there, where to stay, and what to do.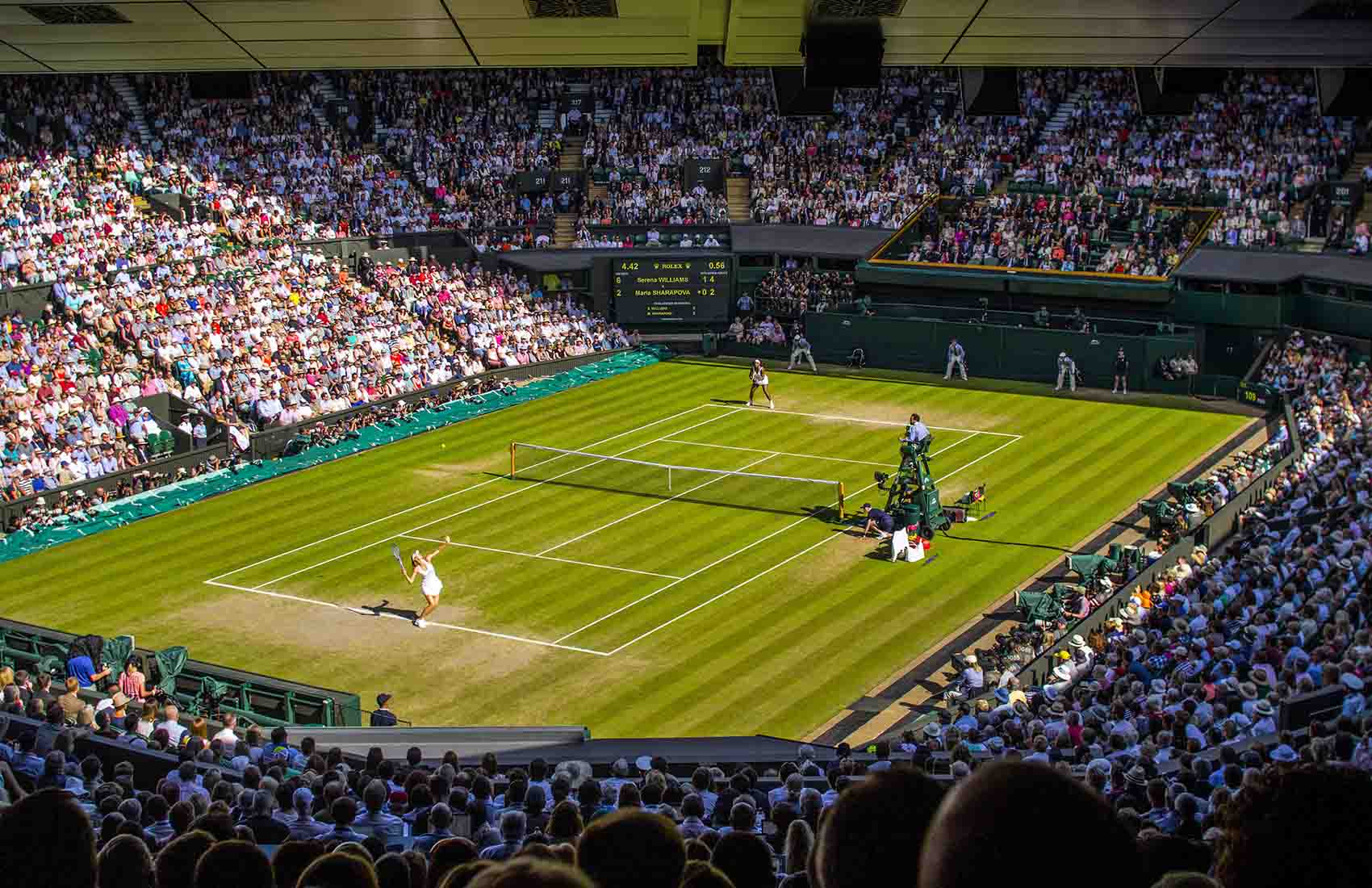 A Tennis Game At Wimbledon Stadium
Tickets For the Wimbledon tickets
Tickets for the Wimbledon tennis tournaments can be obtained in several ways namely by the public ballot, joining the queue at Wimbledon on the morning of the tournaments, from several hospitality packages and from reselling.
How much are the Wimbledon tickets? The price varies depending on which day the tournament is held, the court and seating category.
To find more information on the tickets, read more on the Wimbledon Tennis official website.
what to know before coming
For newcomers some short points to know before coming:
Opening hours: Tournaments typically take place in late June and early July. Opening hours vary, but matches usually begin around 11am and last until late at night.
Pre-booking: There is high demand for tickets, which are typically sold in advance. Tickets are available on the Wimbledon website or from authorized resellers.
Accessibility: Visitor accessibility services include wheelchair-accessible viewing areas, accessible restrooms, and accessible transportation.
Security screening: Metal detectors and bags check are required for all visitors before entering the grounds.
Weather: It's a good idea to check the weather before leaving.
Dress code: Wimbledon spectators are not required to wear formal attire, but many wear smart casual styles.
What to bring: If you wish, you can bring along a small bag or backpack.
Food and drink: You can bring food into the grounds, but you can also purchase food and beverages.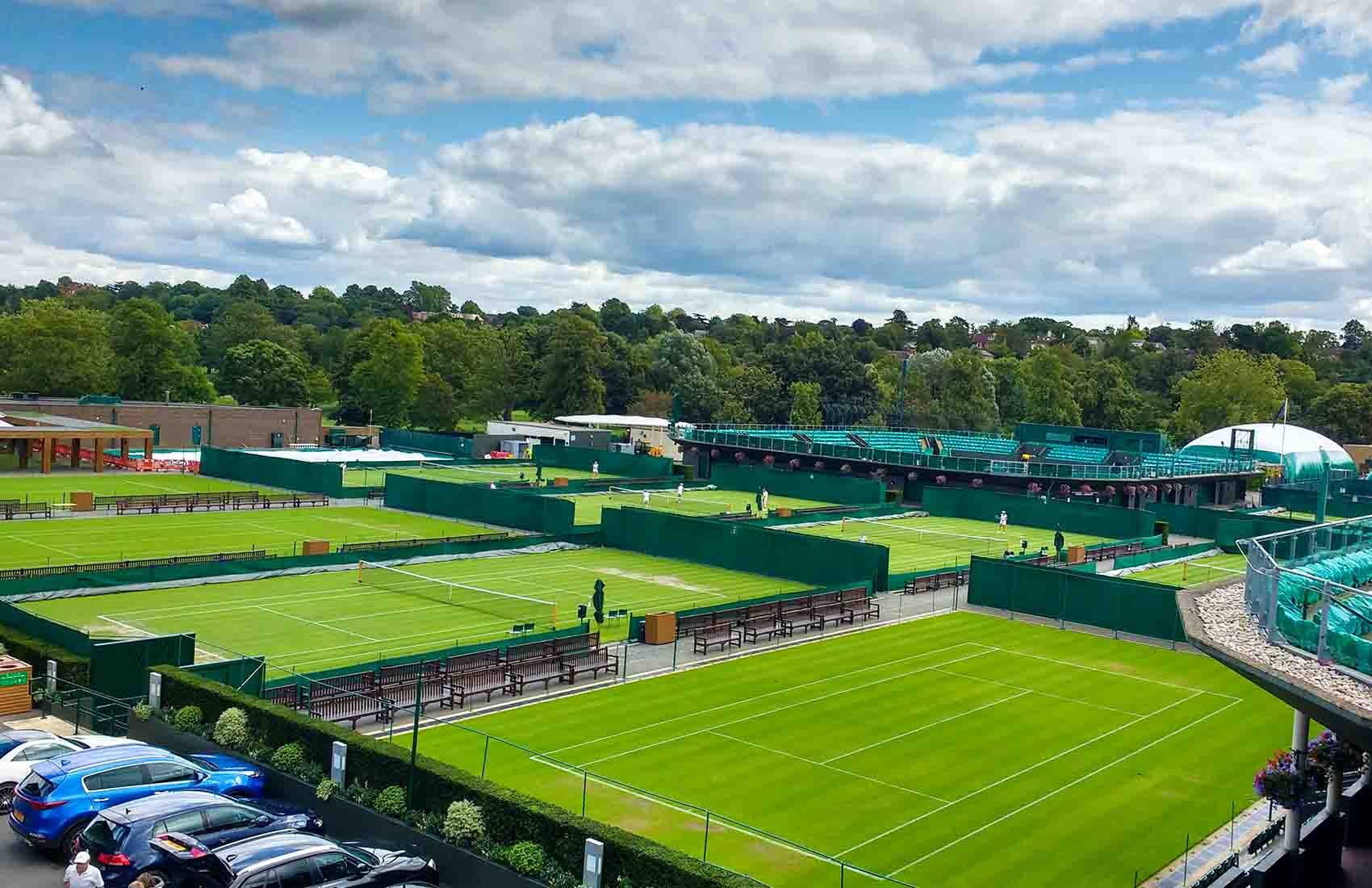 Other Courts at Wimbledon Tennis Stadium
How to get to the Wimbledon Tennis Championship

You can expect crowds at such an important event. Planning your transport well, will save you time, frustration, and even money.

getting here By tube or Train

If coming from central London, take the District line (Green) to Southfields underground station, which is a 10-minute walk from Wimbledon tennis.
Wimbledon Train Station is also about 10-15 minutes away.
From both stations you can take a taxi though the distance is short.
by bus
Depending on where you are staying, public transportation is very well served. The best way to plan is to research the location around your hotel booking for available public transportation options many months in advance. You can check the Transport for London website for specific routes and schedules.

There are several bus routes that run from Wimbledon Train Station and Southfields underground station to the Wimbledon Tennis Championships. 

Bicycle
A few bike racks can be found near Wimbledon's venue. Among them are bike racks at Wimbledon Park and Southfields Tube stations and at Wimbledon Tennis Club.

Car Parks

Parking options are available for those driving to the event. Due to the tournament's popularity, parking can be challenging near the venue. The cost of parking can be high, and spaces are limited. Car parks that are popular include:

Wimbledon Park Car Park: This large parking lot is located just a short distance from Wimbledon's All England Lawn Tennis Club. There are pre-booked and pay-on-the-day parking options.
The Wimbledon Tennis Club Car Park: It is a smaller car park within the tennis club grounds. There are limited parking spaces, so it's recommended you book ahead.
Public Car Parks: The Wimbledon area has several public parking lots. Parking at Wimbledon Broadway and Centre Court Shopping Centre is available.
By Taxi
Taxis are also available for the tournament. There may be heavy traffic during the event and higher fares.

You can also get a ride from Uber and Lyft outside the train station. In the app, enter "Wimbledon Tennis Championships".
By shuttle bus
A shuttle service is available from London to Wimbledon during the Wimbledon tennis tournament. Here are a few options:

The Tennis Bus: From London Victoria to the All England Lawn Tennis Club.
The Wimbledon Tennis Shuttle and the Big Bus Company: They runs from several locations in London.
Novak Jokovic Playing at Wimbledon Tennis
where to stay wimbledon tennis

Here are some suggestions for best hotels for Wimbledon tennis. The hotel you choose for Wimbledon depends on your budget, travel preferences, and what type of experience you want.

Wimbledon Village: The stadium is approximately 9km from here. You're closest to the tournament grounds if you stay in Wimbledon itself. Accommodations range from budget to luxury in the area, including hotels, B&Bs, and apartments. You can also travel around London easily using public transport.

Here you find the following hotels:

4 Star Hotels:
3 Star Hotels:
Best hotels near Wimbledon:
B&B Wimbledon:
Southfields: It is around 9km from the stadium. It has an almost village-like feel to it, and there are plenty of shops, restaurants, and bars to choose from. There are a variety of accommodation options available, such as hotels, bed and breakfasts, and apartments.

Sandra & Andrew's B&B - presently closed on booking.com
Southfields B&B Studios
Wimbledon Park B&B
Putney: The stadium is about 9 km away. The leafy suburb of Putney sits across the Thames from Wimbledon. Bars and restaurants are popular with young professionals. There are several hotels, B&Bs, and apartments in Putney, and public transportation is easily accessible to the tournament.
Richmond: About 9 kilometres separate the stadium from this location. Located just a few miles from Wimbledon, Richmond is a picturesque town. Among its notable features are beautiful parks, historical buildings, and a vibrant arts scene. It is well connected to Wimbledon by public transportation and offers hotels, B&Bs, and apartments.
Kensington, Chelsea, and Bloomsbury are well-connected to Wimbledon by public transport, and offer plenty of hotels, B&Bs, and apartments.

Central London: Distance from the heart of London is around 7 miles depending on the location you are staying. There are plenty of options to choose from.

See more hotels in Central London
10 facts about the Wimbledon tennis tournament
Grand Slam Tournaments: In professional tennis, these are considered the world's premier events, recognized by the International Tennis Federation (ITF).

Annual Tournament: This two-week tournament takes place once a yearly, between late June and early July.
Tennis Courts At Wimbledon: This tournament uses grass courts, making it unique among Grand Slams with meticulously maintained grounds that are considered some of the best in the world. To ensure consistent play, they are cut to an exact 8-millimeter height and kept at a precise moisture level.
Martina Navratilova: In many competitions around the world, she has won numerous titles. The nine times she won the Wimbledon women's singles title is her most notable achievement.

Strawberries And Cream: Wimbledon has served them since the beginning. Tradition dates back to the 1870s, but it is unclear when it started. King Henry VIII was known to enjoy this combination during the Tudor era.

The Wimbledon Trophy: At Wimbledon, the Gentlemen's Singles Trophy and Ladies' Singles Trophy are the original championship trophies awarded to the winners of male and female singles events. They are awarded a miniature replica of the Wimbledon Trophy, known as the Challenge Cup, which measures approximately 8 inches tall and is made of sterling silver.
Player's Clothing: Historically, tennis players have worn predominantly white clothes to prevent sweat and dirt from staining them. Except for small amounts of colour on trims or accessories, Wimbledon players still wear white from head to toe. Heritage and elegance are embodied in the tradition.

Prize Money For Wimbledon Tennis: In the championships of 2022, there was a record amount of prize money of £40,350,000, including a £2,000,000 prize for the ladies' and gentleman's singles champions, respectively which increases steadily every year.

Longest Tennis Match In Wimbledon: The match between John Isner and Nicolas Mahut took place in the first round of the 2010 Wimbledon Championships. The match started on June 22, 2010, and ended on June 24, 2010 lasting over 11 hours.

The Royal Family: Several well-known figures attend Wimbledon, but the British royal family may be the most anticipated of all. Every member of the Royal Family is welcome to sit in the Royal Box, which is open to them every year. Tournament winners have been presented with trophies by members of the Royal Family on various occasions.
Broadcasting: It is one of the most widely viewed sporting events in the world, with an estimated global audience of over one billion people, broadcasted in over 200 countries.

The Retractable Roof: In case of rain, the retractable roof of the centre court can be closed in just 10 minutes to avoid disrupting the games. In 2009, the roof was installed, and it was designed to allow play to continue regardless of the weather.
17-Year-Old Boris Becker: As a young tennis player, he became the youngest Wimbledon singles champion of all time in 1985. There is no doubt that he is considered one of the greatest tennis players in history.

White Tennis Balls At Wimbledon: Wimbledon first used yellow tennis balls in 1986. Tennis balls were traditionally white for Wimbledon and other tournaments. Changing to yellow balls improves visibility for players, spectators, and TV viewers. Almost all major tennis tournaments today use yellow tennis balls.

Ball Boy And Girls "BBG": The 250 volunteers are responsible for retrieving out-of-play balls during a tennis match. During the championship, they provide assistance to players on the 18 courts. They are chosen from a pool of 1000 students from 9 local schools between 14 and 18.
The Wimbledon Trophies:  They are kept in safe locations at All England Club all year round. Only during special events, like Wimbledon Champions' Dinner, are the trophies on display. Winning one is the ultimate achievement for any tennis player, not only for its material value, but also for its significance as priceless symbols of excellence.

Seating Capacity: In terms of capacity, the tournament has the ability to accommodate around 42,000 spectators at a given time at all of its various courts and venues.
The Wimbledon Lawn Tennis Museum: It can be found beneath the Shop by Gate 4. The museum is open every day of the year from 10:00 to 5:00 and during the championship from 9:30 to 8:00 .
Main Events At The Championship:

Men's and women's singles.
Men's and women's doubles.
Women's doubles
Mixed doubles
Junior boys' and girls' singles
Junior boys' and girls' doubles
Wheelchair men's and women's singles
Wheelchair men's and women's doubles
Invitational events
Men's Winners At Wimbledon: A few of the mayor winner.

Roger Federer (8 titles)
Pete Sampras (7 titles)
William Renshaw (7 titles)
Bjorn Borg (5 titles)
Rod Laver (4 titles)
The youngest player Boris Becker at the age of 17 when he won in 1985.
The oldest player was Arthur Gore, who was 41 years old when he won in 1909.
uK tennis tournaments before wimbledon arrives
It is important for players to prepare for Wimbledon by participating in the following major tennis tournaments before Wimbledon, which are held on grass courts, just like Wimbledon.

Queen's Club Championships: A men's tennis tournament held at Queen's Club in London, also known as the Fever-Tree Championships. As a warm-up for Wimbledon, it is part of the ATP World Tour 500 series.
Birmingham Classic: In Birmingham, England, this women's tennis tournament takes place at Edgbaston Priory Club. It is a part of the WTA Tour and is held in June.
Nottingham Open: The Nottingham Tennis Centre in Nottingham, England hosts this men's and women's tennis tournament. As part of ATP and WTA Tours, it is held in June.
Eastbourne International: The Devonshire Park Lawn Tennis Club in Eastbourne, England hosts this men's and women's tennis tournament. As part of the ATP and WTA tours, it is held in June.
Manchester Trophy: At Manchester's Northern Lawn Tennis Club, men and women compete in tennis. Held in June, it's part of ATP and ITF tour events.
map of the Wimbledon 
Weather in london During July
There may be occasional rain showers during the tournament, but it is usually warm and sunny. Make sure you are prepared for the weather so you can make the best of it.

Check the forecast: Check the weather forecast before leaving.
Protect yourself from the sun: You should wear sunscreen, sunglasses, and a hat if it's sunny.

Be prepared for rain: Rain showers are common, so bring a light rain jacket or umbrella.
Stay hydrated: Wimbledon can be humid and hot. Refillable water bottles are allowed, as water fountains are located throughout the grounds.
Have a look at a guide to the weather in July.
Wimbledon Stadium in London
common questions about the Wimbledon Tennis In London

The Wimbledon in London for 2023 will take place between 3rd July to 16th July. The dates for 2024 have been announced starting from 1st to 14th July.

Wimbledon, Richmond, Southfields, Putney and Fulham are very common area that people choose to be so close to the championship.

Wimbledon introduced the all-white dress code in the early 20th century to prevent sweat stains on coloured clothing. It is prohibited for players to wear off-white or cream-coloured uniforms.
Wimbledon is the only one of the four 'Grand Slams' still played on grass, which is how lawn tennis got its name. Grass is also the surface which provides the fastest game of tennis.

The food options at Wimbledon include traditional British favourites like fish and chips, strawberries and cream, Pimm's Cup, afternoon tea, tea sandwiches, quiche, chicken cornish pasties, sushi, hamburgers, and sandwiches, and international cuisine like sushi, burgers, and sandwiches. In addition, high-end dining options are available. A variety of food and drinks are available on the grounds.

You will only be allowed entry to the Grounds of the All England Lawn Tennis Club ("Grounds") if you present a valid ticket upon entering the premises. Read and take note of all the conditions here.
You're welcome to bring your own small quantities of food and drink to Wimbledon but there are various items which are prohibited. It is advised to review the conditions beforehand to avoid any issues.
During play on or around the playing courts, mobile phones, tablets, and other electronic devices are required to be turned off.
Yes, you are allowed to take photos but there are certain conditions as follows. Spectators are strictly prohibited from using flashes from the stands. As well, spectators are prohibited from bringing cameras with lenses longer than 300mm when extended. In addition, tripods and monopods are not permitted on the grounds.
There are 18 tennis courts at Wimbledon Tennis Stadium. Among them is the Centre Court, where the Wimbledon Championship finals are played, which has a seating capacity of 15,000 spectators.

John Isner and Nicolas Mahut contested the longest tennis match in history over three days. On June 22, 2010, they played four sets on court 18 before play was temporarily halted due to lack of natural light. It was continued on the 23rd ad 24th June.

The prestige of Wimbledon comes from the fact that it has endured for so long. Wimbledon has been going on since 1877. Those who win at the event are part of a century-long history. Some of the best tennis players ever have played in this tournament.

Want To Share This Page On Pinterest? Pin It Here!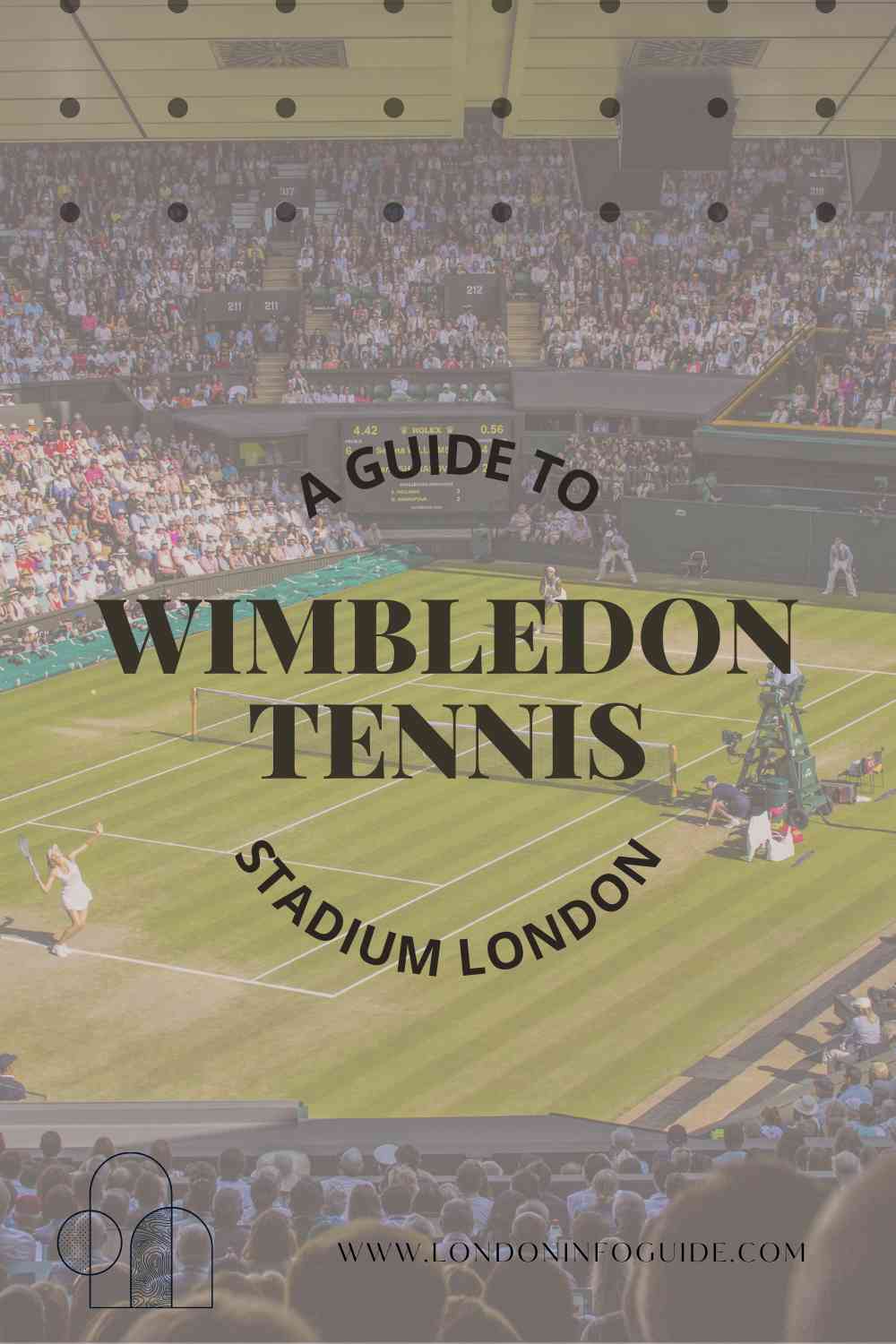 photo and website sources
Wimbledon Tennis Court - Image by davidkenny91 from Pixabay

Novak Jokovic - Image by matt4395 from Pixabay

The Courts At Wimbledon - Photo by Carlo Bazzo on Unsplash

Bif stadium pic - Photo by Carlo Bazzo on Un6splash
want to share what you read? share below